We joined our PVS club for its annual excursion to Snowmass. I didn't even take a camera, but thankfully a couple of our friends shared their photos so I can at least document that we were there.
---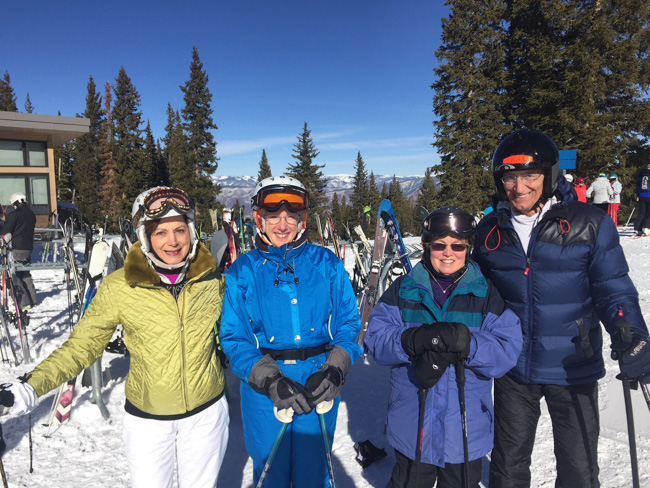 One morning four of us signed up for a "baby bumps" ski lesson. We all had a great time and, as usual, learned something. L-R: Rosemary, me, Bonnie & Kal. The ski instructor took the picture using Rosemary's camera.
Although I had taken my (very) old skis out with me, I had signed up for some demos. I loved the demos so much that I bought the same kind of ski and left my old skis with the ski tech at the rental place. He was pleased to get some great old skis and I was tickled to get some skis that were both easier to work with and that handled all the conditions that the mountain threw at us. With luck they'll last as long as the previous ones.
I'm not sure exactly how long I've had my much-loved bright blue ski suit, but it's been at least 12 years. I hear they are coming back into style again. Whatever. Next thing you know fanny packs will be back too.
---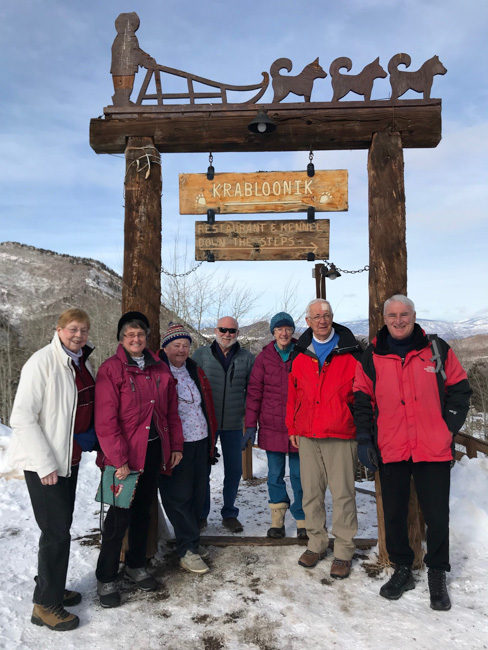 It isn't quite an annual tradition to visit Krabloonik for lunch, but we've been a few times. The food is still good and the ambiance unbeatable. Jim and I elected not to visit the dogs on this trip, but most of our other companions did.
L-R: Carolyn, Jan, Barb, Jim, me, Dave & John. Jannes took the picture and sent it to me.
As usual it was a wonderful trip, even though the snow conditions weren't quite up to snuff, and we were glad to hear that the tradition will continue next year as well!
Think snow!
---
Click your "back" button to return to the previous page or click for our picture album.