After checking out of the hotel, we drove to Saintes Maries de la Mer in the Camargue for another cooking session with Chef Merlin. This time he had a much more extensive menu planned and we would have all the facilities of his cooking school. Oh the pressure!
Chef Merlin told us that he had been called "Mr. Coriander" for his use of that spice. That nickname enabled me to find an English-language reference to him. The fact that it includes a lot of information about the Camargue horses, was a bonus. The description of working with Chef Merlin (towards the end of the web page) is accurate; check it out.
I was too busy slicing, chopping and stirring to take pictures, but we all worked together to produce a multi-course meal for lunch. It was delicious! Agathe produced excellent documentation of our efforts. Thanks to her for sharing her pictures.
---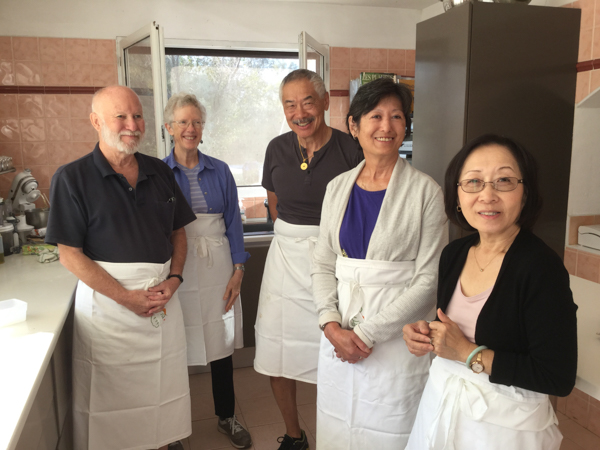 Our band of would-be-chefs in Chef Merlin's sunny kitchen: The Magnificent Five!
L-R: Jim, me, Kent, May & Marilyn.
Kent, May and Marilyn, all from New York, had been friends since college and decided to come on this trip together. Many of their other friends were concerned about recent terrorism in France and were amazed that they were "brave" enough to make the trip.
None of our friends in Lexington had the same concern. Perhaps it was because Lexington has not been touched by terrorism in the same way that New York has.
---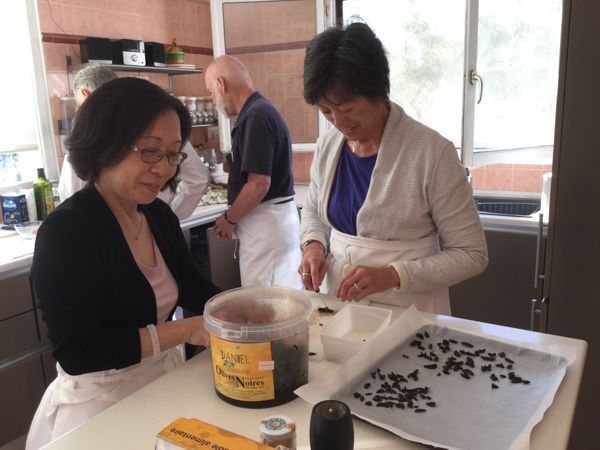 Marilyn & May prepare olives to be dried. We had enjoyed these the day before. Ripe black olives are sliced and dried slowly in an oven until crunchy. Delicious!
The canned black olives that we see here in the states are no comparison. Those olives are green-ripe olives that are turned black by their processing. Nothing wrong with them, but they are a different kettle of fish entirely.
I noted that the olives that are used for drying are an "industrial" product unlike the olives we purchased the day before at the farmers' market. Chef Merlin was clear that some applications don't require the same level of delectability as others.
---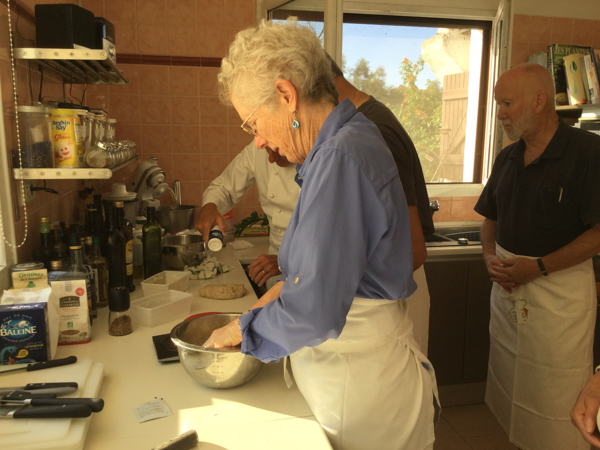 One of our tasks was to make bread. Chef Merlin had prepared two amounts of flour and yeast to be mixed. He planned to use a mixer to do the preparation, but I wanted to do mine by the "old fashioned" approach of hand mixing. He agreed that we could try both and see what difference there was, if any, in the final result.
The bottom line: there was insignificant difference in the final result, but the effort that went into the hand preparation was significantly more.
The European method of measuring flour by weight meant that there wasn't any confusion between "sift, then measure" or "measure before sifting."
---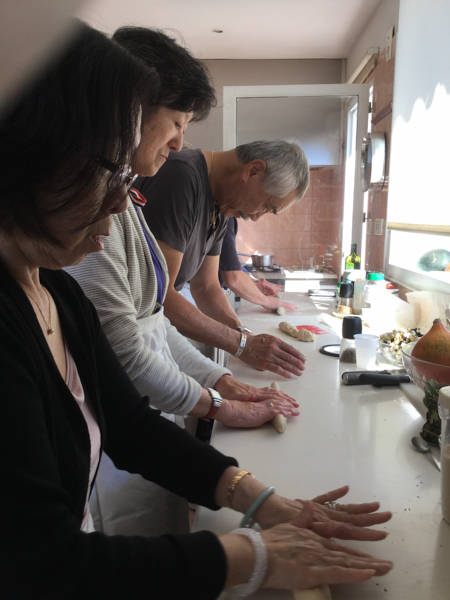 Once the flour & yeast had an opportunity to rise, we all had a hand in rolling it out and stuffing it with various delectables such as olives, garlic or herbs.
---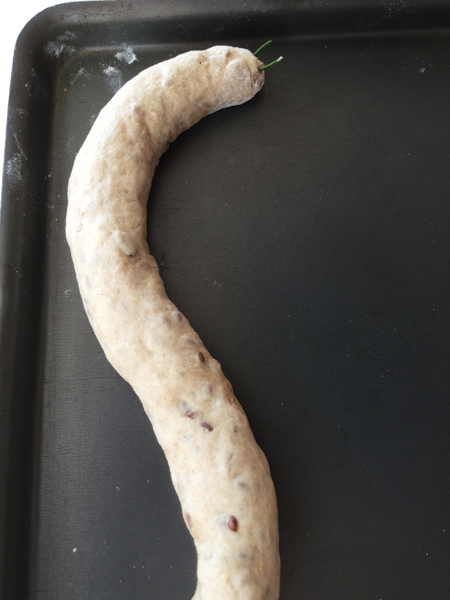 My personal bread was stuffed with olives. I couldn't resist adding these little rosemary antennae. I called my pet "Snakie." S/he was delicious!
---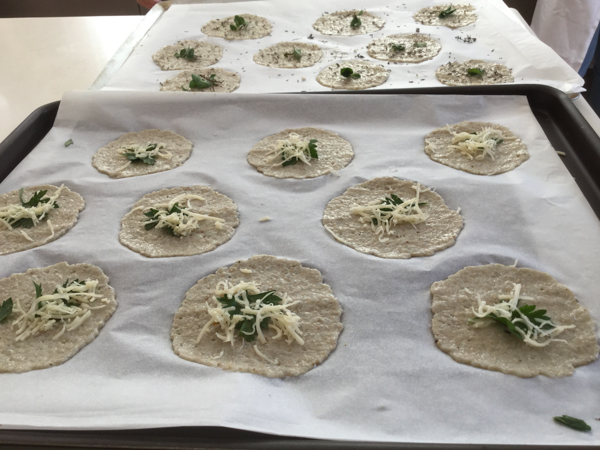 One of the innovative appetizers that we will be preparing is rice crisps.
Chef Merlin has heard the clamor for "gluten free" and responded. He is no more convinced than I am that gluten is the root of all evil (except for those who suffer from celiac disease), but he has seen the demand and is interested in supplying it.
There were two varieties of these crisps: one made from white rice and one from red rice. The rice, of course, came from the Camargue. Once the rice was prepared, we all enjoyed taking turns rolling it out between two sheets of parchment paper and then decorating with cheese and herbs before baking.
---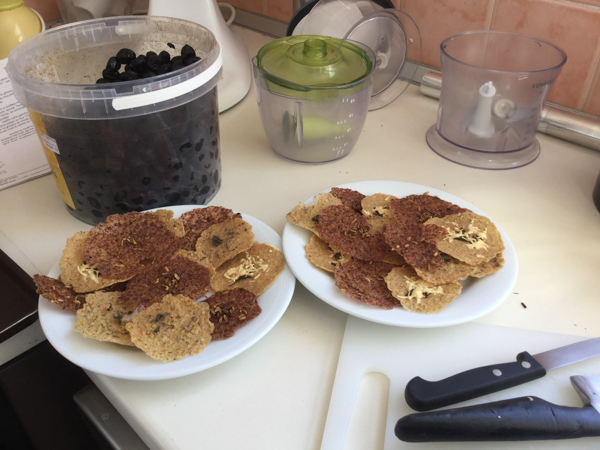 The finished crisps. Yummy!
---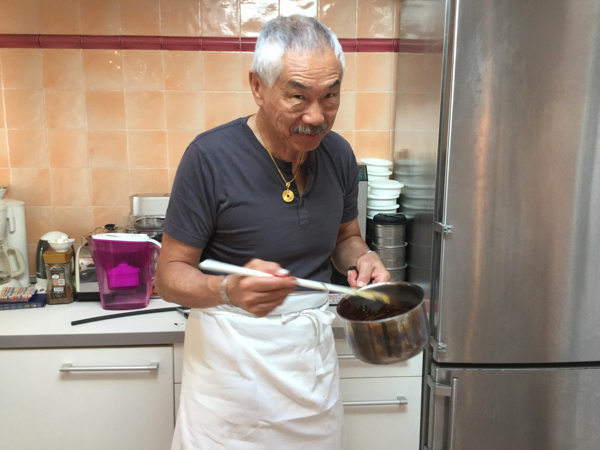 Another gluten-free item was chocolate mousse made with potatoes!
Kent was responsible for the chocolate -- here fending off predatory volunteers wanting just a little taste.
---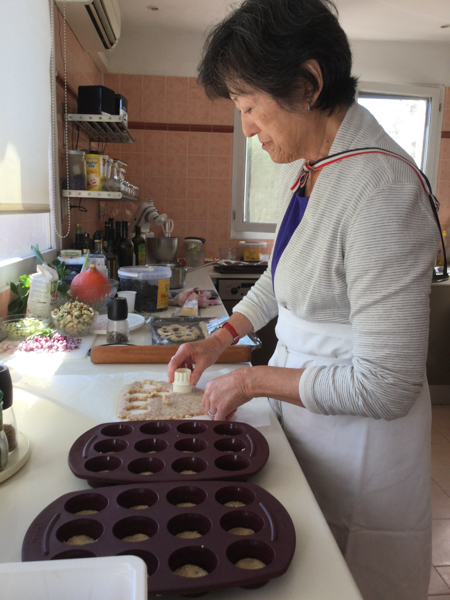 May cutting out the gluten-free "pastry" for the chocolate mousse.
---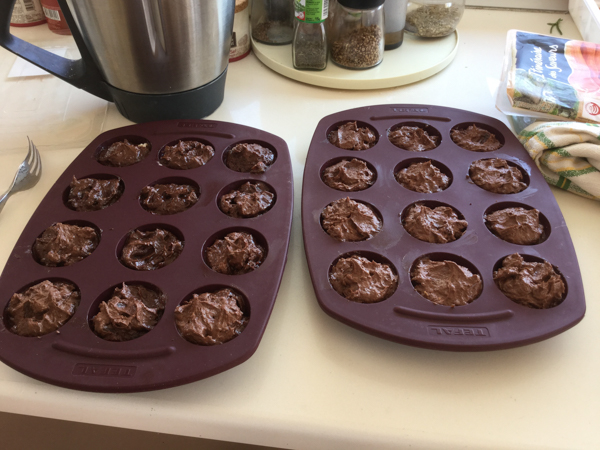 The mousse ready for the oven.
We were glad to get the recipes for all the delights that we learned to prepare here. Recipes, however, are only part of the equation. Learning the techniques from a master chef ... priceless!
---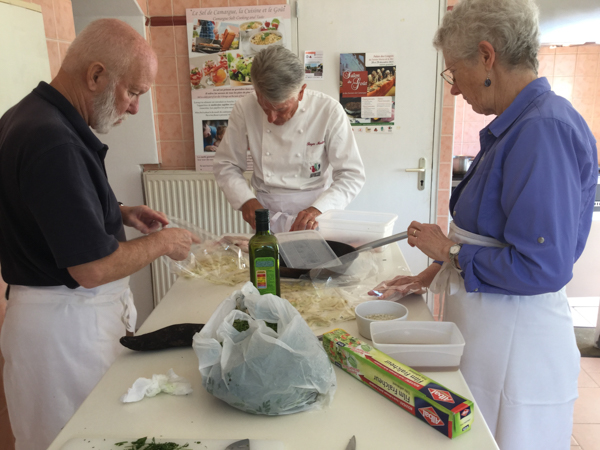 The main dish was fish cooked in an oven bag. It included fennel, chopped veggies, herbs, and, of course, fish. Everyone contributed to the preparation, but Jim & I got to do the actual "stuffing."
We had several fish meals and there was lots of discussion over what the fish was. It was a white fish with mild flavor. After some discussion our French friends decided that the appropriate English translation was pike-perch. Like so many of the ingredients that we used in France, that fish isn't found here, alas. The closest US equivalent would be walleye, but we don't see them here in Virginia either.
We may just have to start investigating fish.
---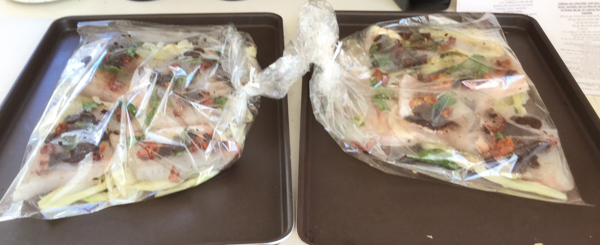 The finished fish waiting for cooking.
I must say that although we participated in most aspects of the cooking, Chef Merlin had oversight of the final preparation. I sometimes wonder if he added some extra "magic ingredient" that transformed our efforts into the wonderful meals we consumed.
---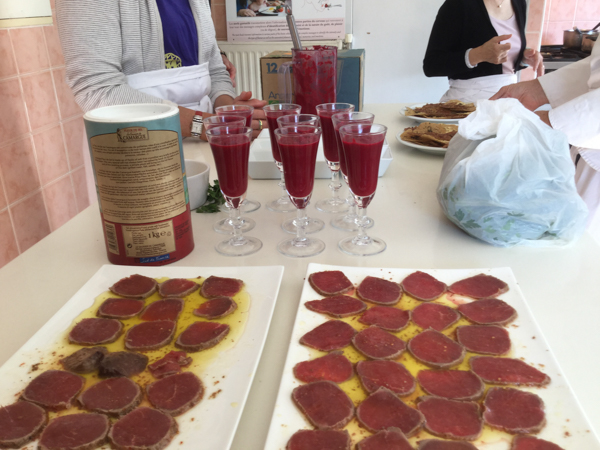 Other items that our meal included are beet soup and Carpaccio.
Much of the Carpaccio preparation was done ahead of time, but we got to do the finishing touches. Chef Merlin was very strict about requiring gloves when working with the beef. This was not a requirement for the fish, perhaps because it would be cooked more thoroughly.
---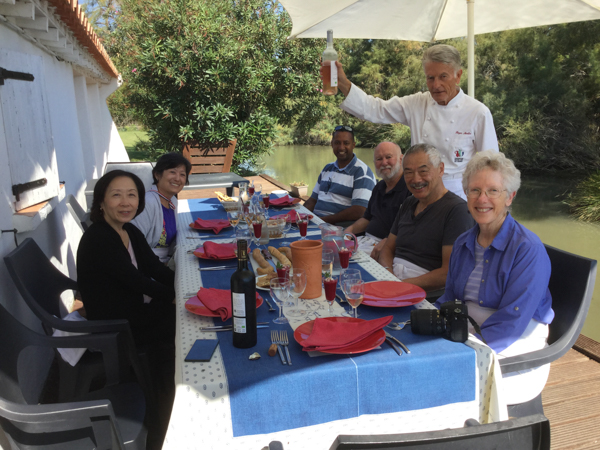 Ready to chow down with a good Provençal rosé.
Again, thanks to Agathe for this and the above pictures.
This is a good time to mention Chef Merlin's helper - a woman from Pennsylvania! She met and married a French chef and moved to the Camargue region. She was not only responsible for cleaning up the tools, bowls, pots & pans we used while cooking, but also set the table on the deck for our luncheon. I'm afraid I didn't get her name, but I did thank her profusely for her assistance.
---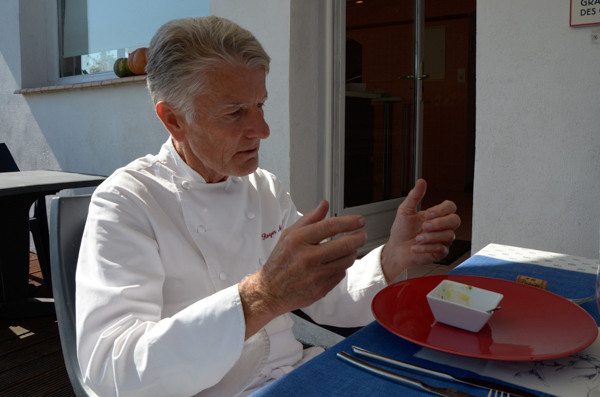 The time with Chef Merlin was special. He was incredibly patient and helpful in teaching us proper techniques. Before embarking on this trip I had been somewhat intimidated by the possibility that we would be working with demanding and high-powered chefs. They were demanding and also "high-powered" in the sense of their accomplishments in their field, but they were not at all intimidating. There was no tension in their kitchens. Even though we amateurs prepared complicated menus with many courses, every step was planned out ahead of time and coordinated to minimize conflict and maximize efficiency.
---
Click your "back" button to return to the previous page or click for our picture album.