After a couple of days exploring the countryside, we spent a day in Arles. The morning opened with a trip through the local farmers' market with Chef Roger Merlin (use Google to translate the page) where he searched for the freshest ingredients for our cooking session. We then returned to the hotel to process our finds and create a tasty light lunch, which we enjoyed in the hotel garden.
---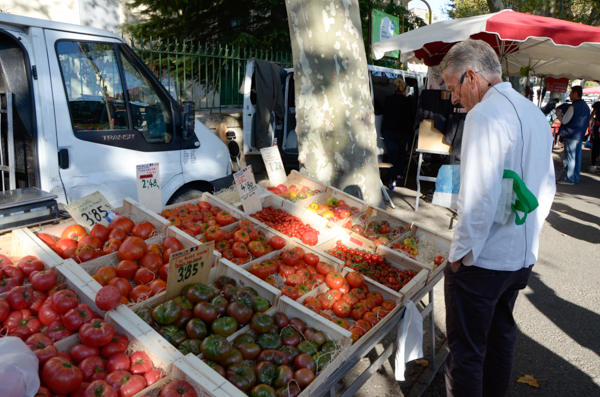 One of the dishes on the menu was gazpacho. Chef Merlin prefers small tomatoes for this purpose because he feels they have more flavor. He elected to look at several vendors before deciding.
The transmitting headset he is wearing enables us to hear his commentary as we spread out through the crowded market. These headsets, coupled with the receivers each of us wore, are a great boon to educational travelers as they grant freedom of movement while still making it easy to hear what is said.
---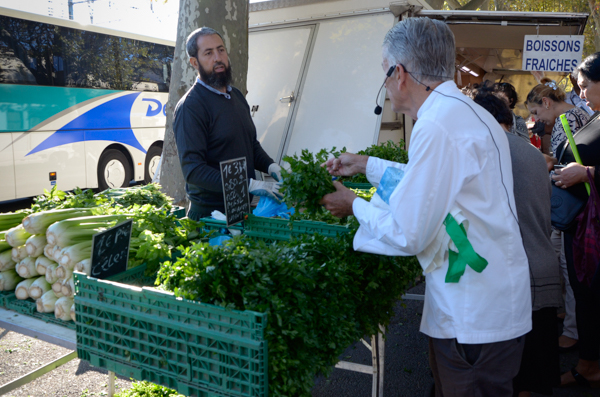 Flat-leaf parsley has more flavor than the more common (in the US anyway) curly-leaf variety, which is more useful for garnish.
---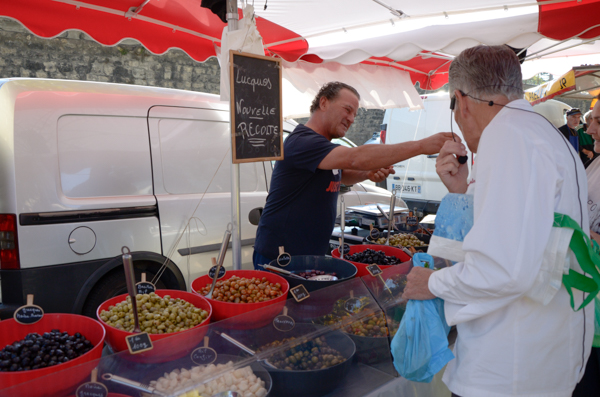 Chef Merlin tastes this vendor's offerings but decides to keep looking for olives for tapenade. He ended up buying from someone else. In addition to the ripe olives that he had planned, he also found some minimally processed green-ripe olives and added them to the menu as well.
---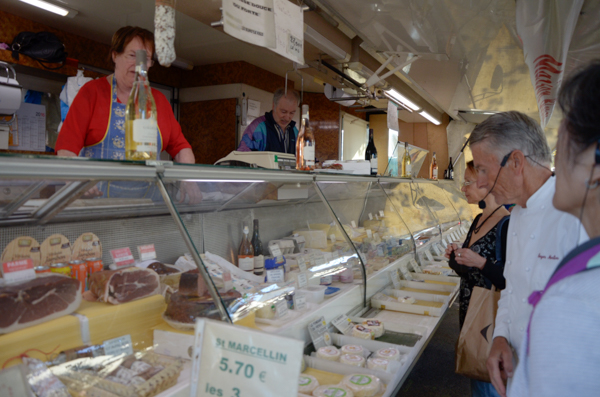 Fresh goat cheese was another item that Chef Merlin cruised the entire market to find before deciding to return to this vendor, the first one he visited. It would make a tasty spread for our meal.
Other purchases made here and there rounded out the ingredients.
---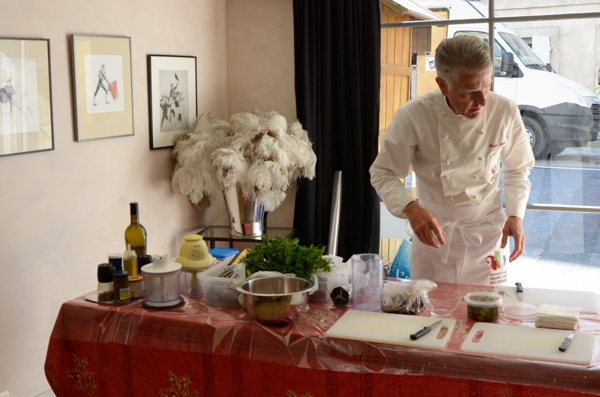 The hotel staff had set up the work space in our absence. Chef Merlin had brought along plastic aprons as well as cutting boards and a variety of tools for chopping, mixing and pureeing.
The hotel gave us every possible accommodation for our activities.
---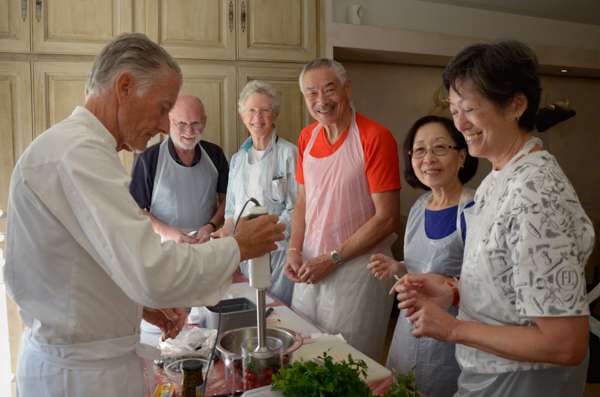 We worked collectively and separately to prepare our assignments under the chef's expert guidance. And then what a wonderful lunch!
L-R: Chef Merlin, Jim, ME, Kent, Marilyn & May. Thanks to Agathe for taking the picture.
---
The final product: tomato-based gazpacho, black & green olive tapenade on toast, and seasoned goat cheese on toast topped with dried black olives. We were going to learn how to dry black olives the following day (they are gooood)!
Beautifully matched with a Provençal rosé wine.
A perfect luncheon in the hotel garden.
---
Click your "back" button to return to the previous page or click for our picture album.