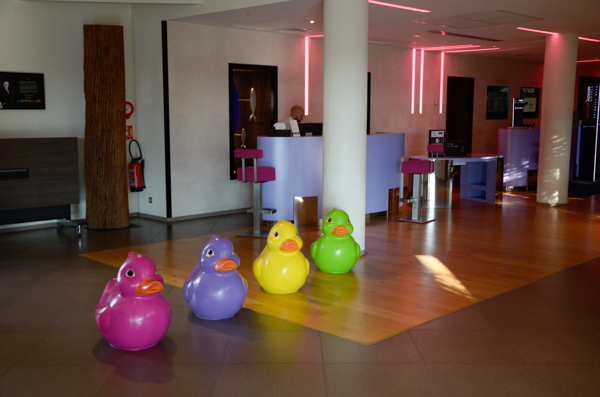 In order to meet our scheduled transfer to Arles, where the program would begin, we flew to Marseilles a day early. Road Scholar arranged a night in the Pullman Hotel. It was a whimsically stylish place and very comfortable.
In the morning we packed our bags and followed the excellent walking paths to the terminal to meet our group. Imagine - an airport set up for walkers!
Oops! Our guide had asked the hotel to tell us to wait there, but the message was never delivered. It was our first experience with the French proverb: C'est la sardine qui a bouché le port de Marseille (a sardine has choked the Marseille harbor). Roadway construction had limited access to the airport for our van so the plan was for us to take the hotel van to the hotel where our official van was waiting.
---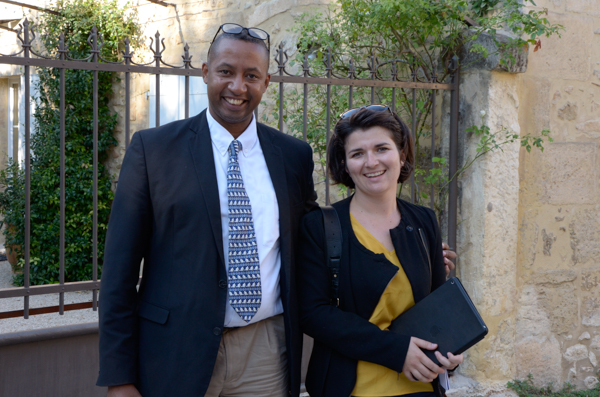 Before we get started I have to introduce Mouhi, our more-than-capable bus driver, and Agathe, our knowledgeable, creative and engaging guide.
Since we were such a small group, Mouhi had secured a van rather than a bus. This meant that he could drive through the tiniest streets, which saved us some arduous climbs. Mouhi had been born in Morocco and moved to France with his family as a toddler.
Agathe had studied as a diplomat and shocked her family when she announced that she wanted to be a tour guide instead. We pointed out that she still got to exercise all of her diplomatic training as a guide.
They were a fabulous team!
---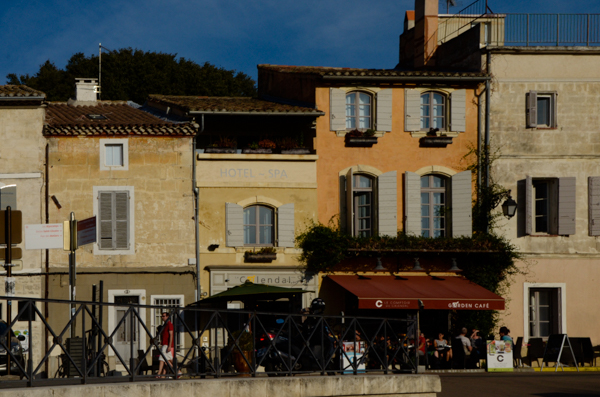 Our hotel in Arles, Le Calendal, comprised several buildings linked through a central garden. Our room was behind the two top windows over the red awning. It was quite comfortable and convenient.
After arriving in Arles Jim and I walked around town to stay awake. Lunch consisted of a late afternoon ice cream.
The charming old city of Arles is a World Heritage site in its entirety and contains remnants of Roman and Medieval periods as well as modern buildings outside the historic center. We pretty much walked all over the old town in one afternoon.
Unfortunately most of the sites authentically associated with the artist Vincent Van Gogh were destroyed by Allied bombs during the Second World War.
---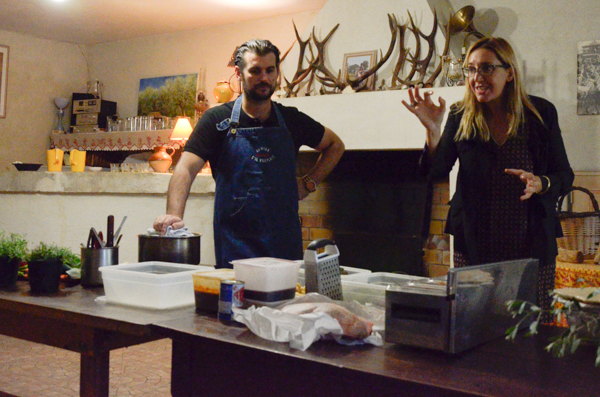 The next morning we visited the Moulin Saint Jean olive oil mill to learn about olive oil production in France. We then enjoyed a demonstration by Chef Fabien Morreale, a former "Top Chef" winner and restaurateur. Magali Sourdon, the 4th generation of her family to produce olive oil, introduced him.
Magali and her sister Anne smashed the glass ceiling dictating that only men could produce olive oil. They then shocked the family by replacing traditional olive processing with new and improved machines. Resistance faded when the product was so much improved it began winning medals and fame for the business.
The demonstration was fascinating and the resulting luncheon was outstanding. We were learning that this trip takes the "Food" part of its name very seriously.
---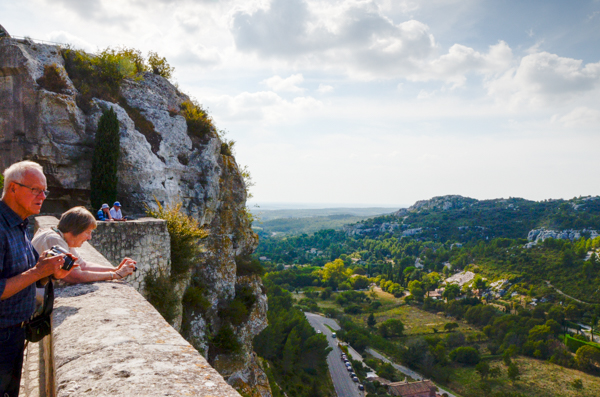 That afternoon we toured Les Baux de Provence to work off that hearty luncheon. The medieval village crowns a high limestone outcropping that is part of the Chaine des Alpilles.
After our free time in the village, we enjoyed a light show, Les Carrières de Lumières, in an abandoned quarry. The description in the trip materials wasn't gripping, but the experience was amazing! The featured artist for 2016 was Marc Chagall.
---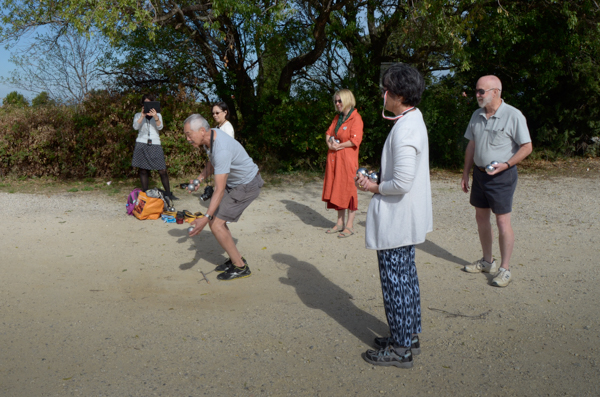 The next morning we visited Châteauneuf-du-Pape for wine tasting. The wine tasting at Cave Du Verger Des Papes and subsequent lunch in the village were nice, but the highlight of the morning was a hotly contested Provençal game of pétanque -- a ball game.
Shown L-R are our guide Agathe (hiding behind an iPad), Kent (about to toss one of his balls), Marilyn (almost hidden by Kent), local guide Lea, May, Kent's wife, and Jim.
We became part of the attraction for the various tour busses that came by to visit the Pope's summer palace. Moreover one of the local town workers passed by and gave a demonstration of his enthusiasm, if not his skill.
Games are traditionally followed by pastis, a local anise-flavored libation, so we ordered some with lunch. OK, now I've tried it and don't have to do it again.
---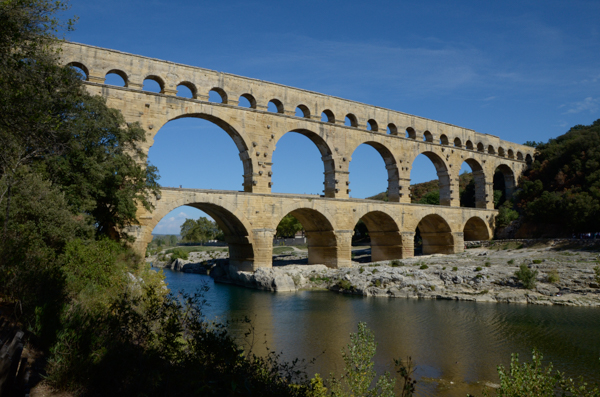 After lunch we visited the Pont du Gard, an ancient Roman aqueduct, built to supply the settlement of Nîmes in the 1st century AD. Although much of the bridge is original, it has been restored.
To celebrate my birthday I scampered from the level of the river to the highest tier in search of the best pictures. Of course this picture, which is my favorite, was taken from the recommended point that was easiest to reach.
Maybe "scamper" is not exactly the right word.
---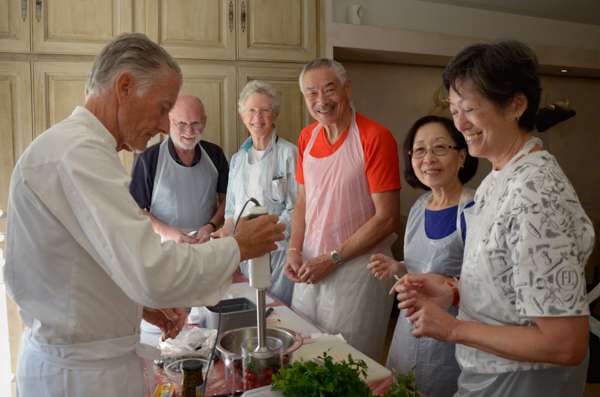 The following day opened with a trip through the local farmers' market with Chef Roger Merlin (use Google to translate the page), where he searched for the freshest ingredients for our cooking session at the hotel. He planned for us to prepare three appetizers: gazpacho, goat cheese with herbs of Provence, and ripe olive tapenade. While cruising the offerings, however, he discovered delicious fresh green olives, so he added an additional preparation.
We worked individually and in teams to prepare our assignments under his expert guidance. And then what a wonderful lunch!
L-R: Chef Merlin, Jim, ME, Kent, Marilyn & May. Thanks to Agathe for taking the picture.
---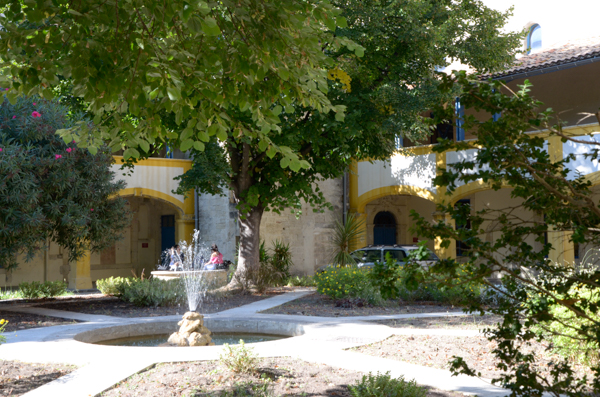 That afternoon we had a walking tour of Arles with a local guide. It was good to work off at least some of the calories from our "home-made" luncheon.
There isn't much left in Arles that can be definitely associated with Van Gogh, but this is one such place: the Espace Van Gogh, which used to be the Arles hospital. When Van Gogh had a breakdown after a quarrel with Paul Gauguin, who was staying with him in Arles, he came to this hospital. He painted a picture of this courtyard during his stay.
When the hospital closed, the courtyard was restored to match the image in the painting as much as possible. We were too late in the season for summer flowers and too early for the planting of fall flowers.
This was our last day in Arles. The next morning we packed up and were on the road again.
---
Click your "back" button to return to the previous page or click for our picture album.