When we signed up for the trip, we decided to spend an extra night in Ottawa. We had never visited Canada's capital and didn't know if we would ever have another opportunity. Zegrahm arranged for us to stay an additional night at the hotel for the same discounted price.
Zegrahm helped us out in another way as well. Our original air reservations had us leaving Ottawa in the morning and arriving back at Dulles around 1pm. On the strength of that schedule, I arranged to meet some friends for dinner on Friday night. We weren't planning to drive home until Saturday. Before we left on our trip, however, United changed our flight time. Oddly, they changed it to a flight that wouldn't arrive at Dulles until after 8pm even though they had several available earlier flights! That would trash our dinner plans.
When we called Zegrahm and cried bitter tears, the travel arranger wasn't optimistic, but she agreed to try to get United to put us on one of their earlier flights without penalty. We were thankful that she succeeded.
But first, the final chapter on my computer story! When we arrived at the hotel in Ottawa, I decided to give it another chance. This time I plugged it into the power supply rather than relying on the battery. It booted! It worked! Everything, including all my data, was fine! To this day I don't know why it was unresponsive in Greenland other than perhaps the shaking had done something to the battery, but I'm not complaining. Kudos to HP for building a rugged little system. It took a lickin' and kept on tickin'.
---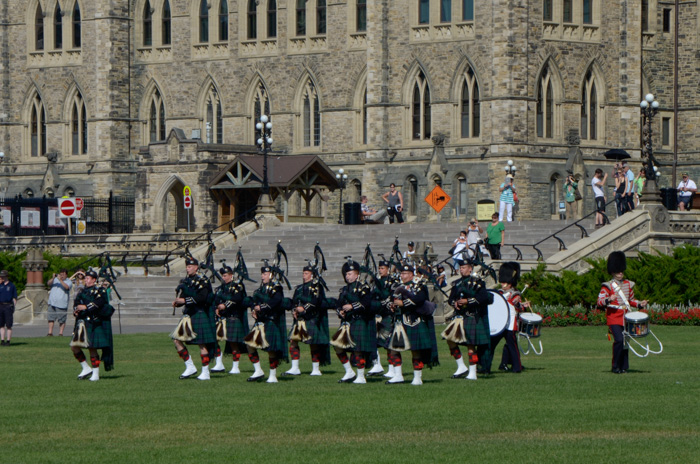 On Thursday morning we shared a cab ride with fellow explorers Chris & Bailey Meyer. They had a late flight back to California and were planning to take a Grey Line tour of the city.
We reached downtown just in time for the ceremonial changing of the guards at the Canadian parliament.
The four of us were able to get good places to stand for the show, which lasted a full half-hour.
My favorite was the pipers, of course. I was able to recognize some of their tunes from my Scottish fiddle studies.
---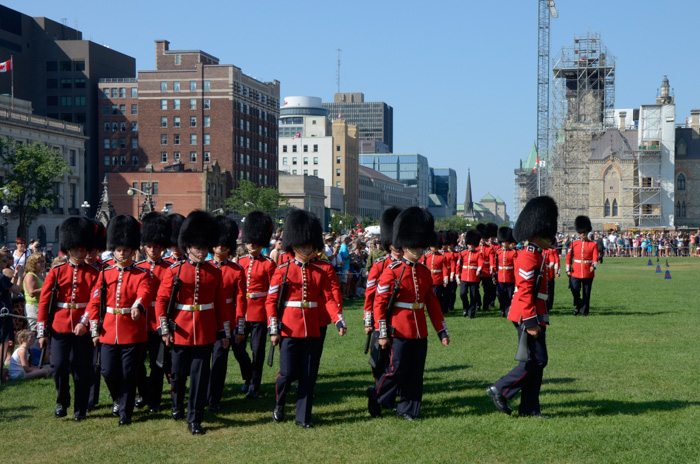 There were guards, bands and pipers all over the place.
The cranes and scaffolding such as you see in the background were all over downtown Ottawa. We asked and were told that Canada is celebrating its sesquicentennial next year and there is a lot of sprucing up in progress. Plus, as we were also told, such renovation is best done in the short summer because of typically harsh Canadian winters.
That said, it had been in the 90s in Ottawa for many days and I expect it was at least in the high 80s on the day that we were there. These poor guards must have felt suffocated in those woolen tunics -- set aside the bearskin hats!
---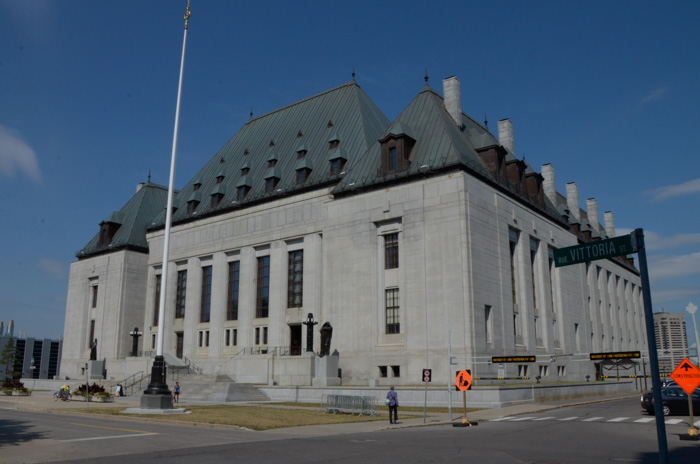 The guidebooks say that touring the Parliament buildings is a highlight of a trip to Ottawa, but there was a formidable line waiting for timed tickets.
Since waiting in line was not something that was high on our list, we decided to walk around downtown and see what we could see.
This is the Supreme Court of Canada. We were fascinated to learn that until 1949, it was NOT actually the court of last resort in Canada. Up until that time litigants could appeal to the Judicial Committee of the Privy Council in England.
We were also interested to find out that the Chief Justice is a woman. Four of the nine justices are women.
---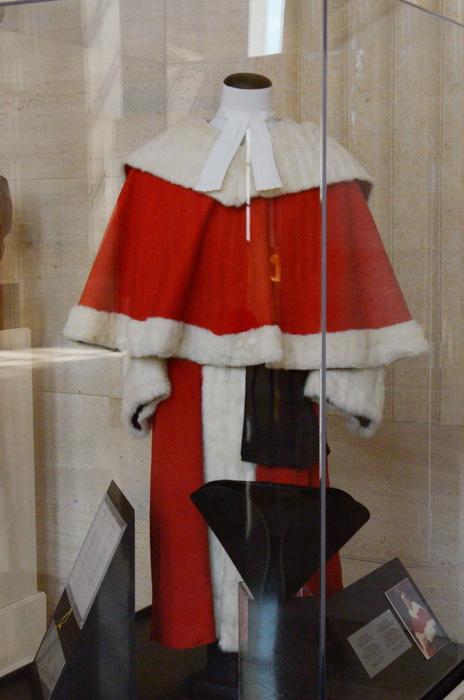 The justices wear these snazzy red robes with fur trim on ceremonial occasions. The tricorne hat is also traditional and may be worn or carried. Black silk robes are used for standard occasions. Wigs are not used.
The Canadians love red. Their horse show ribbons are red for first place and blue for second. That occasions some bragging footnotes for those folks who show in both the US and Canada.
Unfortunately we arrived at the court a bit late for the English-language tour and we didn't want to wait until the next one (French and English alternate, of course), so we simply looked at the exhibits in the main hall and cooled off a bit in the air conditioning.
---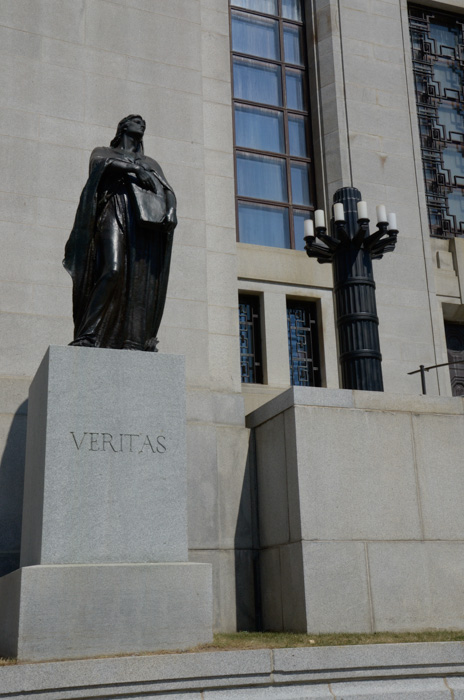 There are two statues flanking the entrance: Truth and Justice.
Justice is not blindfolded, which I found interesting.
The statues were not created for this space. Their sculptor was Walter Seymour Allward and they were commissioned in 1912 for a memorial for King Edward VII of England. World War I disrupted the plan for the memorial and the sculptures were lost for almost 50 years. (It's tempting to think of the last scenes of Raiders of the Lost Ark although one story has them buried under a parking lot.)
In 1969 the sculptures again saw the light of day, and in 1970 were chosen for display at the Supreme Court building, which had been constructed in 1941.
---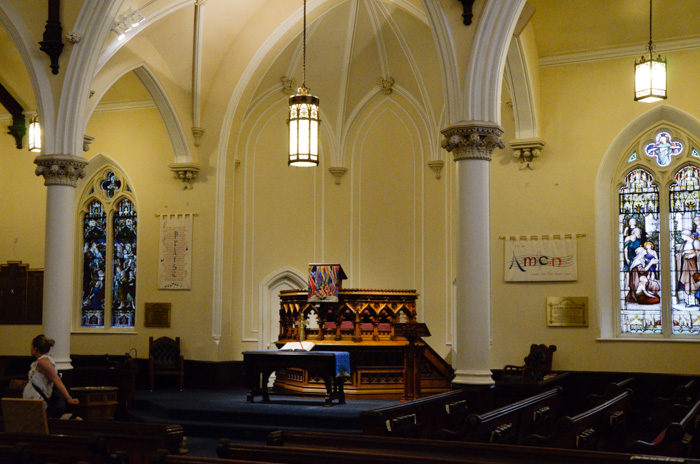 Another downtown building we visited was St. Andrews Presbyterian Church.
It is located just down the street from the Parliament. The facility is open to visitors every day and there were a couple of members there who welcomed us and introduced us to the building and their history. They are still a vibrant congregation, which is somewhat unusual for a downtown church nowadays.
---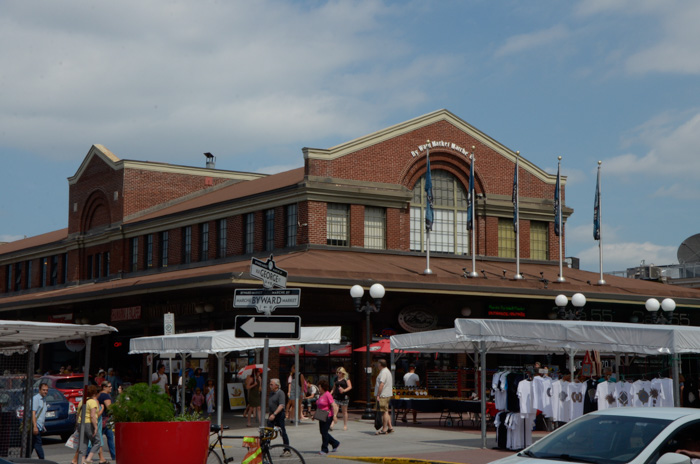 Our original thought had been to walk across the Ottawa River to the Quebec side and around back to our starting point, but it was starting to get oppressively hot -- especially to people who have just spent the last two weeks in Iceland and Greenland!
So we trimmed our ambitions to take in the ByWard Market, which was not far away. I don't know where the "Ward" portion of the name comes from, but the market was established by a Colonel By in 1826. We had lunch and a pint at a nearby Irish-style pub, found a postcard stand to send a postcard to our siblings, and topped off the visit with ice cream cones from one of the small stands.
---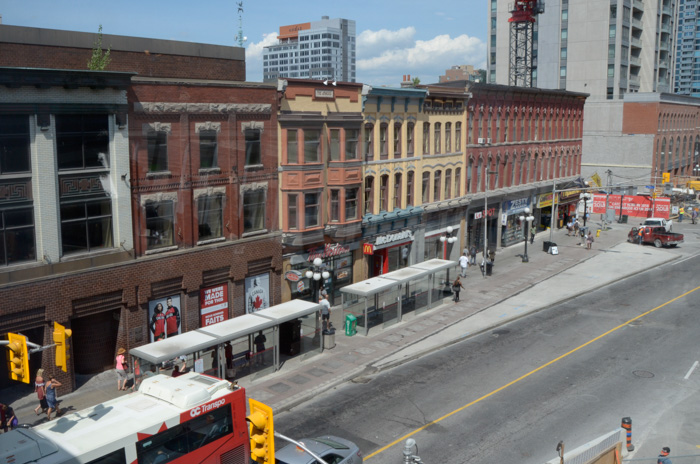 The Rideau Canal is also a beautiful attraction, but it was too hot so after asking around for directions, we located the bus stop to catch a bus back to the airport. We were even lucky enough to catch a bus with a broken collection machine, so the ride was free!
Ottawa has a "transitway" system using dedicated bus right-of-ways outside the city center. It made for a quick ride without interference by traffic lights and cross-road traffic. The bus driver was very helpful and showed us where we needed to get off for our airport hotel.
The following day we had an uneventful trip home to Virginia and a lovely visit with old friends in the Northern Virginia area before our drive home on Saturday morning.
---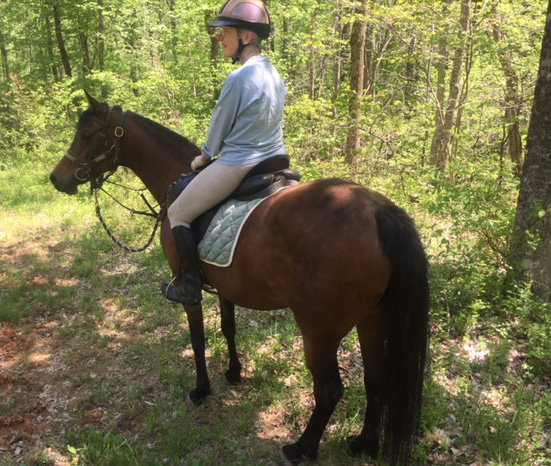 I always like to end a trip with a picture of home since we are always glad to return. Here is a picture of me with my horse Bella taken this spring. Those Icelandic horses were great, but I love my own girls.
It was good to be back.
---
Click your "back" button to return to the previous page or click for our picture album.