By the very early morning we were well inside the Kangerlussuaq Fjord. It is 120 miles long. There are actually three fjords with the same name, but this is the one in west central Greenland. It has the largest international airport in the country.
---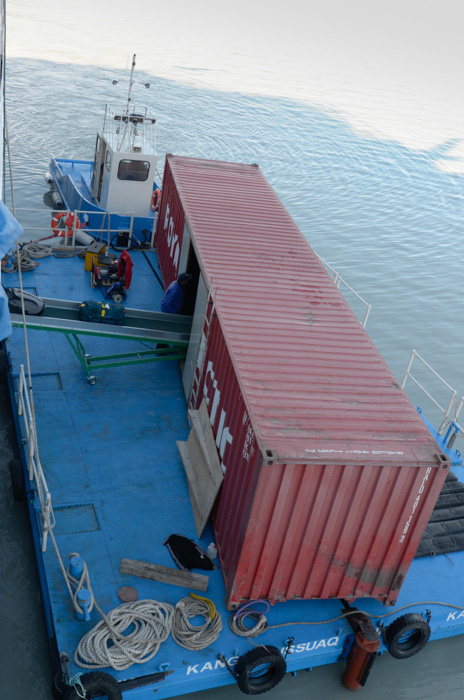 Since there is no place to dock our ship, staff loaded our luggage onto a barge for transit to the airport a number of miles from our anchorage.
We had wondered if the bags were all going to be loaded onto Zodiacs (the mind boggles) and were glad to see this better solution.
Of course we were admonished to take our carry-on bags with us for the day's excursion. Since WE were going to be loading onto Zodiacs and then onto buses, this led to much discussion about what and how much to take.
With 20-20 hindsight, I would have made much different decisions.
---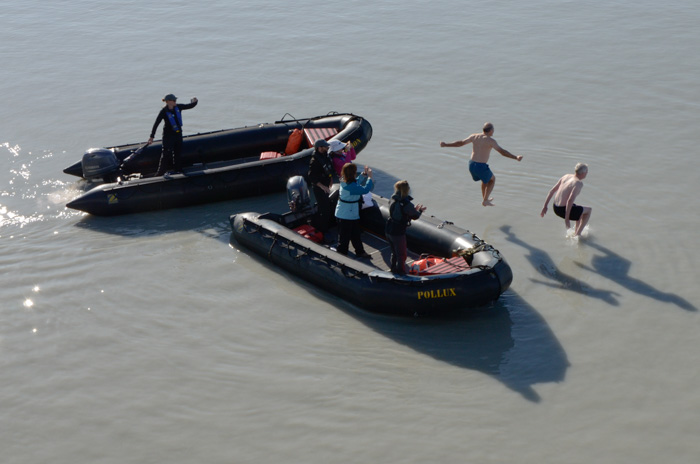 But first we had a couple of "polar plungers." Two of our number arranged to use this opportunity to swim (very briefly) in a glacier-fed fjord above the Arctic Circle. They were accompanied by the ship's doctor, a portable defibrillator, and their wives, who doubtless ensured that their wills were up to date.
From the looks on their faces as they surfaced, it was as much as shock to the system as you would expect. They both shot back out of the water into the Zodiac like seals!
A number of non-plungers complained that had they been aware of the plans they would have taken part. I expect the staff kept everything on the QT to minimize the need for that defibrillator!
---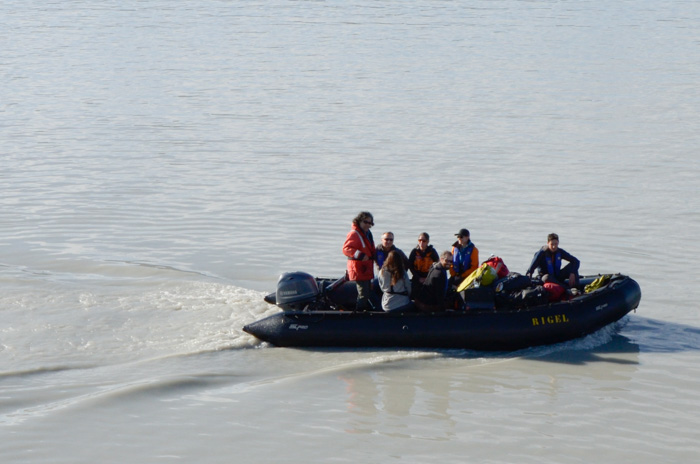 The full Zodiac fleet was needed to get everyone off the ship along with their hand luggage. A continuous stream of Zodiacs buzzed between the ship and the anchorage.
At least it was a dry landing!
---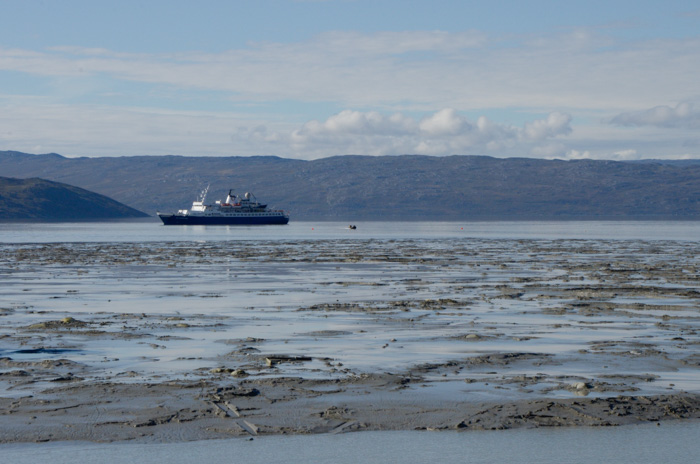 Our last view of the ship beyond the mud flats.
I saw her later from the plane as we flew toward Canada. She was on her way to transit the Northwest Passage. Her new passengers arrived on the same chartered airplane that took us to Ottawa for our final night of the expedition.
---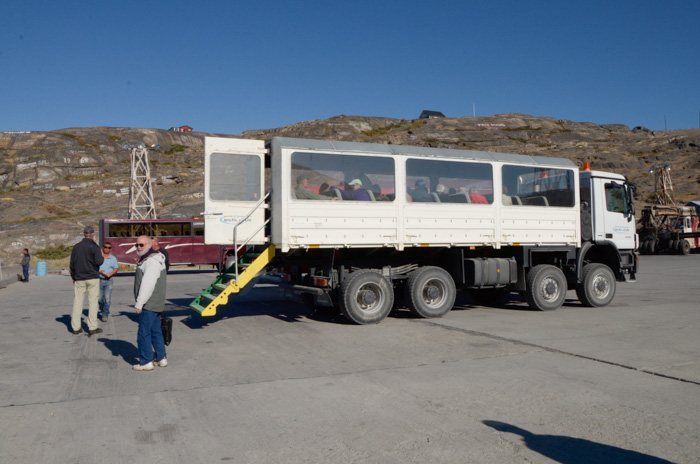 Once on shore we loaded into one of these wheeled torture chambers masquerading as buses. Given the conditions here, a typical tourist bus wouldn't last a week, but these sturdy vehicles were VERY uncomfortable! I think it was something of a contest between the occupants of the three "buses" as to which was more miserable.
---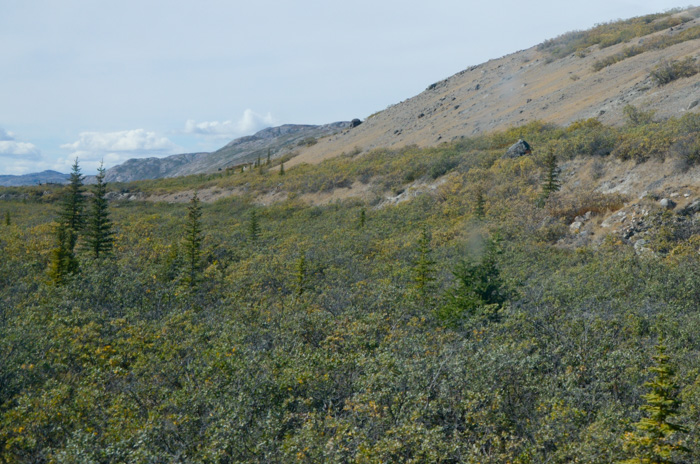 Although the area around the airport is above the tree line it is in a relatively protected area. In the 1970s trees known to be adapted to subarctic conditions were planted here and at other selected sites.
Many trees have survived, but as of 2013 only a few had produced seeds.
---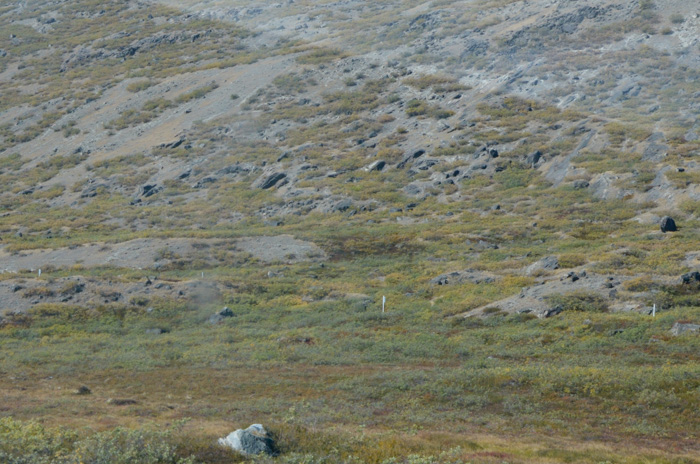 When the US turned the Sonderstrom Air Base to the Greenland government in 1992, extensive obsolete ordnance that had to be removed. It was exploded in this area east of the airbase.
Since it couldn't be proven that everything had been cleared, the area is still demarcated with warning signs similar to known mine fields.
---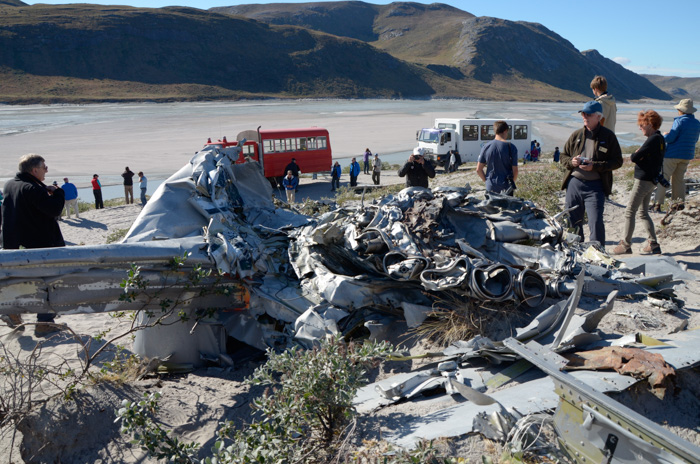 The only stop we made on our trek to the ice cap was at the site of this air crash. Three training jets were unable to land at the air base due to poor visibility. They stayed in a holding pattern as long as they could, but eventually ran out of fuel and crashed. All three pilots parachuted to safety. The wreckage of one of the planes is adjacent to the road.
One of our staff members located a geocaching site near the wreck.
---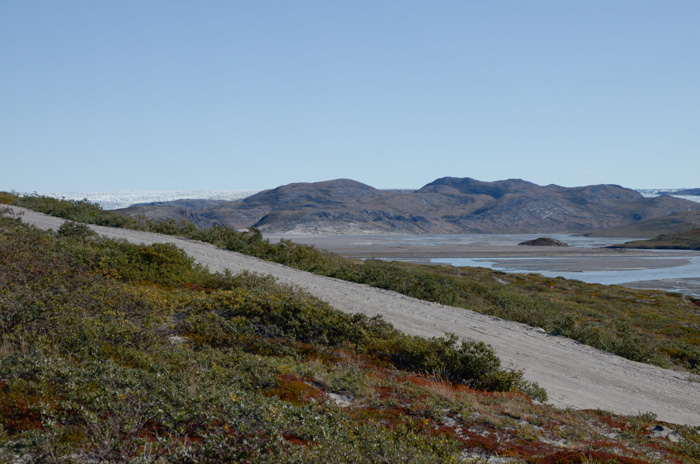 The river flowing from the icepack is called Qinnguata Kuussua. It is a classic braided stream.
Volkswagen built the road to the ice sheet in 2000 to test cars in extreme conditions. They abandoned the testing site in 2006, but the road is still used for touristic torture chamber jaunts.
I shouldn't complain because we enjoyed the opportunity to see the Russell Glacier up close, but it really was a rough ride. Since we had been told to bring our carry-on luggage, I unwisely brought my laptop rather than entrust it with the rest of the luggage. Moreover, rather than bring my padded bag that it usually travels in, I put it in my backpack, which I stupidly put on the floor of the "bus." Bad decisions come in threes!
After 20+ miles of pounding over washboard roads, I belatedly realized that my computer was being shaken to bits, and I at last put the backpack on a seat where it would have some cushioning from the jolts. Story to be continued.
---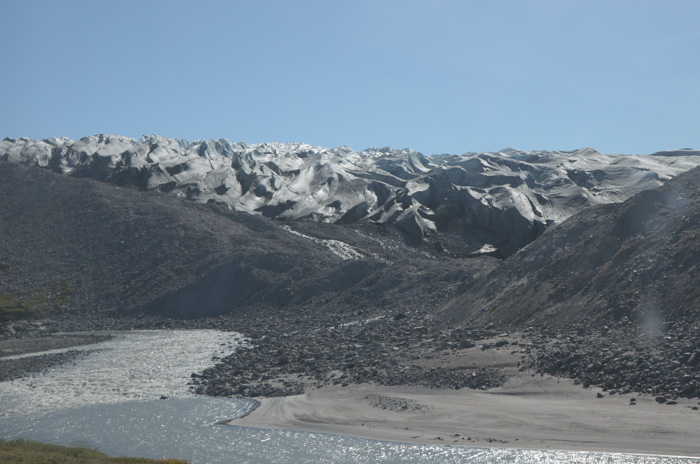 Our first sight of the ice sheet remains my favorite even though the picture was taken through the incredibly dirty windows of the bus.
Even though I have seen many glaciers, for some inexplicable reason I expected the Greenland ice sheet to be as smooth as an ice rink. Perhaps it is in parts, but I expect most of it looks just like this.
---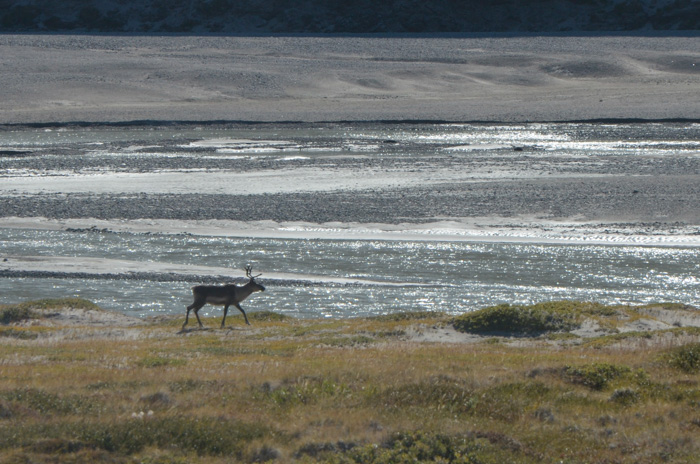 Caribou are native to Greenland and feral reindeer, descendants of animals imported from Norway in the 1950s, are also found. As we neared the ice sheet, we passed into a protected wildlife area and began to see animals. In addition to caribou I also saw an Arctic hare, but wasn't quick enough to get a picture.
Caribou hunting is an integral part of Greenlandic culture. We saw a successful hunter in Narsaq with three field-dressed carcasses in his pickup. I don't know if he was planning to take them to the slaughterhouse or if he would butcher them himself.
---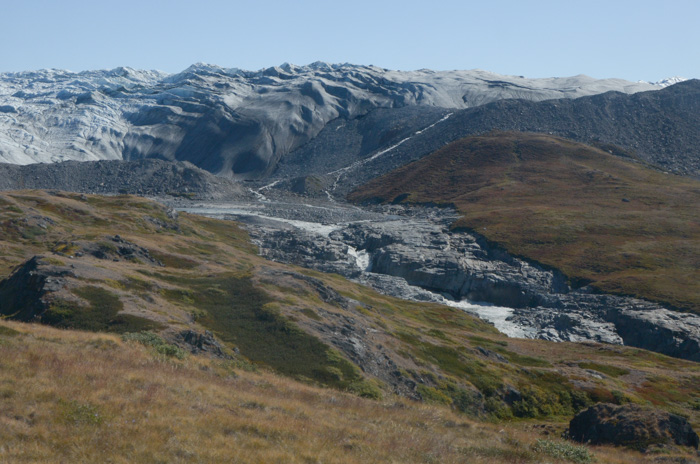 We are nearing our destination.
I hoped to see more waterfalls on this excursion, but this was as close as we got.
---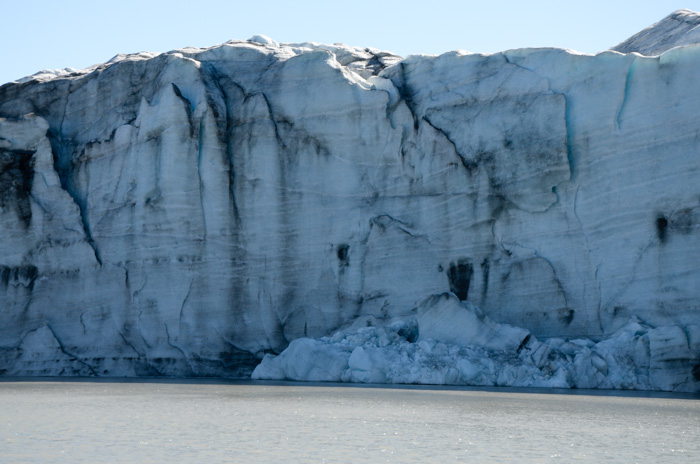 The depth of the ice is pretty impressive. Farther inland it is as much as two miles thick.
This glacier calves in the same way as glaciers on the seacoast. Check this YouTube video for an event near where I'm standing now.
---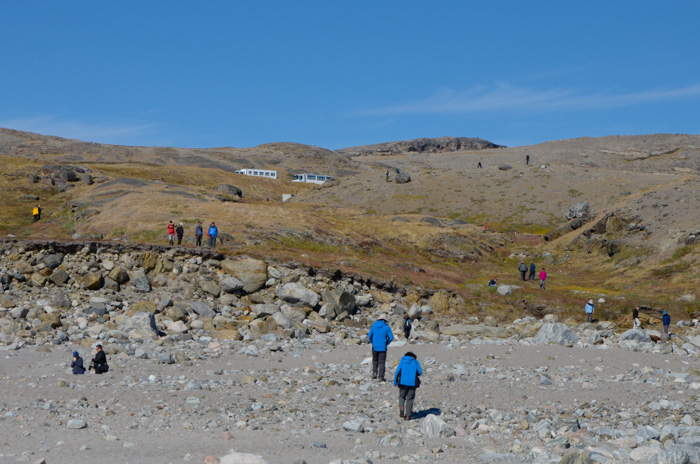 An extensive picnic site featured an array of port-a-potties and picnic tables.
Our traveling companions spread throughout the river bed and surrounding area exploring for rocks, plants and good pictures of the glacier.
Our jackets are almost as colorful as a Greenland village!
---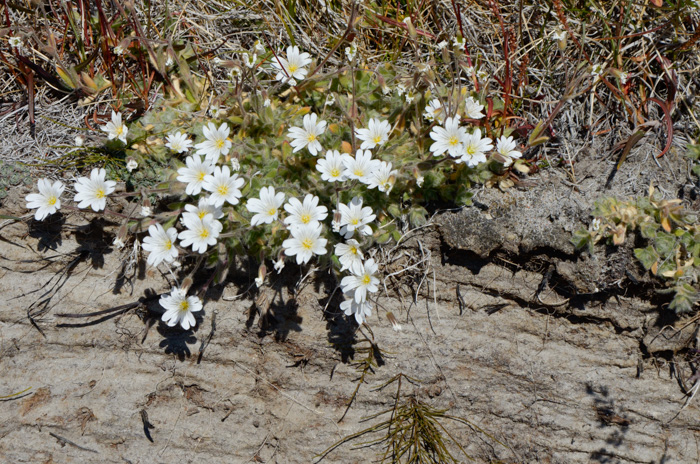 Arctic chickweed gains respectability for its beauty and survival in a tough environment. Chickweed in my garden is not so welcome -- nor is it beautiful.
---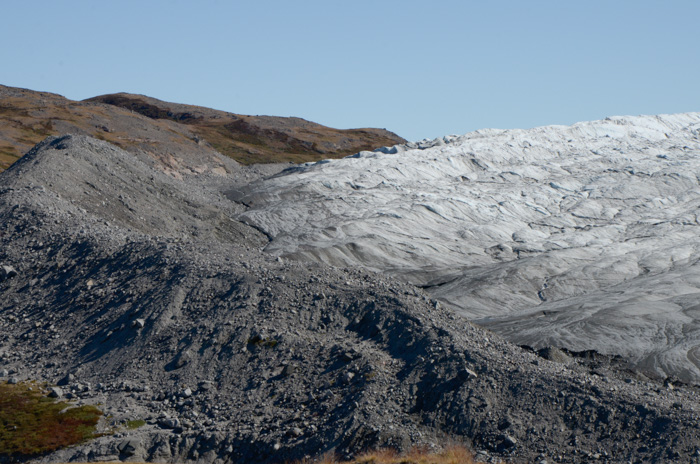 The height of the moraine indicates how much the glacier has retreated in recent years.
One thing that became crystal clear on this trip, both from the scientific presentations by Rob Dunbar and our own observations, is that global warming is real, it is happening now, and it really is exacerbated by human activity -- poorly informed politicians to the contrary.
The increased melting of the Greenland ice sheet -- from warmer air temperatures, warmer ocean temperatures, and decreased albedo caused by less surface ice -- contributes not only to sea level rise, but also to decreased salinity. Dr. Dunbar introduced us to the thermohaline circulation, which drives deep ocean currents called the "global conveyor belt" and affects everything from climate to the productivity of the oceans. The tutorial and animations at the link explain the causes and effects.
And this may matter sooner than you think.
---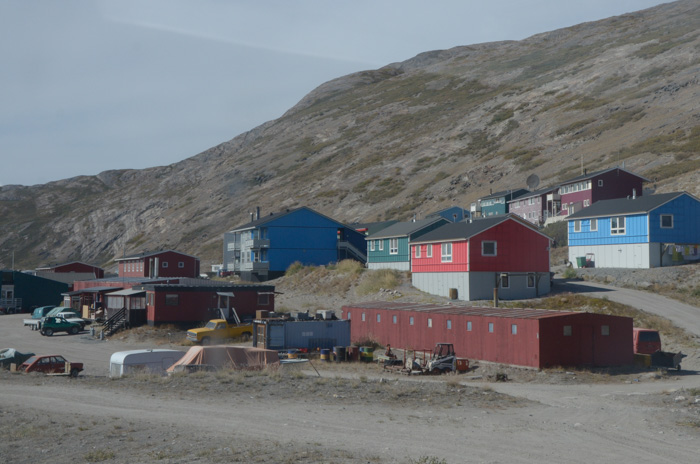 After our visit to the glacier we lurched and bumped back to Kangerlussuaq.
By this time I was getting quietly frantic about the survival of my computer. The machine could be replaced, of course, and I had a backup at home of all but my most recent files, but I had done an extensive amount of photo processing while on the trip and that was not backed up.
Our friend Fred had earlier explained how he brought along thumb drives for his while-on-the-trip backups. I was lamenting that I hadn't done something similar.
---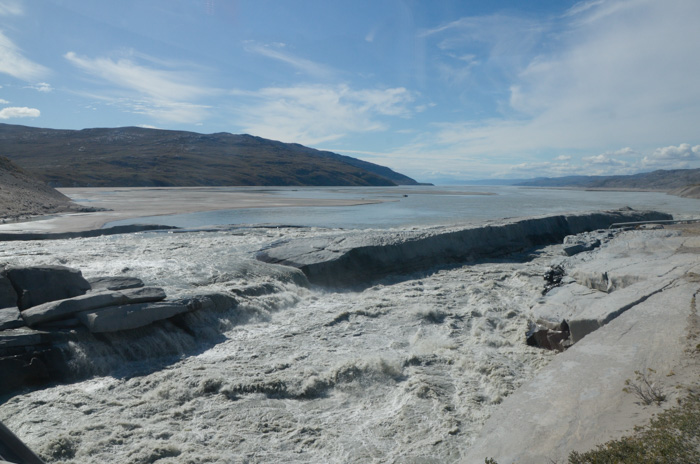 On the way to our luncheon site, we crossed the river flowing from the ice sheet. It was sculpting the sediment upstream of the bridge.
---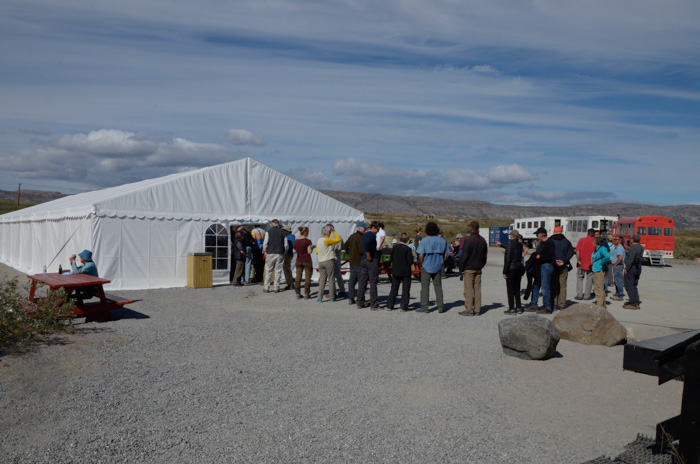 Our lunch was at the Roklubben Restaurant. The large tent contained a buffet and there were picnic tables both outside and inside.
Before getting in line for lunch, I dug my computer out of the backpack and attempted to turn it on.
Nothing.
Not a flicker.
I stumbled down to the lakeside and had a good cry, with Jim's comfort. And then picked myself up to go eat. At least I still had all of my SD cards, so no pictures were actually lost. I must admit it took some of the sparkle out of the day. But the story is still to be continued.
---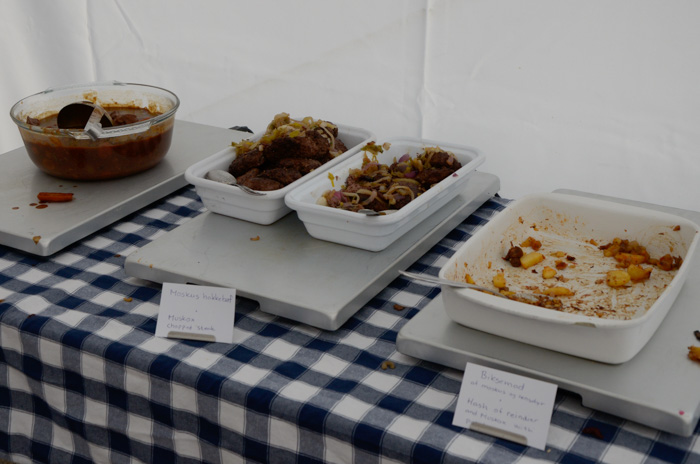 The restaurant specializes in local food. We had reindeer & muskox stew on the left (yum), muskox burgers in the middle (meh), and reindeer hash on the right (a favorite).
---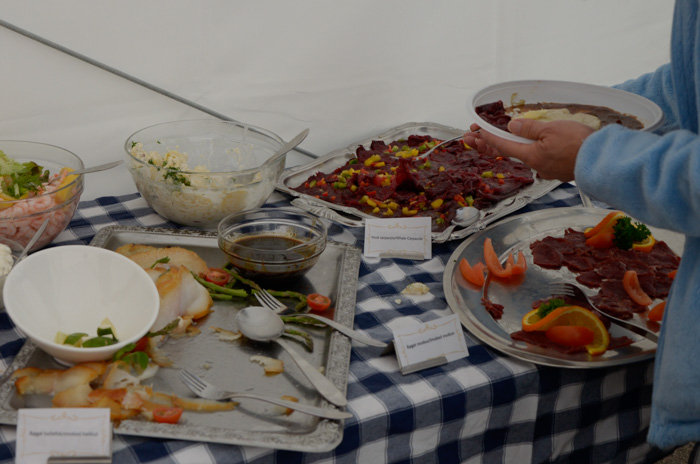 There was also a selection of seafood. I confess to a prejudice against eating fish or seafood except at home or other place I know well. I'm sure that I've missed out on a lot of good food that way, but there you are.
The offerings included smoked halibut, shrimp, whale Carpaccio and smoked muskox. Since I didn't care much for the muskox burgers, I also passed on the smoked variety.
---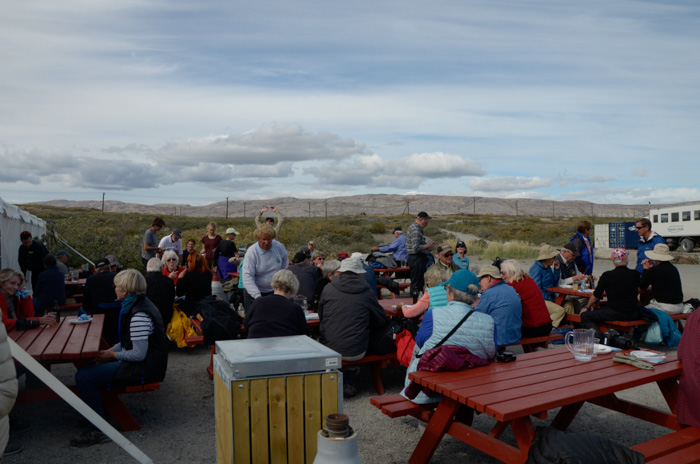 The weather was gorgeous and most folks ate outside. We were far enough north not to be harassed by black flies or mosquitoes.
Eventually our time at the restaurant came to an end and we were off to the airport. We were delighted to find our bags waiting for us there and everyone checked in successfully.
Since this is a low-volume airport, the security line was not open until a specified time. We were free to explore the town. That took about 10 minutes. The highlight was the grocery store.
Our flight was operated by First Air, a Canadian airline. We had never heard of it before, but it celebrated its 70th anniversary this year. It is wholly owned by the Inuit people of Quebec. Its flight magazine was printed in three languages: English, French and Inuktitut, which has an interesting written form.
No we didn't fly on a DC-3. It was a thoroughly modern Boeing jet. Unfortunately it arrived a couple of hours late, but in due course we arrived at our hotel in Ottawa to find yet another lavish spread for dinner.
---
Click your "back" button to return to the previous page or click for our picture album.