Tasiilaq, home to approximately 3000 people, is the most populous community on the eastern coast of Greenland. It has a school up to 10th grade, but children must move to the capital, Nuuk, to continue their education. One of the expedition staff, Kirsa Norregaard, spent much of her childhood in Tasiilaq. Her parents had come from Denmark to Greenland to teach. When Kirsa was ten, they relocated to Nuuk.
---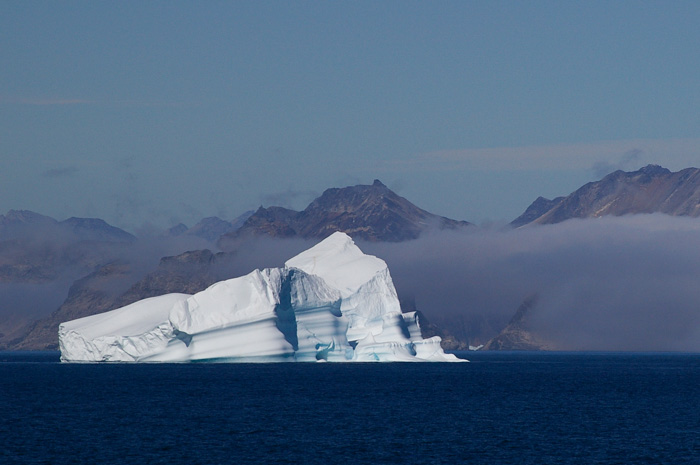 But first we had to get there. We cruised down the coast passing icebergs on the way.
---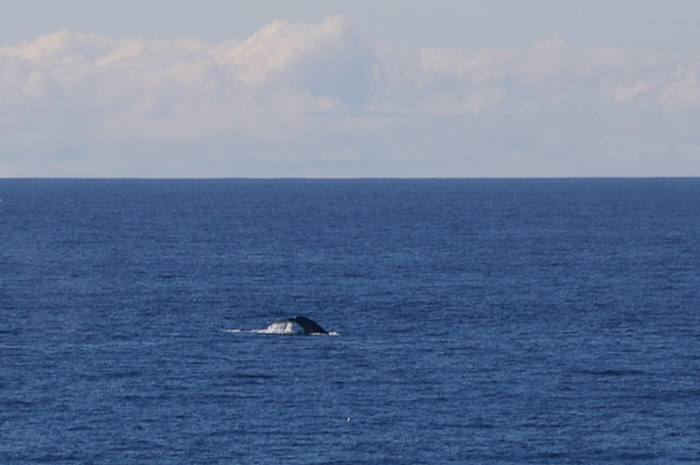 Then there was the cry: whales!
We were in the midst of a pod of fin whales, the second largest animal on earth.
---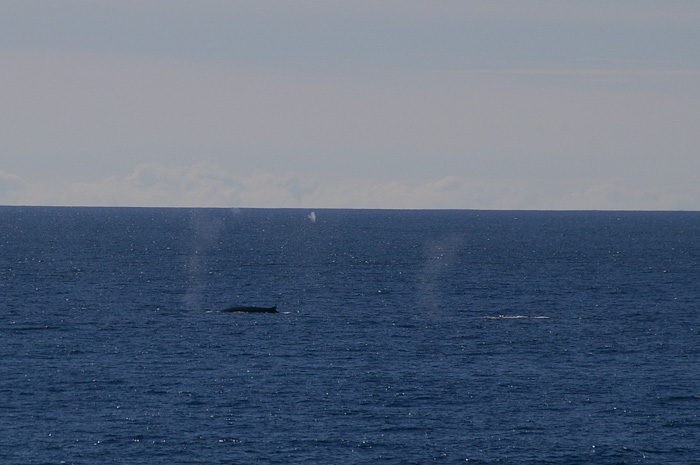 Wherever you looked there was either a spout or an actual whale.
---
Or two whales.
---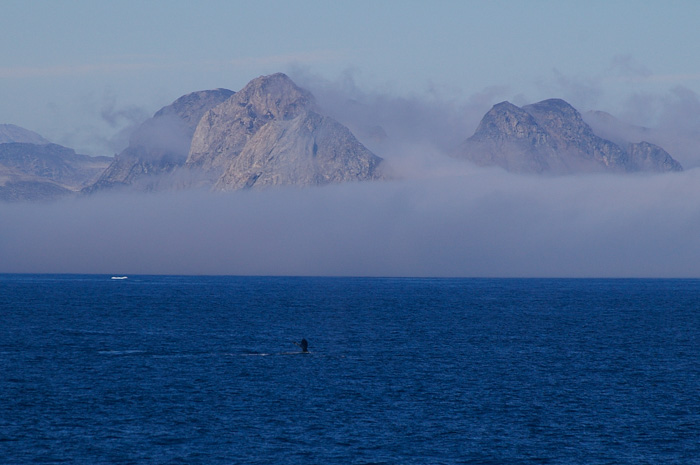 Dive, dive!
---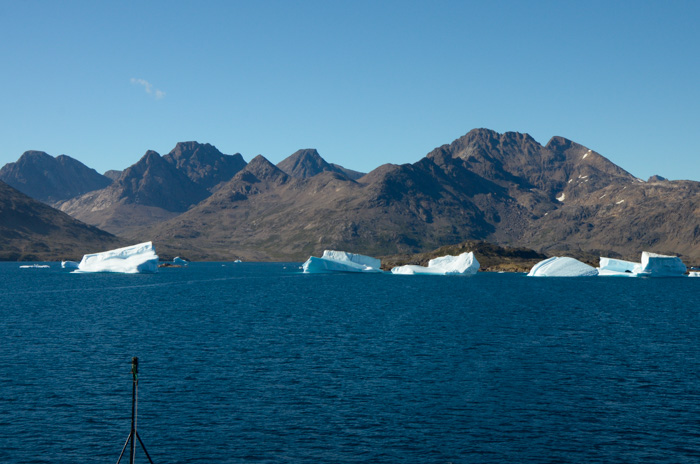 We eventually bade farewell to the whales and proceeded to Ammassalik Harbor.
These icebergs appeared to have blown in from outside. I never saw a large glacier in this area where they might have originated.
---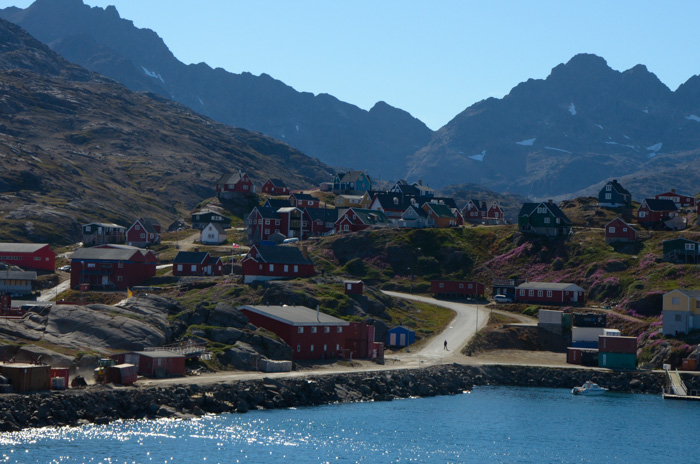 The colorful town of Tasiilaq is tucked between the sea and mountains.
---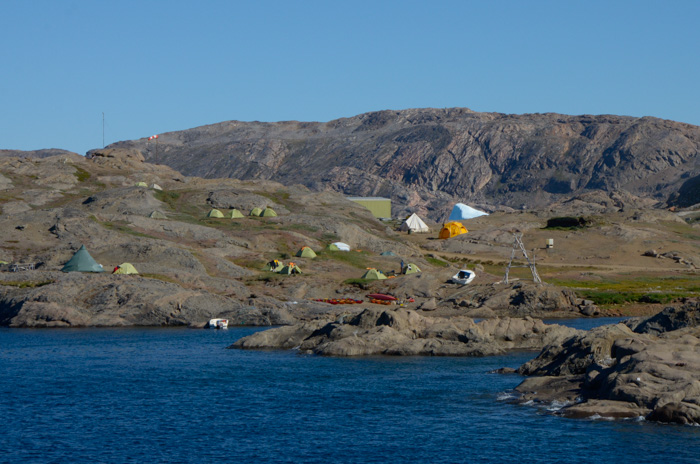 As we approached the pier, we passed this encampment of kayakers. There are kayaking expeditions that simulate the original way to see Greenland. Whenever I feel that we are being adventurous, it is humbling to see something like this.
In the airport heading to Iceland we chatted with a couple waiting in line with us. They were Danish, about our age, and were just returning from a camping vacation in the U.S. They had also been on a backpacking tour of part of Greenland.
Such discussions make us realize how addicted to luxury we are!
---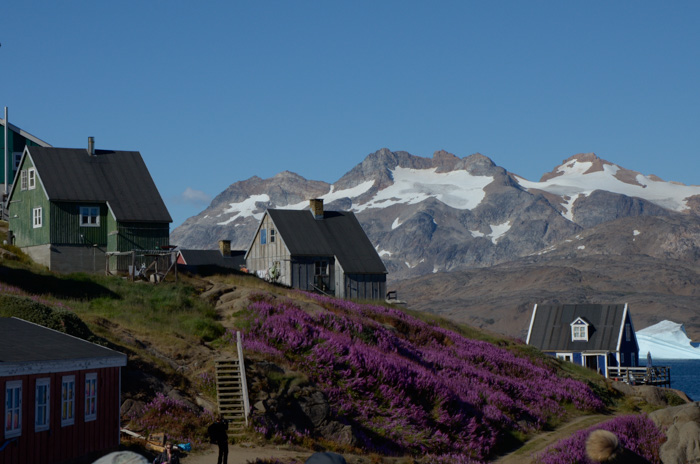 The pink flowers are fireweed -- also widespread in northern Russia.
The plants are edible as well as decorative.
---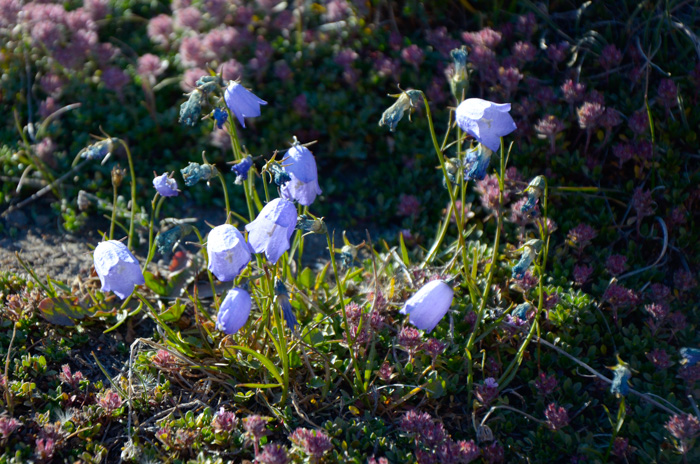 Harebells, or campanula rotundifolia, were common sights.
I have not been able to identify the pink flower. The actual flowers are spent and the pink clusters are the sepals.
---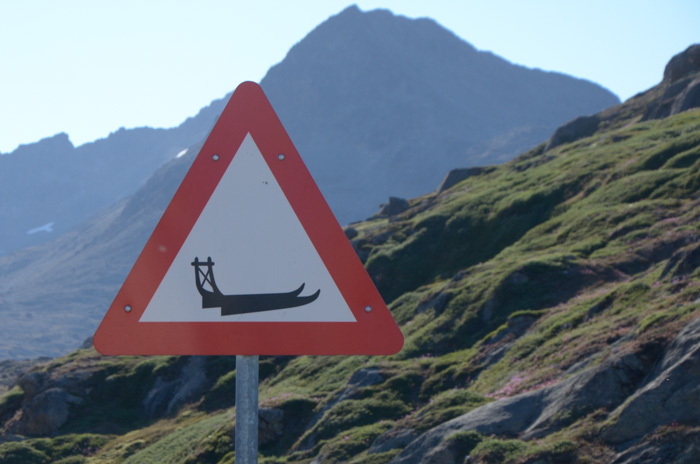 We don't see any of these back in Virginia. Dog sledding is very popular as a good way to get around in the winter. There were numerous sled dogs chained up around town and we were admonished not to approach them. These dogs are not pets; they are working animals and not necessarily friendly.
---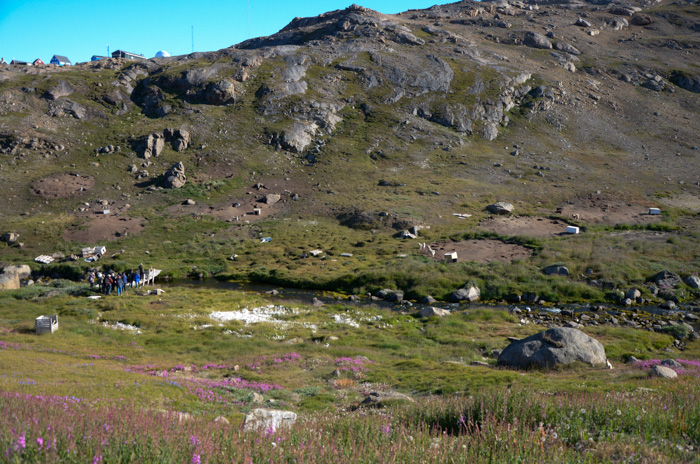 One of the activities that we were invited to see was feeding the sled dogs. There are a number of circles visible on the far side of the creek where the vegetation has been worn away. These are where the dogs are tethered.
There has been an ongoing controversy here in Lexington about dogs being chained. In an area where dogs are kept primarily as pets this is considered cruel and in cases where the dog is alone and ignored I'm sure it is.
These particular dogs are not pets and they are not alone.
---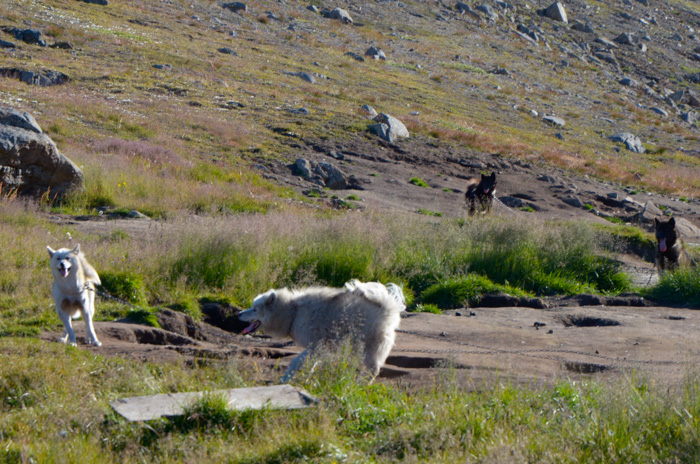 The dogs are kept in pairs. The dominant dog is on a shorter tether than its partner. That allows them to interact, but the lower-ranking animal has a zone of safety where he or she can get away.
Actual sled dogs do not conform strictly to the "husky" type. As these two pairs show, the dogs might be quite different from the typical image and also very different from each other. This was also true in Alaska.
Puppies run free and are very friendly.
---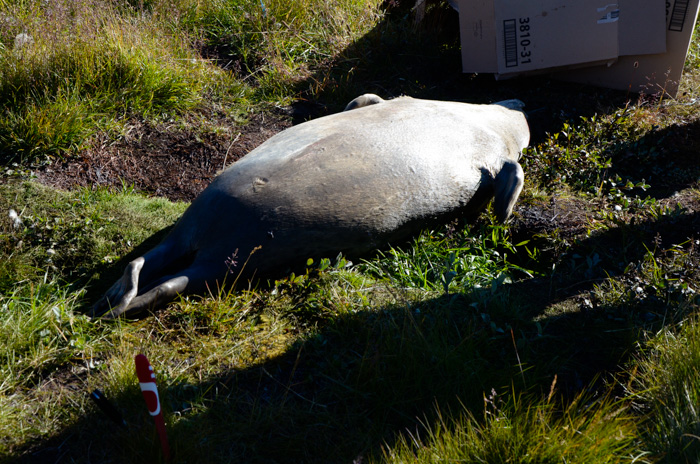 The dogs don't eat Alpo; their diet is fresh seal.
This seal was brought to be fed to the eager dogs. I forget how frequently they eat, but it isn't daily. This conforms to the natural feeding cycle of wolves, which may go days without a kill.
---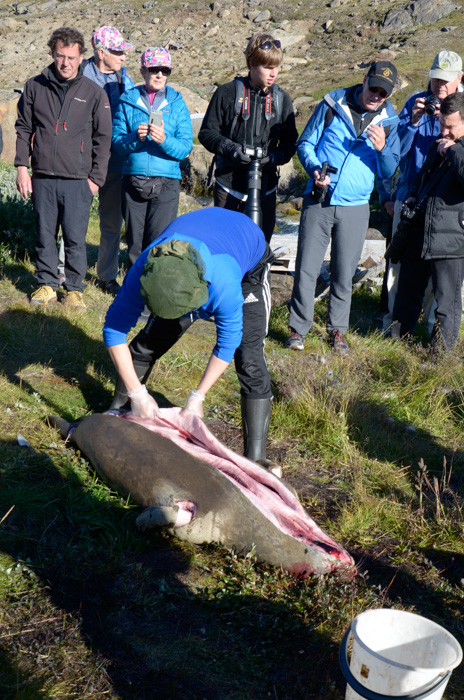 The seal is butchered for the dogs. It was almost entirely blubber.
Some years ago we attended a presentation by a successful Iditarod musher who described the high-calorie and fat-rich diets needed by racing sled dogs. These dogs are not racing dogs, but they clearly also pack in the calories when they get the chance.
We didn't hang around to see the complete process of butchering and feeding. There was so much else to see and this isn't our favorite kind of thing anyway.
---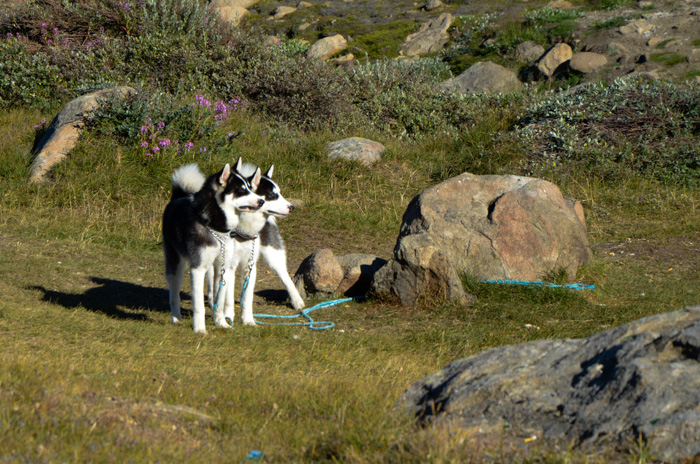 This pair of dogs at a neighboring house was quite interested in the feeding process although they were not part of the program.
I suspect these really were pets tethered out in the back yard for some fresh air.
They were beautiful!
---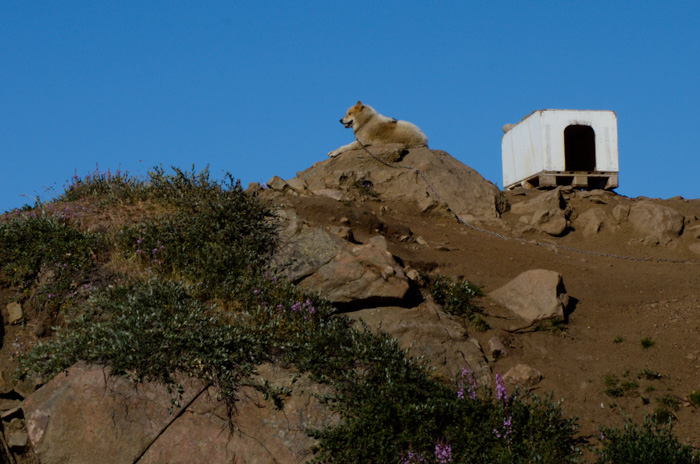 Another dog hanging out and catching some fresh air.
The dog house on skids can be repositioned in any kind of weather.
---
We saw cotton grass, which is really a sedge, throughout our travels in Iceland and Greenland. There are several species. It shimmers in the sun.
---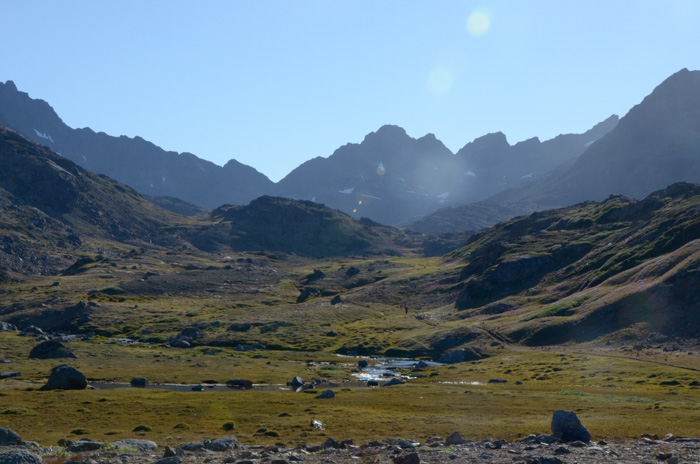 Tasiliaq lies at the mouth of an extensive valley called "The Valley of the Flowers." There are a number of treks in the area, but our time was limited and I remembered the polar bear sightings, so I didn't go any farther than this.
---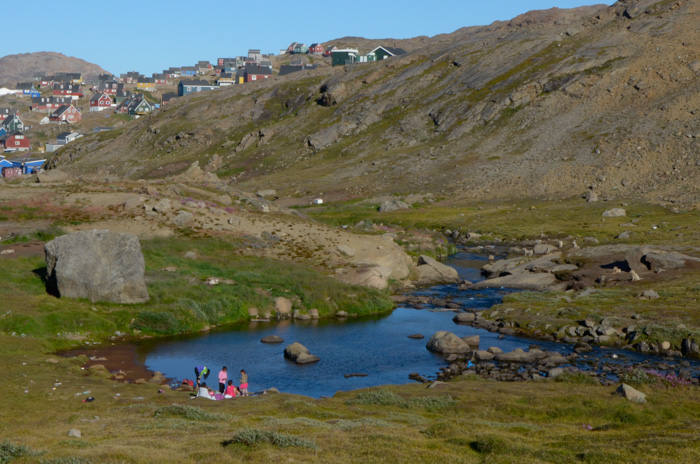 There were spots along the river where local youngsters enjoyed a dip in the summer (to them) weather. I didn't go down to the stream to see how cold the water was, but I'll bet it was a tad chilly by Virginia standards.
---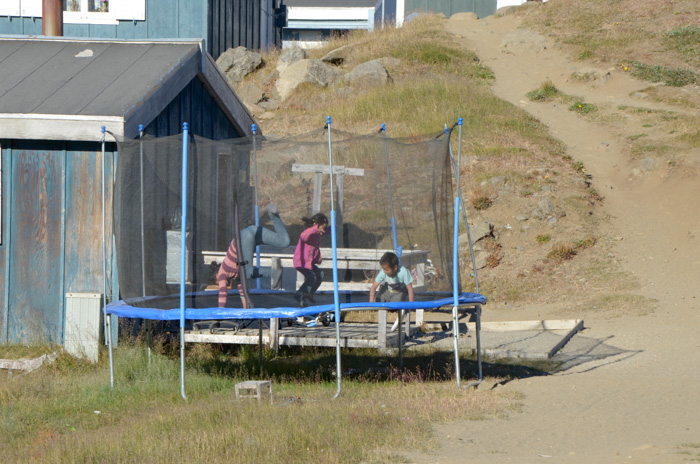 Another activity that the children enjoyed was trampolining. This particular setup was unusual in including a net -- most of them didn't.
---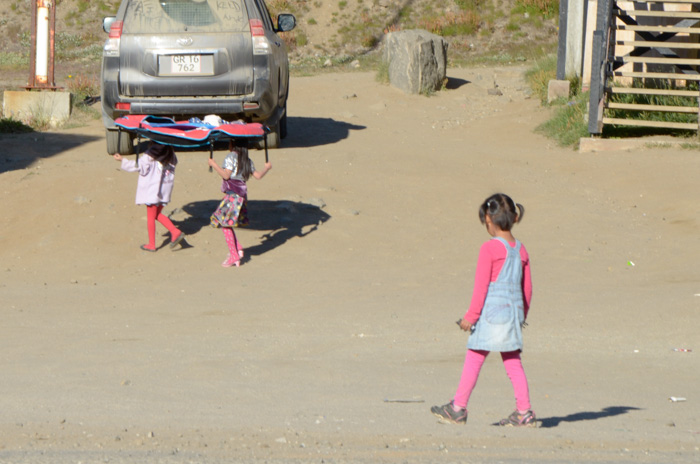 These little ones have their own portable trampoline that they were taking somewhere or the other.
---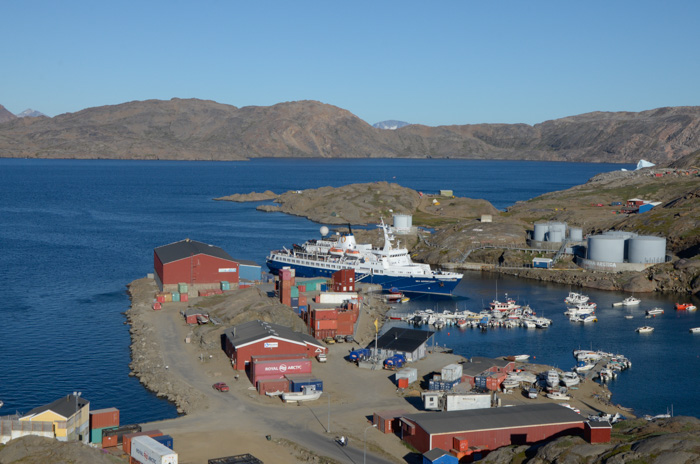 The Sea Adventurer in harbor at Tasiilaq.
---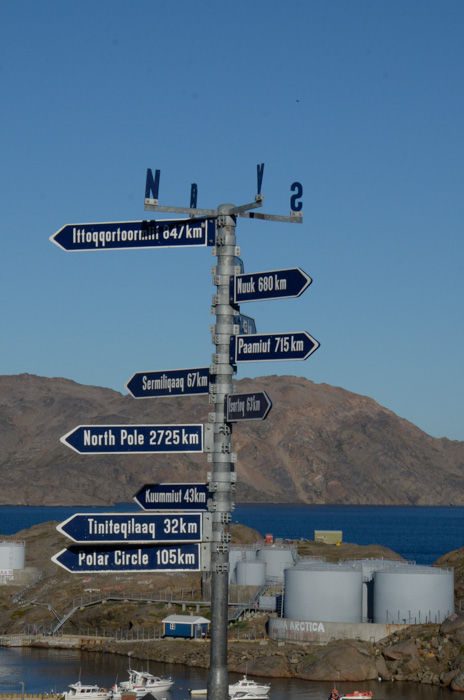 Now this would have been a good place to get our picture taken with the local News-Gazette to brag about our vacation.
Although the "Polar Circle" is noted as being 105km north of the city, two of the three measures of the Arctic show Tasiilaq as being firmly within the Arctic region.
I'm not sure when the 10°C (50°F) isotherm was last plotted. We certainly experienced higher air temperatures on every day of our trip.
---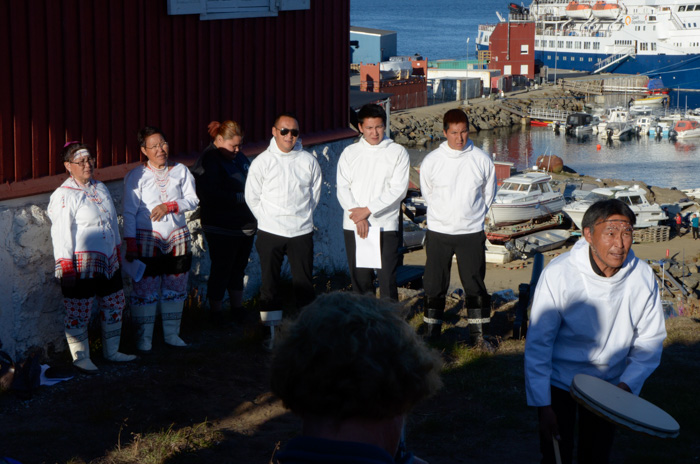 One of the festivities that had been arranged for us was a musical performance by this folklore group. After the songs we were treated to a drum dance. Their regular dancer was unavailable, but they were able to recruit a very capable substitute.
Click to see a video of what is likely the same comic drum dance that we heard. The dancer explained the song before he started. I don't remember the details, but it featured a raven enticed out to sea by a seabird with unfortunate consequences for the raven. The imitation of the birds is great.
---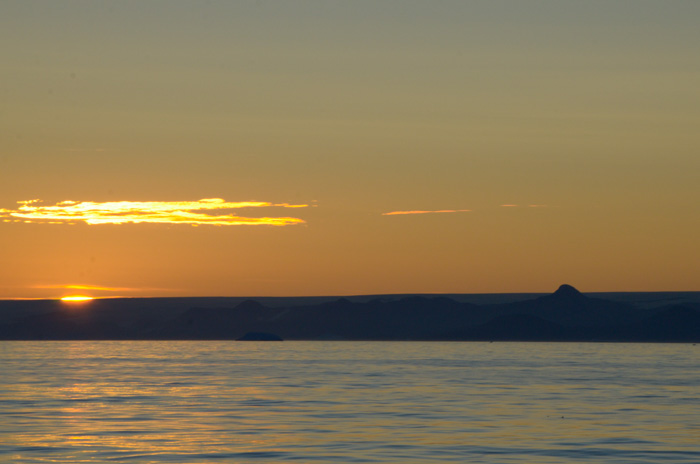 After the music, we were back on the ship for our next port of call.
That evening I captured the sun setting over the ice cap, which makes one of its closest approaches to the southeastern coast along here.
---
Click your "back" button to return to the previous page or click for our picture album.