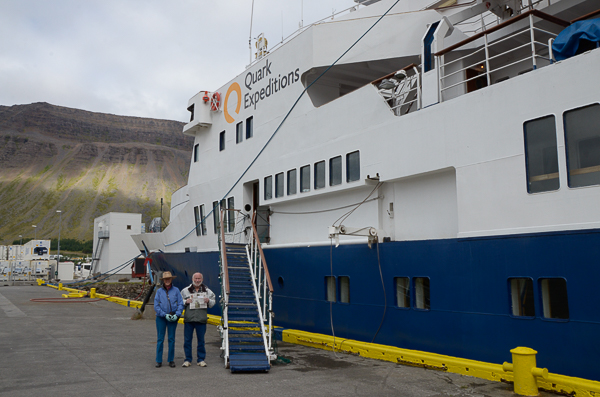 It was a treat to have our ship tie up to a dock in Ísafjörður. With 2800 inhabitants it is the largest city in the Westfjords.
We had brought a copy of our local Lexington, VA, paper, which publishes vacation photos from places far and near. We got our picture taken with the ship here. (But we actually submitted a photo from Nuuk. Sorry, Iceland! Greenland is the road less traveled.)
After climbing into buses, we took a long tunnel to the nearby village of Bolungarvík. This tunnel, completed in 1996, is the pride and joy of the locals. The old seacoast road snaked out around a headland and was usually closed in winter due to snow and often closed at other times due to landslides or high seas and winds.
The tunnel may be unique in that it has three entrances and is "Y" shaped inside the mountain. It was also unique in that there was a formal pre-construction investigation into whether elves lived in that particular part of the mountain and might be offended.
---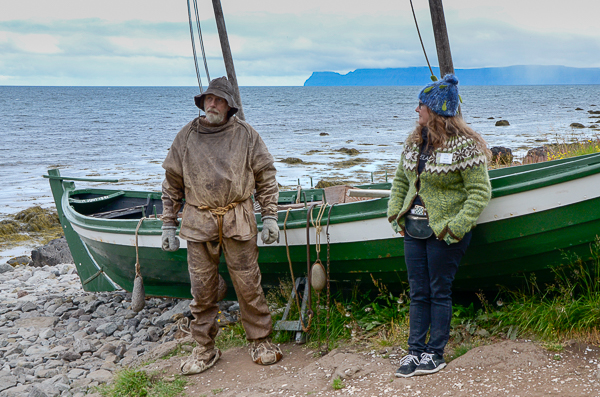 Our first stop and the highlight of our visit was the Ósvör Bolungarvík Maritime Museum in Ósvör. This gentleman modeled the traditional fishing gear. He explained how each of the pieces was made (mostly of sheep skins) and how they were used. The cord tied around the waist and crotch not only kept the ensemble together -- it was useful if someone was swept overboard! It provided a handy grip to haul him back in.
His woolen mittens featured two thumbs each. If one wore out on a voyage, the mitten could simply be rotated so the other could be used. It also means that you don't have to worry about which mitten goes on which hand.
The boat dates from the 19th century.
The young woman was our local guide. She is an American who married an Icelandic man she met attending college in Montana.
---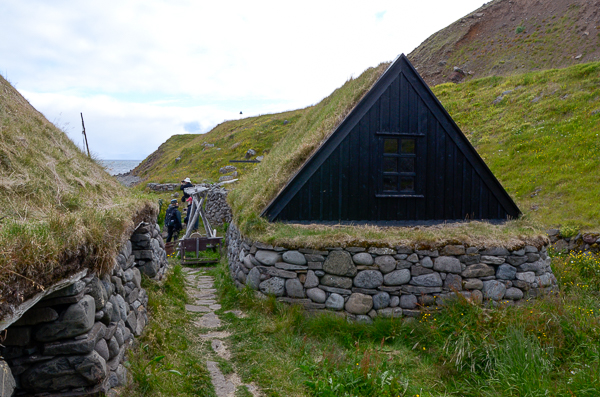 These houses are replicas of those used for living and working during the fishing season. There was no need for protection in severe winter weather.
Bolungarvík itself wasn't permanently occupied until the late 19th century.
---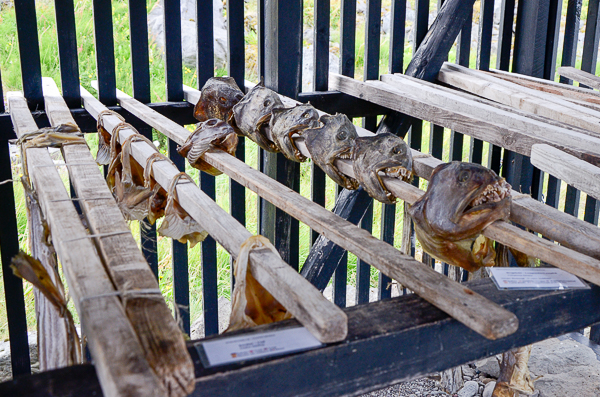 This structure was used for drying fish. The macabre display of toothy fish heads was somewhat daunting.
There is also a salting house.
---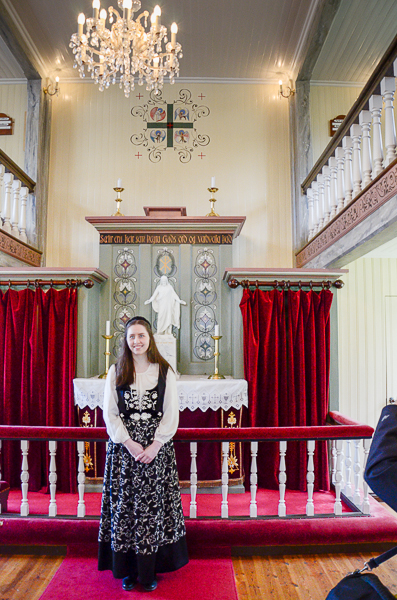 After the museum we proceeded to the local church where we were treated to a recital of Icelandic songs. The Bolungarvík music school teaches voice as well as numerous instruments.
---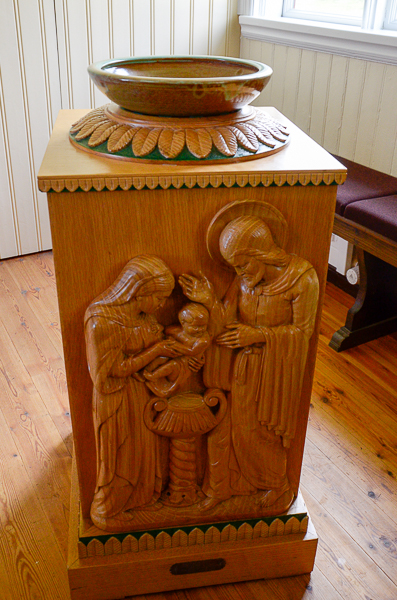 I loved this beautifully carved baptismal font with a artisanal pottery bowl. It is a modern piece. I'm sorry that I didn't record the name of the artist.
---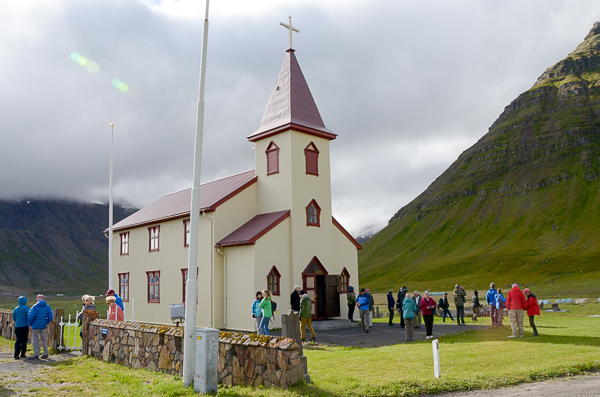 Icelanders are proud of their local churches although they may not attend regularly or at all. I read that many retain titular membership and make contributions (through their taxes) to the maintenance of small or remote facilities.
---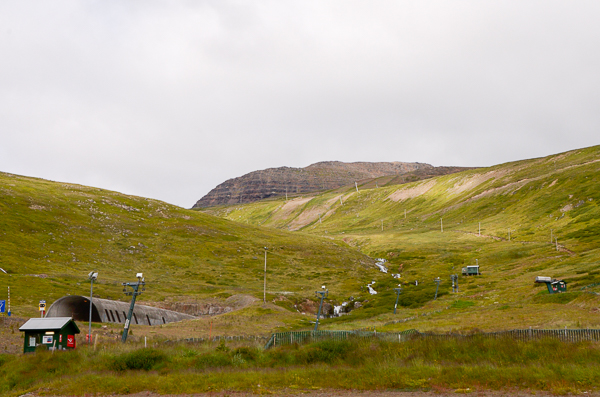 Returning to Ísafjörður, we visited the small local ski area - Tungudalur. The reason for the visit was not for skiing, obviously, but to sample the pristine water directly from the stream. This would not be advisable back home because of bacterial and other pollution plus the danger of parasites. We were reassured that here it was perfectly safe.
Iceland's air and water are both remarkably free from pollution.
Our ski club has run a number of "See and Ski" trips to exotic locations, which may be focused slightly more on the "see" rather than "ski." We've enjoyed such trips as Morocco, Andorra & Argentina. Iceland in winter would be a different kind of experience.
We noted the light standards for night skiing. There is precious little daylight in the Icelandic winter!
For "see & ski" possibilities check out Ski Iceland.
---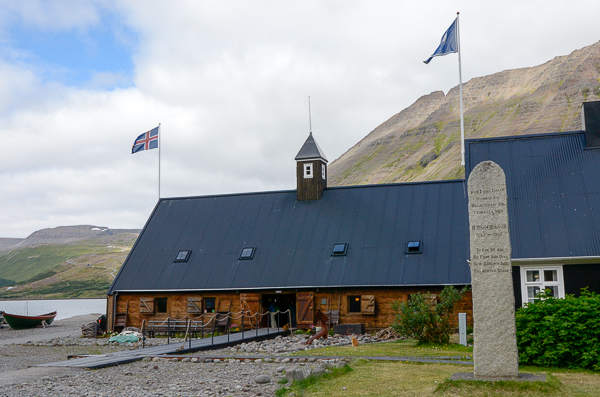 Our next stop was the Westfjord Heritage Museum focused on maritime history. What I remember about this visit, however, is the food. We were offered dried fish or harðfiskur. Perhaps not exactly "yummy" in my estimation, but not too bad. And also the fermented (or rotten) shark called hákarl. Jim wisely passed. As for me ... I got it down and it stayed down. Ick!
The chaser for the shark is Brennivín, the Icelandic schnapps. It tasted like liquorish, which normally isn't one of my favorite flavors. But in this context, it was welcome!
---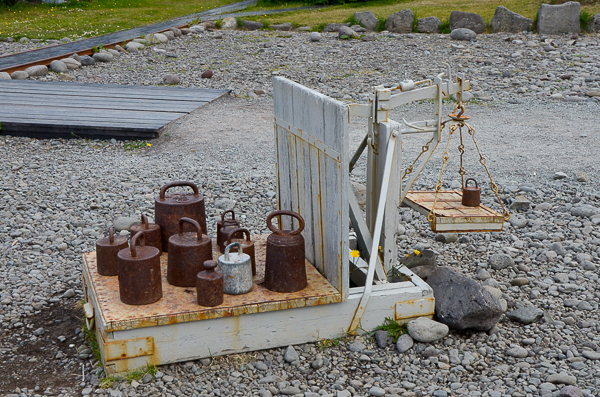 Outside the museum was this scale with assorted weights. It was used to weigh catches.
---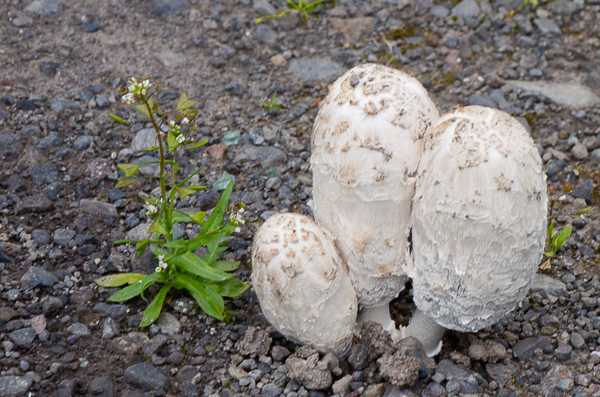 Loved these fabulous mushrooms!
After our visit to the museum we had the option of shopping in the city, taking a bus back to the ship, or walking back to the ship. Not being shoppers, we opted for the walk back to the ship.
The Ponant ship L'Austral was berthed next to us. It captured our imaginations because of its flag: black and white stripes with a canton filled with eleven crosses. The flag is that of Brittany. That ship, by the way, also proceeded eventually to Greenland where an associated excursion boat sank! All on board were rescued without injury. I'm happy to report that our trip lacked such excitement. This is a reminder, albeit in retrospect, that we were truly on an adventure that had its dangers. In fact our own ship, under its former owners, had run aground in the Arctic in 2010 and was stranded in Nuuk by engine trouble in 2014.
---
Click your "back" button to return to the previous page or click for our picture album.