The Blue Ridge Ski Council's 2016 Winter Carnival was in Snowbird. I had no opinion of Snowbird, but I have always wanted to ski Alta, which is linked to it. We signed up with our PVS club contingent. I opted for the joint Snowbird/Alta pass and I was glad I did. One review of Snowbird that aptly describes its terrain states:
Die-hard powder hounds ski Snowbird because it is famous for steep and deep. The Snowbird Resort has some incredibly rugged terrain which includes terrifyingly steep bowls, chutes, tree runs and cliff drops. Off-piste Snowbird skiing is not for the faint of heart, although on-piste the resort has highway-wide groomed runs for non-experts.
This reviewer may call them "highway-wide groomed runs," I call them cat tracks! There wasn't much to appeal to a strong intermediate skier who didn't fancy being terrified.
Alta, on the other hand, did not disappoint. It had a variety of runs and better visibility on snowy days. As an additional plus, Alta doesn't allow snowboarders. I try not to be prejudiced against boarders (I even took a snowboarding lesson once), but it seems that the rude, out-of-control maniacs that once used skis have migrated en masse to snowboards. I completed my last run on the last day and was standing in the lift line waiting to ride up to the summit congratulating myself on escaping injury. There was a scream and a scrape as an out-of-control snowboarder came crashing in. Luckily it was only a glancing blow with no harm done to either me or the boarder.
As is my usual practice I only took a camera on one day of skiing. Unfortunately I kept forgetting it around the lodge except for the final banquet.
---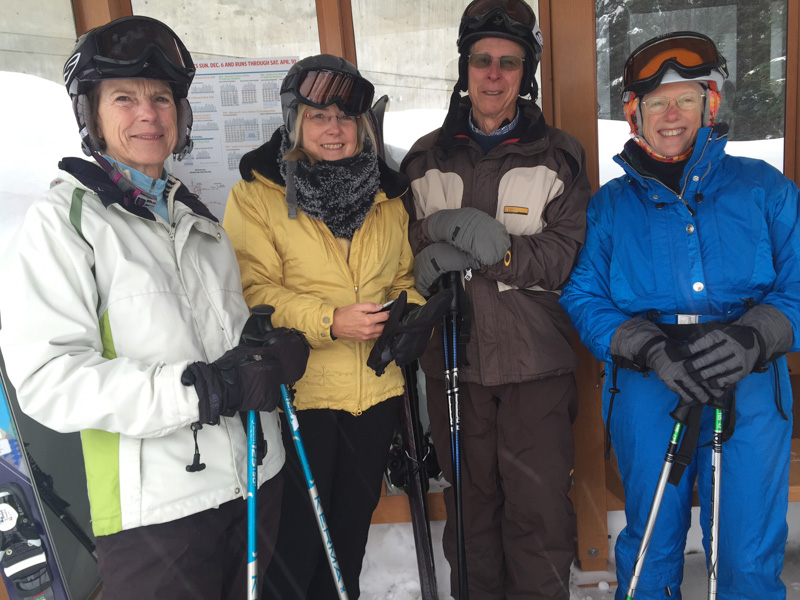 This picture was supplied by Rosemary Schwartzbard.
L-R are: Inge Lesjak, Nancy McKinley, Dave Payne & myself.
After our first day at Snowbird with a mountain guide, we decided to try Alta on our second day. It is possible to ski between the two areas, but due to the consistently snowy weather, the connector was closed in the morning due to avalanche danger. That left the bus or a taxi.
Busses are common in European ski areas, but they know much more about running them than Snowbird. We had to wait and wait and wait for a bus. In the meantime we shivered.
By the time we reached Alta we were all frozen and quickly tucked into a cup of hot chocolate. The weather closed in and not much skiing was accomplished that day. Rather than waiting (and waiting) for the bus to bring us back we hijacked an Alta van in the parking lot and plied the driver with tips.
---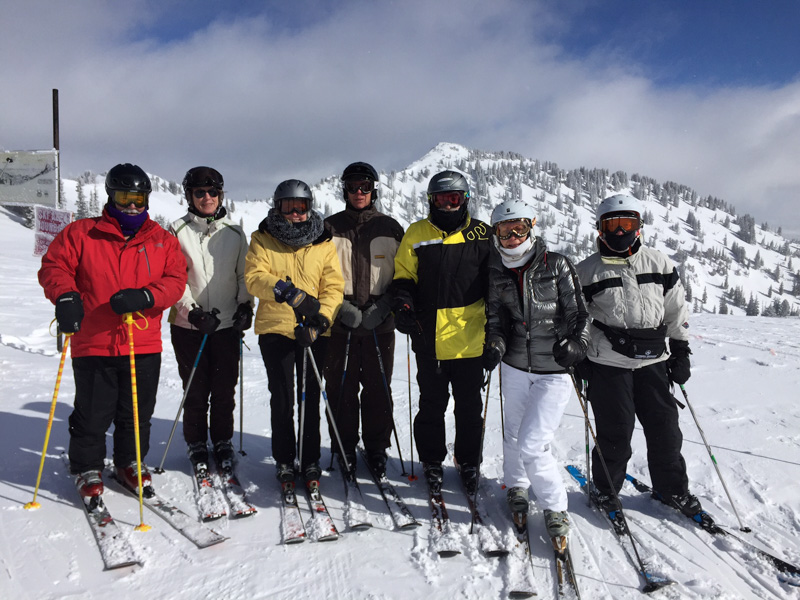 This picture from later in the week was also supplied by Rosemary. On one of the few days with good visibility we opted for a pay shuttle to Alta for a wonderful day of skiing followed by a ski trek back to Snowbird.
L-R are: Barry Lake, Inge Lesjak, Nancy McKinley, Dave Payne, Dick Schwartzbard, Rosemary Schwartzbard and myself. I learned that my snazzy blue jumpsuit was nowhere near warm enough for the conditions so I reverted to the Michelin Man style of ski clothing.
---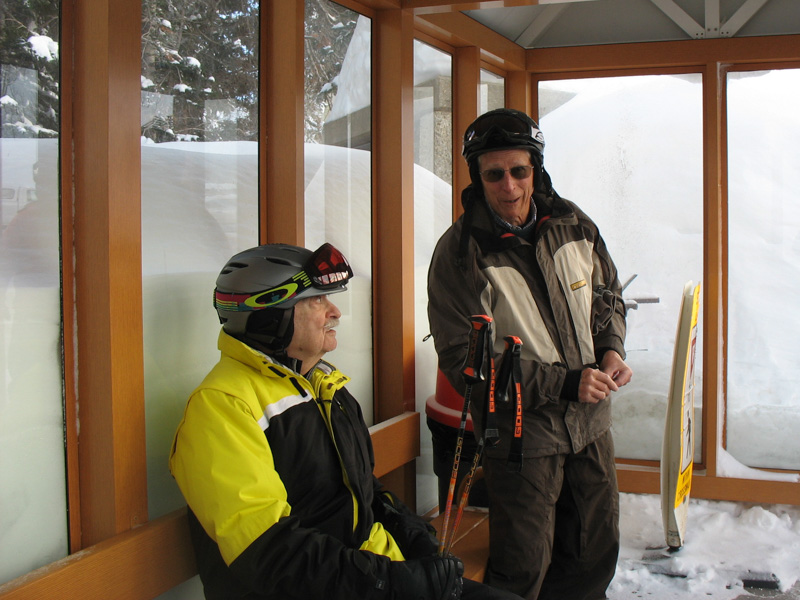 On our final day we tried the bus again, but the group got separated. Dick, Dave and I waited and waited and waited. I finally decided that I was done with the bus and stalked off to ski Snowbird and take pictures on my own.
Dave, after more waiting, came to the same conclusion and also peeled off.
By the time the bus came it was so late and due to an additional cascade of mishaps, Dick never did get to ski that day.
If you ever go to Snowbird, skip the bus.
---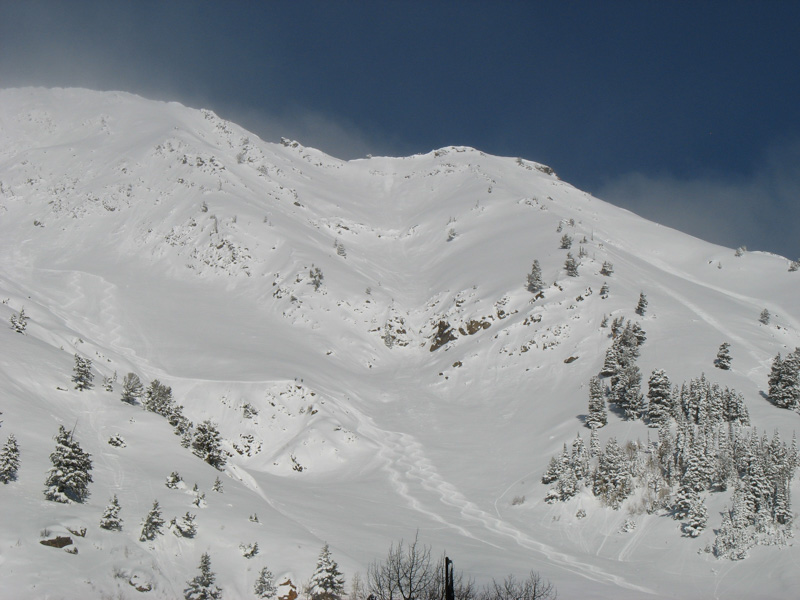 While waiting for the bus, we watched the helicopters toing-and-froing skiers to the off-piste steeps across the valley. Powder-hounds enjoyed tracking up the deep powder! The official count was 13 inches of new snow overnight.
---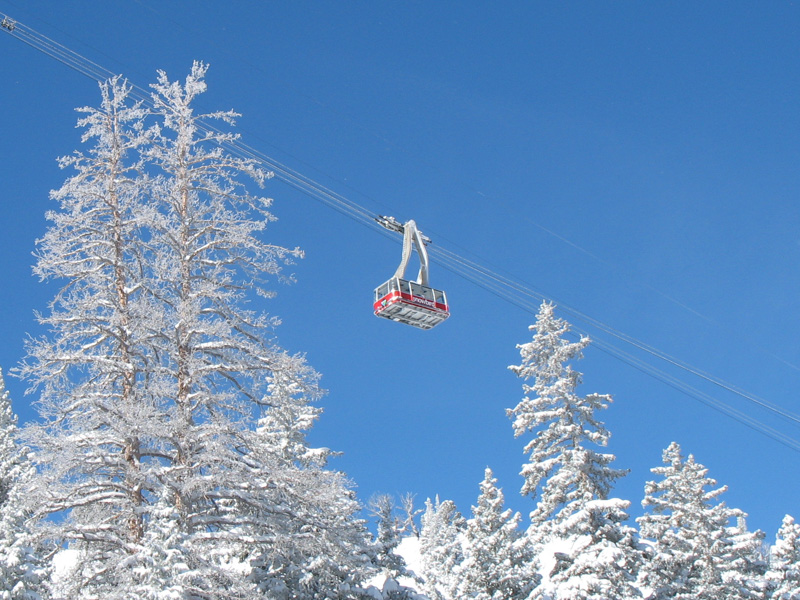 The tram ran between the Snowbird Center and the top of Hidden Peak. I never rode it up (crowds!), but I chose to take it down at the end of each day. The trails down from the top, even the "easier" ones, are not for the faint of heart. I hadn't skied in two years; my heart wasn't faint, but my stamina wasn't up to it.
---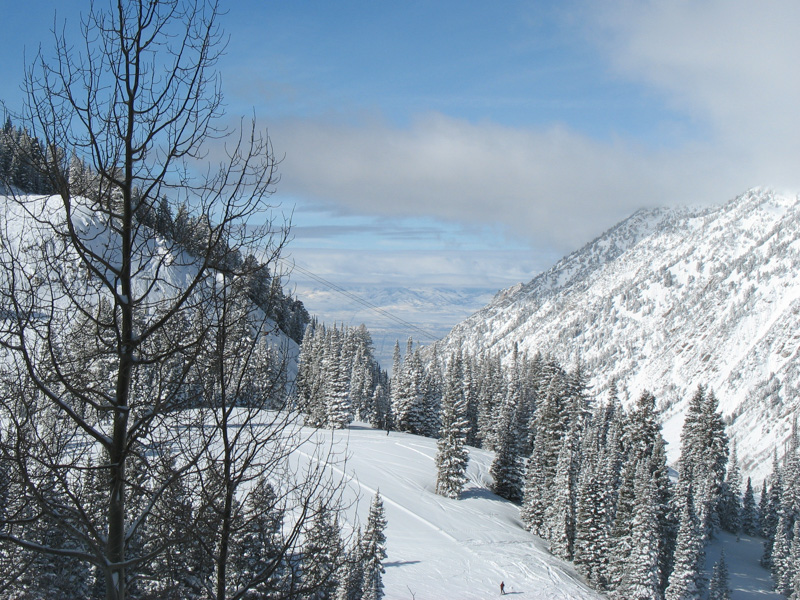 This was the only day it was clear enough to see all the way down Little Cottonwood Canyon from Snowbird to the valley south of Salt Lake City.
I was dismayed the next morning as we travelled to the airport to see that the valley was covered in smog! Air quality is a major problem in the SLC area.
---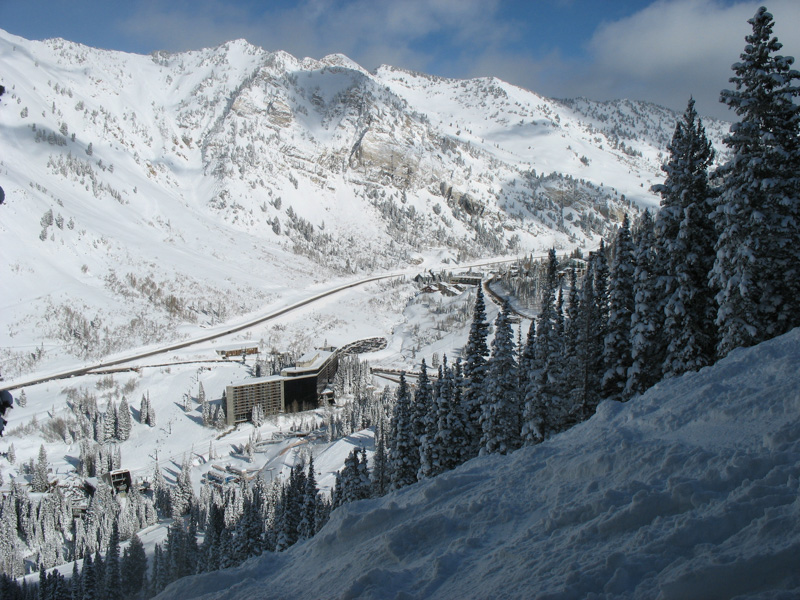 By lunchtime I was ready for a break, so I called Jim to see if he wanted to meet for lunch. He did! Cell phones do have their place.
The slope in the foreground was not the route I chose down!
---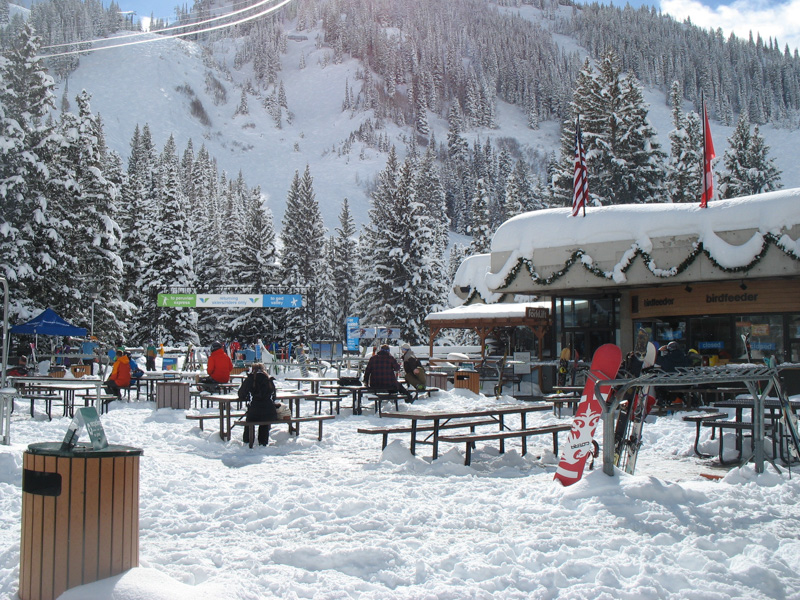 The Snowbird Center at the base of the tram and two of the chair lifts is the closest thing to a "base village." Snowbird is geared to die-hard skiers. Jim and several others of our group who were not skiing found poor pickings for entertainment during the day.
As part of the package BRSC negotiated spa credits for the non-skiers. That came in handy because it provided access to the exercise rooms, pool and rooftop hot tub for both of us. Jim didn't elect any of the "guy facial" offerings, but I had a pedicure one day. Nice!
---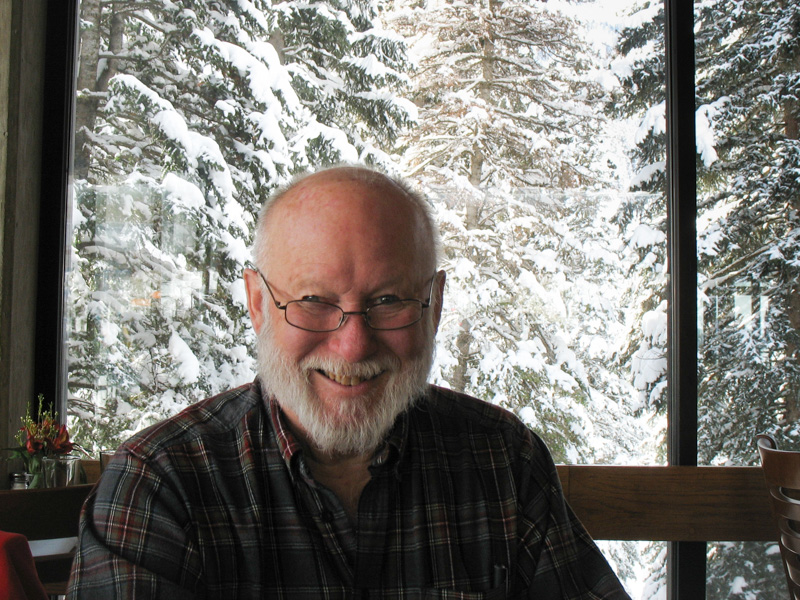 We enjoyed lunch at the Forklift Restaurant.
Jim was fascinated by the names of the areas within Snowbird: Peruvian Gulch and Gad Valley. These are names that pre-date the ski area and are leftover from mining claims.
---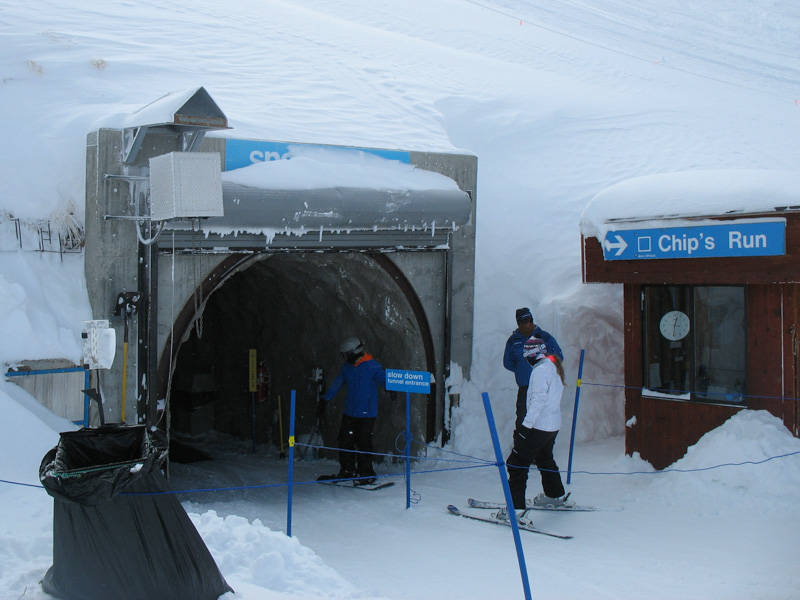 The easiest way to the Mineral Basin area and the Alta connection was through this tunnel at the top of the Peruvian chair. It's left from the old mining days. We had taken it on our first day with the mountain guide and I wanted to get back for pictures.
A conveyor belt takes skiers through the tunnel, which is decorated with old equipment and pictures of former days. I don't recall seeing any signs about the tunnel's length, but I estimate it was about a quarter mile.
---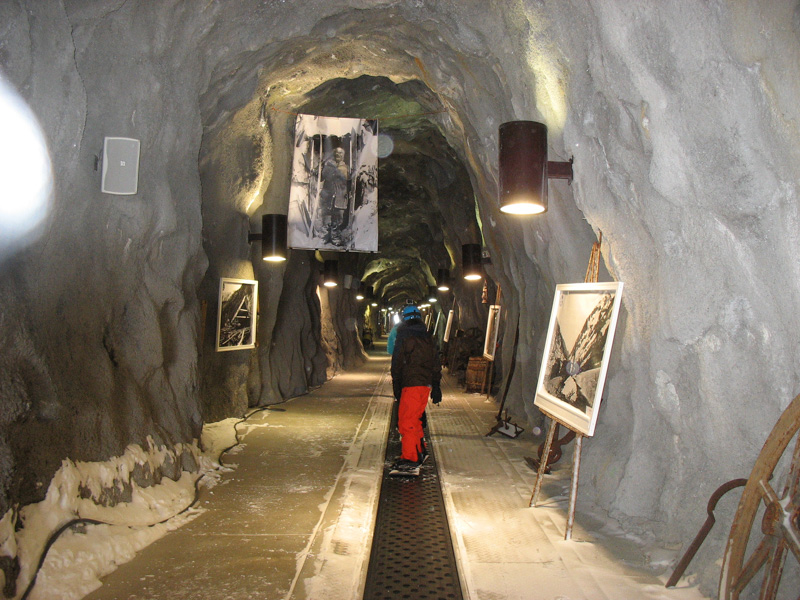 A history lesson as you travel.
---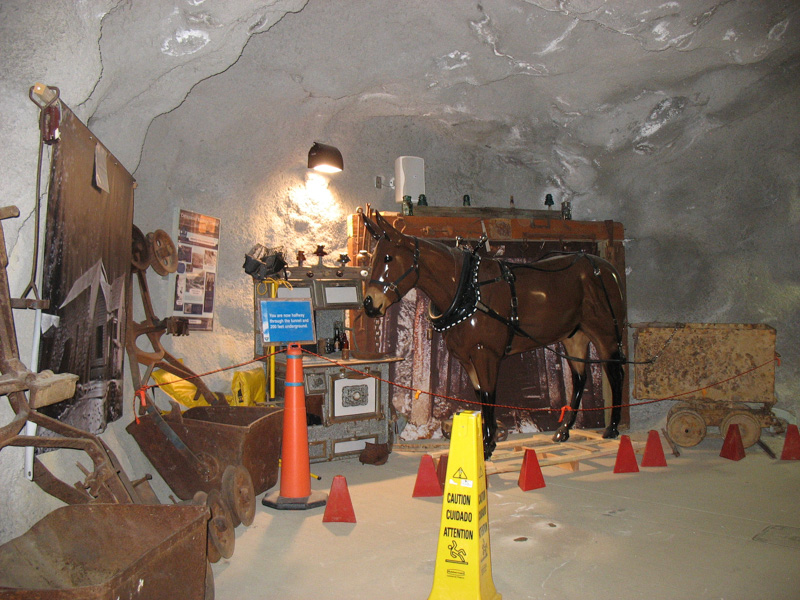 Halfway through the tunnel this alcove displayed mining gear.
---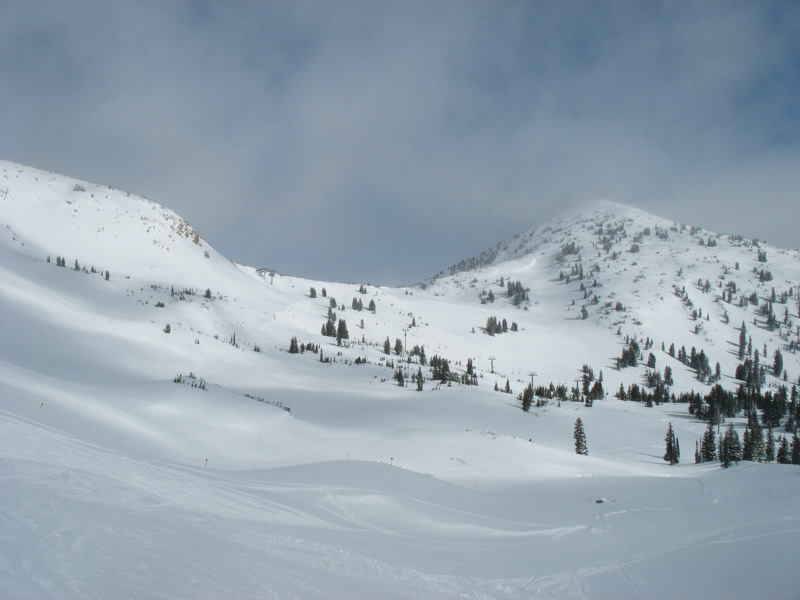 Much of the Mineral Basin area is devoid of trees, which made it challenging during socked-in conditions.
The peak on the right is Mt. Baldy.
The way to Alta is in the saddle to the left of the peak.
---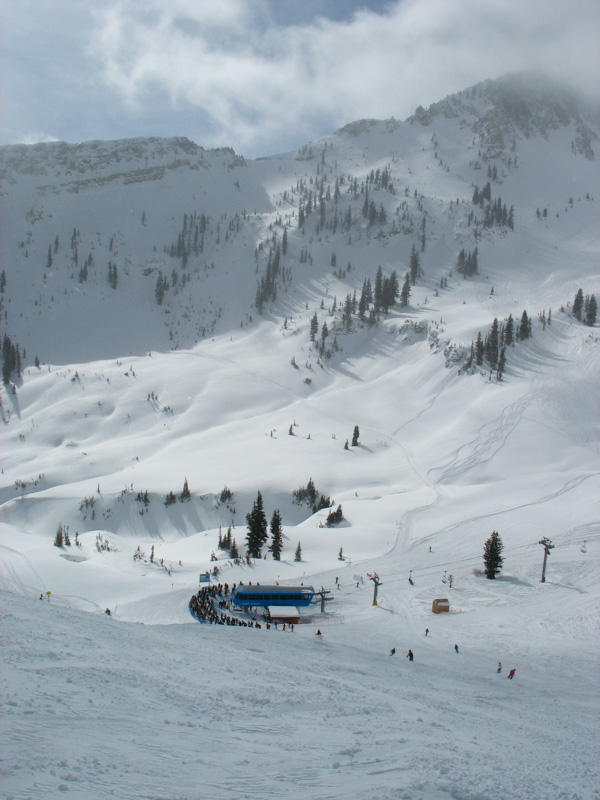 This liftline was about as long as we saw during the week. I am skiing after an early lunch so this is the crowd waiting to take the lift up to The Summit for a break. Lucky for me, I'll be taking a different lift on the way to Alta.
---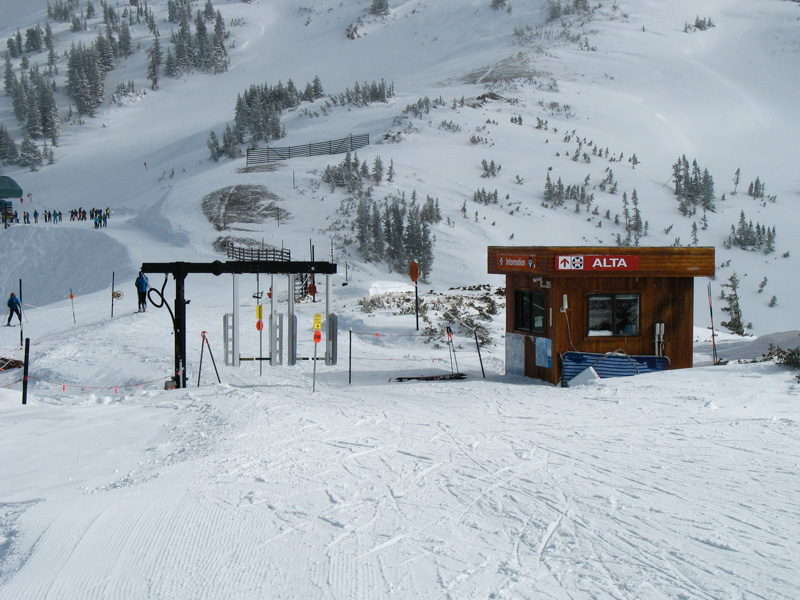 The gates are to ensure that skiers holding passes for only one of Snowbird or Alta cannot sneak in the "back door." I had a dual pass and zipped right through.
One afternoon we skied back from Alta to Snowbird. Dick, who at 80 was skiing on a free Alta pass, had to stop at the kiosk here to get a free Snowbird ticket.
---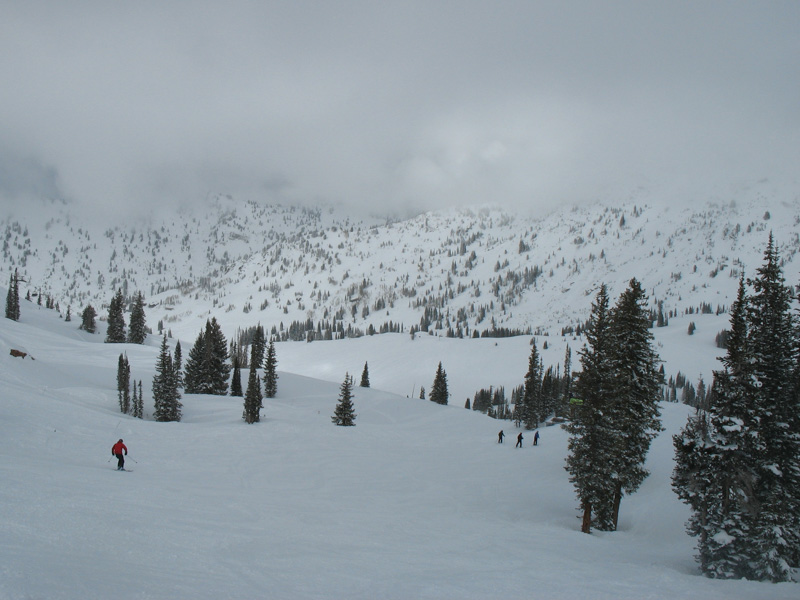 Alta is wide open, but there are enough trees to provide visual cues on days with flat light. As this afternoon progressed, the sunshine gave way to clouds.
---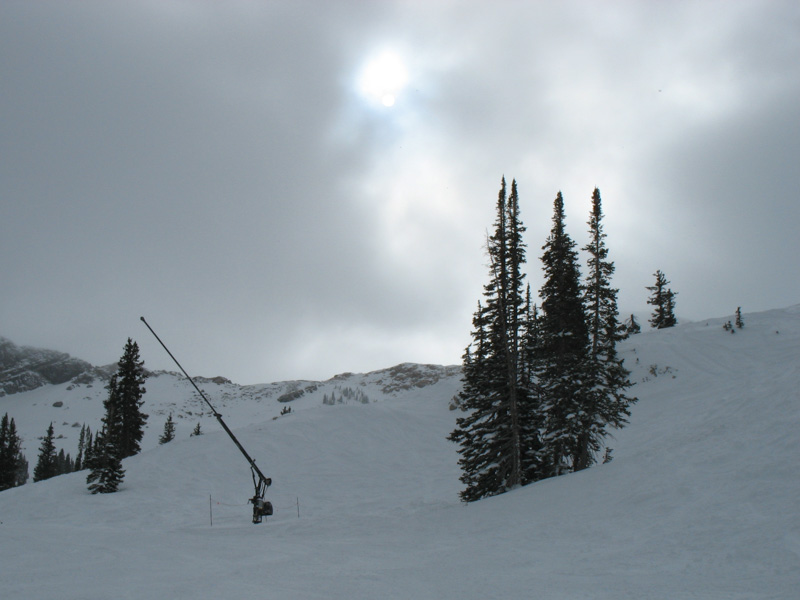 As hard as it was to believe after a week of daily snow, both Alta and Snowbird have snowmaking on some runs. There were snow guns and larger cannons here and there.
---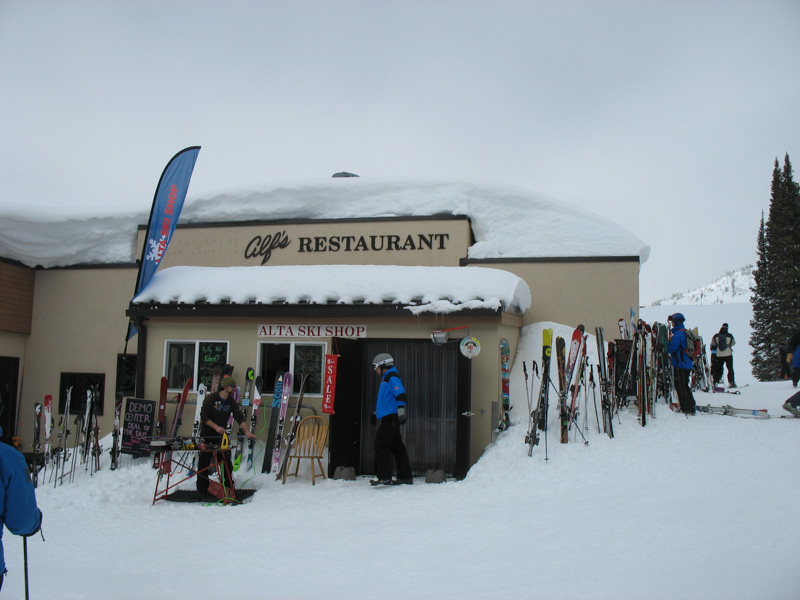 Alf's was our go-to on-mountain hangout at Alta. (Free refills on hot chocolate!) I stopped by to see if I could catch up with any of our crew, but had no success. They were keeping an eye out for me as well, but we never connected.
---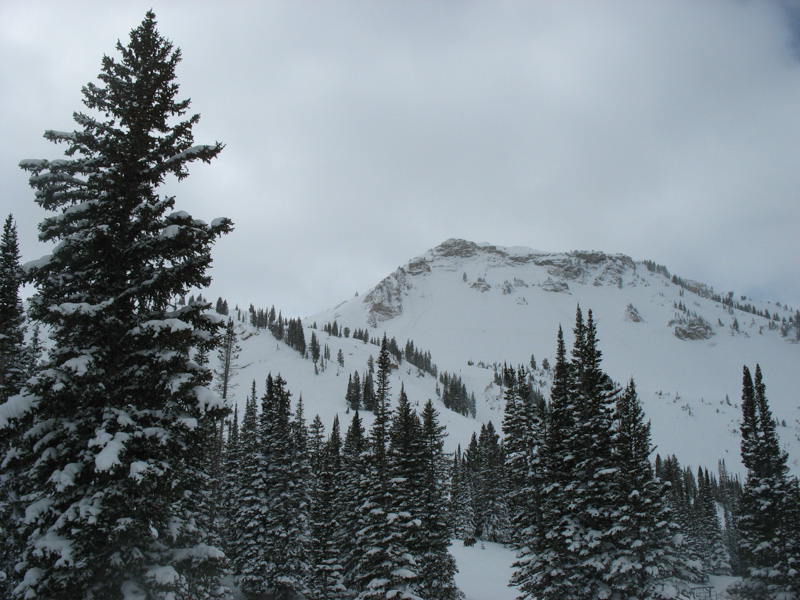 Time to bid good-bye to Alta and wend my way back. It was a great area and I'm sorry that I wasn't in better shape to enjoy the tougher runs. Next year I'll make a concerted effort to get in better shape. (Riiiight!)
---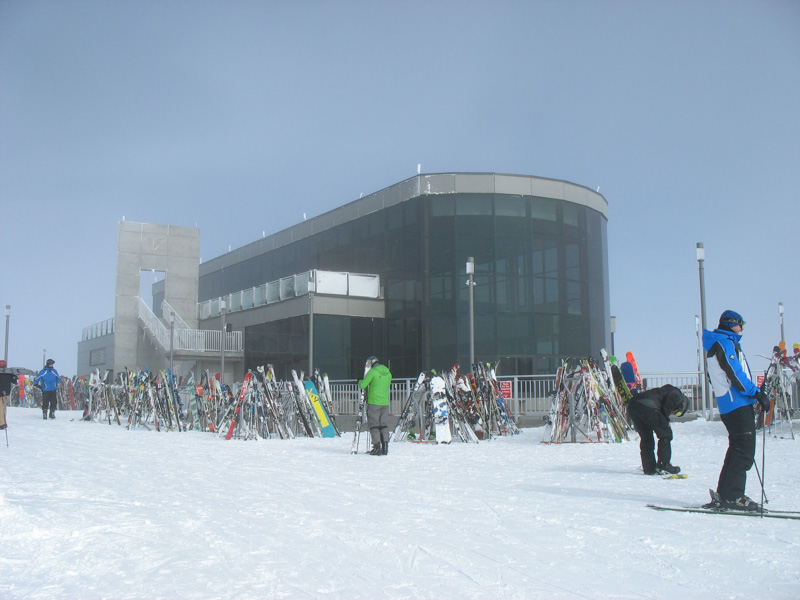 I've worked my way back to the top of the tram. The Summit restaurant is new this year and it was a fine place to eat. It was never clear enough to appreciate the view.
---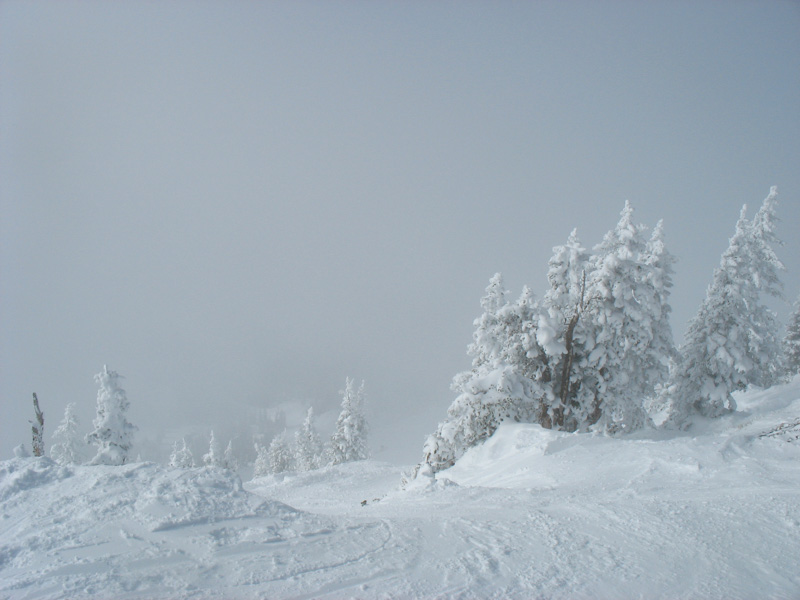 A typical run down.
Nope.
---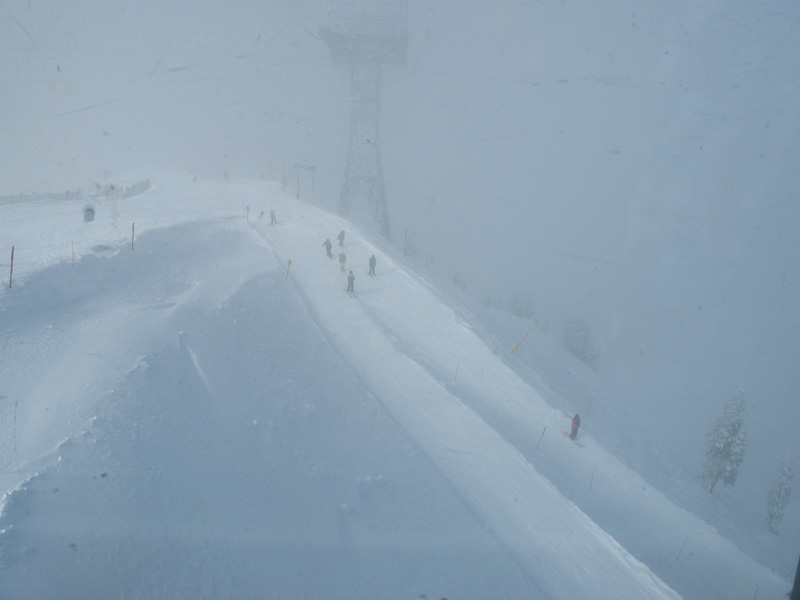 The "easier" way down. There is no "easiest" way.
I don't like cat tracks in the best of times and this was not an appealing cat track.
Nope.
---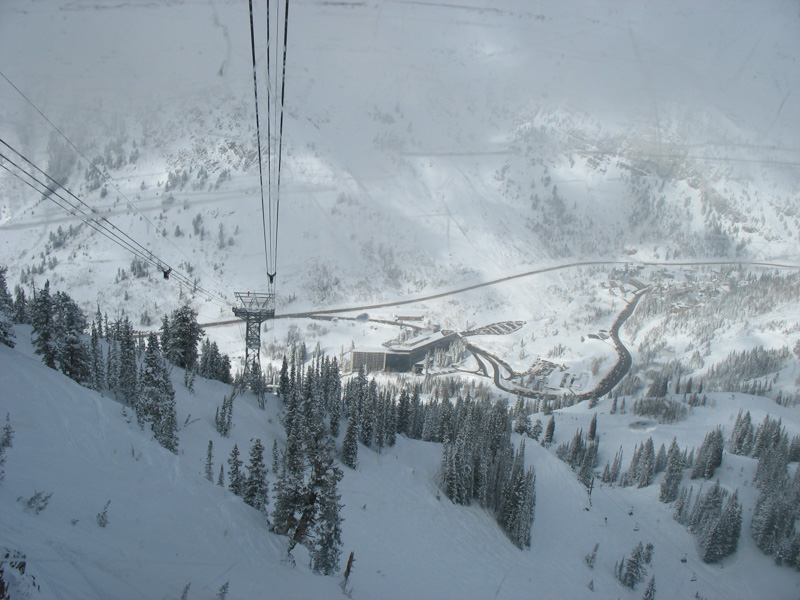 The tram for me!
Our lodge at the bottom, Cliff Lodge, was built by Dick Bass, the initial developer of the Snowbird area. He was quite a character. One of his passions was oriental rugs and he reportedly had the largest private collection of such textiles. Many of them were used for wall decorations at the resort as well as in the traditional under-foot use. The gift shop offered used rugs of all sizes at outrageously cheap prices. Jim and I bought a small one.
Another of his passions was mountain climbing and he popularized the concept of the Seven Summits -- climbing the highest mountain on each of the world's continents. One of our acquaintances here in Lexington has six of the summits under his belt! The only one remaining is in Australia, which is considered the easiest of all (depending on which list you use).
---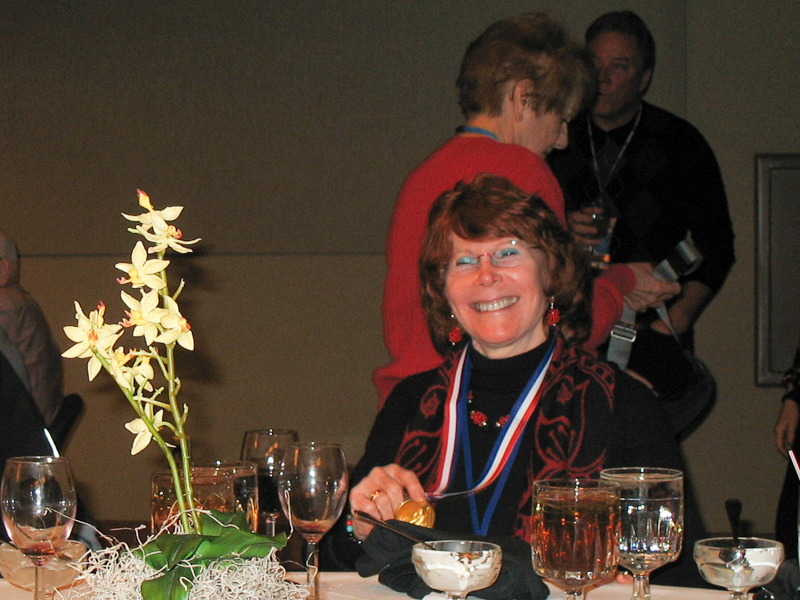 A feature of the BRSC Western Carnival is the ski race. We had several racers, but Cara brought home the gold metal! Congratulations, Cara!
---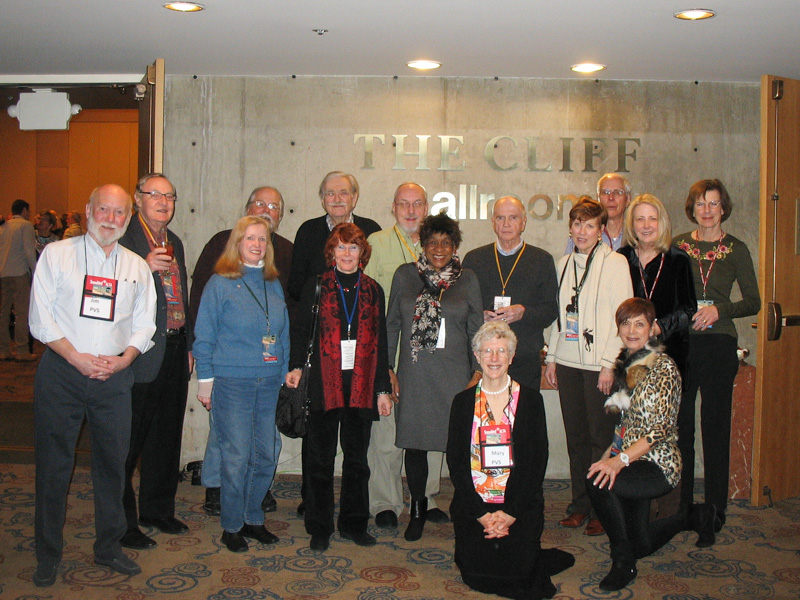 Our PVS contingent at the final awards banquet.
Standing, L-R:
Jim Slack, Bob Jablon, Kathy & Barry Lake, Dick Schwartzbard, Cara Jablon, group leaders Mike & Eloise Strand, Bing Van Nuys, Susan Payne, Dave Payne, Nancy McKinley, Inge Lesjak.
Kneeling, L-R:
Myself & Rosemary Schwartzbard. (Showing off that we could get up off the floor after a week of skiing!)
A great trip! Many thanks to Mike & Eloise for putting it all together for us. In addition to the BRSC events we had special après ski parties and a group dinner just for ourselves.
---
Click your "back" button to return.