In 2013 when the Arabian Sport Horse National (SHN) show was held in Lexington, VA, a friend recruited me at the last minute to help set up the awards room. This involved unboxing and arranging the trophies, garlands, plaques, and ribbons. Even though I had never had a particular desire to compete at the national level, those were such pretty plaques and ribbons that I became quite covetous!
The next east coast SHN show was planned for 2015. Unfortunately it was to be held in Raleigh, NC, rather than Lexington, so I reluctantly abandoned the idea of qualifying and competing Cookie. Bella, on the other hand, had been doing quite well with her new trainer, Larry Jones of Jonesborough Farm and I put my hopes on her. She eventually qualified in five classes. I call them the "swimsuit competitions" (Hunter Type in Hand, Amateur & Open), the "evening gown competitions" (Dressage Type in Hand, Amateur & Open), and the "talent competition" (Dressage Training Level, Open). When it came down to actually sending in the entries, Larry acted the part of the proverbial Dutch uncle and warned me that the competition would be stiff -- it was a national show after all -- and Bella was relatively inexperienced. Even though that was all true and even though I was well aware of her imperfections, I decided it was now or never so we entered her in all the classes for which she was qualified.
It was quite an experience!
---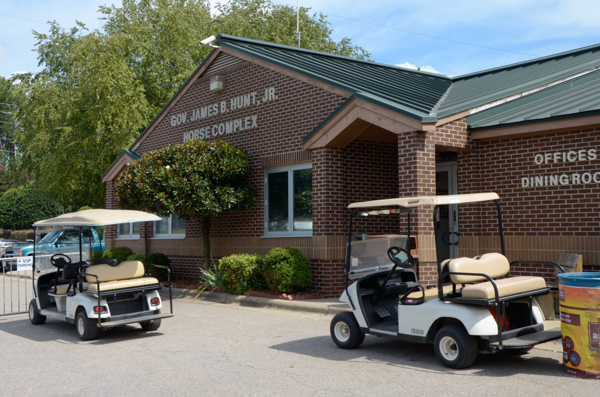 The James B. Hunt Horse Complex at the NC State Fairgrounds hosted the show. The decision to move SHN to Raleigh rather than Lexington was controversial among the exhibitors, but there were compelling financial reasons to do so.
I don't think it is simple home court advantage that makes me prefer the Virginia Horse Center, but the Raleigh facility wasn't as bad as I had been led to expect.
And the food was really good. They actually had vegetables for lunch!
---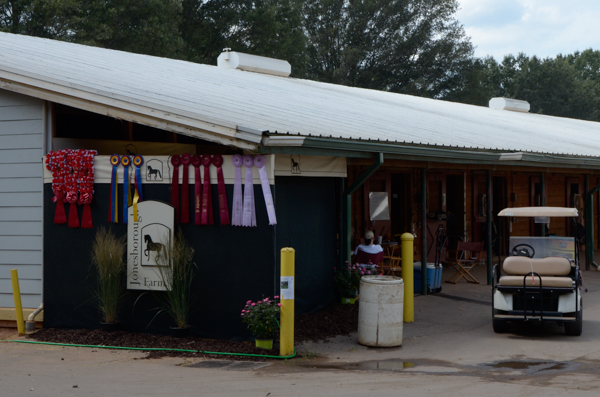 Larry had an ideal location at the end of the barn closest to the main arena. Paying for "premium stabling" really paid off! We always had a breeze.
It was also a nice place to display the "loot:" garlands and ribbons. Trophies and plaques were displayed under shelter.
---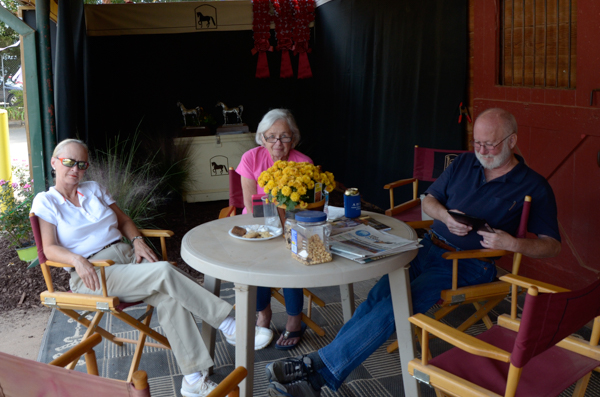 Our little seating area was shaded and comfortable. L-R, Sonya, Sue, and Jim. Sonja also had a horse, Wegaz++/ exhibiting with Larry.
The "++/" indicates the number of points that Wegaz (pronounced like Vegas) has accumulated during his show career. The decorations actually become part of the horse's registered name. At present the highest achievement level is indicated by "++++//." It takes a truly exceptional horse with an extensive show career to reach that rarified level. As of 2018 Wegaz+++// is almost there!
Had I maintained Bella's enrollment in the achievement point program, she would be only three points shy of a "+". I didn't bother because "Bey Moon Rising App" is enough of a mouthful without adding decorations to it!
---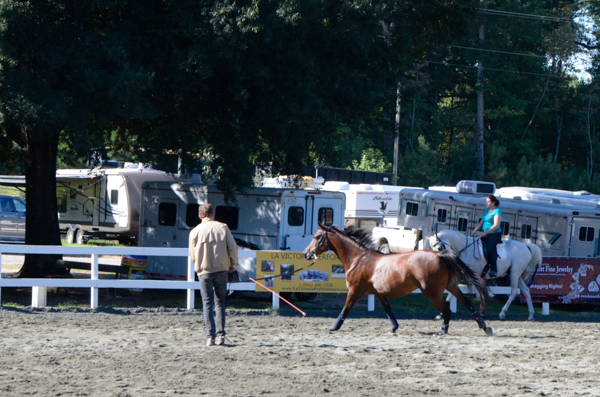 One of the disadvantages of the Raleigh facility is the paucity of warm-up arenas. On the first day of the show, this area was crowded with folks both riding and longeing. It is generally considered dangerous to mix these two exercises in the same area, but there were limited choices. Later in the show, this particular arena was dedicated to warm-up for the hunter/jumper arena, so the situation became even worse.
Bella is getting to stretch her legs. Larry exercises each horse twice a day. Since he had five horses at the show, he didn't get much of a break.
---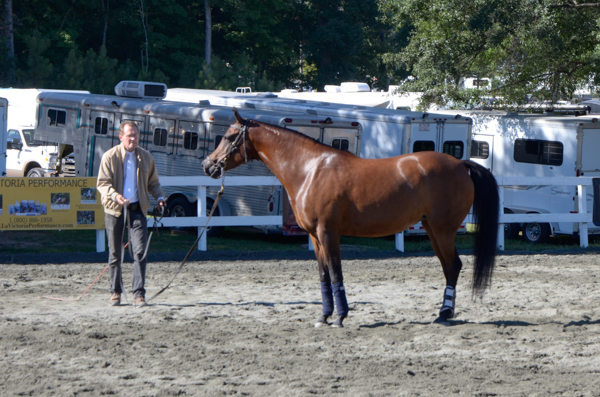 One of the very many things to be done to prepare a horse for the "swimsuit" and "evening gown" classes is to fatten them up a bit. Judges like to see a plump horse. Bella is naturally rather lean, so looking at this picture after several months is startling. She is now back down to fighting trim.
---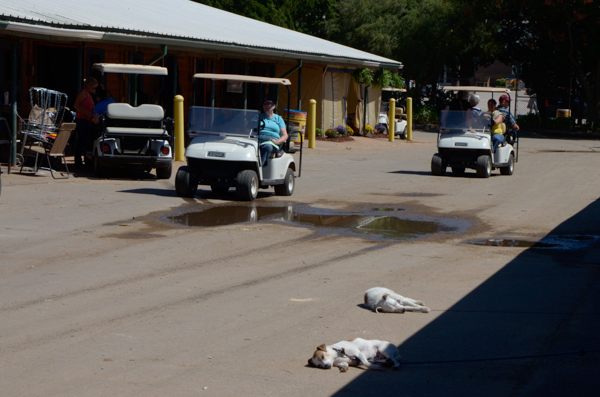 Two things that are ubiquitous at horse shows are dogs and golf carts. The carts make it easy to get from one end of the show ground to the other. Although these are pretty plain, many people will decorate their carts. Some folks haul their own custom carts to shows along with their horses.
These two dogs were soaking up the sun. They are literally at the end of their tethers. Small terriers like these are especially favored at shows, but all kinds of dogs can be seen.
---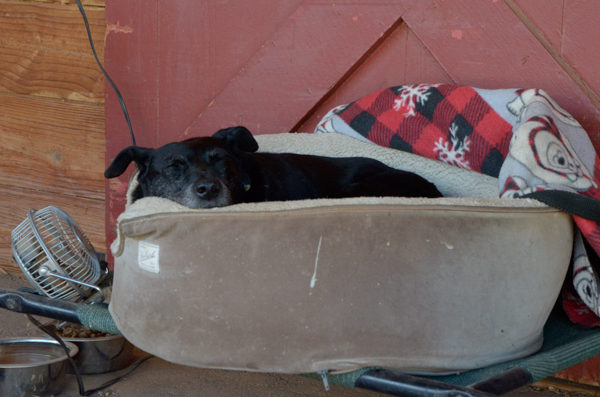 Of course we had our own barn companion: Mally. She travels with a blankie for chilly mornings and a fan for the heat of the day. She is a very sweet girl unless you are another dog trying to horn in on her territory!
---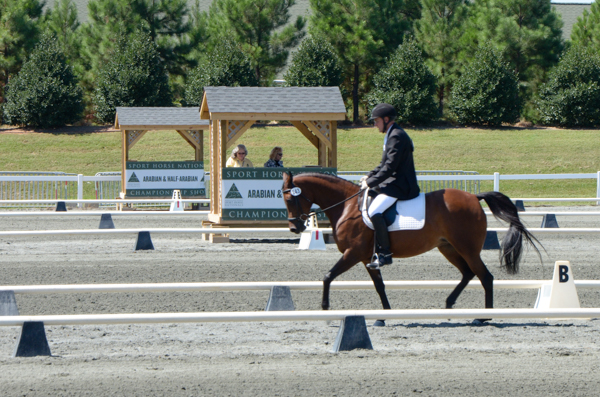 Bella's talent competition came early in the show. This is where her lack of experience and maturity really hurt her. Larry did his best, but it's hard to get winning scores when the horse throws in the occasional buck. Bella has opinions of her own.
In the months since she has shown (occasional) signs of growing up. I'm hopeful that when SHN comes around again, she will be ready to compete seriously.
---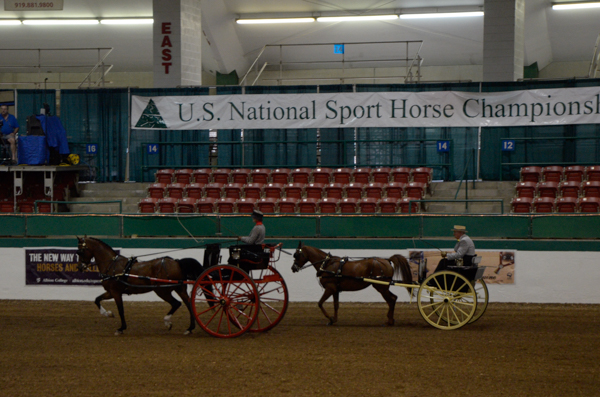 In addition to the dressage classes there were a number of other performance classes at the show. The various carriage driving competitions were crowd favorites both because of the excellence of the horses and the variety of the turn-out. There were a variety of carriages too, both 2-wheeled and 4-wheeled.
My cousins came over from Durham to see parts of the show. It was fun to have someone to watch the classes with and talk about horses. They were appropriately complimentary of Bella, too!
---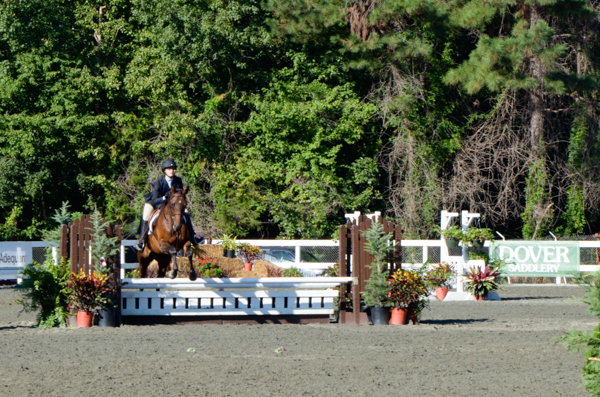 There were also classes for what my friend Gary calls "leapers."
---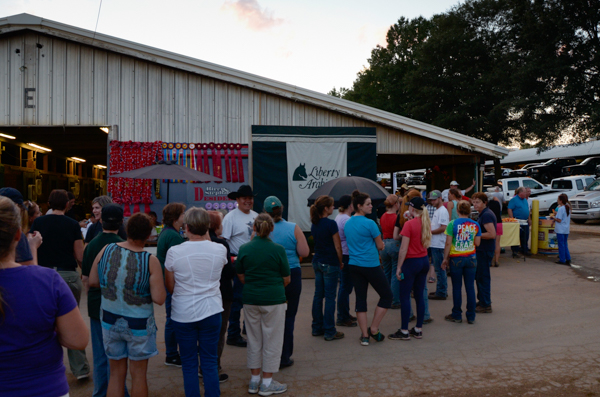 In addition to the "working" part of the show there were other activities in the evenings such as barn parties. Various stables provided food or drink. Barns specialized in ice cream sundaes, beer, pizza, hot dogs, burritos -- you name it.
---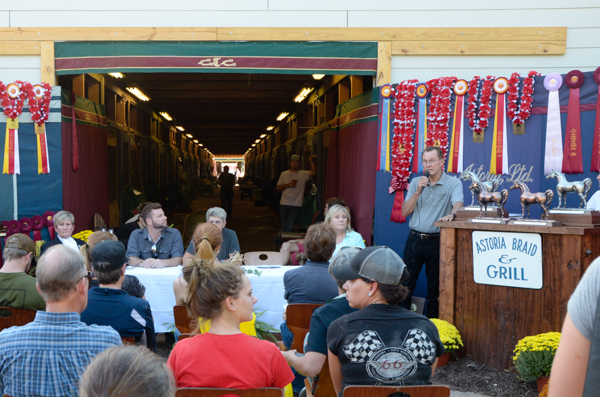 There were clinics and presentations on different aspects of horsemanship. Larry, as one of a round-table of presenters, is discussing conformation.
---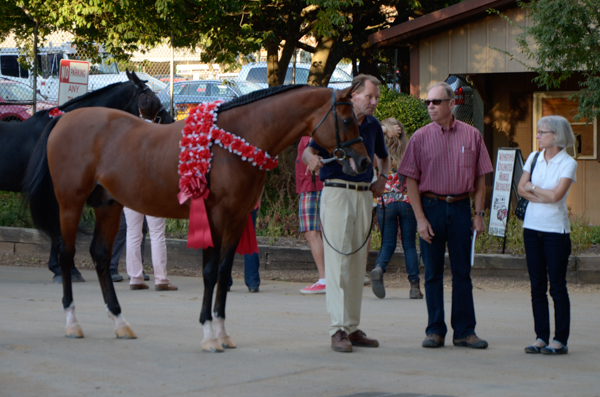 And then there were the stallion presentations. The Bandera+++/, shown here, had a cliff-hanger finish. He was originally placed at "Top 10," but owners Tom & Gail Chasteen (standing with Larry) questioned the placing. Eventually it turned out that an incorrect scoring system was being used. Bandera actually received a championship and reserve championship as well as a Top 10 in his various classes. Sometimes it just pays to ask!
Unfortunately, for Bandera to get his rightful award, someone else who thought s/he had won had to be content with a lower placing. That would have been hard.
---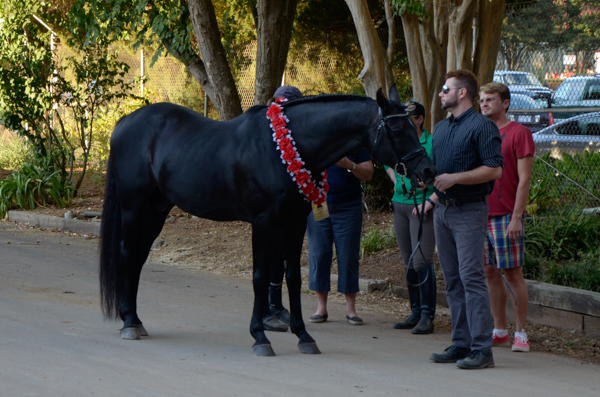 BA Vyagra Bey++++// was also part of the stallion presentation. He is Bella's half-brother (same sire) and as the decorations show, he is a very accomplished boy. He has been successful through Second Level Dressage as well as many other performance and in-hand classes.
---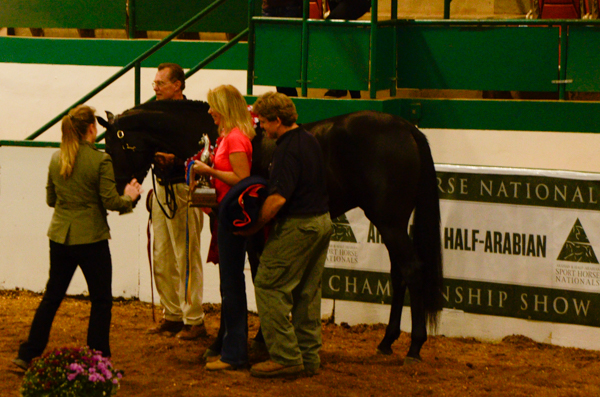 Another of the horses that Larry was showing was Maidenn America, better known as Dolly. Dolly is only two, but was the unanimous champion in the Half-Arab/Anglo-Arab mare class. Unfortunately it turned out that, as a two-year-old, she wasn't entitled to enter that class so her people had to give back the awards! There seemed to be a lot of that happening at this show.
She did win her two-year-old class later in the week just as decisively.
---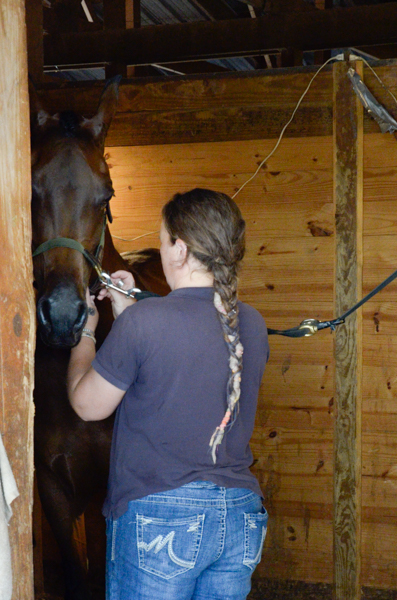 So what about Bella? She didn't do so well in her talent competition, but here she is being primped by Lee for her beauty contests.
The news here is much better!
She didn't get any ribbons in the "evening gown" competitions of Dressage Type In Hand, but she did very well in the "swimsuit" classes of Hunter Type In Hand. I tell myself it's because, at this stage of her life, she looks more athletic than elegant.
---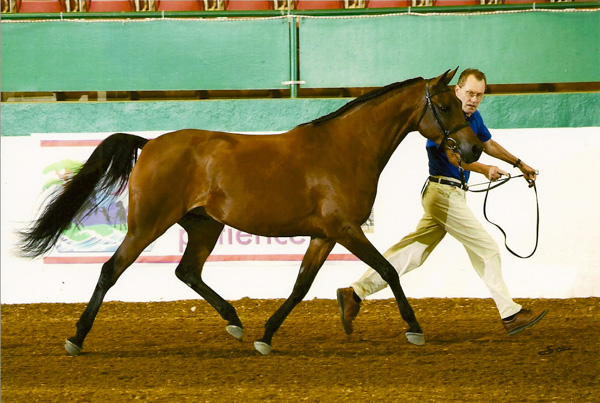 Picture by
Don Stine
. Used with permission.
With Larry showing her in the open class, she got third place! What a surprise that was. He really knows how to get the best out of a horse!
---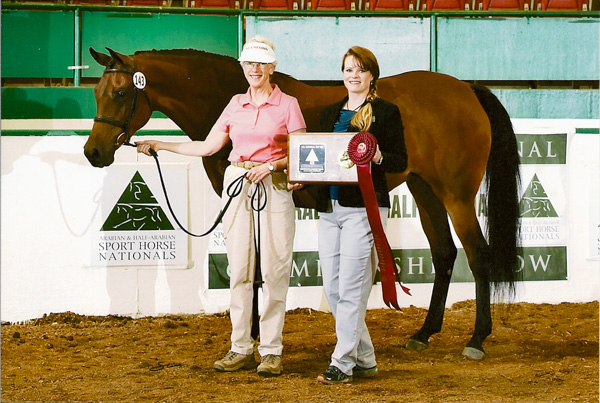 Picture by
Don Stine
. Used with permission.
And with me showing her, she received fourth place in the Amateur to Handle class. That was a treat and pleasure. My friends were teasing me the night before our classes for running around the arena to get a feeling for the footing and the distances. I'm at the age where I don't take that kind of thing for granted!
And I didn't have to give back my awards!
---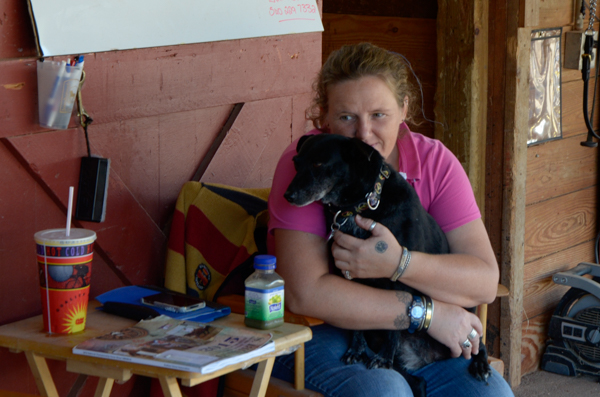 It seems that the trainer always gets the bulk of the credit for wins, but Lee is an angel of a groom. She pampers the horses as well as the owners (and the trainer). She has that magic "finishing touch" needed for those "beauty contest" wins.
---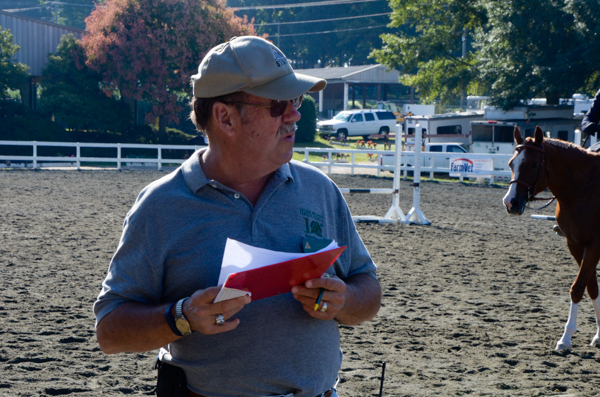 And no show can go forward without a host of staff. My friend Tom Nelson managed the paddock at the hunter/jumper ring as ably as he works many other jobs at many other shows: local, regional and national. We've enjoyed working together over the years. It felt odd for me to be an exhibitor rather than a worker!
I didn't get a picture of Gary Hooghkirk at this show. He was on the show commission and too busy buzzing around attending to business.
---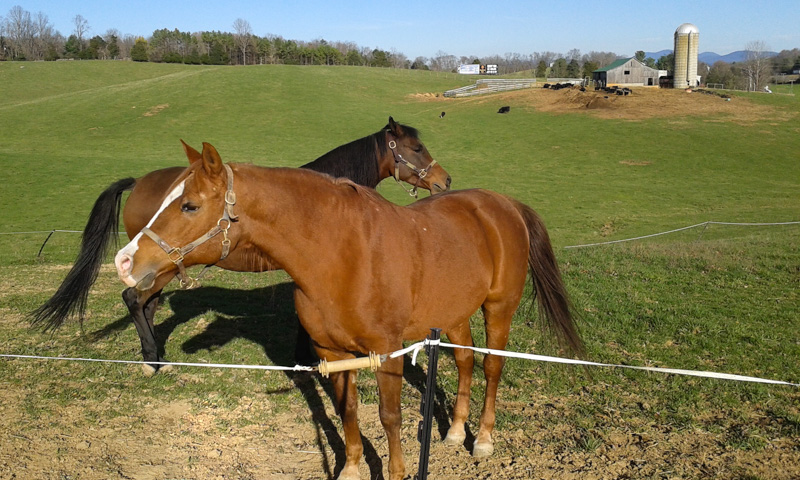 Now that the big show is over, Bella has come home to Rockbridge County. I miss the folks at Jonesborough, but the five hour round-trip drive meant that I was unable to spend the amount of time with Bella that will be needed for our relationship to develop.
Here she is with Cookie at Stone Tavern Stable. It's good to have her back home!
---
Click your "back" button to return.