Although my most vivid non-home childhood memories took place outside of the town: Long Lake, the Vicksburg Military Park, on the Mississippi River, and at the barn where I kept my horse, there are many places in town that are also associated with my growing-up days.
One place that no longer exists: the barn where I kept my horse. The barn itself was torn down long ago and the land has been developed. The last time I tried to find the place where it had been located, the bulldozers had made it virtually unrecognizable.
---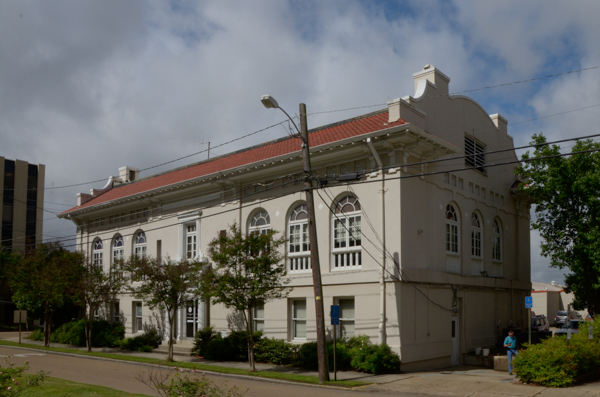 After my home and our church, this was probably the most influential building in my childhood: the public library. It was a Carnegie Library and I read almost every book in the children's section. I know that I read every book to do with horses. Nancy Drew was also a favorite and biographies of famous women.
By the time I was old enough to get an adult card, I had transferred my allegiance to the school libraries.
The local library has outgrown this building, which now serves another function, but I was glad to see that it is well-maintained and in service.
---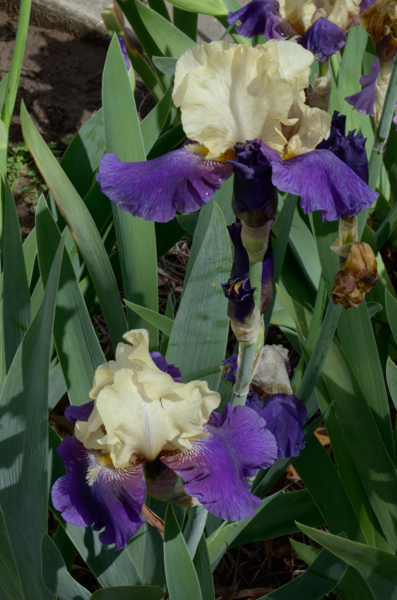 Across the street from the old library is a memorial garden dedicated to those who died in the 20th century wars.
When I was a child it contained mostly roses. There are still roses there (and they are so fragrant that I could smell them across the street), but there are other plants as well.
These iris reminded me of the ones that my mother used to grow. She had every color in the rainbow and I still love iris although I haven't been as successful with them as she was.
---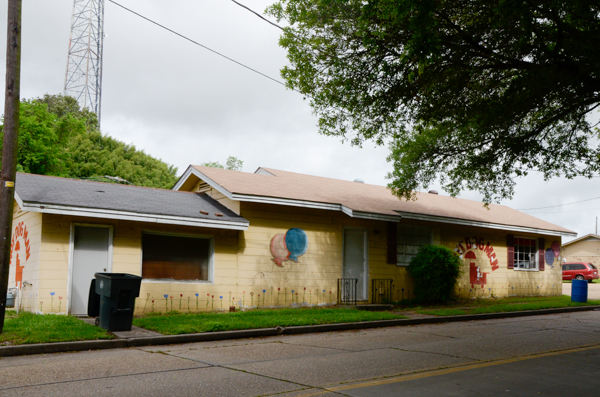 This was the home of Eleanor Beaufait's Dance Studio.
Unlike my friends Beth Guider and Katy Grabau, I never aspired to be a ballerina. I did enjoy the tumbling and tap dancing, but the ballroom dance classes that my mother insisted that I attend were a trial.
The building is still in use as the home base of a hot dog vendor.
---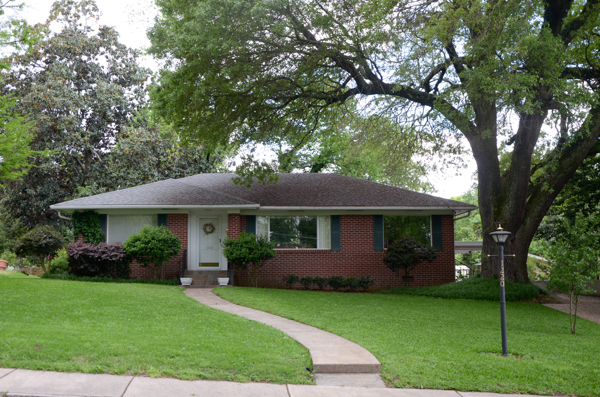 An artistic pursuit that lasted far longer than dancing was piano. Mrs. Boswell was the organist at our church, First Presbyterian, and she taught me piano starting when I was quite small until I graduated from high school.
I had a secret wish to play the cello, but I'm not sure I ever told my parents. I know there were no cello teachers in Vicksburg, and I doubt there were any violin teachers. If only....
But I loved the piano even though I never became very good at it, and I loved Mrs. Boswell. I even have very fond memories of our annual recitals. I expect I enjoyed them even more than the dedicated parents who attended! A good friend, Rusty Walker, and I always played a duet and we also teamed up to amuse the littlest children as they awaited their turn on stage. He had a personal goal of sneaking past the teachers and getting out on the stage chewing gum. It never worked. Rusty's family moved away when we were in high school and I've lost touch.
---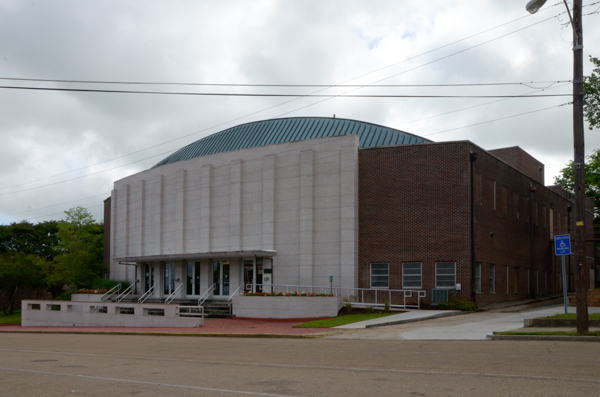 The center of the city's artistic life was the Vicksburg Auditorium. We had an active Community Concert Association that hosted artists such as Arthur Fiedler and the Boston Pops. There were operas, ballets, recitals, and international touring companies. I attended them all and liked them very much.
In addition the auditorium was used for flower shows, the dreaded cotillion ball sponsored by Eleanor Beaufait, political rallies and other events.
Vicksburg also had a Little Theatre Guild that nurtured my love of the stage (although I never dreamed of performing). During my childhood it had its own performing space in a small building that no longer exists near my elementary school. It later built a larger and better performing space that is still in use, but it wasn't part of my childhood so no picture.
---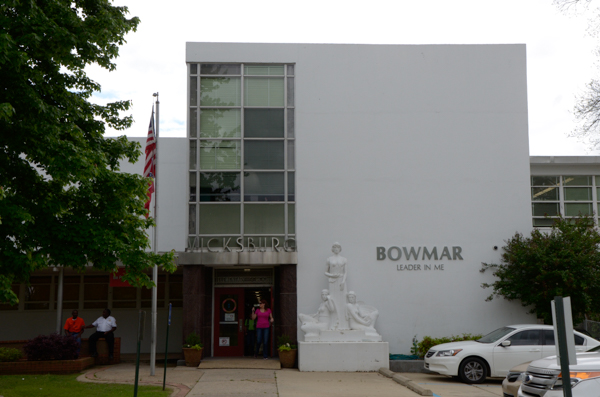 Another place that left a great influence on me was my elementary school: Bowmar Avenue Elementary. I wish I could say that the influence was completely positive, but I was something of a misfit and many of my memories are more bitter than sweet.
The building, however, was and is a thing of beauty, and I loved it. I am glad to learn that it is designated a Mississippi Landmark. The exterior looks virtually unchanged. Virginia is full of old buildings and many of the new buildings are "Colonial Revival," but Vicksburg had quite a bit of modern architecture and other eclectic styles.
---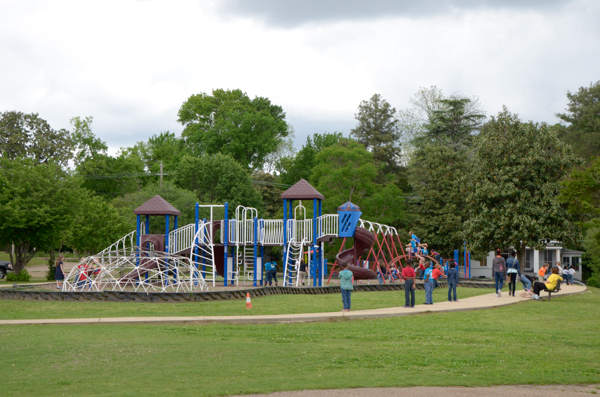 The large playground still exists and it is much more varied and colorful nowadays. The children were enthusiastically enjoying recess when I was there.
The school is currently a magnet school and is integrated like all the other schools in town.
Although the elementary schools all had names based on their location, the upper level schools were named for notable city educators, black and white. The two high schools were Rosa Temple and H.V. Cooper. I was outraged that the names were changed when they were integrated. Rosa Temple now holds administrative offices. Cooper is now Vicksburg High School, but it is so changed that I didn't take a picture of it.
---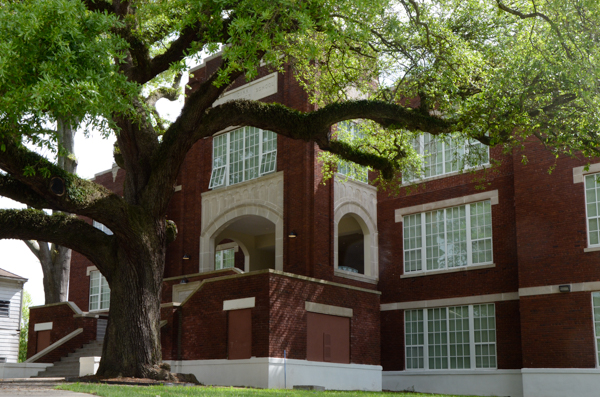 Carr Central was originally built as the city high school (whites only in that day & age). When the new high school was constructed south of town, it became the Junior High. I attended it my 7th and 8th grades.
My brother's wife Carroll taught here in the 1960s.
It closed in the late 1970s and sat derelict for many years. I was delighted to see that it has now been restored and repurposed into apartments.
---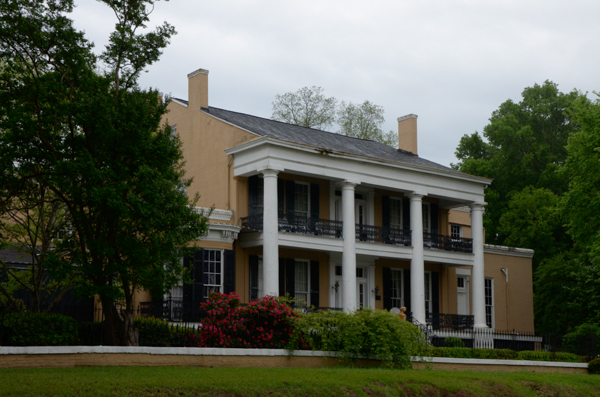 When I was in high school the local garden club bought and restored Cedar Grove, an antebellum mansion that (in its day) overlooked the Mississippi River. The land between the house and the river has since been developed, but the house still sits in an extensive garden.
I volunteered here as a guide. It was fun to dress up in the crinoline that my mother had made me for the Civil War Centennial and prowl through the old house. If I got bored, I could look through the collection of old Godey's Lady's Books and marvel at the elaborate fashions of the early 19th century.
The home is now an inn & restaurant. I keep threatening to stay there on some visit to Vicksburg, but we never do.
---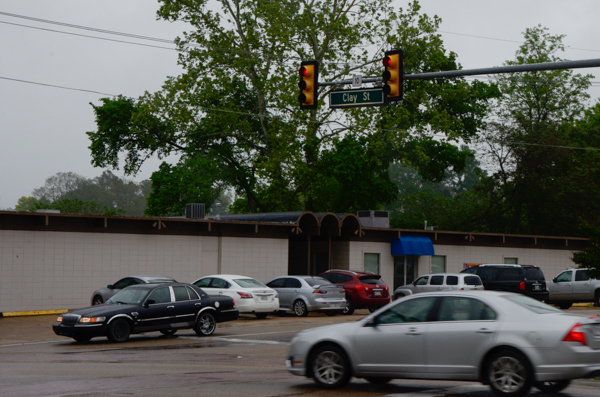 This building doesn't look like much, but it had a profound influence on my future! After graduating from college without a job, I returned to Vicksburg for a few months to learn a "useful" skill: typing and other secretarial work! At the time this building housed the "Southern Business School," long since defunct.
While there I fell in with other liberal arts majors who hadn't found employment. One of them, Ginger Allen, talked me into moving with her to the Washington, DC, area. Our new typing skills got us jobs with J. Edgar Hoover's FBI (a long story). We each stayed there only long enough to find other jobs.
After a few years Ginger headed west to California, but I made my life in the DC area until moving to Lexington ten years ago. She is now in Houston, TX.
---
Click your "back" button to return.