I confess that I was not sorry to bid Queenstown good-bye. It was crowded with tourists. (We were admonished that we were not tourists, we were "travellers." Whatever, we were headed back into the country, which was fine with me.) Our destination was Wanaka (pronounced WAH-nah-kah), another ski town on a beautiful lake. Wanaka was Chas' home town, so I'm sure he enjoyed visiting old friends while we were there.
---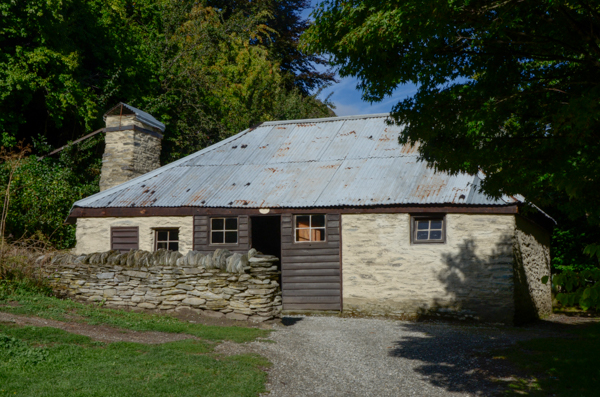 On the way we stopped at Arrowtown, an old gold-mining town. The part that interested us most, was the Chinese Settlement.
The NZ government invited Chinese miners to establish claims in areas that had been worked over by others. Only men came -- from Australia and the US in addition to mainland China. Once in NZ they faced significant discrimination. In Arrowtown they established a settlement on the fringes of town.
Originally the settlement was centered around a social hall, but when it fell into disrepair, the center became Ah Lum's store, reconstructed here.
---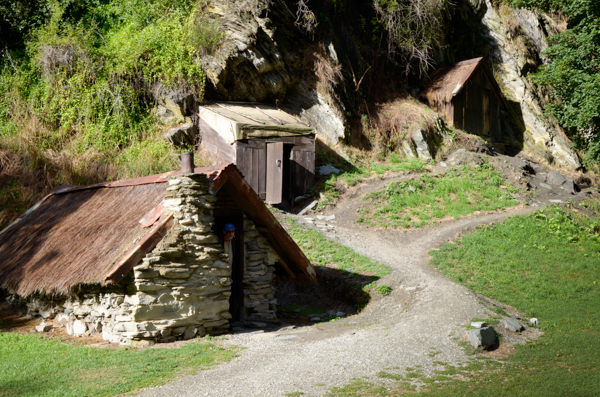 The miners planted gardens for both commercial and personal use. Archeological excavations indicate that buildings such as these built into the rock, were used for storage of the produce.
The hut that Carl is peeking out of was a residence, as shown by the chimney near the door.
As the income from gold declined, the produce became a secondary source of income.
More affluent Chinese had a horse and cart to deliver vegetables while others used baskets slung from a shoulder pole.
---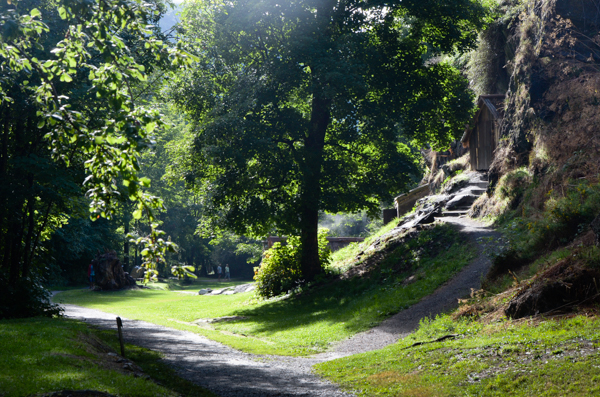 The "main street" of the Chinese community looking back toward the Anglo settlement.
Many of the Chinese miners were addicted to opium. It isn't known how many brought their addiction with them (opium addiction was encouraged by the British in China) or how many took it up to escape the hardships and discrimination.
---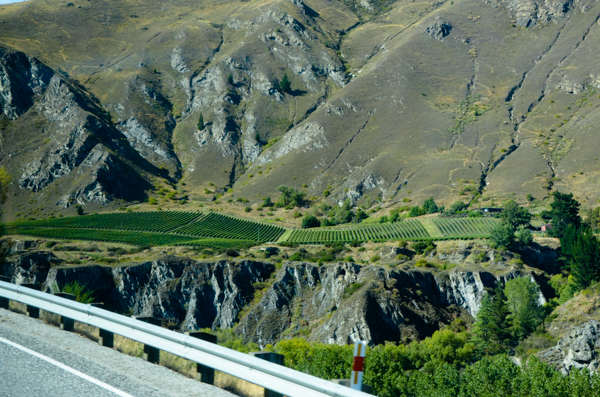 Leaving Arrowtown, we followed the Kawarau Gorge to the vineyards of Central Otago. This area is problematic for grapes because of the danger of late spring freezes. Nevertheless, vineyards abound in every possible location.
We stopped at Wild Earth Winery to learn more about viticulture and wine production in this area.
---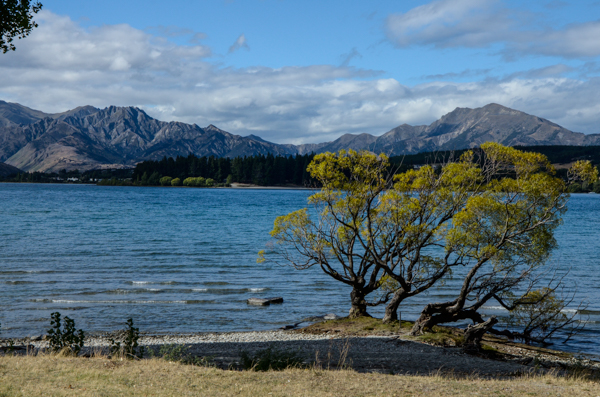 Eventually we arrived at Wanaka and our accommodation on Lake Wanaka. The lake was protected by an act of parliament in 1973. There now exists an organization dedicated to its preservation.
I enjoyed a pleasant walk along the lack after we arrived.
---
Click your "back" button to return.