The next morning we started the day at the Fiordland Cinema in Te Anau watching a short movie called Ata Whenua, Maori for "Shadowland." Click to see the trailer on YouTube. It gave us a glimpse into what the place looks like in the sunlight. (We were told it took over a year to make the film.) Then it was off again.
---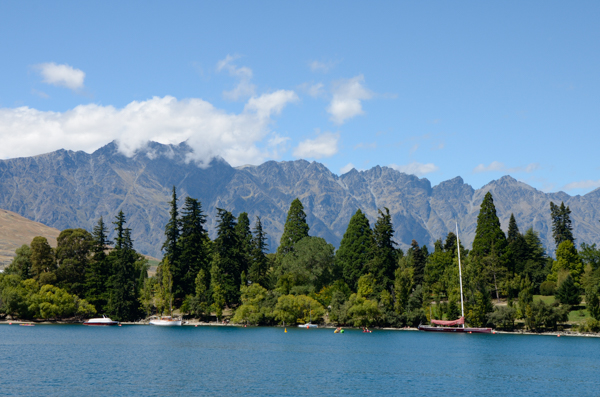 We have arrived in Queenstown.
These mountains are called The Remarkables. They are seen here behind the Queenstown Gardens on the edge of Lake Wakatipu.
---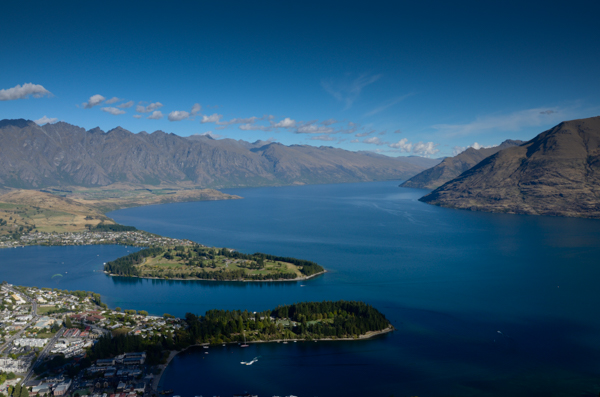 The view from the top of the gondola over Lake Wakatipu toward the Remarkables was spectacular.
Wakatipu was carved out by glaciers during the last ice age. Chas explained that the relatively smooth surface of the mountains on the right was due to the glacial action.
The rugged Remarkables, in contrast, were protected from glacial scouring by a buildup of broken ice acting as "ball bearings" as two glaciers intersected over the area that became Queenstown.
---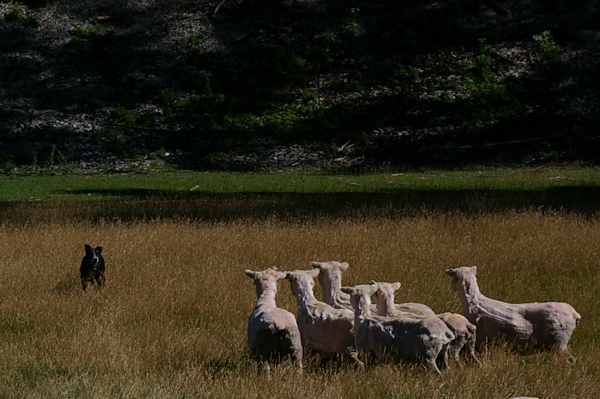 The following day we took a boat to the far side of the lake for a visit to a sheep ranch. This included a demonstration of using dogs to herd the sheep.
The sheep are not inclined to come into the enclosure so near a passel of strangers clicking cameras. They are kept from bolting back into the woods, however, by the dog's "eye." This appeared to be a face-off, but the dog eventually prevailed.
---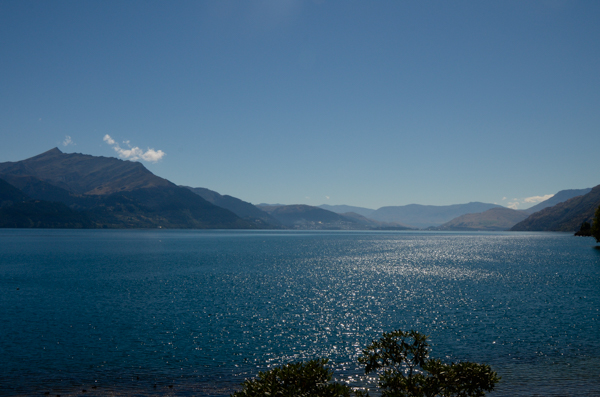 After the sheep demonstration, we had reserved tables on the ranchhouse deck with this gorgeous view back toward Queenstown. Clearly our weather luck had returned.
The food was delicious: barbecued meats, roasted corn and other veggies, salads, and yummy desserts.
---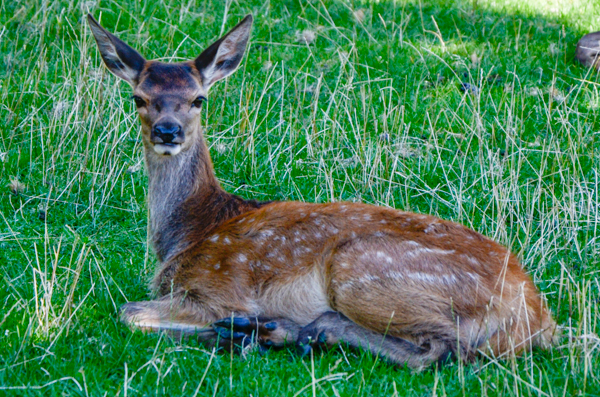 There was a small family of Red Deer representing the importance of deer farming to the NZ agricultural economy.
There was also a llama, but I think alpacas are more commonly used in farming because of the fineness of their wool. In the US llamas are used to protect sheep from predators, especially dogs, and maybe that is also the case in NZ.
---
Click your "back" button to return.