The next day we met a chartered plane bringing the main portion of our group from St. Petersburg en route to Arkhangelsk. (It's hard to convey the way that the locals pronounced the name of the city; the closest I can get is ar-HANG-elsk. We westerners know it as Archangel.)
We were at the airport on time but the airport personnel were not. Our plane had to sit on the tarmac as we processed through. Eventually we greeted the folks we would spend the next two weeks with. Most of them had flown in the day before and were bleary-eyed.
Our ship was in Arkhangelsk, but it had just arrived that morning and wasn't yet ready for us.
---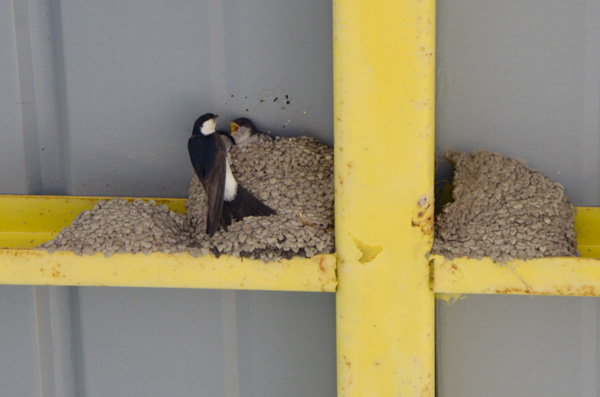 As we waited for the airport staff to show up, I amused myself by watching several swallow families with nests in the porch ceiling. Somehow swallows returning to Petrozavodsk isn't quite as euphonious as returning to Capistrano.
---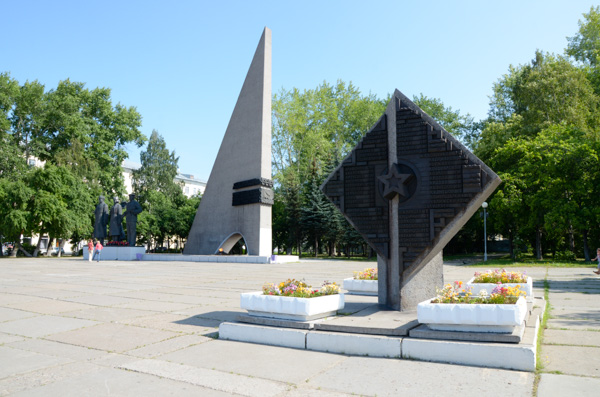 We were met in Archangelsk by three tour buses. Our group was now grown large enough that we wouldn't all fit in one. As we got further into the tour we generally broke into "long walk," "medium walk," and "leisurely walk" groups, but at this first stop our pre-trip crew were on one bus and the others were first come-first serve.
Our baggage went on a separate van for transport to the ship.
The first stop was lunch! After eating Jim and I walked around the nearby area. We found this Soviet war memorial not far from the restaurant.
---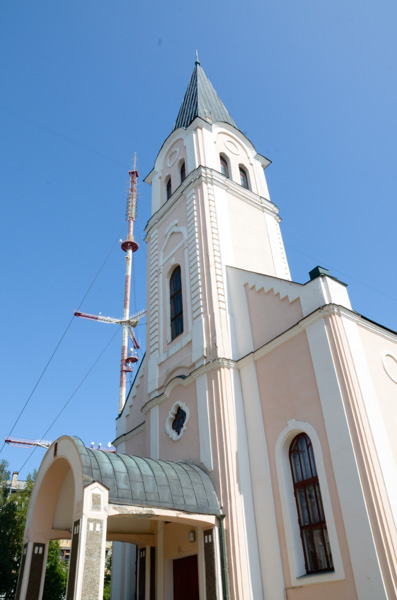 Also nearby was a former church, now the home of the Pomor Philharmonic. Pomor is a term for Russians living on the northern sea coast.
Arkhangelsk was founded by Ivan IV ("the Terrible") in the 16th century. It became Russia's major trading center with Europe even though the White Sea is frozen for much of the winter. Peter the Great based his fledgling navy here at the end of the 17th century, but he never ceased trying to find a warm water port as an alternative.
As a major European trading center, many Protestants resided here year-round. This was St. Catherine's Lutheran Church, built in 1749.
---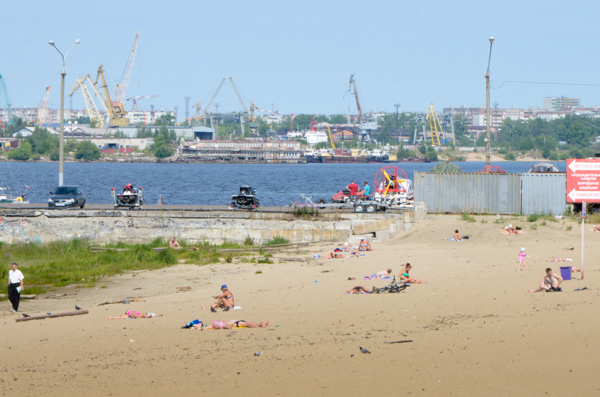 Nearby is the Embankment -- once part of the port, but now a beach adjoining a leafy promenade. Another warm and sunny day brought the locals out to bask.
We were beginning to regret not having brought more summer clothes to the Russian arctic!
---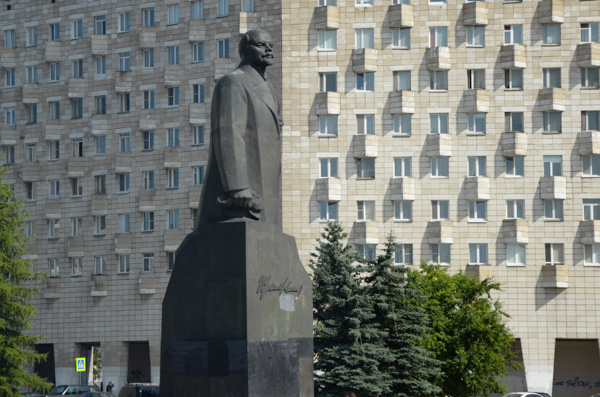 We saw memorials to Lenin in most urban places we visited within Russia, but we never stopped. I caught this through the bus window as we zipped by.
For years I have thought of Lenin as a person of (comparative) integrity in the Soviet pantheon. Based on the lectures given during this trip, however, Lenin was a cynical and ruthless fellow. I have since tried to find an impartial biography of him. There are only a few and they are hindered by the fact that most contemporary material was destroyed by systematic falsification of history. George Orwell, a one-time Communist sympathizer, didn't make up 1984 from thin air.
We shocked one of our guides by asking if there were any memorials to Stalin around. Her response: "Heavens no!"
---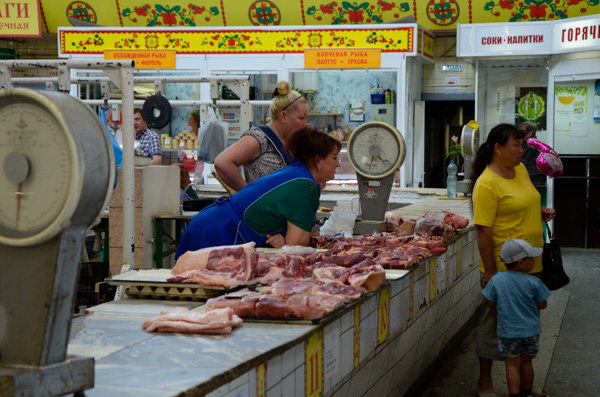 We visited a couple of markets on our city tour. This one allowed pictures. It was a bustling and friendly place. Those who were so inclined were allowed tastes of caviar at one of the stalls.
---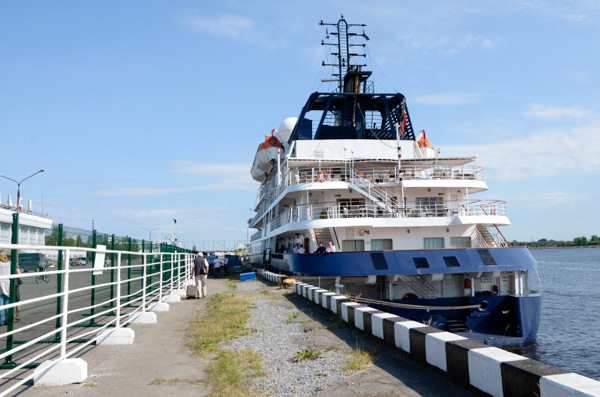 The ship hadn't changed since our British Isles trip. Even most of the staff was the same. We were glad to find our luggage already in the room and were even gladder to unpack after living out of our carry-ons for the first week.
---
Click your "back" button to return.