Sunday was our last full day in Philadelphia. I decided to visit First Presbyterian this week since they had an early service. It was highly informal and geared to children. Most of the "congregation" (not counting parents) was younger than six. I chatted with the young man leading the music for the service and learned that he and his wife were both graduates of the Academy of Vocal Arts. In fact he was preparing to appear in a Virginia Opera production of Salome. He encouraged me to come to one of the performances, but I privately felt that I've had enough Salome for a lifetime.
---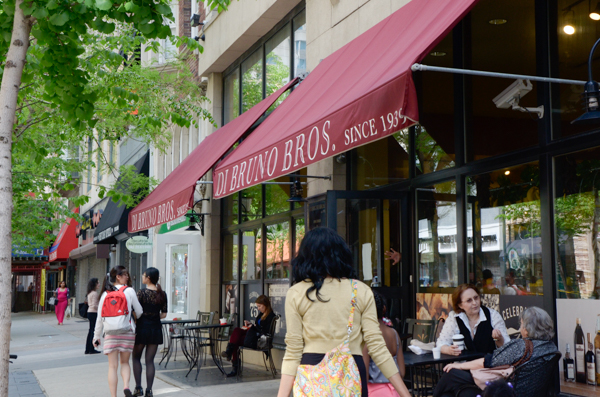 First I need to put in a couple of plugs....
Every morning except when we ate with our group, Jim and I walked down the street to the Di Bruno Brothers cafe and grocery. They had all kinds of delicious breakfast breads. I also stopped by every afternoon for my iced tea fix.
I can now understand how folks get hooked on their favorite Starbucks. We were getting to know the baristas. Pretty soon we would have been recognizing our fellow customers.
---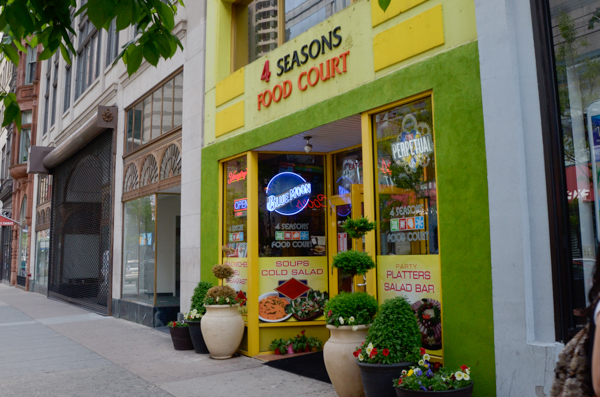 Another favorite hangout was the 4 Seasons Food Court just down from the hotel. Their cold beer drew Jim like a magnet. We also nabbed a few lunches there (we preferred the sandwiches to the buffet). It was a friendly, family-run place.
Carry-out recommended as it is noisy.
---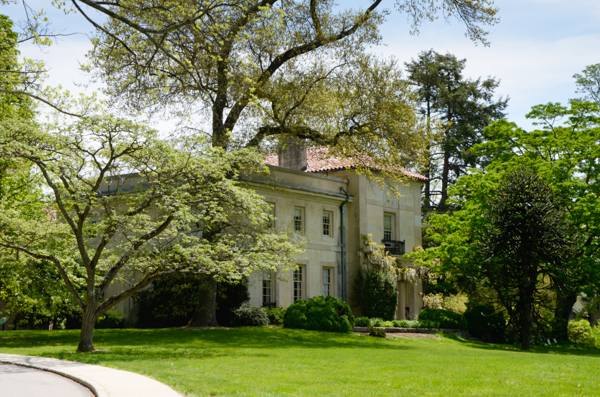 We were able to catch a Septa bus to Merion to visit the Barnes Foundation Arboretum. The residence, shown here was designed by Paul Philippe Cret (who designed the park at Rittenhouse Square). The former art gallery is behind the residence.
The art has been removed to a new purpose-built gallery in Philadelphia. The move was extremely controversial because it was in direct opposition to Mr. Barnes bequest. Fred told us that he didn't believe that everything was settled yet. Many are still crying "foul!"
---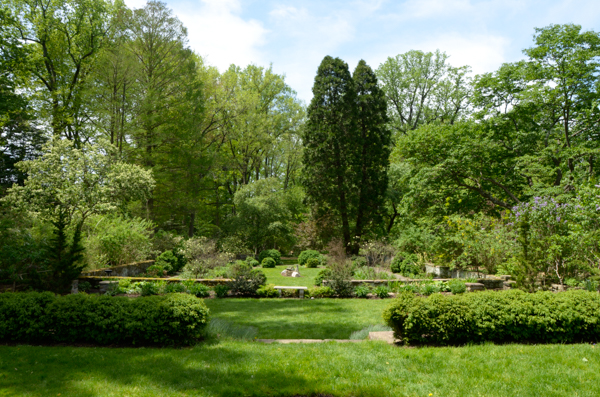 The paintings were primarily the project of Mr. Barnes. The gardens were the great love of Mrs. Barnes. There is still a school of horticulture at the site.
We are a little early in the season for the full impact of the gardens. Azaleas, lilacs, some magnolias and viburnum were blooming.
---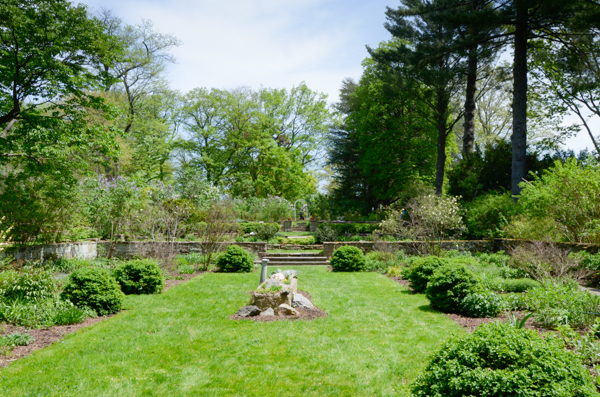 The stone structure in the center of the lawn is a cactus garden. It was a very clever way to grow cactus in the wet eastern climate. I may look into something like it.
---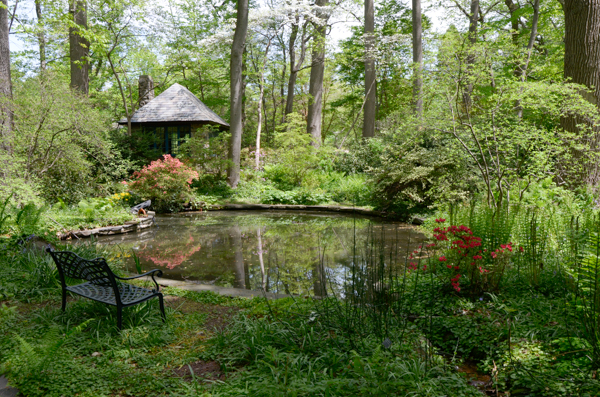 This "Japanese tea house" was located on a small pond. In a week or two when the azaleas are all blooming it will be spectacular.
There was a huge variety of ferns scattered throughout the garden. There were also very many paths and benches. There was no feeling of "don't touch."
---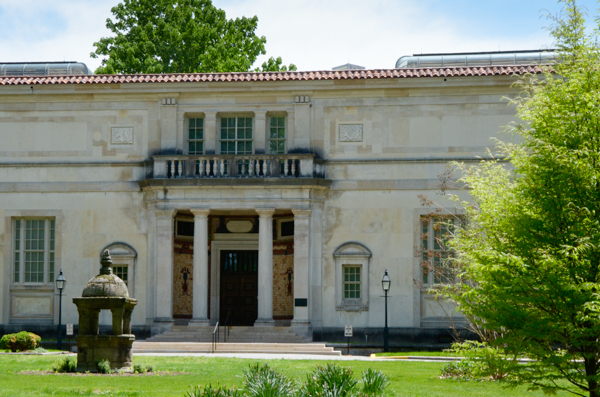 This is the original gallery that housed the art collection. We did not visit the collection downtown, that will have to wait for another trip, but I can see how the gardens would complement the art. There was a consistent aesthetic.
The rest of the arboretum pictures are of plants that struck me. I've been spending the past several years getting structure into our own half-acre kingdom, too much of which has involved killing unwanted or marginal plants. Now I'm beginning to actually PLANT stuff, which is why I'm trying to visit gardens.
You may return to the overview page if you don't care about the plants.
---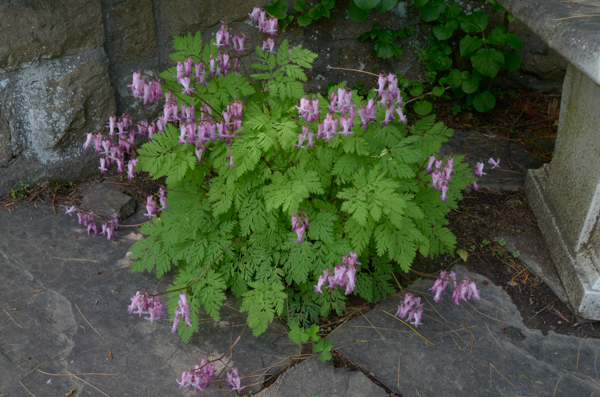 The attendant at the office said that all the trees were labeled. Unfortunately not all the perennials were. I know where I could use a charmer like this, if I only knew what it was. I'll have to take a copy to my favorite nursery to see if they know.
I have a suspicion that many of the plants that I liked are "so common" that "everyone knows what they are" except me!
---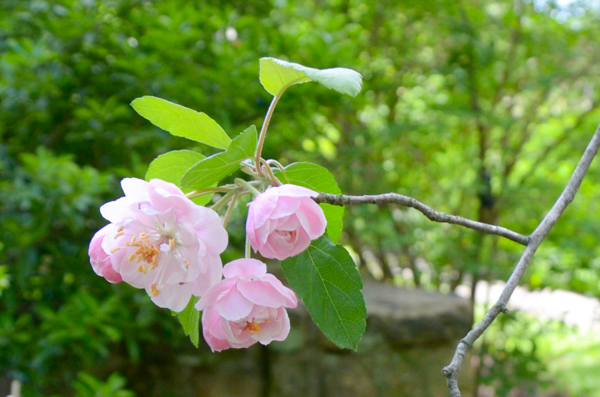 This is a stunning small tree. Unfortunately it appears to be available only in Australia, where it is noted as being the most-planted crabapple, and New Zealand.
Its label was Malus ioensis 'plena' or Prairie Crabapple.
---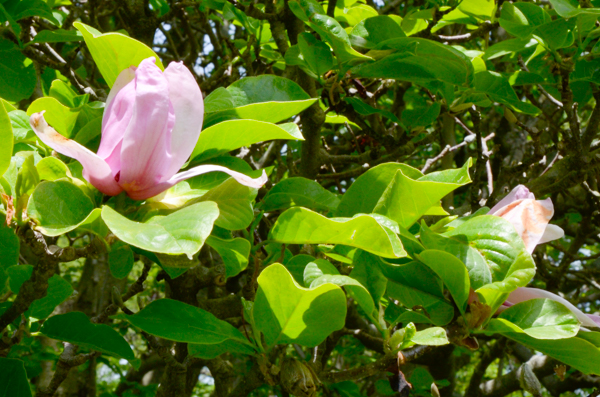 There are very many varieties of "saucer magnolia" in Lexington. I even have two in our yard. A common problem with the ones here, however, is that they bloom too early in the season and their flowers are almost always nipped in the bud or shortly after opening. In eight years I've never seen ours in full bloom.
This variety seems to have the good sense to bloom later and even though it doesn't have the profusion of flowers before the leaves open, the flowers are huge.
It was identified as magnolia x soulanciana 'alexandrina' and it is available in the US.
---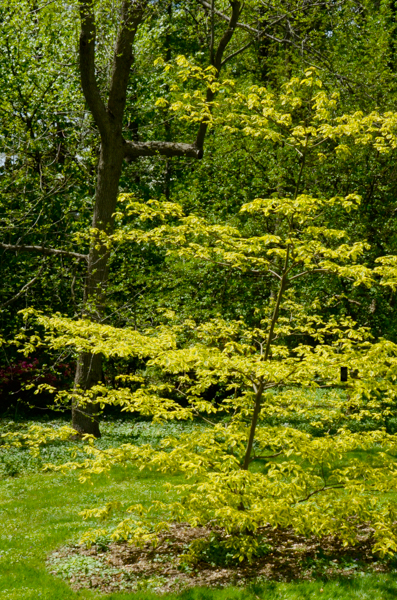 The picture doesn't do this gem justice. It glowed across the lawn like a beacon. It is a pagoda dogwood: Cornus alternifolia 'Golden Shadows.' It is also available in the US.
Unfortunately I don't have a place right now for an understory tree. But this one was out in the sun and seemed to be thriving. Hmmm.
---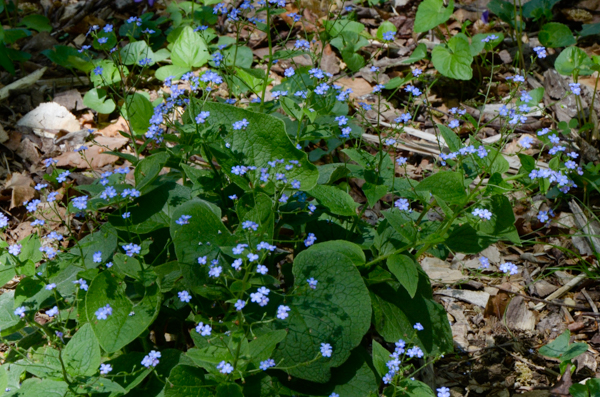 It took some searching, but I finally discovered this woodland charmer is Brunnera macrophylla, also known as Siberian bugloss or false forget-me-not. The give-away is the leaf: large and heart-shaped rather than narrow like a true forget-me-not.
---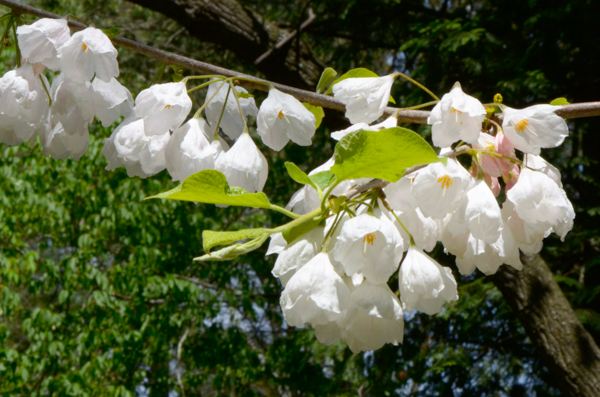 I have been tempted by the Carolina silverbell before, but they have always been small trees. This one was quite large and had denser clusters of larger bells than the ones I've seen before. I may put it back onto the list. The id tag was: Halesia carolina - Carolina silverbell.
It has the additional virtue of being a southeastern US native.
---
Return to the overview page.