Grace and Steve left Pennsylvania for The Villages a couple of years ago. While we were there the buzz was that the Sumter County portion of the development is the fastest growing community in the US. We always make it a point to let Grace know when it's frigid and/or snowing in Virginia, just in case she might get homesick for Pennsylvania. (Ain't hap'nin'.) This was our second trip to visit them since they moved. There are more pictures of Grace, Steve and The Villages in our album of that 2012 trip. It seems like this year I was too focused on birds!
---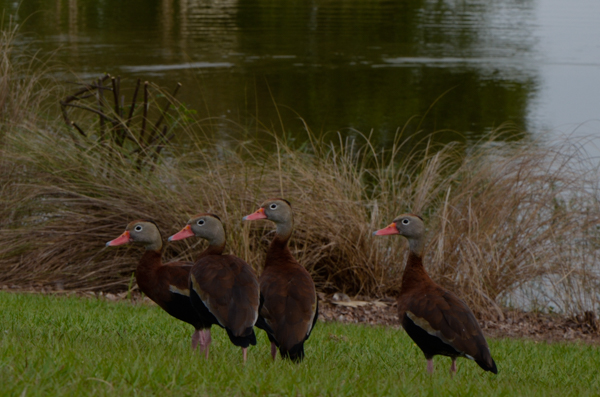 One of the things that Grace & Steve really love about their Florida house is all the wildlife attracted to the pond in the back. There are several flocks of black-bellied whistling ducks that come twice a day for food that Grace and her neighbor distribute.
The information at the link calls them "boisterous," which is an apt description.
---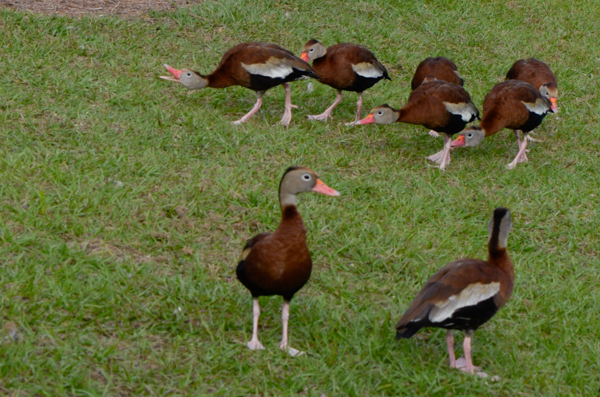 "Quarrelsome" would also be apt. As the various flocks came in some become aggressive. This was shown by the threatening posture and really loud calls.
I never saw any conflicts resulting from this, although Grace says that sometimes two flocks will really get into it.
---
This pair of moorhens were also daily visitors. They were very shy, so I could never get any real close-ups of them.
---
Grace calls the three birds to the left "black ibis," but I've discovered since coming home that they are glossy ibis. (None of the pictures I took of these birds came out well. This was the best of a bad lot.)
The pine straw mulch was placed around all of the landscaped areas during the time we were visiting. The next day it poured rain. The pond rose dramatically and much of the mulch floated away. oh well.
---
We made a couple of side trips while visiting.
One day we drove down to Clermont to visit Al Marah Arabians' new location. My horse Cookie is Al Marah bred. We got to meet Mark Miller, the new owner, who introduced us to a number of the horses including Cookie's full brother Al-Marah Horatio.
On the way back to The Villages, we stopped for a tour and tasting at Lakeridge Winery. The wines, made from hybrid Muscadine grapes, were quite good.
---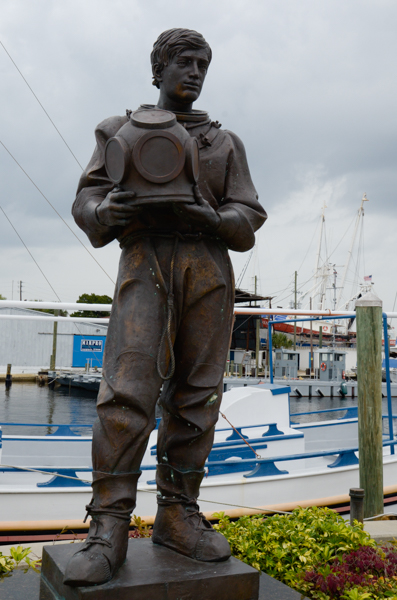 Another excursion was to Tarpon Springs. My family visited here many years ago when I might have been seven or eight. I don't remember a lot about that trip, except that it rained almost incessantly, but I do remember sponge divers dressed like this memorial. The suits were made of rubberized canvas, the helmets screwed on, and the boots were weighted. We went out on an excursion boat and I think we saw a demonstration.
---
I don't know if they still wear the same clothes, but they still have excursion boats. There were multiple concessions along the docks.
---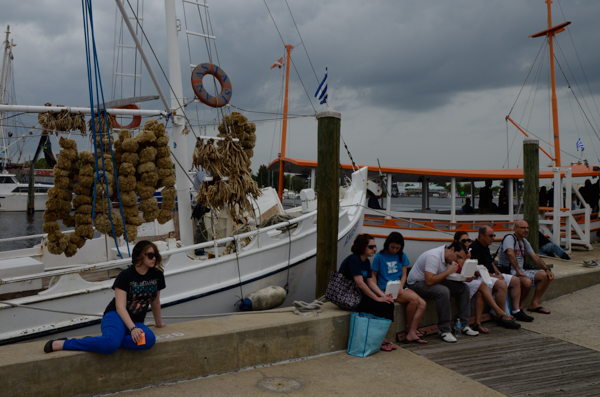 The excursions are popular. The next boatload is waiting to embark. Several varieties of sponges are on display on the boat behind them.
Most of the local sponge industry was destroyed by a red algae bloom back in the late 1940s. There have been recent attempts to bring it back.
---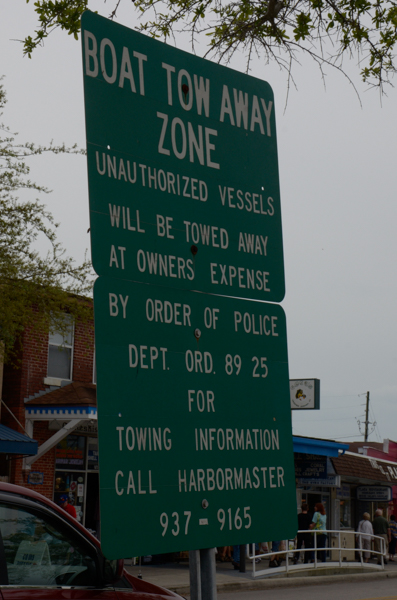 I was amused by this sign.
---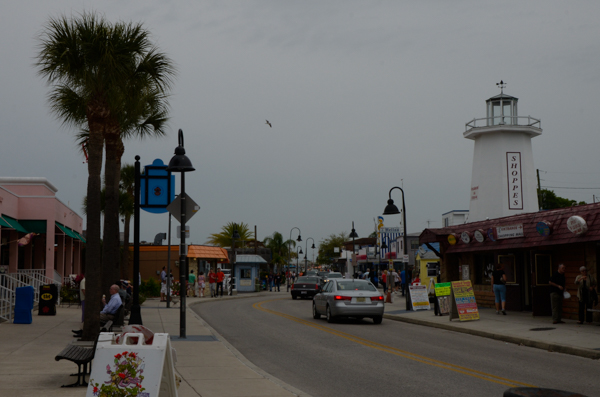 There is a lot more to Tarpon Springs than tacky tourist traps, but we were on the prowl for tacky tourist traps. I bought some seashells for my 5-year-old "secret pal."
As is so often the case, it was difficult to find souvenirs that weren't made in China, Indonesia or anywhere other than Florida. According to Wikipedia, even most of the sponges are imported nowadays.
---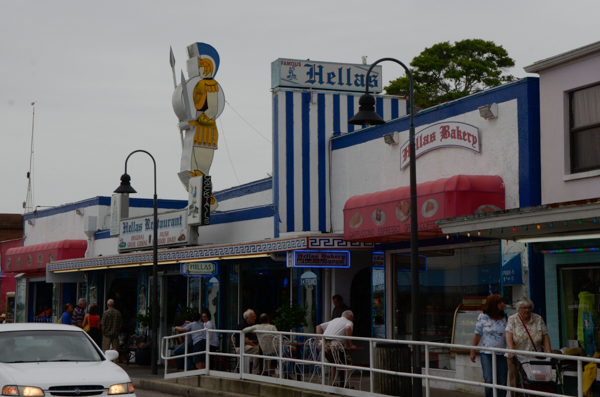 Our favorite stop was the Hellas restaurant. The city was settled by Greek sponge divers and still has a very high percentage of Greek-Americans.
The food was delicious. We even ordered flaming cheese – Opa!
---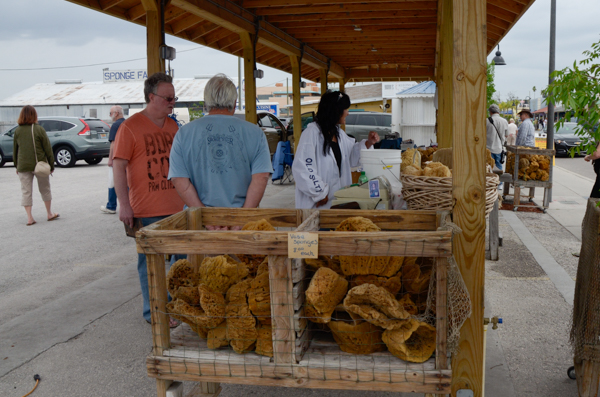 In the shop where I bought my shells, a lady was buying a "vase" sponge like these. She was concerned about how to pack it so that it wouldn't be damaged. The shop keeper looked at her for a moment and said: "You dampen it, smoosh it into a Ziploc bag, and stuff it in anywhere it will fit. It's a sponge, for crying out loud!"
---
On our final day with Grace and Steve we had planned to participate in a Parrotheads golf-cart Poker Run, but the weather was stormy with tornado warnings, so it was postponed until the following week. We were all disappointed. Nevertheless it was a fine visit and it didn't snow. Until we arrived in a snow storm at the airport in Roanoke!
We had a wonderful time with all our kinfolk, but as usual were glad to come home (in spite of the snow).
---