People ask me if I take a horse to the convention. Hardly. Convention is a gathering where the delegates and board of directors of the Arabian Horse Association get together to set policy for the association.
The organization has a representative form of government. The over-simplified summary:
There are 18 geographic regions in the US and Canada.
Each region has a number of individual clubs within it.
Clubs elect a number of delegates based on their membership size.
Delegates elect regional and national officials as well as vote on policy changes at the convention.
In 2013 I was a delegate representing the Virginia Arabian Horse Association, a club in Region 15. Region 15 encompasses Virginia, Maryland, Pennsylvania, Delaware and New Jersey.
---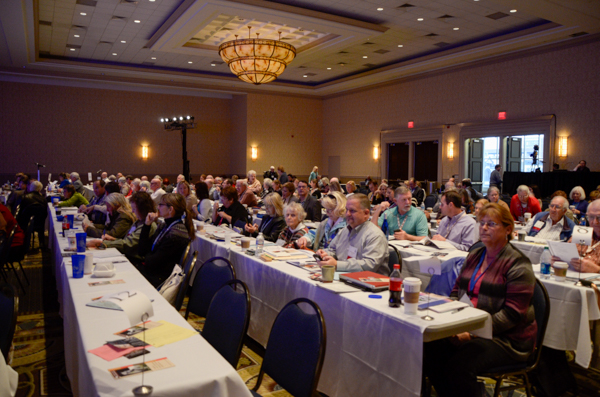 Convention delegates getting ready for a session. There were 301 representatives in attendance out of 435 who were eligible.
Members who are not delegates are welcome to attend as guests, but are not able to vote.
Each general session started with door prizes (must be present to win). There were a variety of speeches and presentations at each session before getting to business like elections and voting on the various resolutions brought forward by the membership or working committees.
---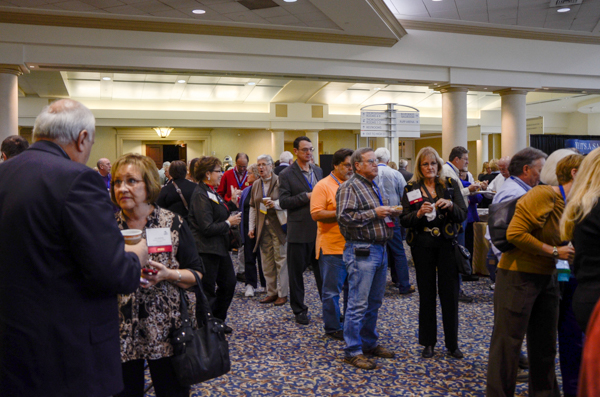 Most days included a coffee break with snacks.
Most of the work at convention is done in committees. Interested delegates discuss relevant resolutions in detail and propose changes and other adjustments as needed before they are brought to the convention floor (or withdrawn).
---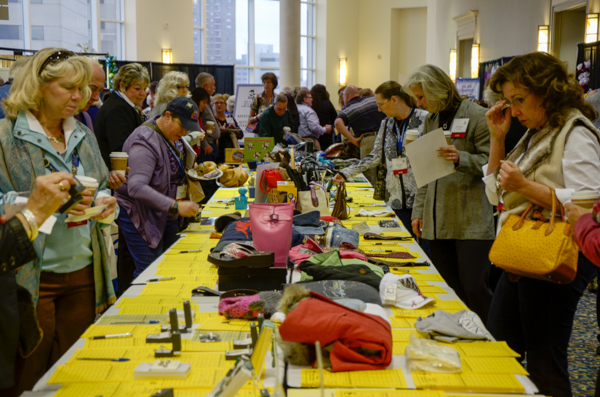 A highlight of every convention is the silent auction benefiting youth programs. The offerings are on display throughout the convention and bidders watch their favorites closely.
I usually find something in the auction, but this year we had to leave before it was closed so I wasn't able to bid.
---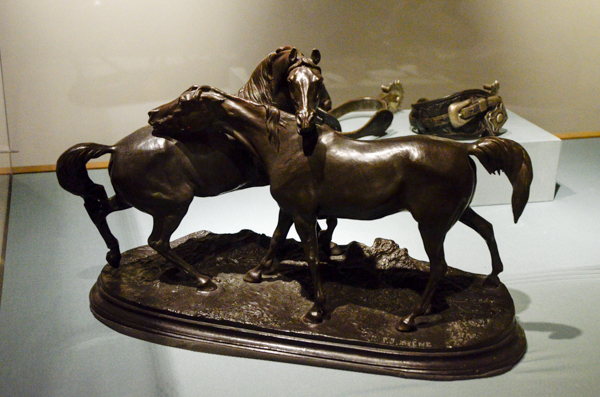 A much-anticipated outing one evening was to the Al Marah Arabian Horse Galleries at the Kentucky Horse Park. There was so much to see including exhibits and artwork.
Since my beloved horse Cookie was bred by Al Marah, I have a close connection.
I included this picture of a bronze stallion and mare sculpture because a copy of it was my first introduction to Arabians as a horse-crazy child. Over the years my copy was either broken or lost (I think it was made from plaster or cheap Britannia metal). It was a treat to see it again.
---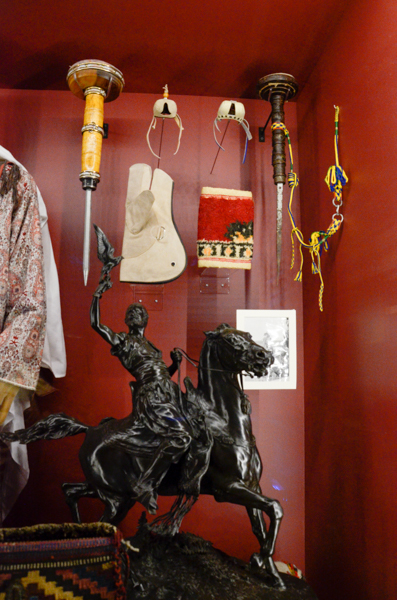 The falconry exhibit. We had just returned from a trip to Central Asia where we attended a falconry demonstration using all kinds of birds, including eagles.
---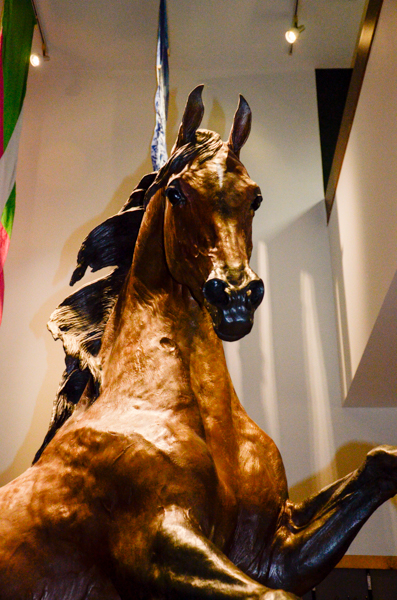 This larger-than-life-size sculpture is of Bask++, a stallion who needs no introduction to the Arabian world.
One of my horses, Bella, is a descendant.
---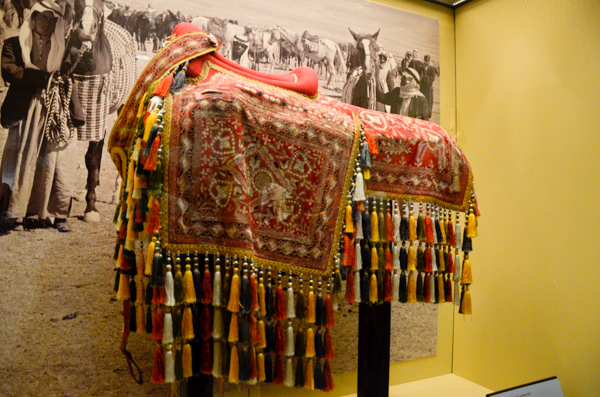 There were several displays of Arabian tack.
The real thing is not nearly as elaborate as what you might see in a "native costume" class at an Arabian show.
---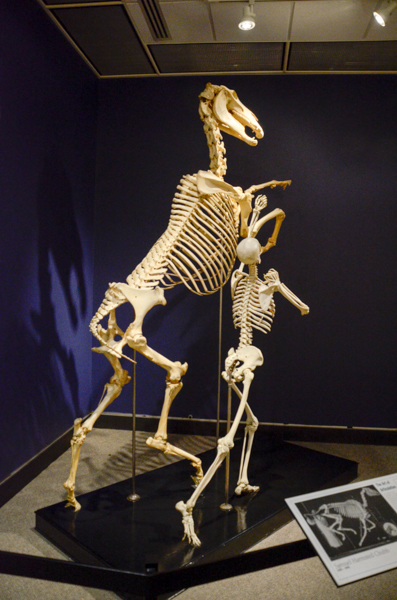 This pair of skeletons was not in the Arabian section, but I thought it was a great display. They highlight skeletal similarities between horse and human, e.g., the correspondence of ankle and hock, and dissimilarities such as the structure of the shoulder and arm.
After a tour of the galleries, we dined at Spindletop Hall, a grand mansion and club owned by the University of Kentucky. The history we were told while there was somewhat more colorful than that given at the web site, but the gist is the same.
The food was delicious.
---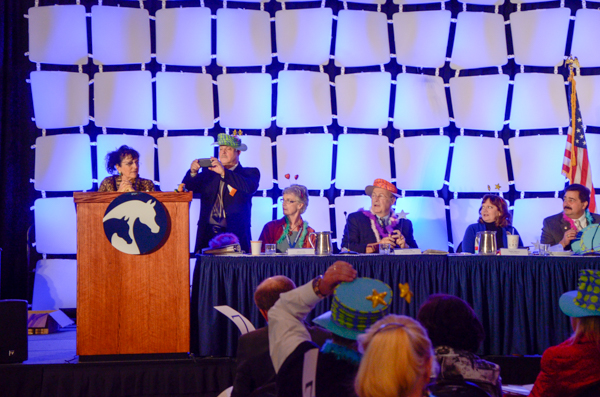 The next morning it was back to business – at least until the invitation to the 2014 convention in Denver. Planning committee members romped through the room bestowing silly paper hats, skinny feather boas, magic wands, and deely-boppers on all and sundry. The executive committee looks quite festive!
I had to get back home to Lexington, VA, Saturday night, so we couldn't stay for the last after-lunch session. Nevertheless it was a fun and productive week in "the other Lexington."
---
Click "back" to return.