These pictures are incidental to the narrative, but I wanted to include them. They spoke to me, and perhaps they will to you.
---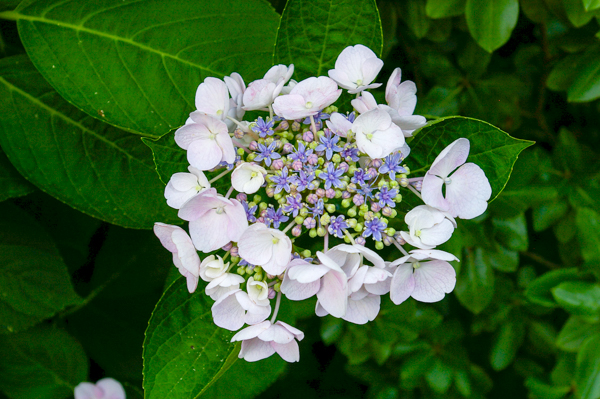 Point Pleasant homes, many of which looked over 100 years old, often had these old-fashioned "lace cap" hydrangeas. This particular plant was located at the Presbyterian church.
The small flowers in the center are fertile; the larger flowers on the edges are not.
The more common hydrangeas, with a cluster of the infertile flowers are known as "mop heads."
---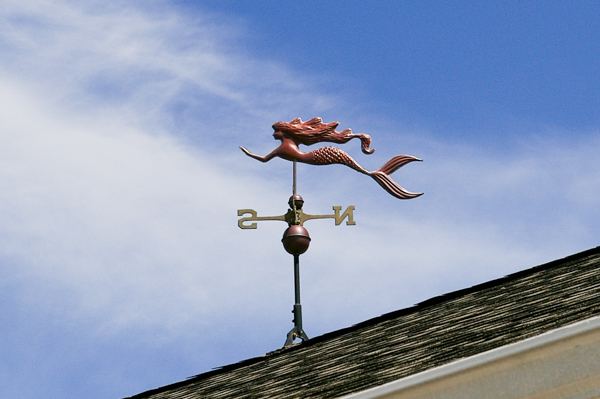 Susan's house had this delightful mermaid weathervane. There were a number of interesting weathervanes in the neighborhood.
---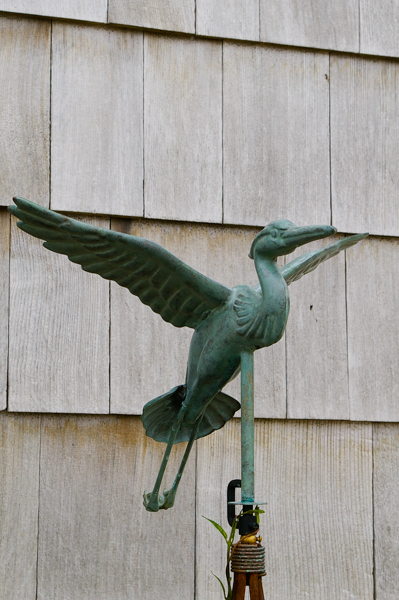 She also had this sriking bird sculpture in her front yard. At first I thought is was a pelican, but the beak and legs are wrong. Maybe it is a stork or heron.
Or a Phoenix.
---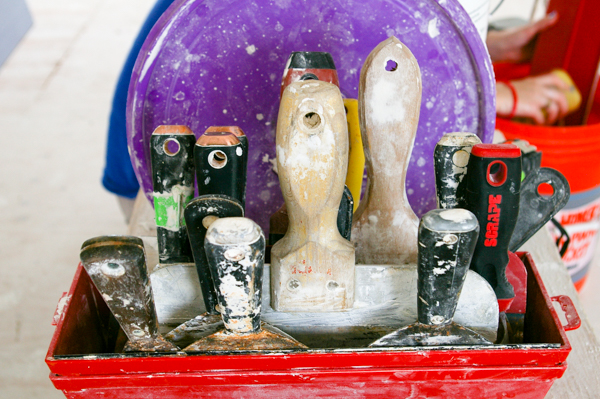 I think of this as "still life with drywall knives."
No, I didn't set this up – they were just there at the end of the work day.
The purple top of the "mud bucket" makes a nice backdrop.
---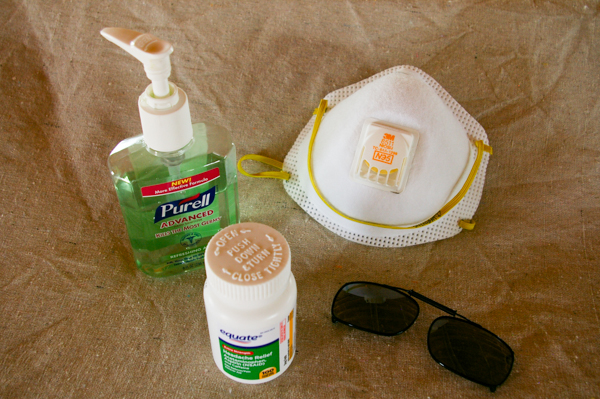 Here's another "still life." These were lying around on a tarp-covered piece of furniture downstairs in Susan's house. I thought they pretty much summed up our work and its challenges.
---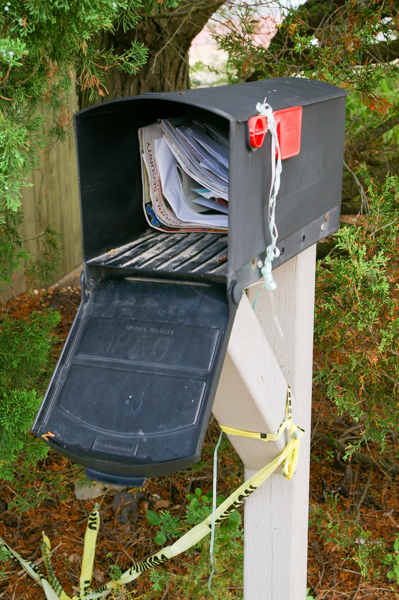 In the main part of the narrative I included a vacant lot with a new mailbox.
This box didn't look as hopeful. Whatever house that belonged to it had been swept away.
The abandoned mail looked like it had been there for a while.
I thought the remains of the curly balloon ribbon next to the "caution" tape was very poignant.
---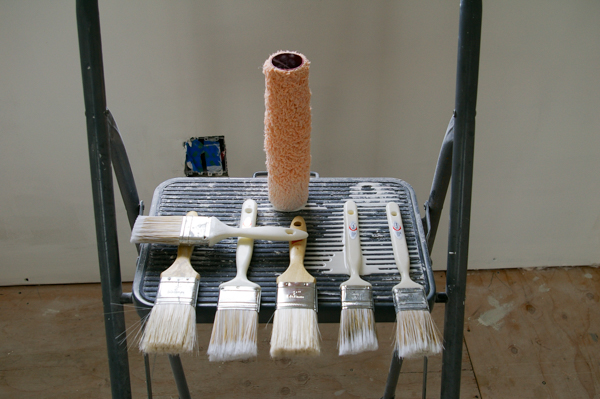 This would be a "still life with paint brushes."
We had finished priming the walls and ceilings and were hoping to paint the rooms on our final day. As it happened there was still some additional patching work that needed to be done before we could really do actual painting.
I don't know who was responsible for creating all these interesting compositions – all I did was take the pictures.
---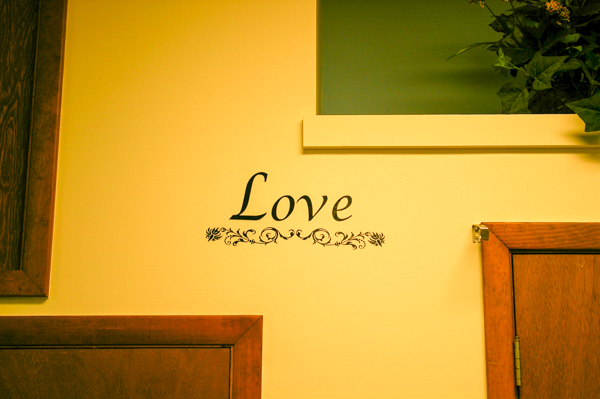 In the main narrative I mentioned our supper at St. Mary's. Their fellowship hall where the suppers were served had "Faith," "Hope," and "Love" stenciled in various locations throughout the room.
---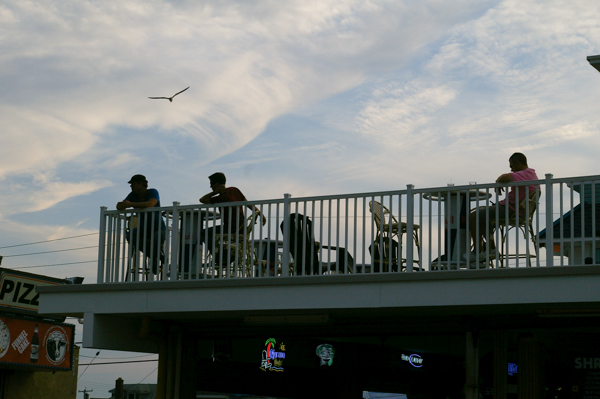 The boardwalk at Seaside Heights had establishments of all kinds.
I liked this bar with its outside patio.
---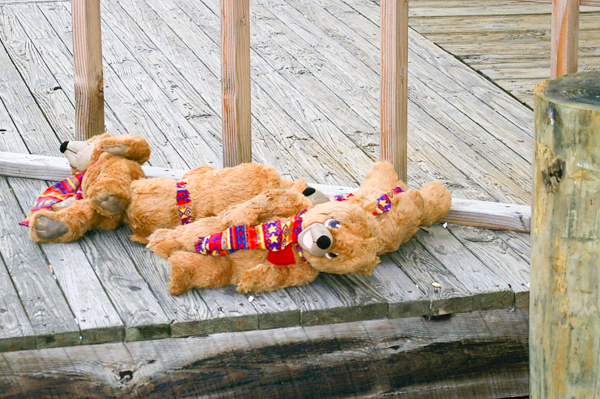 I'm sure there's a story behind these abandoned bears along the boardwalk. I'll bet it's a sad one.
I wonder what it is.
---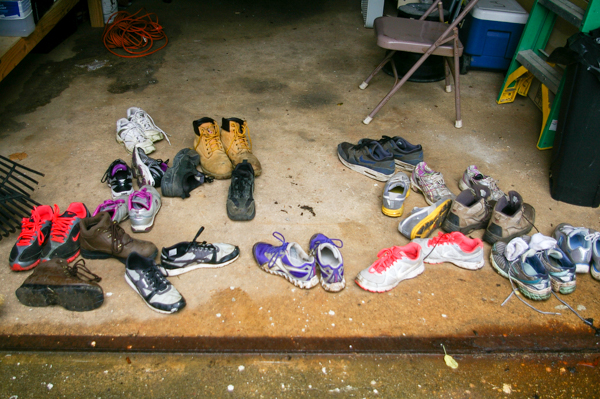 "Still life with shoes."
As we returned to the church after our last day's work, I saw these shoes in the garage by the church educational building.
They belonged to some of the PA youngsters.
Based on what I saw of the young people on this trip, both from PA and VA, there is a lot of capability and caring in the generation coming along. It fills me with hope!
---
Click your "back" button to return to the previous page or click for our picture album.