I call it "our" house although it didn't really belong to us. Nevertheless, we cared for it as if it were our own. We also came to care for and respect its owner, Susan Roche, an accomplished photographer and entrepreneur.
Susan shared her experiences during and after Sandy. She and her daughter did not evacuate for a couple of reasons. One was that their neighbors said that "hurricanes never hit here." Another was because there was no evacuation center that would take their pets.
Unfortunately it is often the case that after a disaster such as this one there are scam artists and other predators that prey on victims. This was also true here. Susan is resourceful, however, and has navigated these challenges successfully. She has struggled and learned – become her own general contractor and even taught herself how to do wiring and many other tasks needed to rebuild her house.
---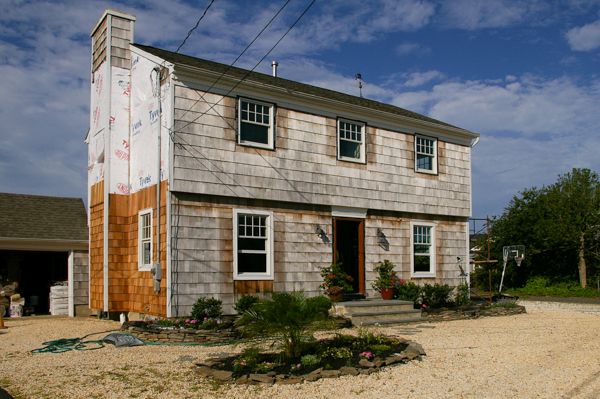 The house is located in Point Pleasant Borough. It isn't directly on the water, but the bay is visible from the house. The storm surge backed water up into the bay and after the winds lessened the water came roaring out of the bay into the surrounding neighborhoods.
The gravel "yard" is very typical of the neighborhood.
---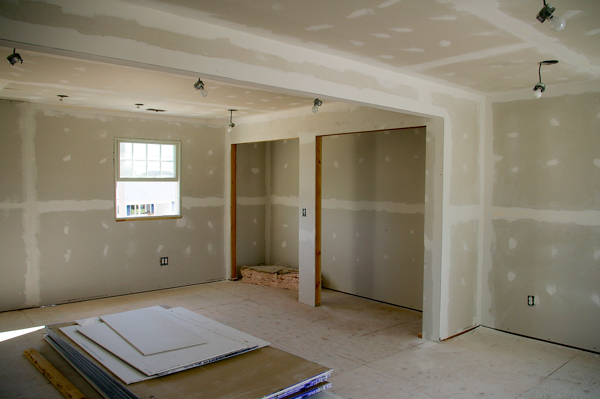 Most of the drywall had already been hung in the second story, but there was still an amazing amount of finishing work to be done.
---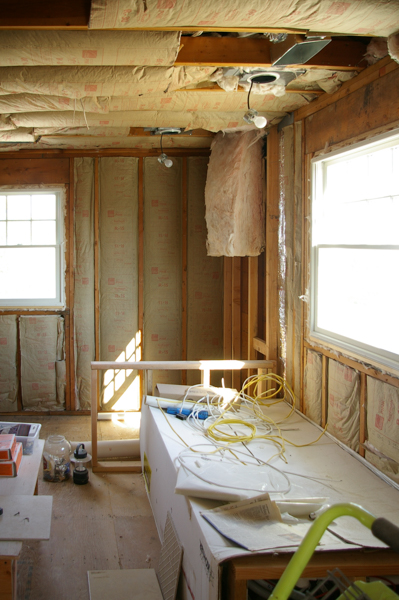 One of our assigned tasks was to put up insulation and drywall in the upstairs bathroom. We were unable to complete this area because there was additional plumbing work needed in the shower area.
---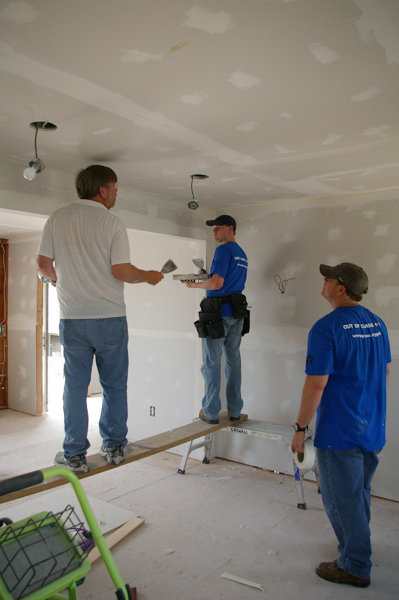 Pastor Carl Moore (with back to camera) had put himself through seminary doing drywall, so we had a good instructor on the proper techniques of hanging, taping and mudding sheetrock.
Jim (on left) and Carl's son Brad are putting a second coat of "mud" on the join between the ceiling and wall.
---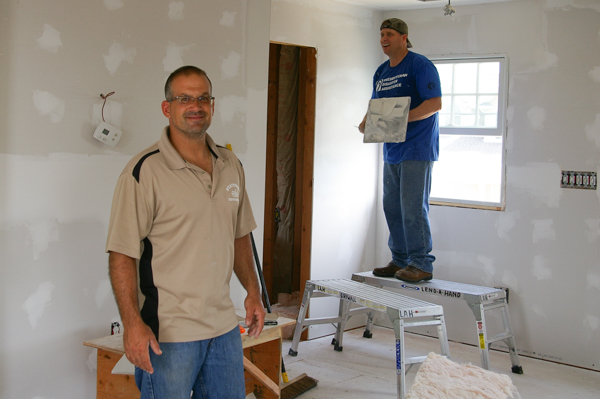 We got some unexpected additional advice from Anthony, the exterminator. Susan had called him the previous week because the previous team had seen ants in the house. We hadn't seen any, but it turns out that Anthony was once a member of the tapers' union. We didn't even know there was such a thing! He gave us all kinds of demonstrations on various techniques.
---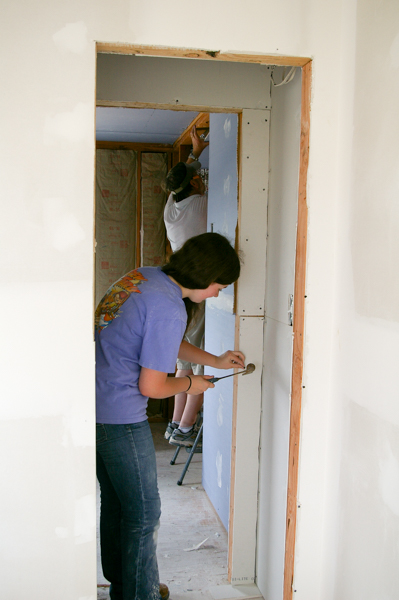 While the guys were manhandling the large pieces of wallboard, we women decided to work on the linen closet.
---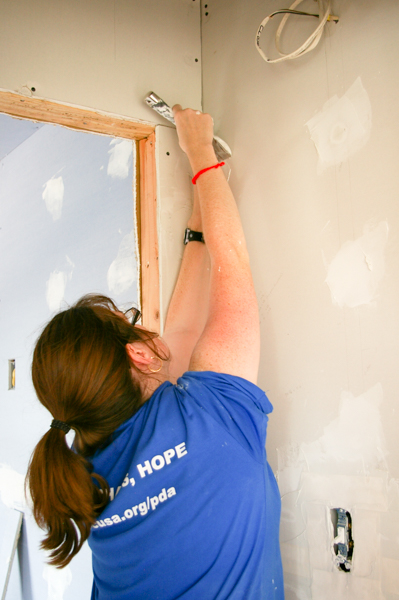 The quarters were cramped, but it was a good place to learn.
We made lots of jokes about "the ladies room."
---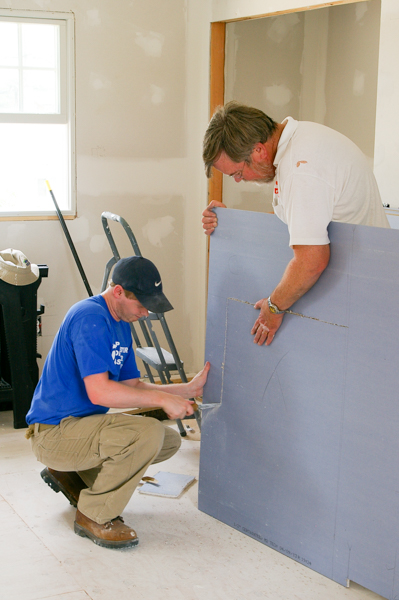 There was lots of precision cutting to be done in the bathroom. Brad & Jim had to measure and measure and measure again before cutting.
---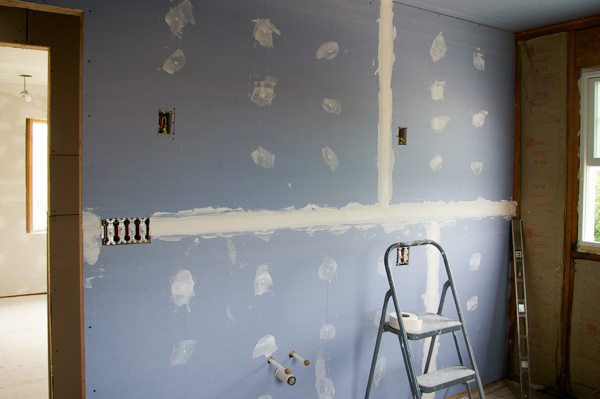 They got it right every time!
---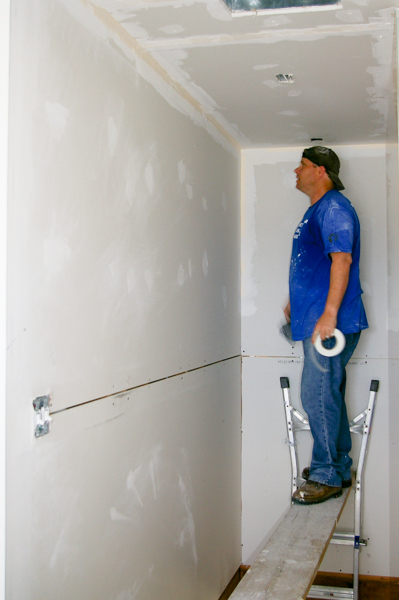 We left the scary bits to the pro.
Pastor Carl discovered that the team that put the drywall in the stairwell didn't always get the measurements just right every time. There was extensive patching that needed doing.
He rigged up scaffolding and did the patching and finishing suspended high above the stairs.
---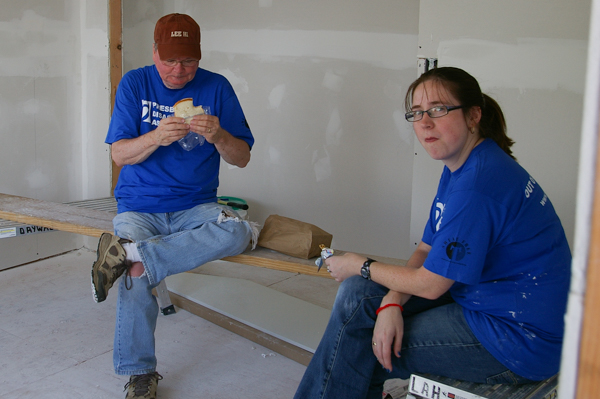 It wasn't all work, work, work. We had plenty of breaks. Pastor Skip and Chasity are enjoying lunch. There were cold cuts, fruit and other snacks at the church to make our lunches. Plus we had the benefit of a working refrigerator at our house to keep things cold without having to take coolers.
---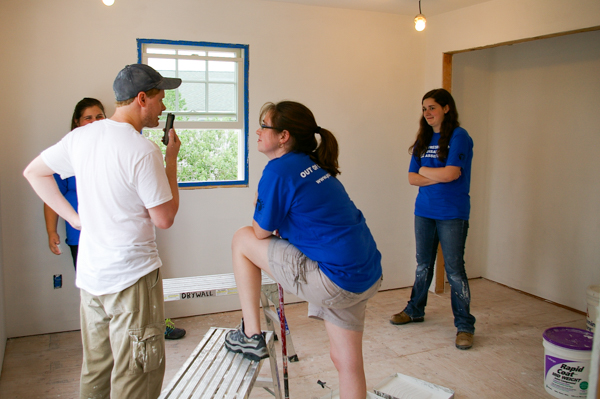 We also helped the time pass with singing. Sometimes rock & roll, sometimes hymns (how many second verses do you know?), in this case it was a rapper riff.
---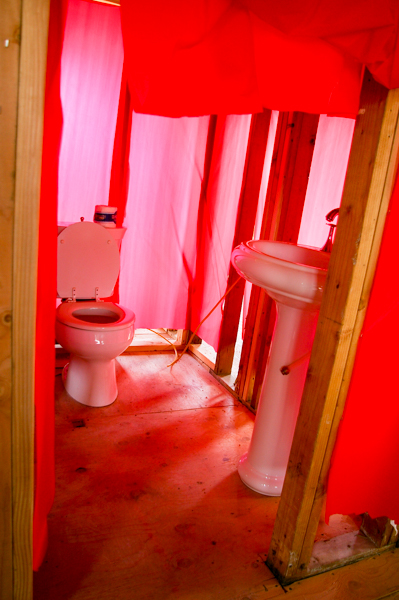 Not exactly all the comforts of home, but...
Our house had two great features: a working refrigerator and a working toilet.
The privacy wasn't the greatest, but it was adequate.
The house also had working air conditioning, but we chose not to use it on account of the dust we were generating. There was usually a nice breeze and we felt that would help the drywall mud cure better. It got pretty toasty by the afternoon, however, and I discovered that, even though it is cut short, my hair will still kink & frizz in that kind of humidity!
---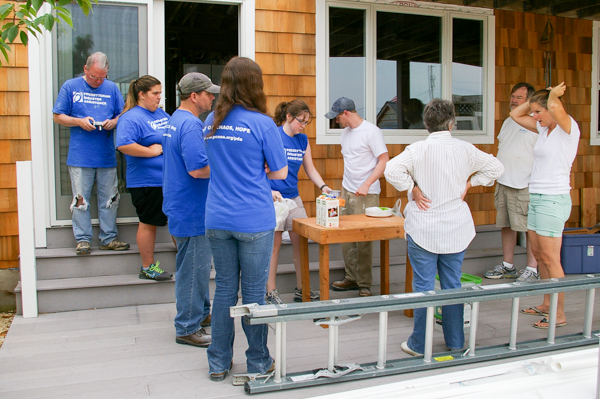 The morning of our last day Susan brought us bagels for breakfast. It's true: bagels ARE better in New Jersey.
We invited her to join us for dinner that evening, but she was unable to do so.
---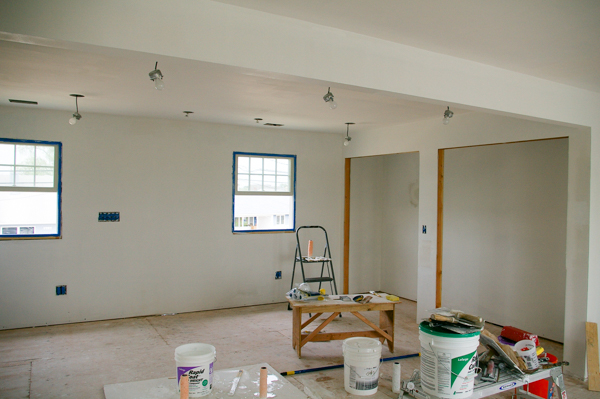 By the end of the week we completed the drywall work in the two bedrooms and primed the walls & ceilings. We were also able to get a first coat of paint on the ceilings.
The bathroom drywall was well underway.
The linen closet was taking shape.
The upstairs, at least, is beginning to look more like home.
---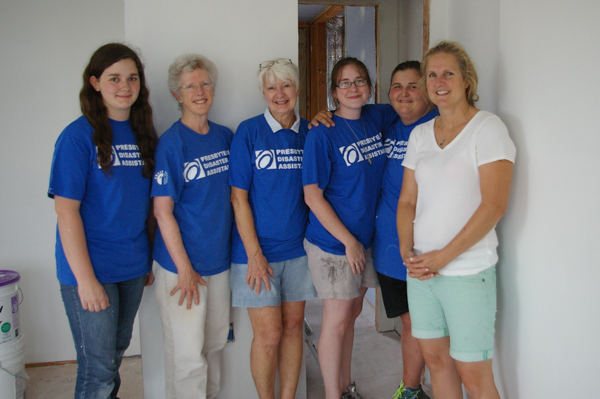 The ladies with Susan in front of our closet. It wasn't quite to the priming stage. We signed the joists wishing love and blessings on the house and its inhabitants.
From L-R: Brett, Mary Ellena, Suzy, Chasity, McKenzey & Susan.
---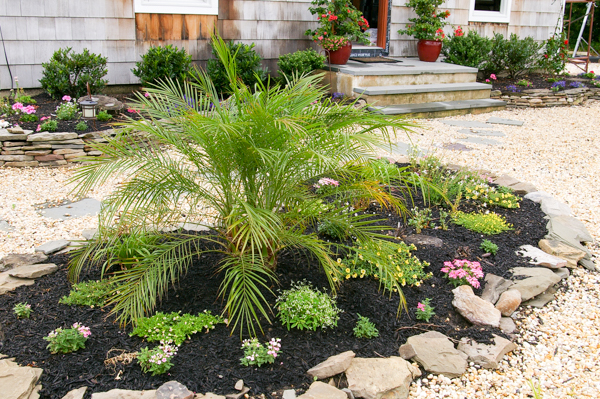 Susan told us that she had done some planting to make the house look more welcoming. She chose this palm as a symbol of hope.
---
Click your "back" button to return to the previous page or click for our picture album.