The Friday night ball is one of the high points of the week. In addition to the Jinkers who have been at Valle Crucis all week, there are additional folks who come either just for the weekend or who are planning to stay for "Ye Auld Jink" the following week. I think there may have been a few local dancers as well. The Apple Barn was full. Everyone dresses up and there is plenty of food and good times.
---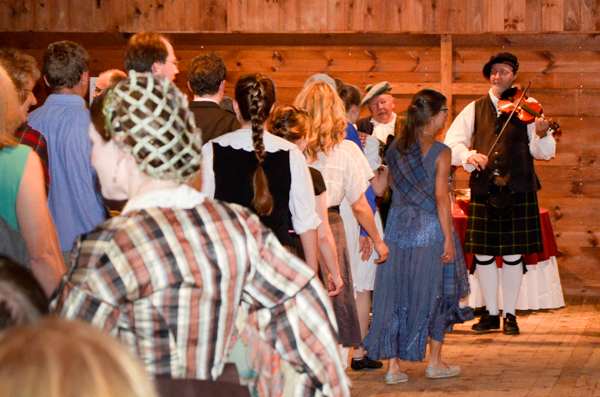 Since I was playing I didn't get a chance to take pictures of the dancers except for the Grand March. David Gardner was the solo fiddle.
---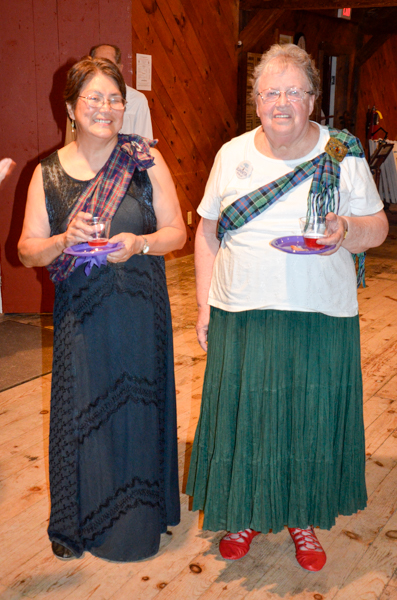 My roommates Lorraine Jackson and Juanita Fieseler, both from New Jersey. I've bunked with Juanita all three years at Jink and Lorraine has joined us for the last two years.
We had a great time together and a lot of laughs.
Lorraine and Juanita are both experienced dancers and fiddlers.
---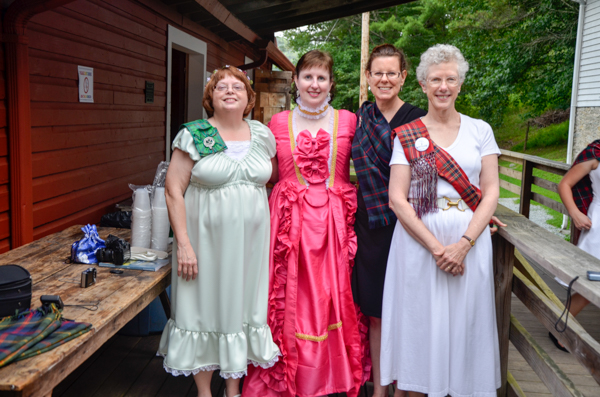 I am on the right with (L-R) Jean Wood (WI), Melissa Jones (NC) and Barbara Morrow (VA).
This was Melissa's first year at Jink. I hope she returns. Melissa is a beginning fiddler, but experienced in Scottish music. She plays tenor drum in a bagpipe band.
---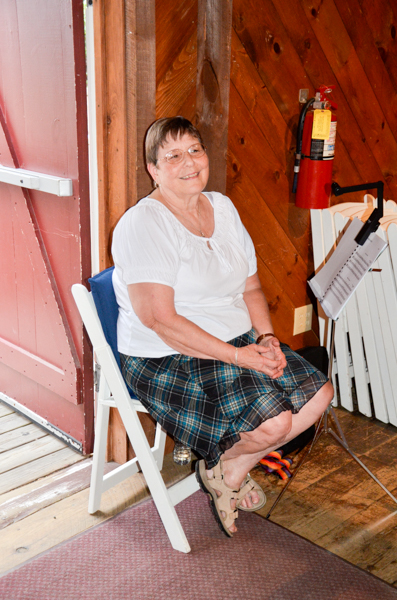 Ginny Leopold is also from New Jersey. Like myself she made the step from Level 1 to Level 2 this year. Last year she convinced me to sign up for Skype lessons with Melinda. Those monthly (more-or-less) lessons have really helped my playing.
---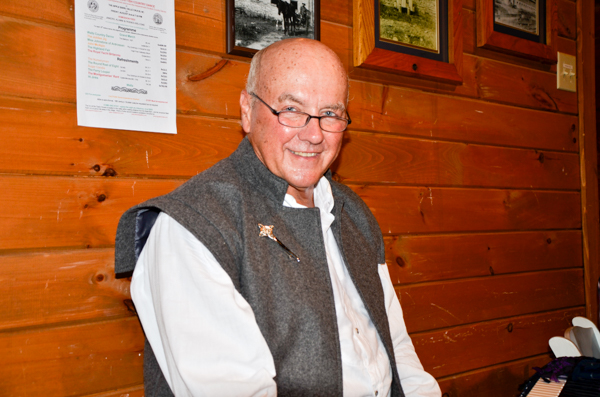 Gary Whaley was our Piano Man as well as a fiddler. He played keyboards for the ball. I was sitting right in front of his amp and teased him that it would take a week before I could hear again out of my left ear. Actually it was reassuring that no one would be able to tell if I made a mistake.
---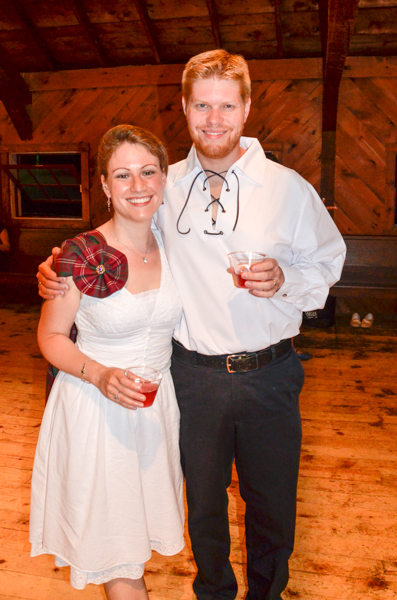 Melinda Crawford was joined by husband Dan Perttu for the weekend.
---
All of the instructors took turns directing the fiddle orchestra during the dance. Melinda was my favorite conductor, but David had a unique style of keeping our focus.
---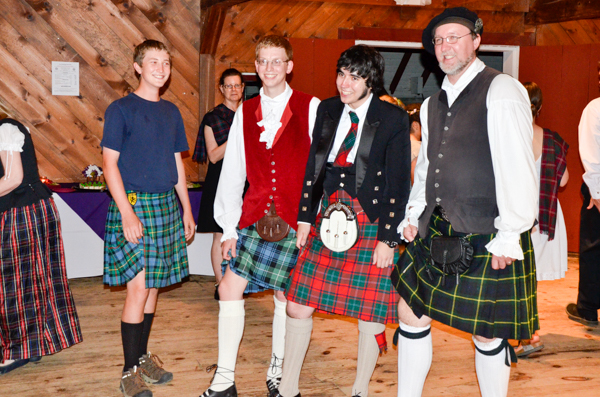 Not quite your standard beefcake image!
---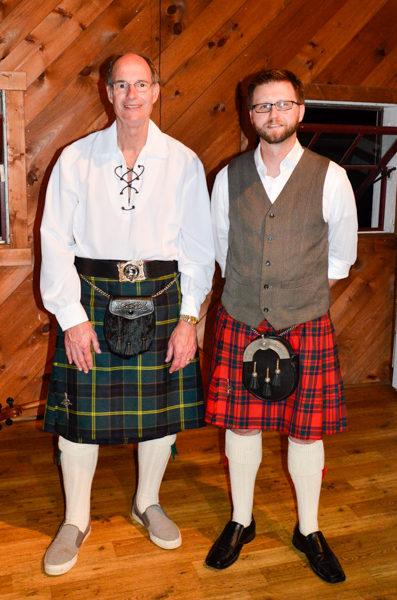 Tom Bridenstine and Colyn Fischer. This year was the first time I had lessons from Colyn. He had some wonderful approaches to improve intonation and migration around the fingerboard. I also liked the way he always gave us time to look at a tune and think about it a while before starting to play.
For the past three years I've admired Colyn's baroque bow. This year John Turner brought a selection to sell and I bought one. I like it! It doesn't just look cool, it plays more easily as well.
---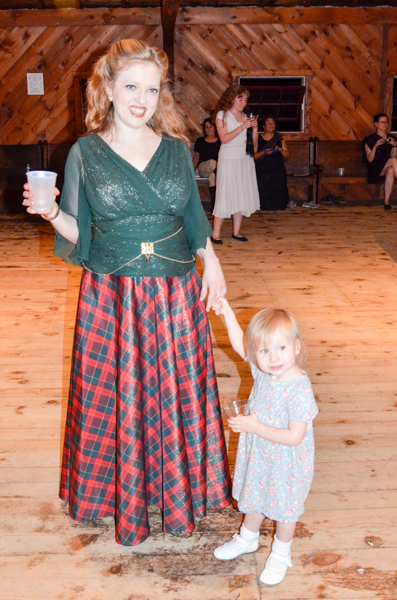 Rachel Barton Pine with her daughter Sylvia.
We've enjoyed watching Sylvia grow at Jink. The first year I was there, Rachel was expecting. Then Sylvia was an infant and now a toddler.
On the night of the instructors' concert Rachel played an over-the-top rendition of Happy Birthday in honor of Jink's 30th anniversary. At one point she was bowing the tune with simultaneous plucked accompaniment in the left hand. The entire "theme and variations" resulted in a standing ovation. I hope someone recorded it.
---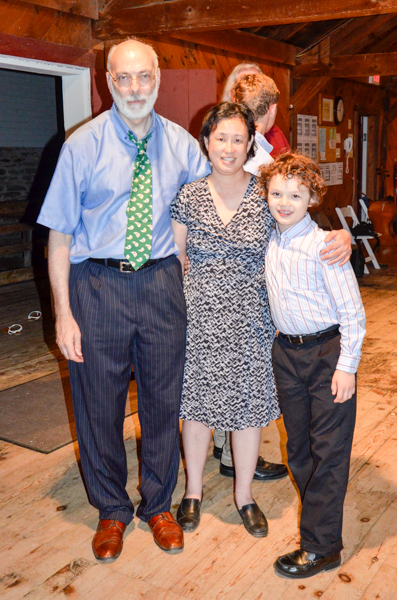 John Mark Rozendaal was the cello teacher and also taught the accompaniment class. He's pictured here with Kyle and his mom Allynnore. Kyle was our youngest Jinker this year.
John Mark plays regularly with Rachel as 2/3 of the Trio Settecento.
His accompaniment class was my favorite this year and not just because I can now play along in a jam session – even if I don't have music! I am beginning to understand more about musical structures. Plus he had a really cool exercise for us that I will describe more in the ceildh section.
---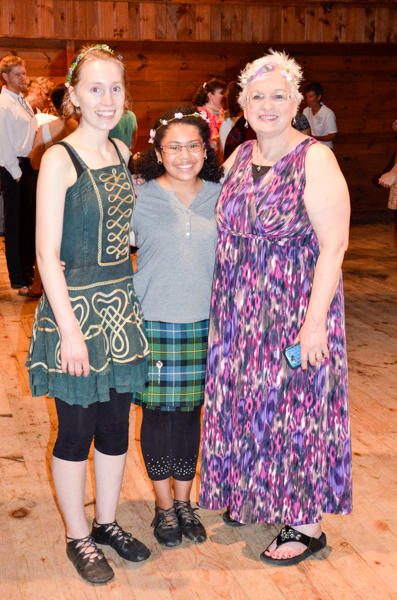 Ashley, in the center, was our next-to-youngest Jinker. She came from Wisconsin with Joanna and Deb Johnson.
Joanna and Ashley had just come back from a mission trip to Africa!
---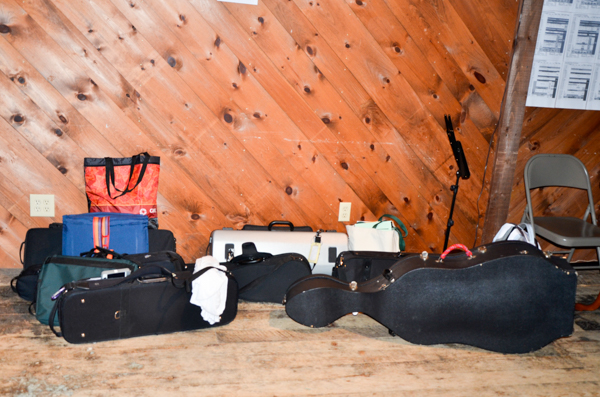 After the ball is over....
---