It was the 200th anniversary of the publication of Pride and Prejudice, and our trip schedule celebrated Jane Austen. It was a major attraction of this program for a long-time Austen fan. We had previously visited Austen's grave in Winchester and many of her haunts in Bath.
There was an alternate expedition to naval sights in Portsmouth that would have otherwise been tempting, but it could not compete with an excursion to Chawton Cottage, where Austen either wrote or revised all her published works!
---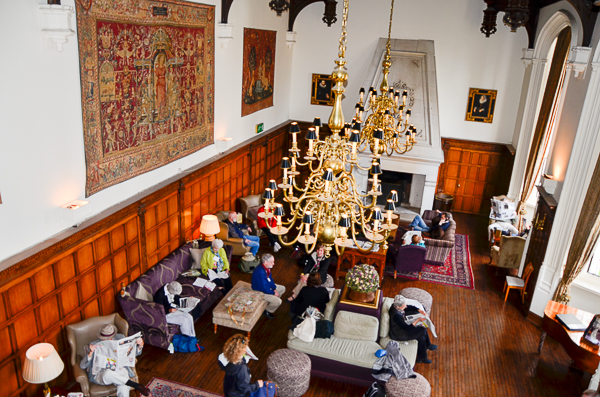 We assembled in the great room at Danesfield to await our buses.
The house may be recent, but it carries out its neo-Tudor theme while providing modern comforts.
---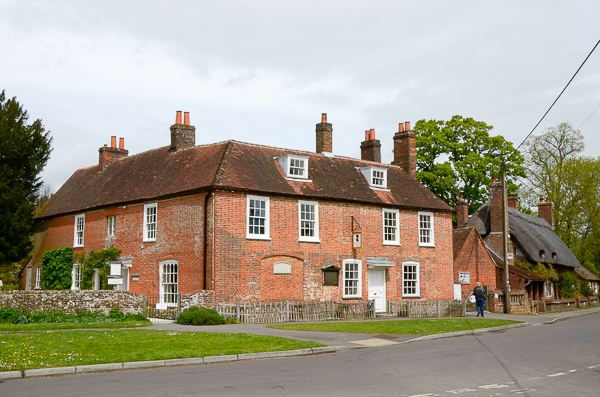 After Austen's clergyman father died, his widow and two unmarried daughters were left in what is politely termed "reduced circumstances." Unlike the vacillating step-brother in Sense and Sensibility, one of Austen's brothers, who had been adopted by a wealthy family, came to the rescue and provided his mother and sisters with this cottage on one of his estates. Perhaps he simply had a kinder wife.
It is at Chawton that Austen either wrote or revised all of her published works.
After Austen's death in 1817 her mother and sister remained in the house. After their deaths it was used by workers on the estate.
---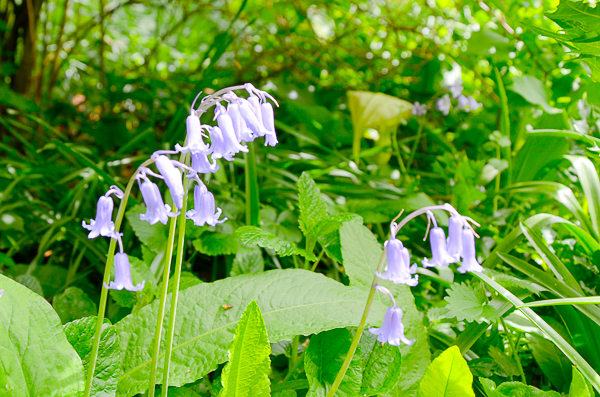 I'm pretty sure these are the true English Bluebells rather than the invasive varieties. During Austen's lifetime the garden included utilitarian varieties, such as plants that could be used to dye cloth, vegetables, and medicinal plants as well as decorative ones.
One of the books maintained by family friend Martha Lloyd, who lived with the Austen ladies, was a household book with, among other things, a recipe for making ink from easily acquired plants & minerals!
---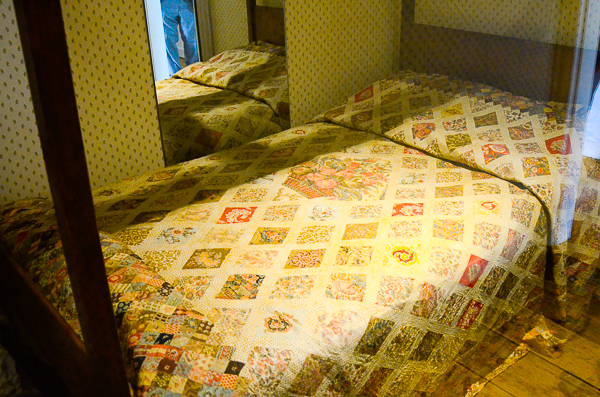 Much of the furniture and clothing displayed in the house was not original, but this quilt was stitched by Austen and her family.
The table where she wrote was also in the house, but for some reason I didn't take a picture of it.
---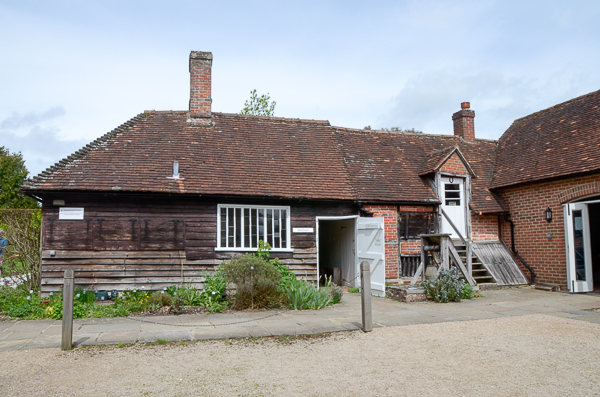 The kitchen was in a separate building behind the house. There were facilities for baking, roasting, slaughtering and butchering pigs (ewww!), and making beer (yum!!).
---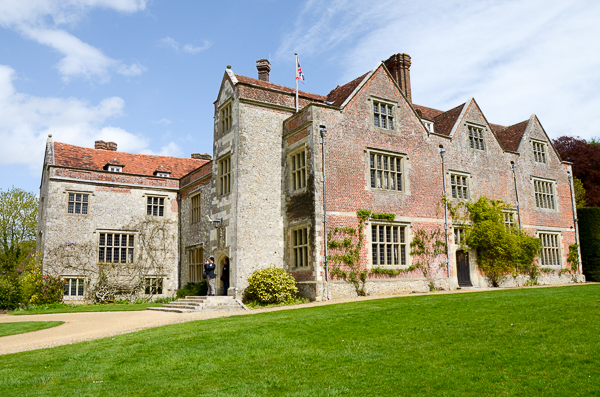 Chawton House is a couple of miles from Chawton Cottage. It was the estate manor, but Austen's brother seldom resided there. He had three other estates that claimed his time.
The house now contains a research library dedicated to women writers.
We enjoyed a catered lunch and presentation by Professor Stephen Bygrave followed by a visit to the library and the opportunity to explore the house and grounds.
---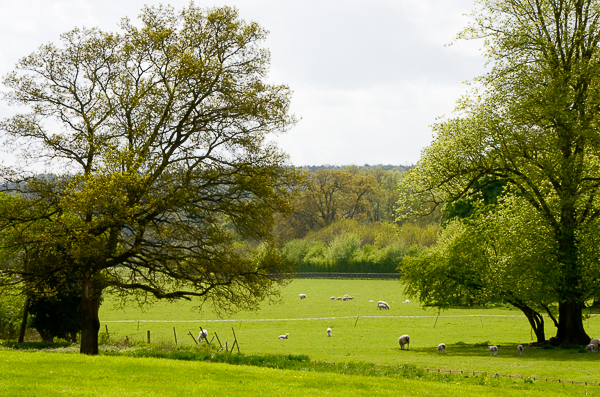 The estate is still a working farm. We visited some of the resident Shire draft horses. They are all rescues and are guaranteed a good retirement when their working days are done.
---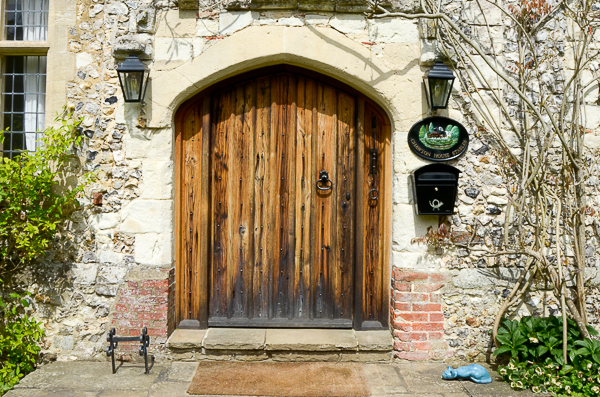 The old stables are divided into apartments and used as residences.
---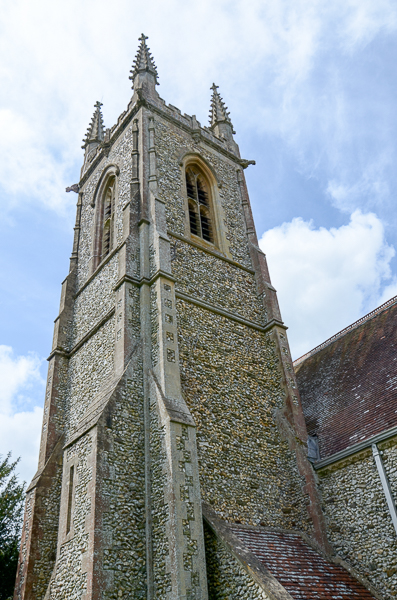 Chawton Church is on the grounds of Chawton House. It is an active parish for the village of Chawton.
The church is quite a distance from the village, but we were told that was typical of the time. It must have been a long walk on a wintry or wet day. As we toured the cottage several people suggested that we visit the manor and church "if we didn't mind the walk" because there is limited parking for the public. They were impressed that we had permission to take a bus there.
Walking in all kinds of weather is a feature of Austen's novels. The landscape here helped put that into perspective.
---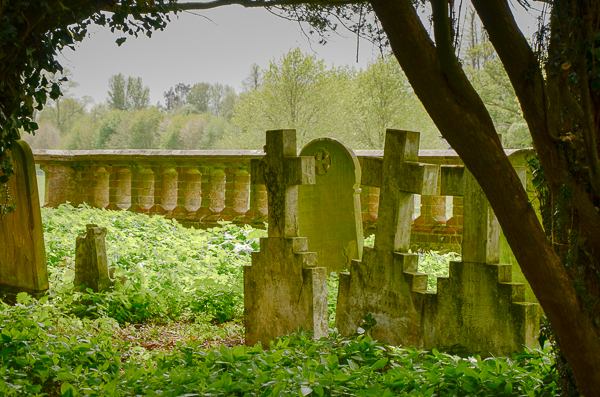 Austen's mother and sister Cassandra are buried in the churchyard. Jane Austen herself is buried in Winchester Cathedral.
---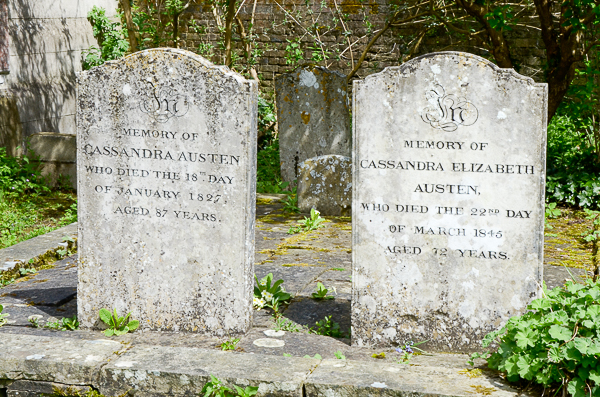 The gravestones.
---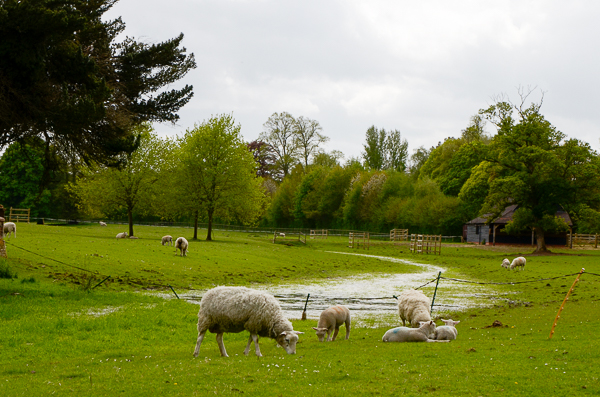 After our visit to Jane Austen country, we boarded the bus for Portsmouth where we met our ship. That afternoon we cruised down the English channel toward our next stop at Fowey (pronounced "foy") in Cornwall.
---
Click your "back" button to continue with the tour.