Once before we had visited a Michelin 3-star restaurant, which shall remain nameless, in Paris. (It's no longer rated 3-stars, I might add. They were rude and snooty. A Francophobe would pronounce them typical Parisians, but we have met many lovely folks in Paris.) In contradistinction, Paul Bocuse was delightful from the get-go. Food? Check. Wine? Check. Service? Check. Ambiance? Check. The list goes on.
This particular page is devoted to the food.
---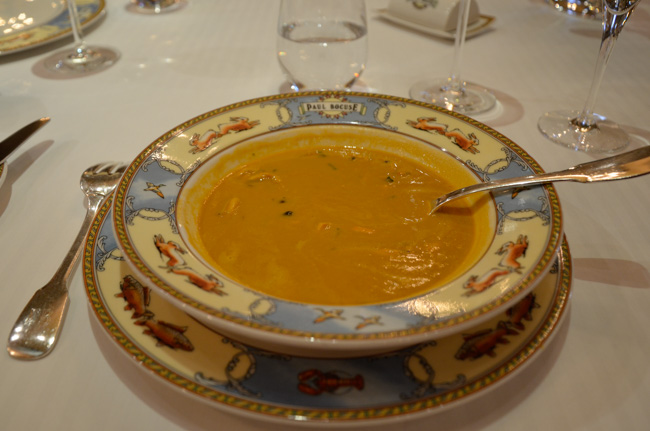 As noted on the main page, Jim was abstemious and limited himself to one course plus dessert. Not I!
First there was the mussel soup. Entire families of mussels were obliterated to make this soup! If the meal had stopped here, I would have felt the entire journey was worth it!
Besides the mussels, there was cream and a trace of saffron and who knows what else.
---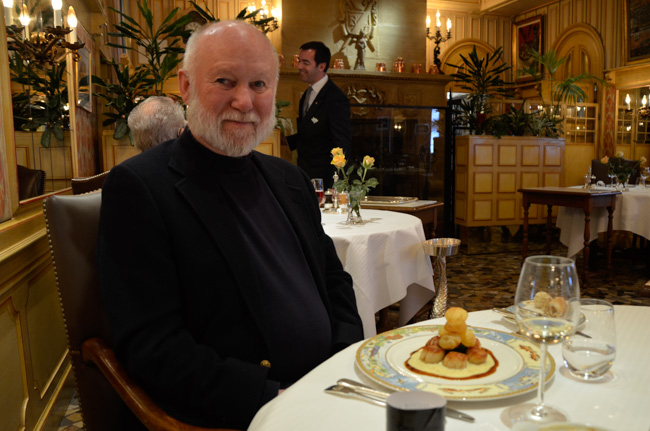 Jim's one-course luncheon was scallops crowned with potato puffs.
And then there was the truffle sauce.
Truffles are in the same class with caviar – only people with a certain disposable income indulge. Not having been in that classification in general we hadn't acquired the taste. Now Jim has. The bank account is in trouble!
---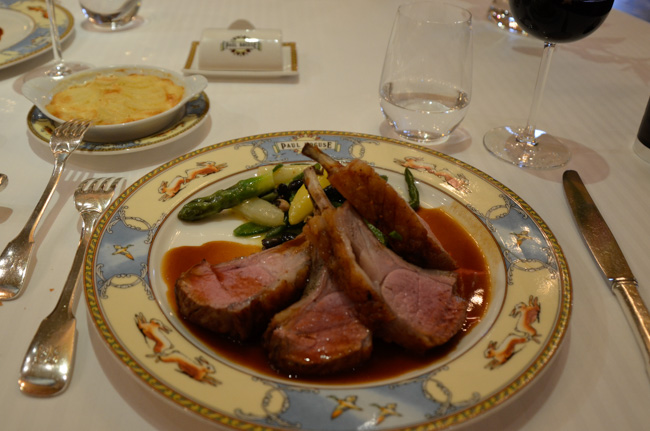 I had the lamb. It was marvelous, but what struck me more were the vegetables. The veggie "side dish" consisted of a variety of vegetables with dramatically different cooking requirements: snow peas, navy beans, asparagus, turnips, etc. In ordinary restaurants some components would be mush and others marbles, but here they were all cooked to the height of perfection. We figured they most have been prepared individually and combined at the end.
Although some dishes provide the glitz, we were impressed with the supporting cast.
The little domed dish at the upper left-hand of the picture was the individual butter dish. My southern grandmother would approve!
---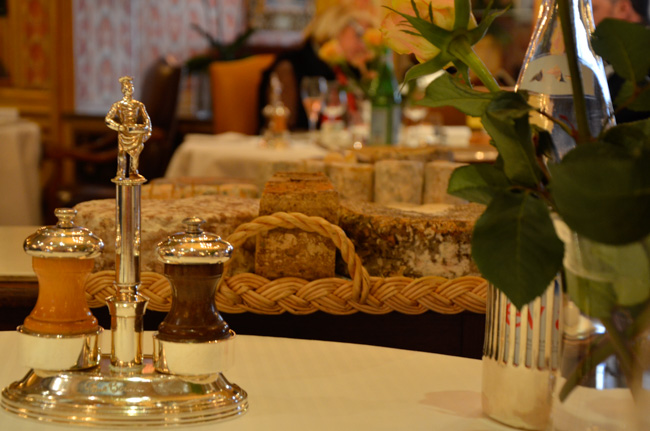 Many restaurants will not put salt & pepper on the table because of a conceit that the chef has seasoned the food perfectly and if if you don't like it, your palate is suspect! Paul Bocuse doesn't have that problem, I'm happy to say. Salt and pepper are available, but we didn't find them necessary. The food was seasoned perfectly!
But that's not the point of this picture. Cheese is.
Such a variety! I asked the server to recommend three cheeses since I was clueless. He picked a sheep cheese, a goat cheese and a cow cheese. They were all wonderful (although I have a particular love of sheep cheese). Don't ask me their names, alas.
---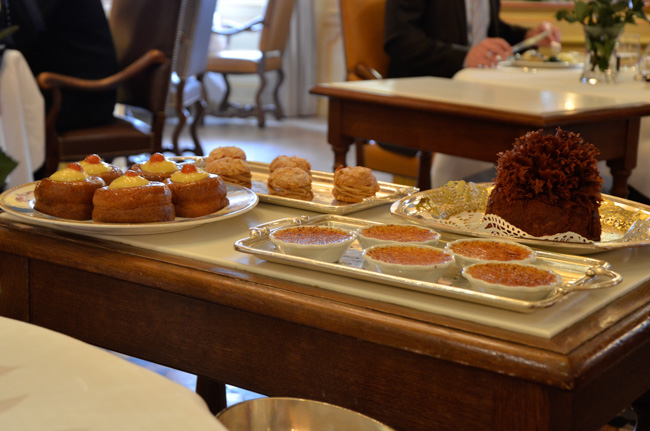 And then it was on to dessert! Baba au rhum. Crème brûlée. and who knows what that sinful chocolate extravagance was!
None of these sucked us in!
---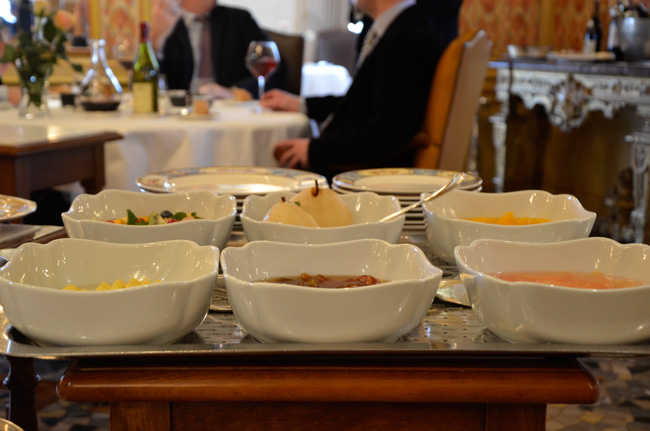 Then there were the fruits. Now this was irresistible! I had to have one of those pears. Yum!
But I'm afraid we were a bit of a disappointment to our server with our pedestrian choices. Not much room for fanciful presentation. When we saw him prepare the desserts for the neighboring table we felt ... not bad.
---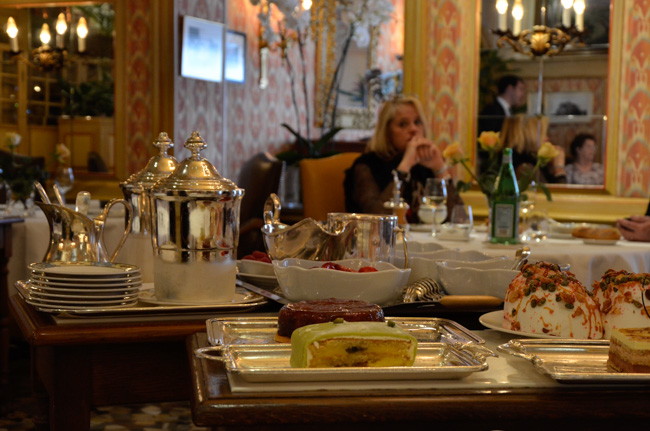 Turkish Delight. Nah.
Ah, but the iced cream! in silver coolers.
There was a couple across the way (the woman is in the background here), who were just as star-struck as we. She would occasionally pull out a camera too. We chuckled at each other.
Ah, the ice cream! Simple pleasures writ large!
---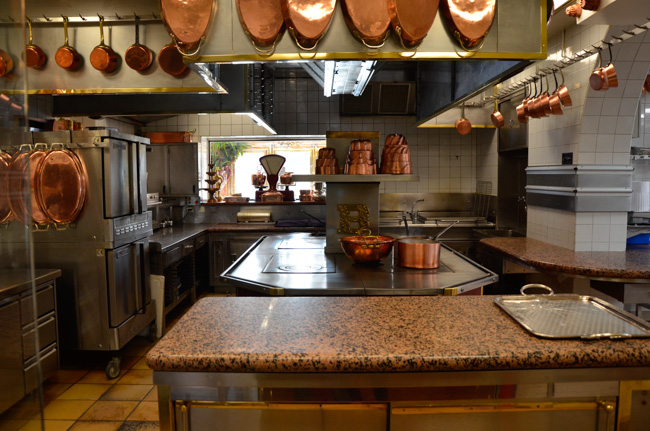 There are formal tours we hear, but we just wandered around a bit after our meal. It was lunch and not much was going on, but this was the kitchen. How many restaurants have this kind of luxury?
---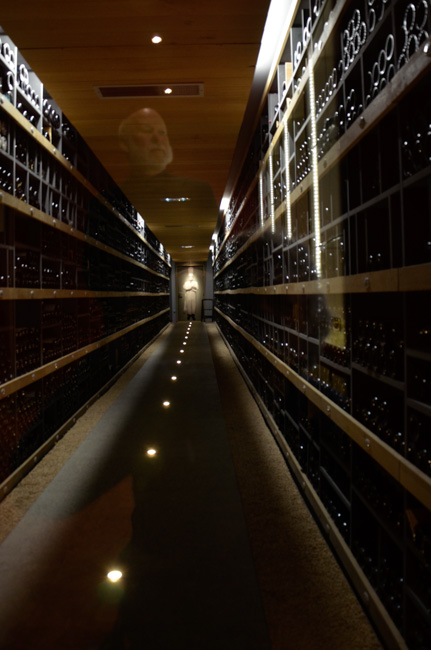 Last, but far from least, the wine cellar.
Since it was lunch and we really did want to do some things later in the day, we each only had a glass of wine. Well, Jim had two. But we looked into the wine cellar (or cave).
Getting Jim's reflection was a complete accident.
---
Click your "back" button to continue exploring Lyon.