Ever since my friend Marvin Hass told me about the play War Horse when it first opened in the UK, I've wanted to see it. I love the theatre, I love puppets, and of course I love horses. I watched as it came to New York and hinted to my horsy friends how much fun it would be to go see it. No takers. Then the movie came out. I had zero interest in the movie – haven't seen it, don't want to see it. Finally I decided that I just had to make plans for a New York trip. Or more accurately, encourage Jim to make the plans. We finally scheduled the weekend of 19-21 October 2012 for our excursion.
Our timing was fortunate because we visited a little over a week before Hurricane Sandy smashed into the mid-Atlantic states and devastated the area.
---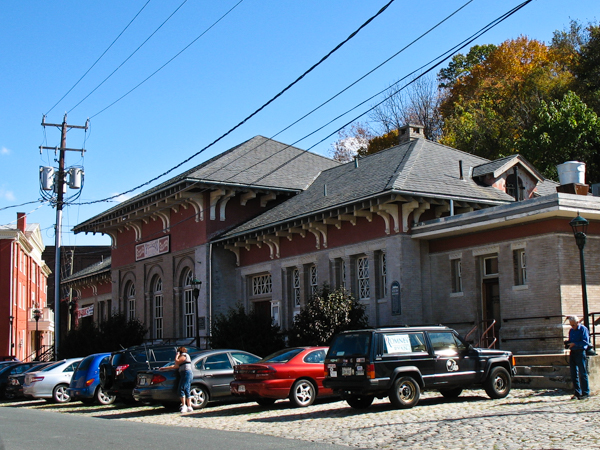 We decided to take Amtrak from Staunton. The Cardinal runs three days a week to New York on a schedule that suited us just fine. Staunton used to have a beautiful station that was the centerpiece of downtown. At least the building is still there, although it is now vacant.
---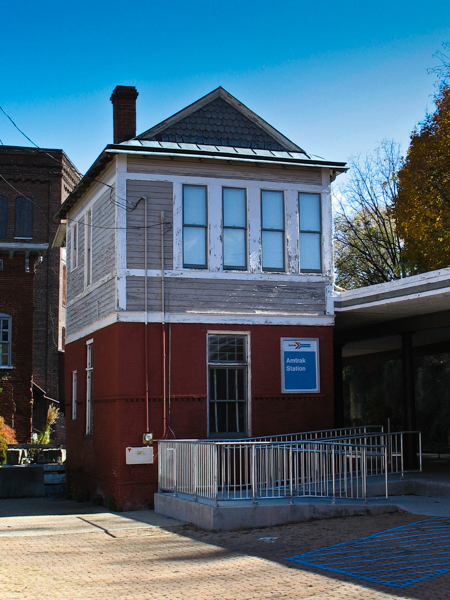 The current station is the adjacent 1886 signal house. It has his & her restrooms, a handful of schedules, and a trash can. Open one hour before train times. Basic. Sad.
---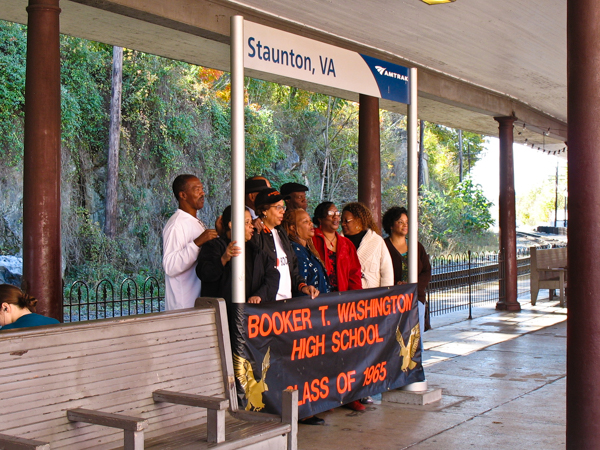 Nevertheless there was a goodly crowd of people waiting for the train including these folks going to Washington for their high school reunion. They were full of energy and lined up for pictures singing their old fight songs.
Booker T. Washington was the old segregated school. The class of 1965 was one of the last to graduate from it before the Staunton schools were integrated. I chatted with some of them, but didn't think to ask why they were having the reunion in D.C. rather than Staunton. I can think of a few reasons, but don't know if any of them would be correct.
---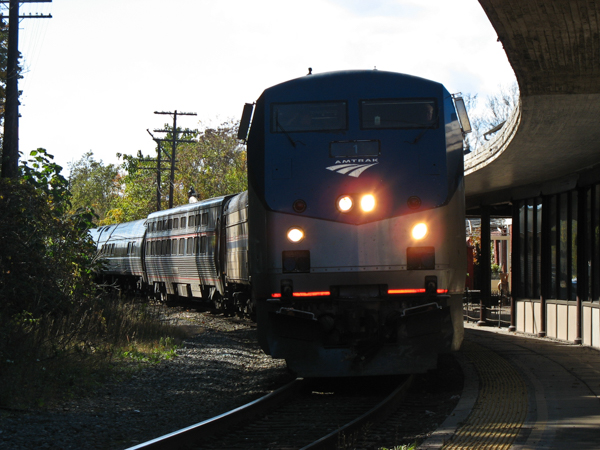 Our train was running about 20 minutes late and we were glad to see it coming in. Even though it was sold out, the conductor had taken note of passengers leaving at Staunton and directed us to seats together.
We haven't traveled with Amtrak in recent years and were glad to see that the service, equipment, staff and schedule were all much improved over our experience of 15-20 years ago. It was a very pleasant trip and it won't be 20 years before the next one.
At dinner we sat with a lady from Ohio who said that her return trip was also sold out. She and her daughter had reserved a sleeping car for their outbound trip to Philadelphia but had to settle for coach on the way home.
We ran into rain as we approached Washington. There was a magnificent rainbow against a purple evening sky, but alas, I couldn't get a picture of it. By the time we reached New York, the rain had stopped, but it was foggy.
---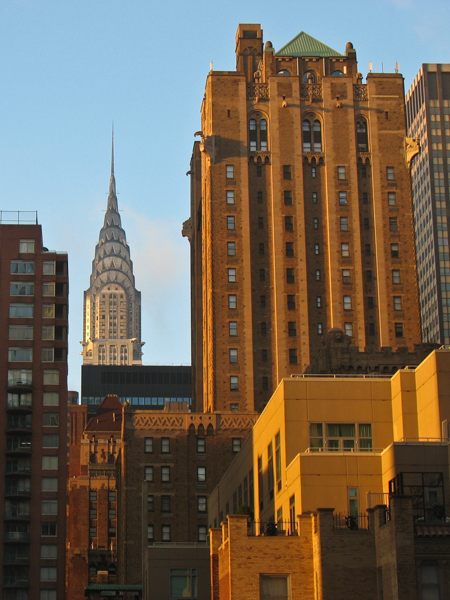 Our hotel, the DoubleTree, assigned us a room overlooking the Chrysler Building. This picture shows it in the morning light.
---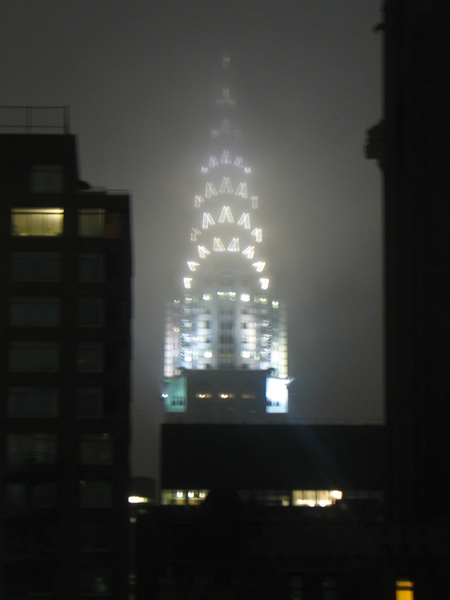 I had no tripod for the night shot, but it came out pretty well.
The hotel is located at Lexington Avenue and 51st Street – perfect for our visit. We were adjacent to the subway and within walking (or hiking) distance of the theatre.
---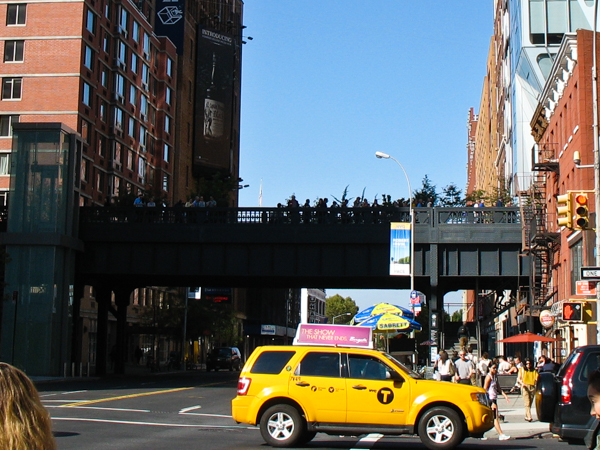 Before our trip I had asked my friend Jody Jaffe whose son lives there: what's a good thing to do in NYC? Dumb question, because just walking down the street is a good way to find an adventure. Anyway, she patiently suggested the
High Line
. We hopped the subway to 14th Street & 8th Avenue and walked over to this reimagined elevated freight line – a linear oasis in the heart of the city.
---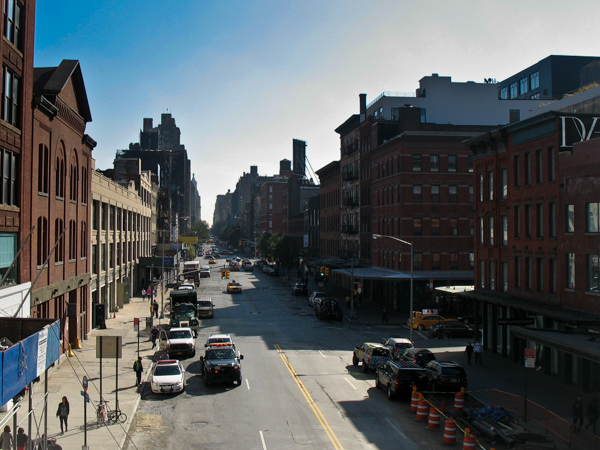 I had to take this picture looking east along 14th Street because for many years my brother lived at 14th and Avenue C, almost at the other end.
---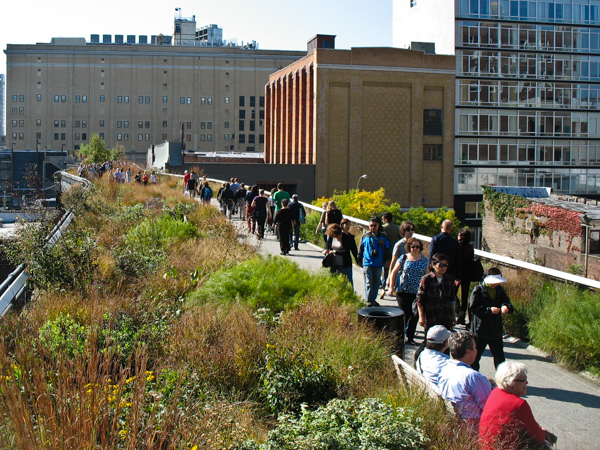 As you can imagine on a gorgeous fall Saturday, the place was filled with people. The landscaping was quite varied, with this section being planned as a grassland. As you will see in the following images...
---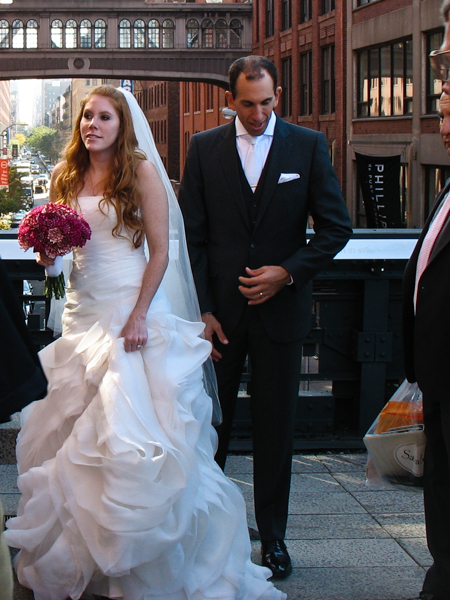 We saw a wedding,
---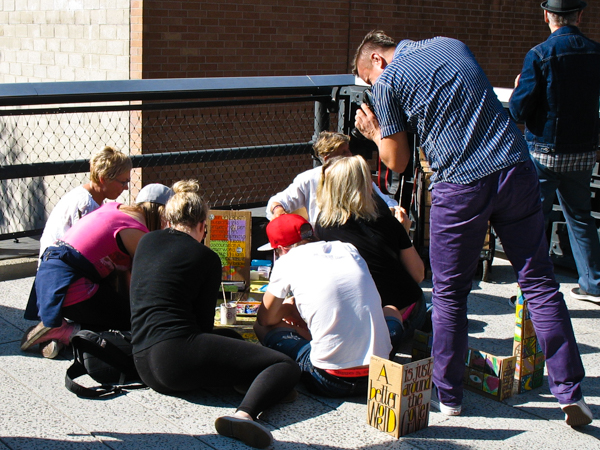 some participatory sidewalk art,
---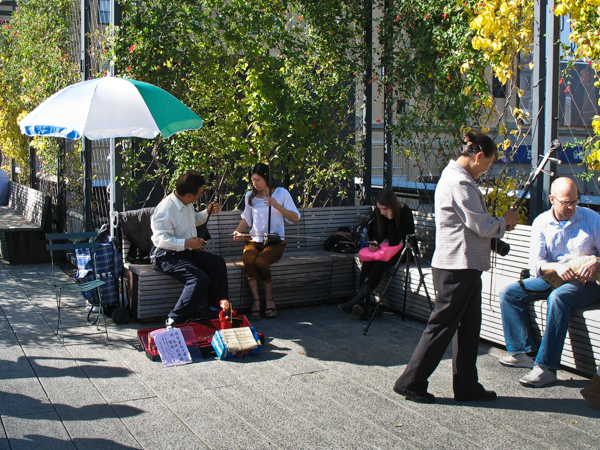 a Chinese musical group,
---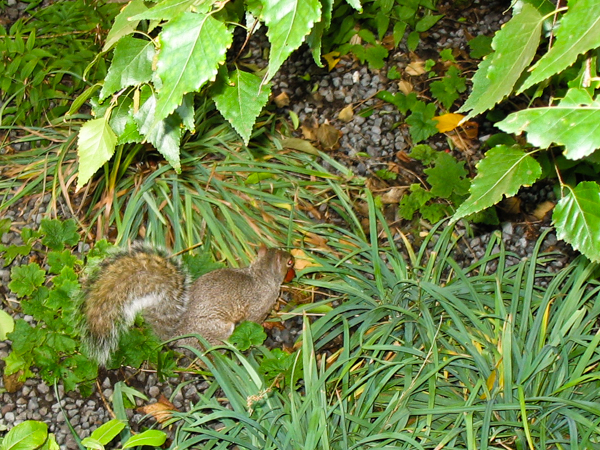 and even a squirrel stocking up for winter.
---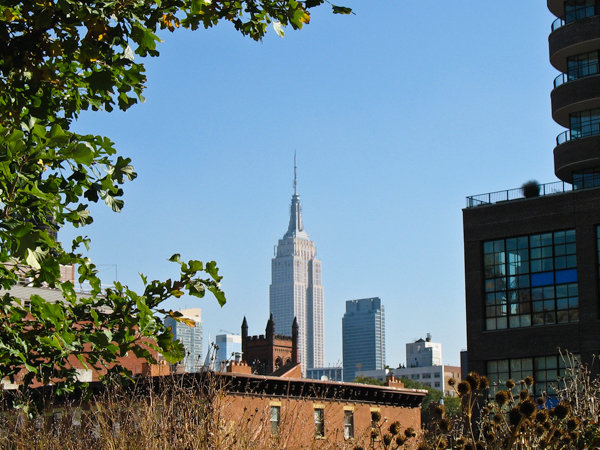 In case we needed reminding that we were in New York City, the Empire State Building was often in view above the greenery.
---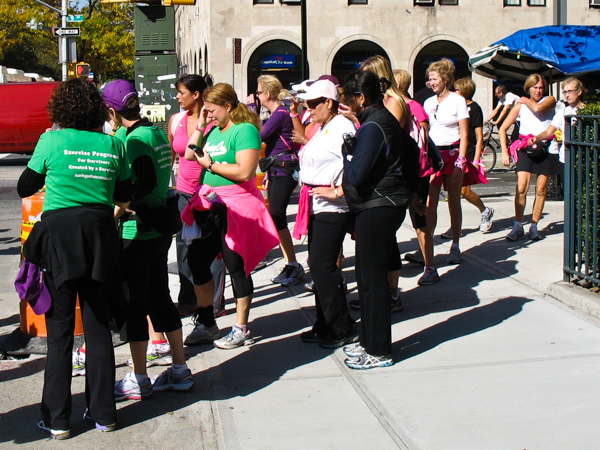 But it was time to get back to change for the theatre. As we walked to the subway stop, we encountered this group of participants in the Avon Walk for Breast Cancer. Later as we crossed Central Park to Lincoln Center, we passed the starting location for this walk. These ladies put on some miles!
---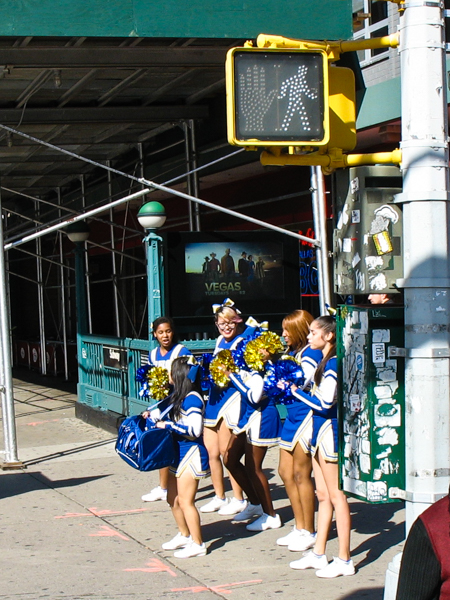 Lest you think that high-school fund-raisers are a suburban specialty we passed this enthusiastic group of cheerleaders raising money for their program. We don't think there was a nearby car-wash (although we could be wrong).
---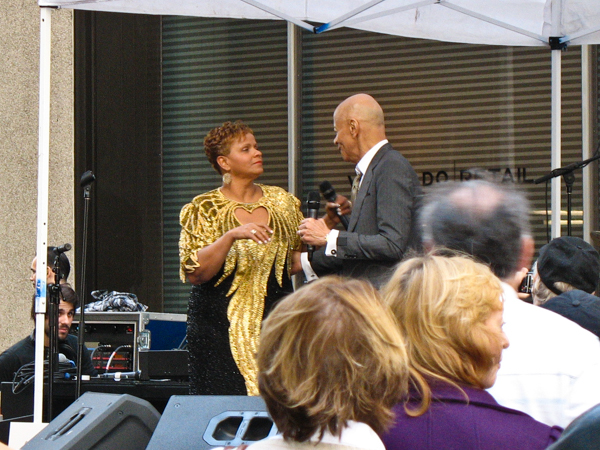 After changing and starting our walk to the theatre, we passed a lively street festival (see above comment about simply walking down the street to find adventure). This pair were doing some mighty nice singing.
---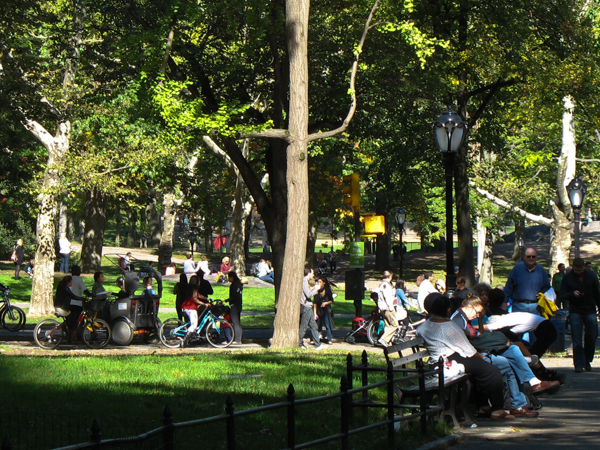 Our walk took us past Central Park, which was buzzing with folks enjoying the warm fall day. Our only problem was being besieged with pedi-cab and horse-drawn carriage offers.
---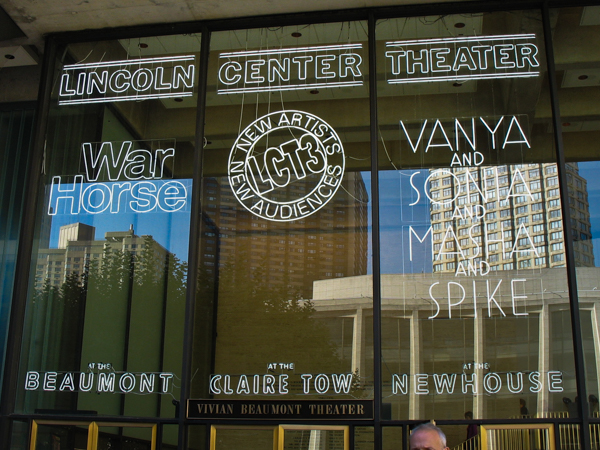 We finally found our way to the theatre. Our search was somewhat hampered by the fact that we went to the actual address that was on their web site. There were no signs there to tell us where we needed to go. Luckily there was a security guard nearby who had obviously been asked the same question far too many times. We were consistently surprised (and dismayed) at the lack of clear signage. Ya just had to know.
War Horse was a fabulous production. The puppets were amazing. The designers and puppeteers have clearly studied horses and their behavior.
The play, however, is not really about horses – it's about war and its impartial devastation. I've spent most of my life pretty fuzzy about WWI. The visit to the WWI museum in Kansas last year and this play have both served to remedy that somewhat.
---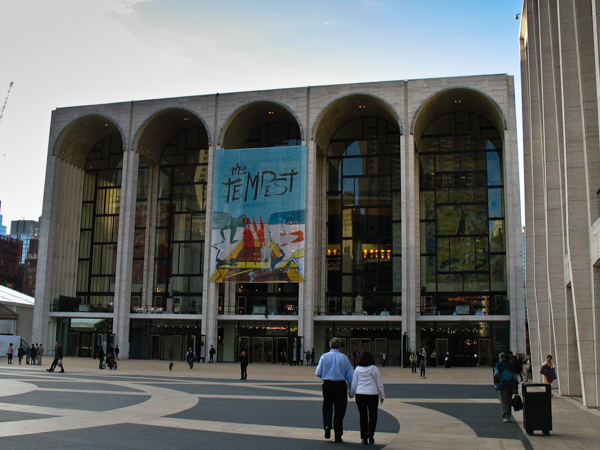 The Metropolitan Opera next door was hosting The Tempest, a 2004 work by Thomas Adès.
The following week New York would be visited by a real Tempest – Hurricane Sandy.
---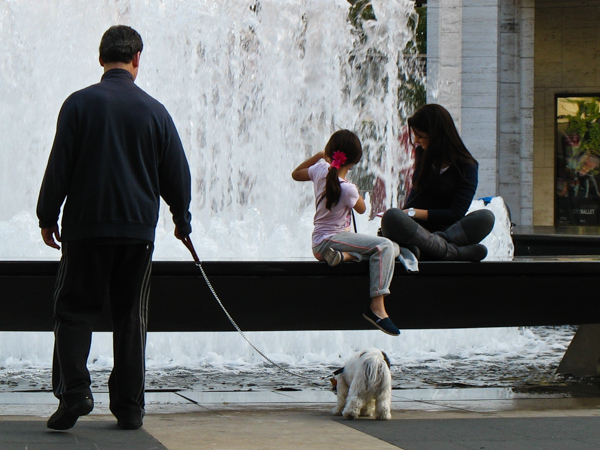 Along with its
many
cultural offerings, Lincoln Center is very much a public space. We enjoyed the people-watching here as much as elsewhere.
I had also asked my friend Jody to recommend a good place to eat and she came through again by suggesting Kefi, a Greek restaurant near the Lincoln Center (closed in 2018). It was another winner – thanks, Jody! It was vibrant: families with children, singles, couples, you name it. And delicious food.
The next morning we scrambled out early to catch our train home after a too-short, but very enjoyable, visit to New York City. We hope to come back before too long.
It wasn't until later that I found out the American Ballet Theatre had staged the original Agnes De Mille's version of Rodeo that same weekend! It is rarely performed due to restrictions in her will. BOO HOO! Oh well.
---