Appalachian Trail
One Friday , 17 August, the Newcomers hiking group met for a four-mile out-and-back hike along Tar Jacket Ridge on the Appalachian Trail or AT as it is known to many. It was a beautiful mid-August morning with almost a nip in the air after a long scorching summer. We walked amid late-summer flowers and butterflies. Since I had my camera, Jim and I turned around before the others so that I could have time to take some pictures of the flowers.
---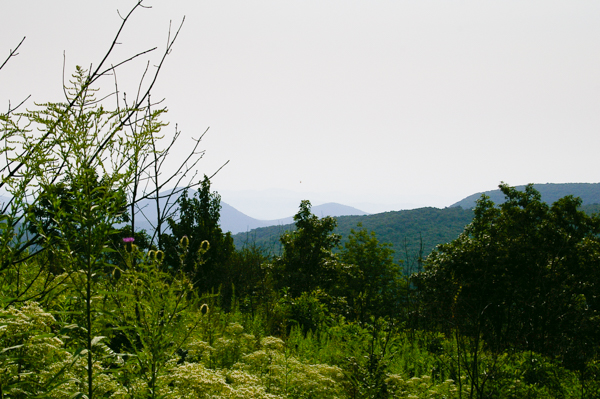 A friend once complained that most of the AT was in the woods and there were few places where you could find scenic views. Well, this is one of the places. This is the view north from the ridge, but there was a 180-degree vista from this ridge. It is clear why these mountains are called the Blue Ridge.
---
Although we saw plenty of bear scat, we didn't see any animals -- mostly butterflies. I have only rudimentary identification skills, but based on this and other pictures I took, I believe this is a
Pipevine Swallowtail
. According to the field guides, however, there are several similar species. The Pipevine, like the Monarch, is unappetizing so others mimic it.
---
Our county is called Rockbridge after the Natural Bridge, but that is not the only rock feature in the area. We have lots of rocks. I thought this looked like a sofa that a giant might enjoy -- if he didn't need cushions.
---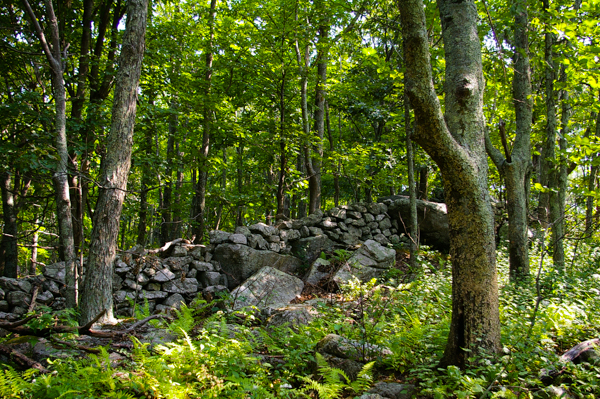 Another rocky feature along the trail was this man-made structure. In former times folks brought their pigs into the woods to forage. This was one of the walls of the "pig pen" used to corral them.
---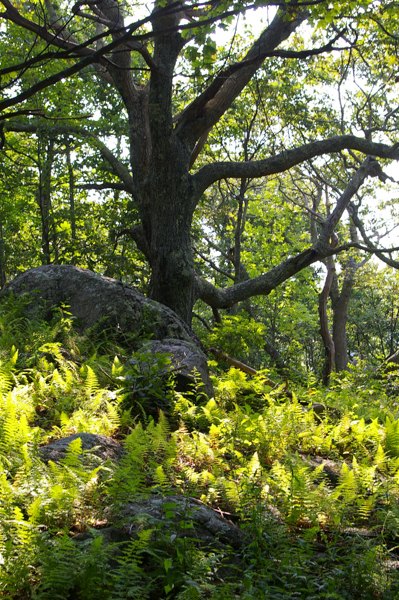 Most of our walk was in the woods. The trees were dense in some places, but usually the woods were open and allowed a lot of sunlight through. The light makes these ferns glow.
---
Among the common native wildflowers were these
white wood asters
, found here with ferns and sumac.
---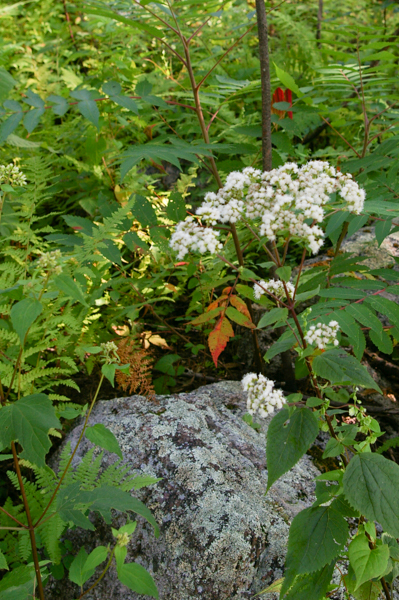 I've not been able to identify this beauty yet. It may be a kind of viburnum.
---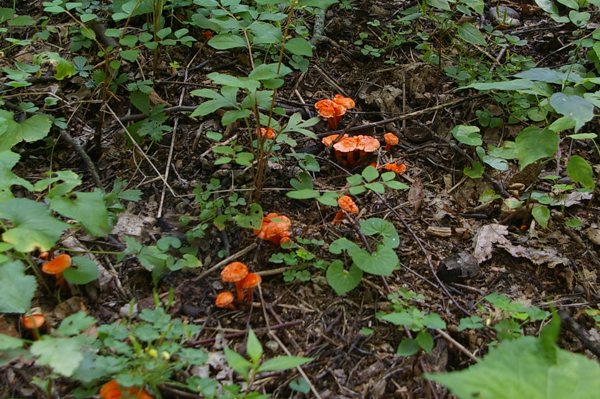 These little bright orange mushrooms were plentiful throughout the wooded areas. As they grew larger they began to look a lot like
chanterelles
. I've eaten wild-harvested chanterelles when I've been with experienced mushroomers, but I wouldn't dream of trying to pick my own. Moreover, based on other pictures that I took, these could well be false chanterelles, which may not be poisonous, but aren't particularly tasty either.
---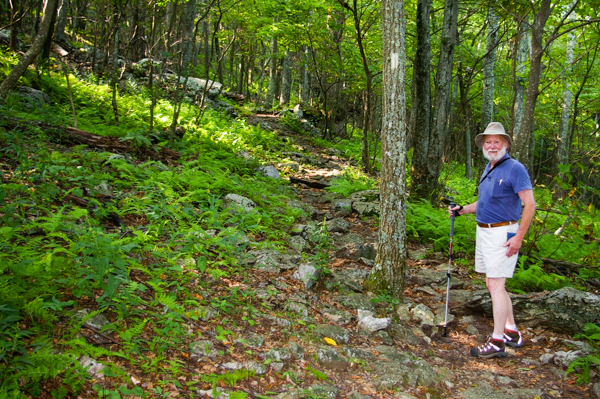 This is one of the more heavily forested areas. Unlike the Chessie Trail, the AT can be pretty rugged. It would be easy for a careless hiker to trip and fall. I did topple over early on before I got used to balancing my day pack, but luckily it was on soft grass rather than rock.
---
We were surprised to see
columbines
still blooming. They make a striking contrast against their leaves, which have started turning to their fall colors.
---
When I took this photo I thought it was common stickweed with great back-lighting. Since trying to find out more about stickweed, however, I've come to the conclusion that it is more likely to have been a
cutleaf coneflower
based on the lobed leaves that can be seen in the background.
---
I loved the contrasting leaf colors and shapes of this foliage.
---
Here are two different native clematis. The purple bell-shaped flower belongs to
Clematis viorna
and the white flowers with the large leaves are
Clematis virginiana
. The white clematis was found all over, the purple ones not so much.
---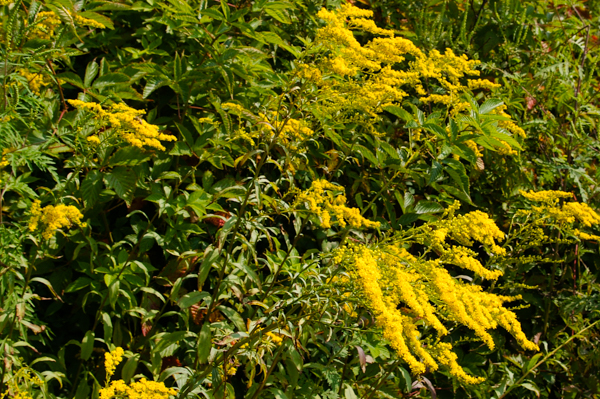 What would a late summer hiking log be without a picture of goldenrod? I read somewhere once that identifying a particular species of goldenrod is an exercise for a specialist. Personally I love them all.
---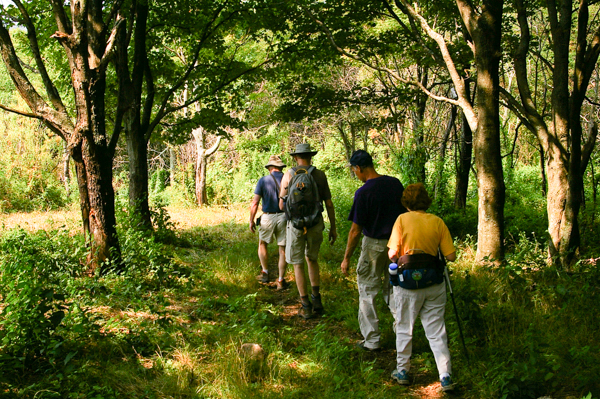 Our intrepid crew headed down to the trailhead parking lot. Although the lot was full to overflowing we didn't meet any other hikers during our time out. They must have fanned out in other directions.
---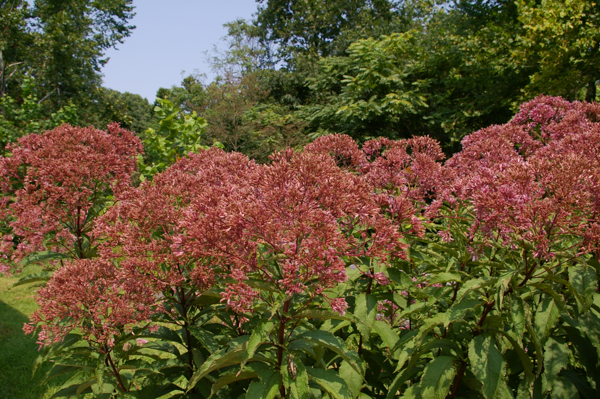 Our final stop was the Buena Vista visitor's center where we had met to carpool up the mountain. I saw a lot of my favorite
Joe-Pye weed
on the trail, but none of it was as exuberant as this stand, which has been lovingly tended by the
Rockbridge Area Master Gardeners
.
I love this plant and tried with no success to get it established in our wildflower meadow at our farm in Northern Virginia. Maybe I'll try again at our home in Lexington – although it is a bit large for a suburban lot.
---