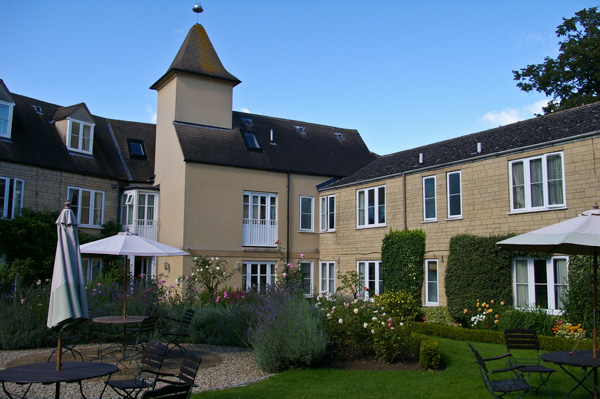 Our group assembled over the course of a day at the Threeways House Hotel in Mickleton. We came from all over the US: Alaska to Georgia, Massachusetts to Southern California, and places inbetween. Most of us took advantage of the beautiful day to walk around the town. Some of the more ambitious walked to the nearby Hidcote Garden. As for ourselves after a nice stroll we headed for the nearby Butchers Arms pub for lunch and a pint. They featured a Cornwall Ale that became one of our favorites: Doom Bar.
We are happy to report that the English pub is alive and well and serving traditional cask ales again! There are a number of organizations, such as Cask Marque, that have formed to promote English ales.
---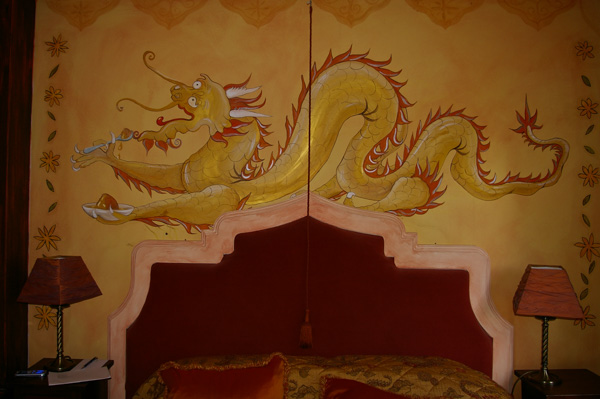 We bedded down in one of the "theme" rooms: named and decorated for Oriental Ginger Pudding. It included the recipe painted on the door! Other theme rooms were featured in the book
English Eccentric Interiors
, a copy of which was available for perusal.
Each evening we had a pudding choice for dessert and the puddings were all "lashed with" custard. "Lashing," as in going over the top, became quite an in-joke.
English food has an unjustified reputation for being bland and otherwise awful. We have always enjoyed good grub on our English excursions and the food at Threeways House was exceptional. (Except that neither of us is fond of baked beans and blood pudding for breakfast!)
---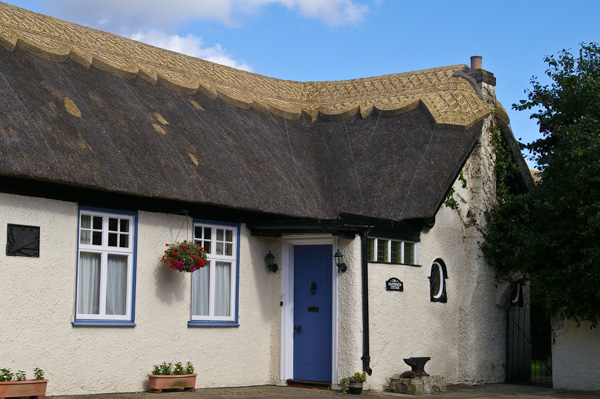 In our walk we saw many cottages with thatched roofs. This one, which has recently been repaired, shows the intricate ridge decoration. All thatched roofs are covered with bird netting to prevent feathered friends from taking up residence. Knowing how hard we've had to work at keeping starlings out of our house, I wonder if it's totally effective.
---
The Mickleton church was handsome and built out of mellow golden Cotswold stone. Some years back we were walking outside Bath and chatted with a man making repairs to his house. He told us that the stone,
oolitic limestone
, is easy to work when first quarried but becomes extremely hard and durable as it weathers.
The church was locked so we couldn't see the inside.
---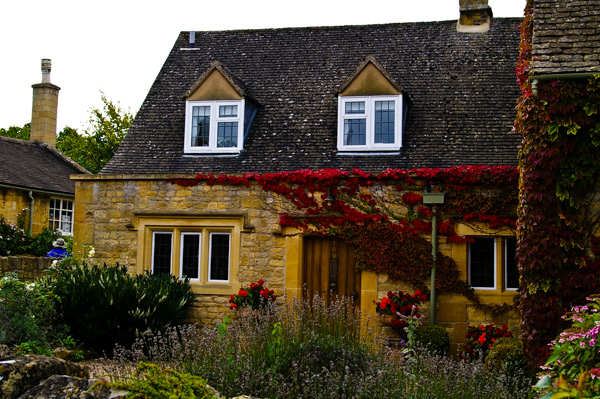 The next morning we loaded into our small bus for a trip to Broadway, the start of our first hike. Before the week was over I was a bit saturated by charming Cotswolds cottages. I'll let this picture stand for them all. The Cotswold stone comes in a range of colors, typically honey-colored or grey as shown here, but also a pale pink shade when iron is included in the mix. The roofs are made of a different variety of stone that splits into shingles easily.
---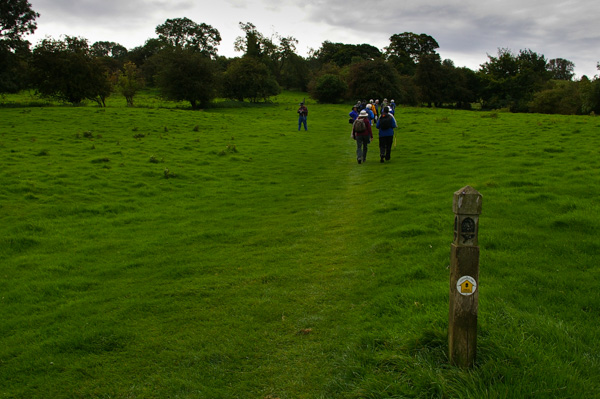 We hiked along a portion of the Cotswold Way from Broadway to Chipping Campden.
We didn't spend time in Broadway, but immediately set out up Broadway hill to the
Broadway Tower
, an architectural folly built in the 18th century. It was a stiff climb, almost 800 feet of vertical in roughly two miles, but it helped shake jet lag!
The trail marker became a familiar sight over the next two weeks as we enjoyed the many public footpaths throughout the areas we visited.
---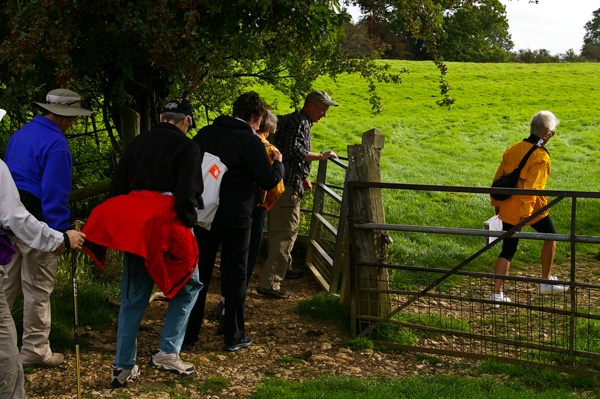 On this hike we encountered the first of the many styles of gates and stiles. This
kissing gate
allows people through while containing livestock. We passed various kinds – some roomy enough for two people at a time, some overly snug for anyone wearing a day pack, which most of us did.
---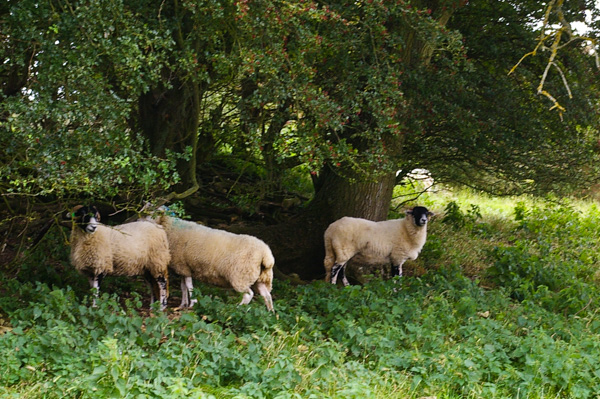 Much of our walking was across pastures containing sheep (often), cattle (sometimes) or ponies (seldom). We did see some more exotic species, such as llamas, but didn't have to march through their dining rooms.
In the US sheep have their tails docked for better pest management leaving them with a short tail such as shown by the middle sheep. On our travels, however, I saw many sheep with long tails like the one on the right. I know that the British in general are less likely to dock or crop animal tails and ears, but our guides didn't know much about sheep tail fashions. Subsequent research has indicated that some breeds naturally have short tails.
---
Another thing that varied from place to place were the styles of the dry-stacked stone walls. Roy, one of our guides, was an expert in wall construction and provided a lot of insight. This type of wall is typical of the Cotswold area and is in excellent shape.
---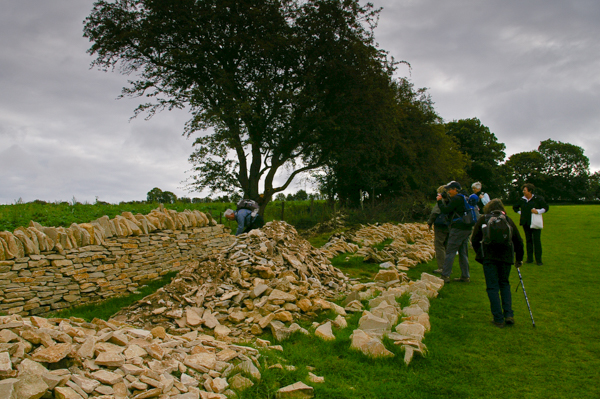 The wall is being reconstructed in this section. The stones have been sorted and placed within reach for a day's building. Roy said that this sorting is the hardest part of the job.
---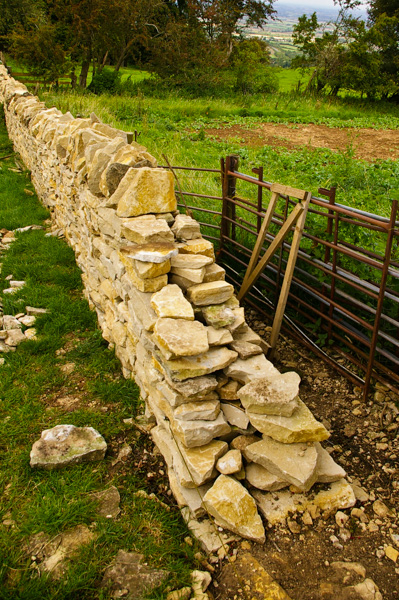 A closer view of the construction details. The trapezoidal frame, shown leaning against the fence, will be used to guide the placement of the wall stones. Builders stretch strings between frames to keep the wall straight. The wall is wider at the bottom than the top and the lower levels are reinforced with rubble. Roy said that the fill is placed as carefully as the facing stones. The interlocking placement of the stones provides the wall's integrity and the coping stones on the top provide an extra bit of weight to stabilize the completed wall.
It was a relief to break our climb to get a lesson in wall-building!
I've always loved the dry-stacked stone walls in Virginia, but after coming home they looked slovenly. To be sure we don't have the regular stone shapes that we found throughout our travels in SW England.
---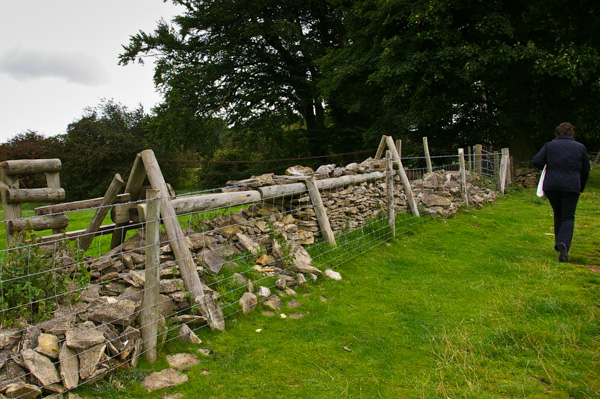 I was puzzled by this segment of a wall much in need of repair. It looked to me like it might have been constructed as a "coop" or integrated jump such as might be used by fox hunters on a day's outing. In fact, it was.
---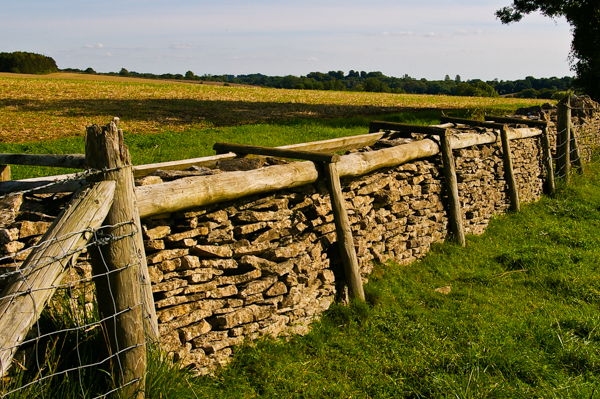 A jump in good repair.
---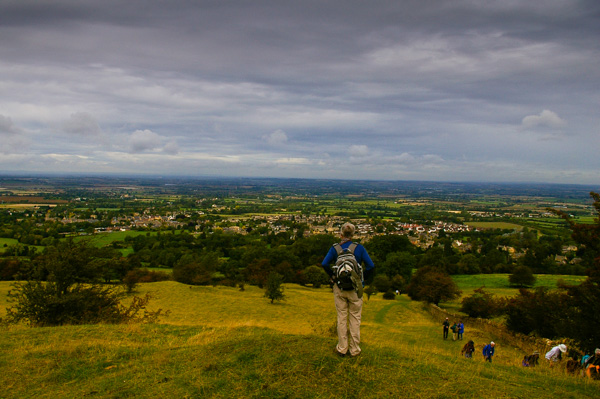 The view over Broadway gave us another breather as our straggling band caught up. The Cotswold hills are shaped like a wedge of cake on its side. There is a steep western slope and a gradual eastern slope. This is the eastern slope.
I learned that it was a good idea to keep close to the leaders on the trail. You may have to walk a bit faster, but you had more time to rest while waiting for the others.
---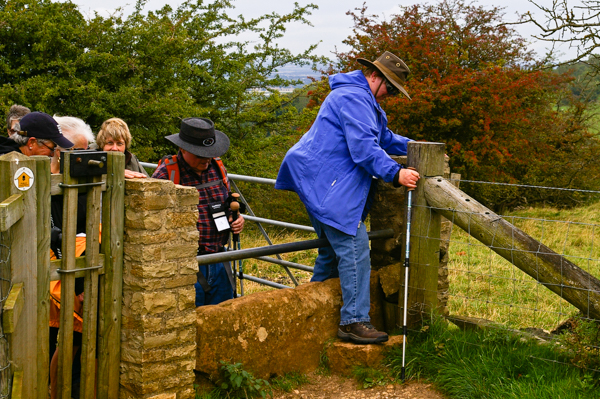 Our first stile. It helped to have long legs to negotiate some of these. I can't imagine what Jane Eyre would have done with her long skirts.
---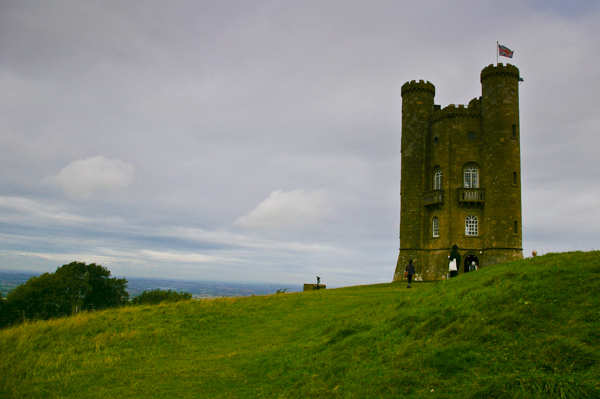 Our intermediate goal: the Broadway Tower. A
folly
is a bit of architecture built for play, more or less. Check the link for other whimsical constructions.
The tower was used as a country retreat during the 19th century. William Morris of Arts & Crafts fame, whom we learned more about later, was one of the tenants.
It was also used as a Royal Observer Corps site during WWII to aid in identifying the path of German bombing raids.
---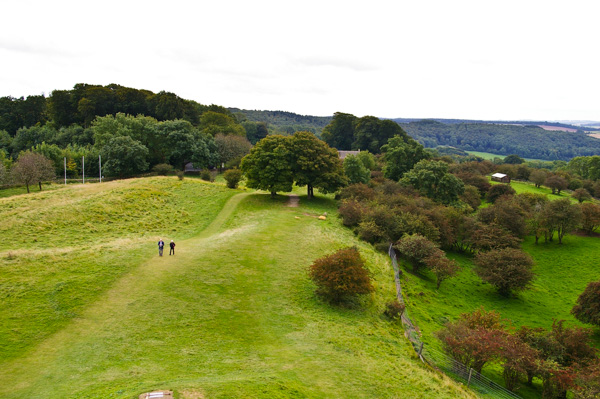 Lest you think that the slog up Broadway hill was the total morning's work, our hike continued on toward Chipping Campden. At this point, however, we were walking along the ridge line without significant climbing.
---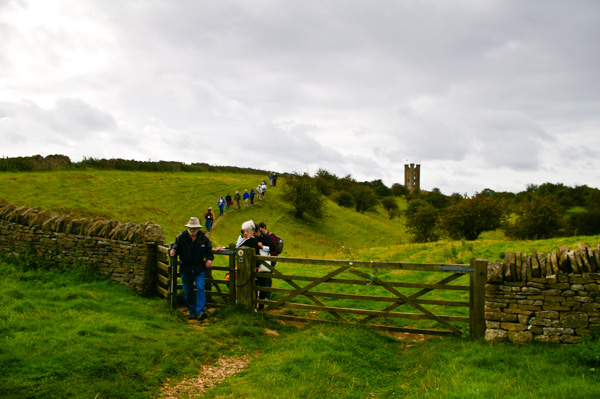 Jim is passing through another kissing gate – and I'm not even close enough to give him a kiss!
---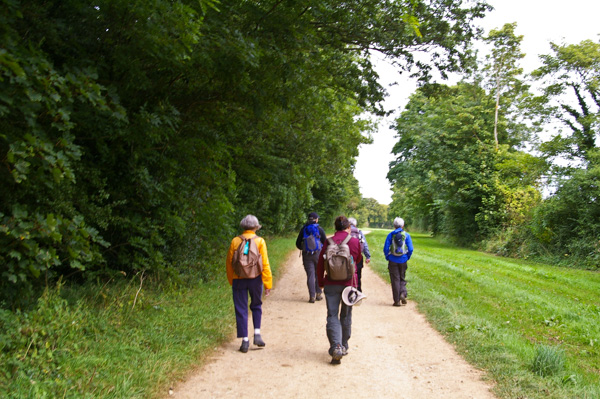 Not all of the hiking was done in fields. Occasionally we had broad hard-surface pathways or even roads to follow.
---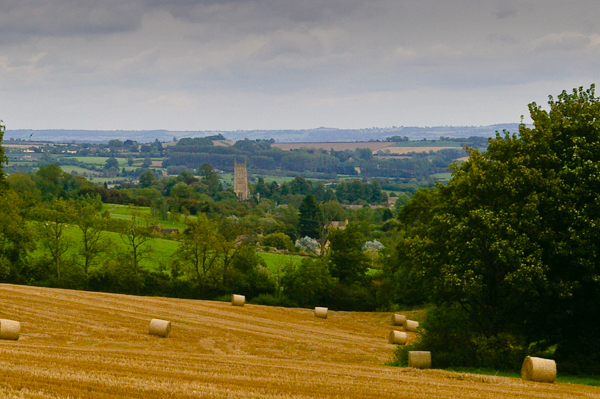 Our morning's goal, Chipping Campden, is on the other side of this field. "Chipping" derives from an Old English word meaning "market."
Which reminds me of another tidbit we learned: a hamlet is a residential collection of houses. Add a church and you have a village. In order to be a town, a place must have a market, and the high distinction of city requires a cathedral. Now we understand why Bath is still bitter after all these centuries. When the bishop moved to Wells and they lost their cathedral, they lost the status of city.
---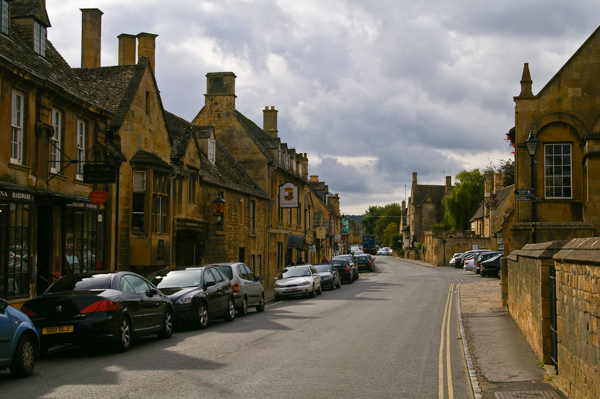 Once in town we dispersed for lunch. a friend who lives in Oxford part of the year had assembled a list of recommended pubs in each of our lunch stops. One recommendation for Chipping Campden was the
Noel Arms
, in the center of this picture of the main street. It was an old coaching inn in the 16th century and a featured stop on our later tour. For us, however, it featured cask ales and delicious sandwiches! We knew we had made a good choice when our guides Geoff and Roy showed up.
---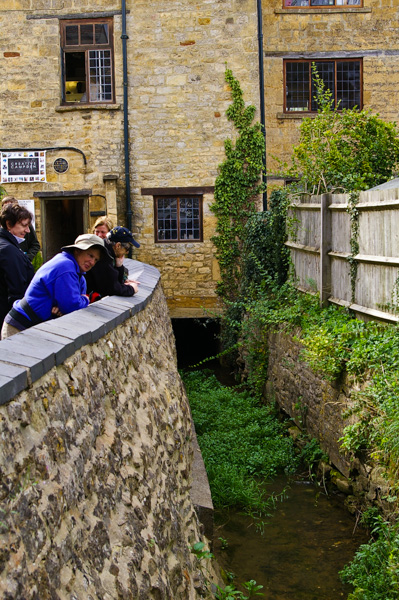 One of the stops on the after-lunch town tour was the silk mill built over the "river" used to drive the machinery. I forget when the mill was built. The river was not a reliable source of power so the mill eventually closed.
In the early 20th century C.R. Ashbee moved his Guild of Handicraft here from London. It became a focus of the Arts & Crafts movement for a brief time. Most of the workman preferred life in London to an isolated small town, so they decamped to the city and the Guild dissolved.
---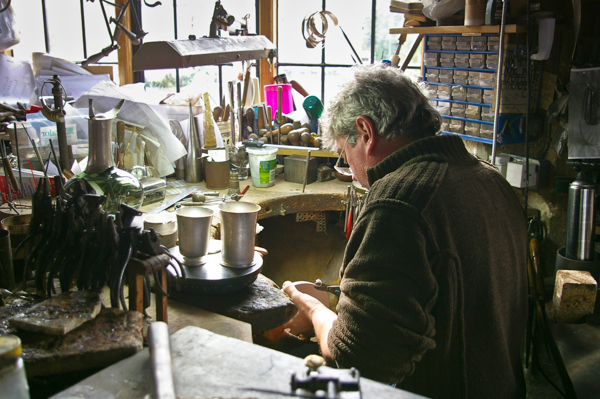 One remnant of the Guild remains in operation:
Hart Gold & Silversmiths
. They use traditional tools and techniques to craft their beautiful pieces. OSHA would not approve of their workspace – even without a gaggle of tourists underfoot!
---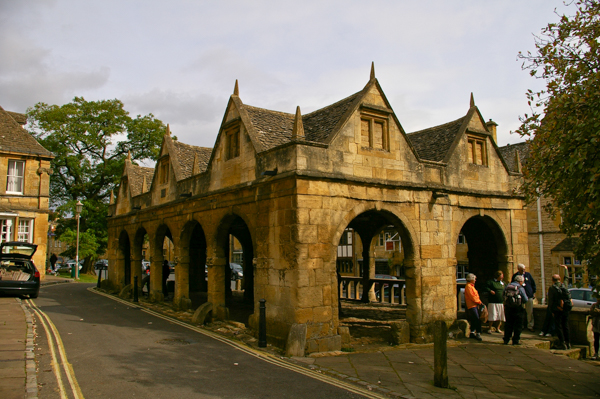 The covered market dates from 1627. A local benefactor built it for the sale of produce on market days (the livestock market was down the street).
Our guide for the town tour told us that many buildings had dates in their facade, e.g., 1652. That is not the date the building was constructed; it is the date it was updated and remodeled! Often the underlying building is a much earlier timber-framed building that received a "modern" stone face-lift.
There was much more to Chipping Campden, but we had had a long day and abandoned the town tour early to pursue our own researches into British pubs.
---
Click your browser's "back" button to continue the tour to Oxford.