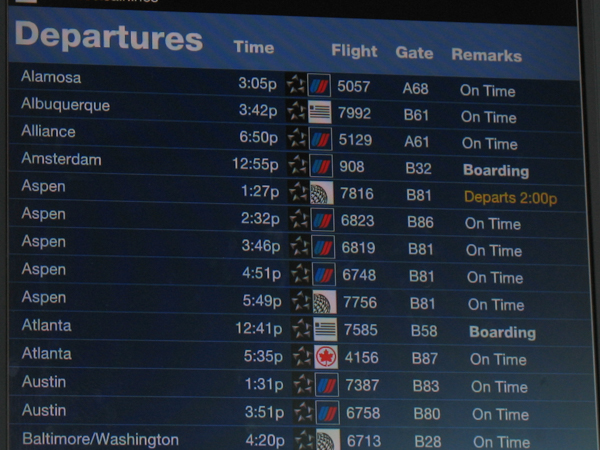 Our trip was off to a great start at Dulles, but when we arrived in Denver, there was the old problem of traveling in winter – too much snow!
The flights before us had been cancelled, ours was delayed, and things weren't looking good. What to do?
---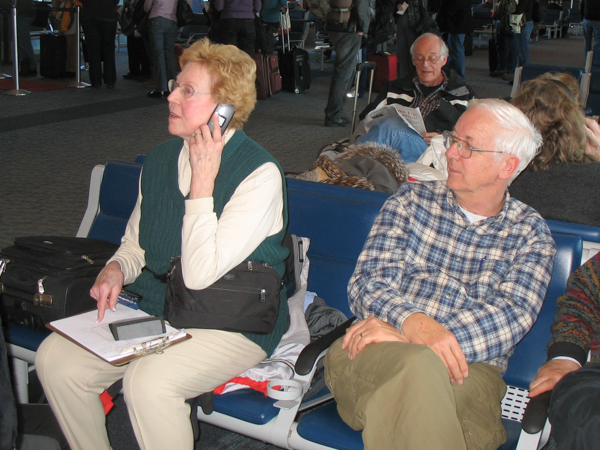 Our intrepid leader Carolyn immediately got on the phone to our travel specialist, Doug Horstman of
Encompasse Tours
, to research alternate possibilities.
One option was to wait and hope that the Aspen airport would open up to flights. Another was to arrange for a bus.
---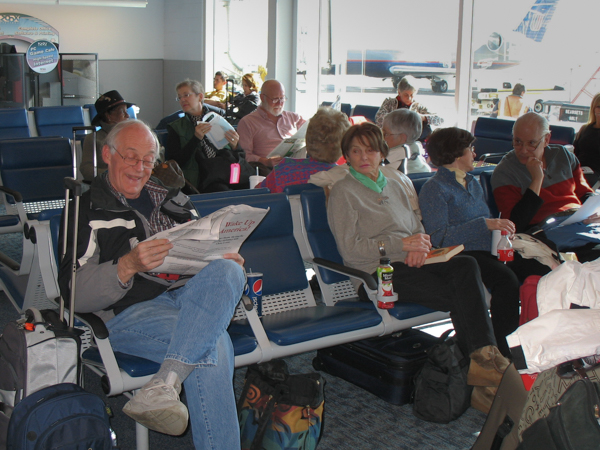 In the meantime our group of skiers waited more-or-less patiently to hear of our options.
---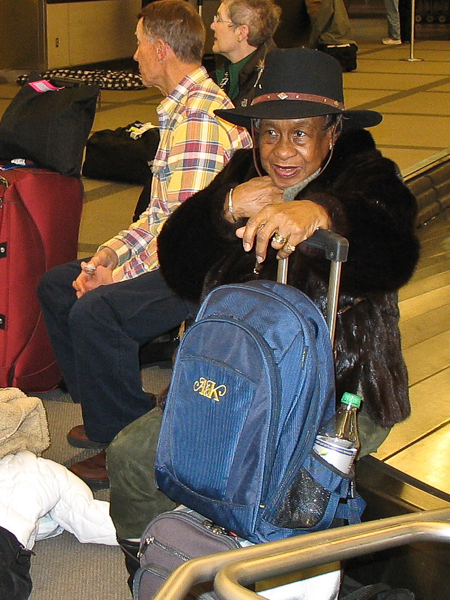 As the situation developed with snow moving into the Denver area, we decided to opt for taking the bus.
United first had to extract our luggage. This wasn't done with complete accuracy, but most of our bags were disgorged from the system.
None of the skis appeared, but we were told that they would make it to Aspen somehow ... sometime ... soon.
---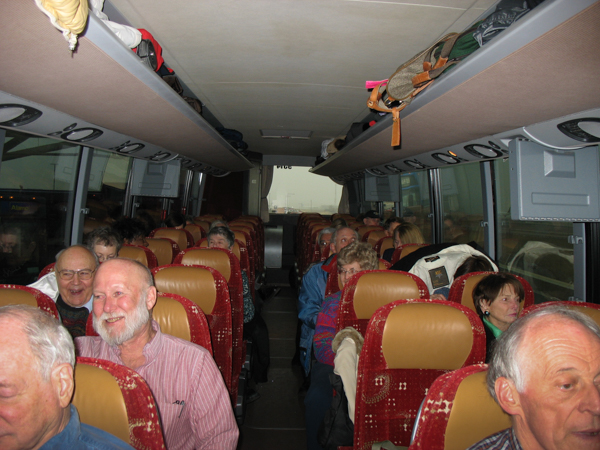 Eventually the bus arrived – and away we went into the snow.
We were happy to be on the road again. The trip took quite a while what with Denver rush hour traffic, heavy snow, treacherous roads for much of the trip, and a stop for dinner outside Vail.
As it happened our flight did complete its trip so we were able to pick up the missing skis and other luggage at the Aspen airport.
---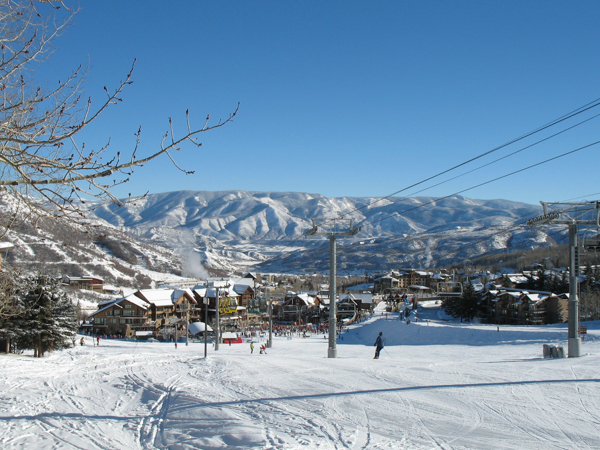 The next day dawned with glorious sunshine and the tribulations of the trip were forgotten.
Our hotel, the Snowmass Mountain Chalet, has ski-in/ski-out accommodations just above the new Snowmass base village.
I couldn't let such a day pass without devoting it to picture-taking. I learned early on that you can never take clear skies in ski country for granted.
---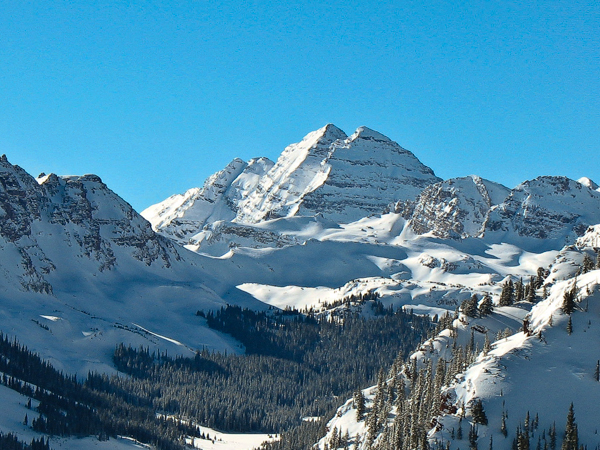 Maroon Bells from the top of the Elk Camp lift.
On a previous visit an on-mountain church service started at this overlook where we sang:
"This is my Father's world, and to my listening ears all nature sings, and round me rings the music of the spheres. This is my Father's world: I rest me in the thought of rocks and trees, of skies and seas; his hand the wonders wrought."
How appropriate!
---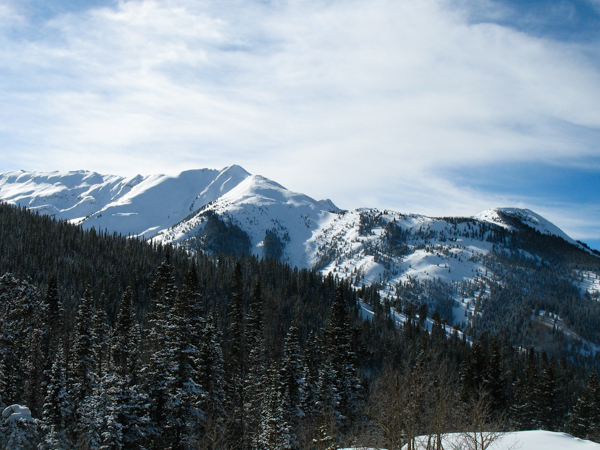 Another beautiful vista from the top of the Sam's Knob lift.
---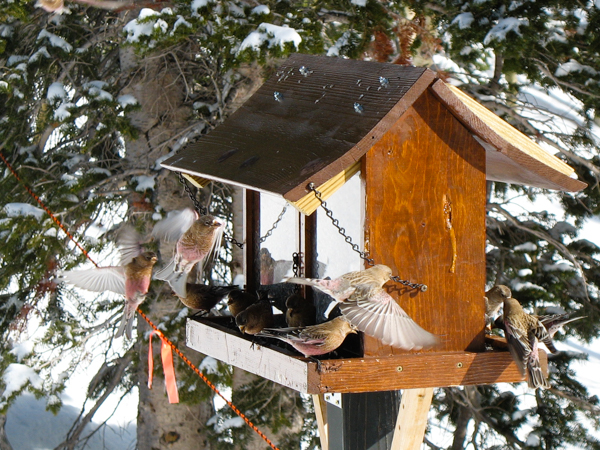 Also at Sam's Knob a popular bird feeder. These look like some kind of finch.
---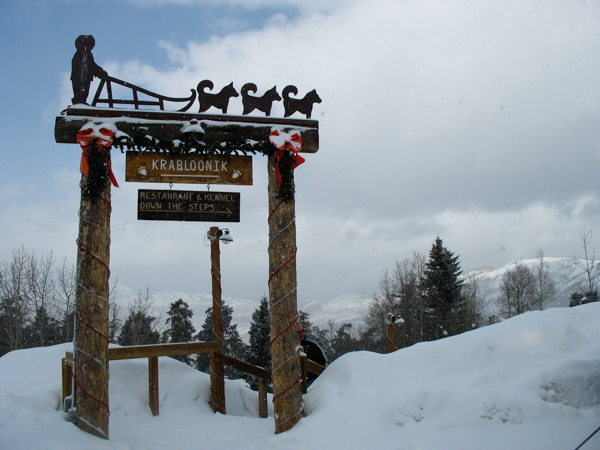 On Saturday several of us took the day off from skiing and visited the
Krabloonik
restaurant and kennel.
A few years ago there was a furor over how the dogs, which are working sled dogs, are treated here. As a result there was a visit by a vet team that found no major problems.
The dogs all seemed happy to me.
The facility has since come under new management.
---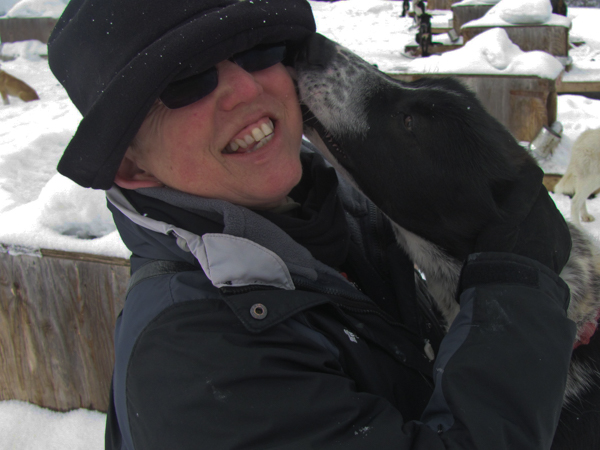 Prior to the lunch, several folks visited the dogs and puppies.
The kennels are open to the public. At specified times the puppies are allowed to run around and greet people. The animals are very friendly as you can see.
Real sled dogs are not the archetypical "huskies." They are usually a mixture of a variety of breeds, including bird dogs, each of which contributes a specific desired characteristic.
This picture of Bonnie & new "best friend forever" is from Bill Sweeney.
---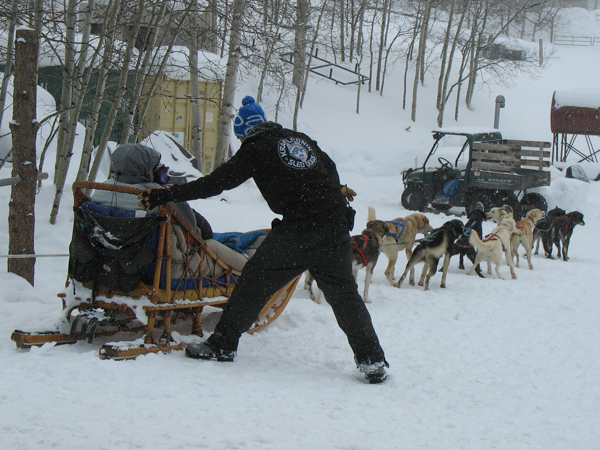 Some folks opted to include a dog sled expedition with their lunch. We didn't, but it was fun to watch everyone get bundled up and ready to go.
There were two people per sled with 13 dogs and a "musher." The dogs were enthusiatic about the whole thing. I'm sorry that I can't provide the sound track as they barked first "choose me" and then "let me run" and finally howled "I wanted to go!"
Staff was always available to answer our questions.
---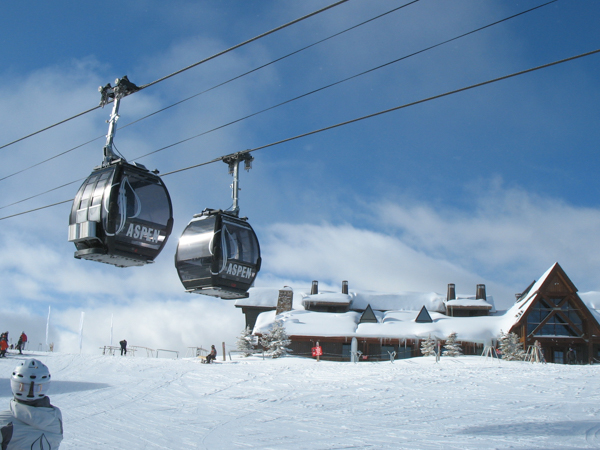 There are four main areas at "Aspen."
One day I visited Aspen Mountain with one of our group, Jannes, whose parents had been visiting this area to ski since the late 1940s.
---
Most resorts offer mountain guides to give visitors an overview of the mountain and Aspen is no exception.
Our guide is leading us down some of the main intermediate trails while pointing out other trails that might be of interest.
The snow was light fluff deposited from overnight flurries – I have now personally experienced "champagne powder." Nice!
---
Our day at Ajax was marked by varying weather.
Clouds moved through – although the day was generally sunny.
This overlook faced Aspen Highlands.
---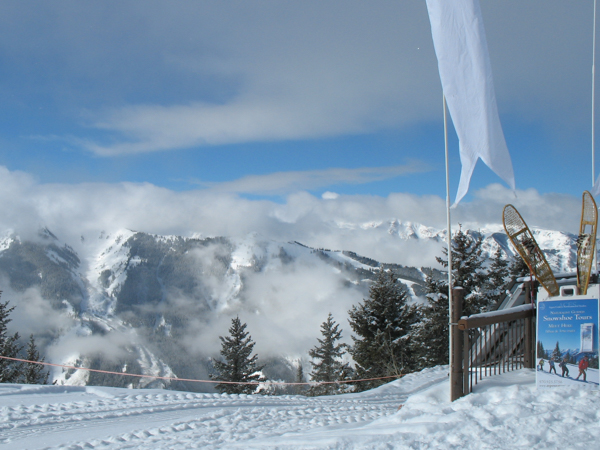 Aspen Highlands has the reputation of having lovely views, but I found Ajax to be equally lovely. This picture is looking toward the Highlands.
Jannes said that the floating white flags had been used here for many years.
I didn't think to ask about the snowshoes.
The clouds moving through only added to the beauty of the scenery.
---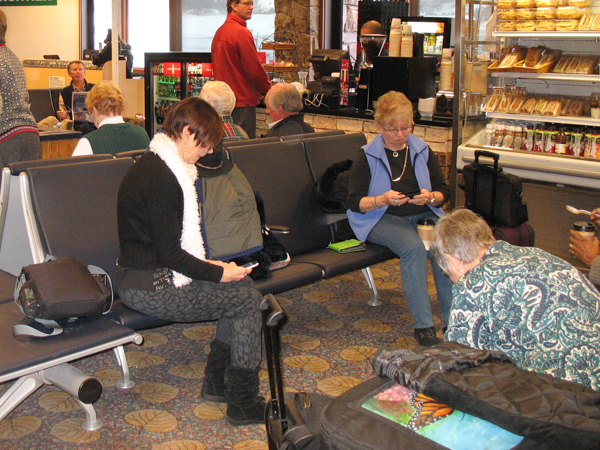 Our homeward trip was almost a repeat of the outward bound one. This time it was snow in DC that caused trouble. Our flight from Denver to Dulles was cancelled early in the morning.
Again our intrepid leader in conjunction with the travel arranger was able to find a hotel in Denver for the main body of travelers. Those who had made independent arrangements also managed to cope.
Cell phones are put to use notifying family and friends of the change in plans.
---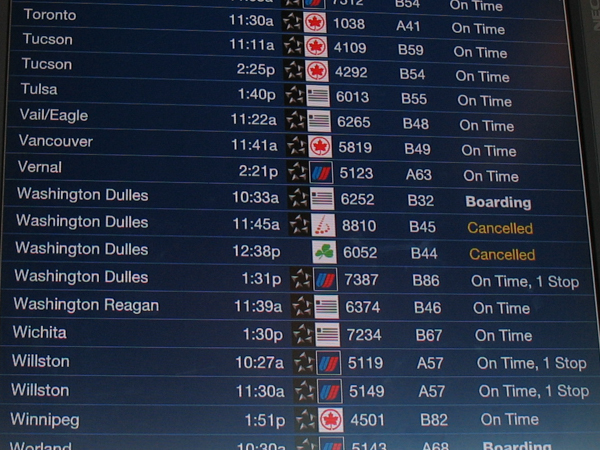 Read 'em and weep!
United's flights into Dulles were cancelled, but US Air's were not. Hmmm. Who knows the ways of airlines?
Nonetheless we had a good time during our unexpected stay in Denver. Some visited the Denver art museum, which has a new wing. Others hung out at the hotel and played games together.
After hearing the story of a friend who did arrive at Dulles that afternoon – we had the better deal!
---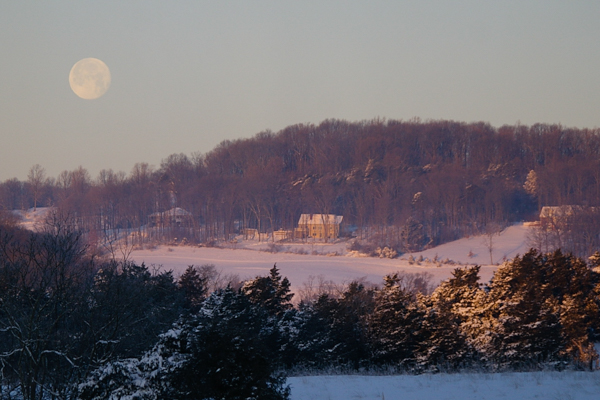 After arriving (finally) at Dulles a day late, Mike Strand came to pick up Eloise and the two of us. Poor Mike had to cut away a fallen tree to get out of his neighborhood.
We accepted Mike and Eloise's gracious hospitality for the night and drove home the following morning. The best part of travel is coming home!
---