Our program began in Tempe, AZ. Arrival was complicated by the fact that Arizona State University was playing a home game against the University of Southern California. The hotel was jammed with USC fans and our room wasn't ready until after dinner. Nevertheless we got a good night's sleep before leaving the next morning for the South Rim of the Grand Canyon.
The program was led by Northern Arizona University, which provides many of the Road Scholar offerings in the area.
There are limited access routes onto the Colorado Plateau. One of the most scenic travels through Sedona and Oak Creek Canyon and that is the one we took
---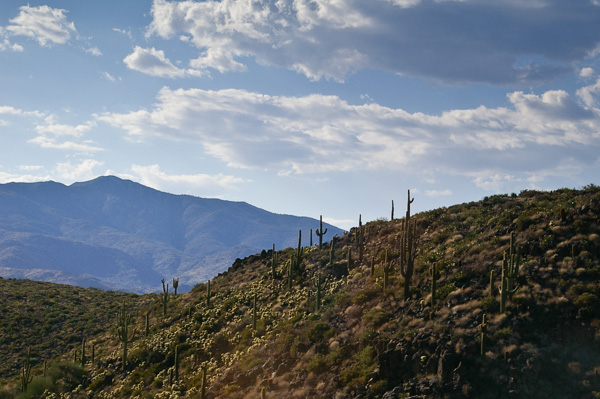 We left Phoenix (elevation about 1200 feet) for the long climb to the South Rim of the Grand Canyon (elevation about 6800 feet).
Our tour guide, Bruce Banker, explained that almost all the life zones are represented in Arizona – subtropical rain forest is a notable exception – due to the vast differences in elevation.
This particular zone north of Phoenix is Sonoran Desert with saguaro and cholla cactus.
---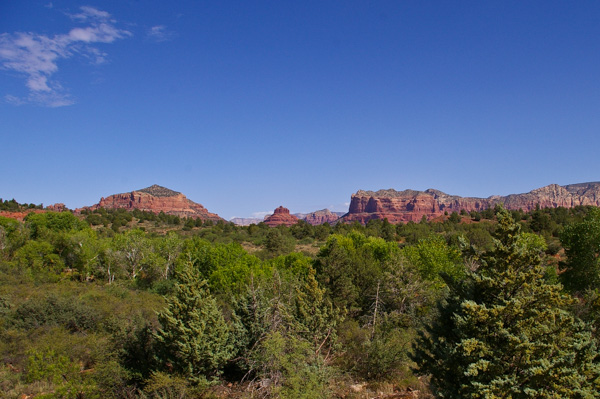 Our first stop north of Phoenix was the Red Rock Ranger District station.
It was our introduction to the colorful sedimentary rocks that we would see all around us as we proceeded to the Grand Canyon.
This area is an oasis in the desert with a variety of vegetation including willows and cattails along the dry creek bed.
---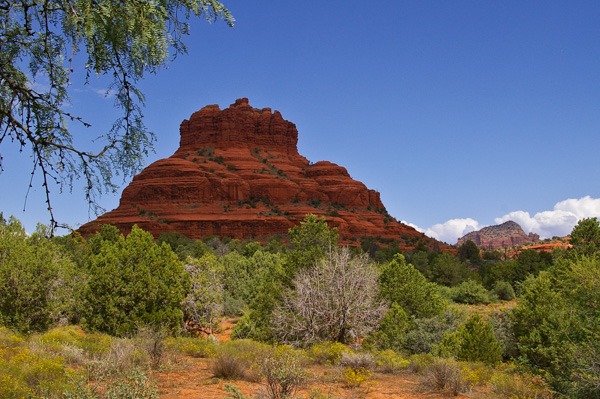 The Bell Rock formation.
---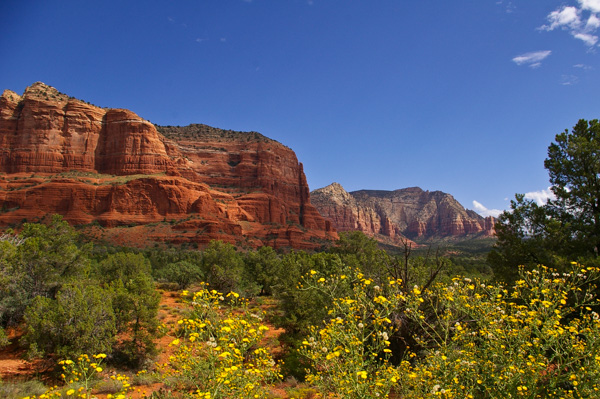 The formation on the left is known as Courthouse Butte.
Bruce explained the difference between plateau, mesa, butte and pinnacle (or as he aptly called the latter, the "sticky-uppies").
Our trip continued past Sedona, through Oak Creek Canyon, and onto the Colorado Plateau. The landscape changed about every fifteen minutes as we passed from desert through the pinyon-juniper zone to the ponderosa pine forest south of Flagstaff.
---
Click your "back" button to return to the previous page or click for our picture album.