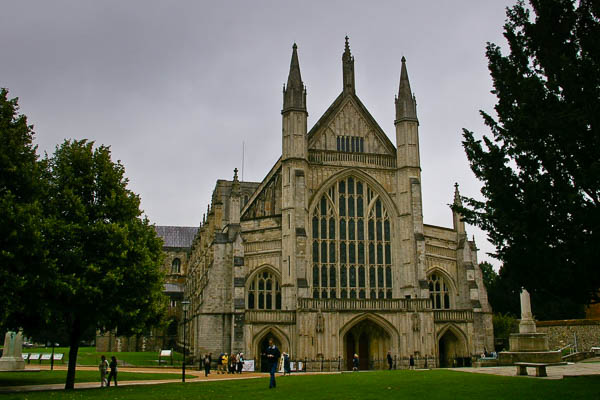 We traveled from Southampton to Oxford by way of Winchester to see the cathedral. Most of us older baby-boomers know only the 60's song (opens in new window), which has little to do with the actual cathedral.
Winchester was an important governmental center as the capital of the Anglo-Saxon kingdom of Wessex.
The first church at this site, Old Minster, was begun in the 7th century. It was demolished after the Norman conquest and a new church was consecrated in the 11th century. Portions of the Norman church are still visible in the transept and crypt, but the building has been much altered over the years.
---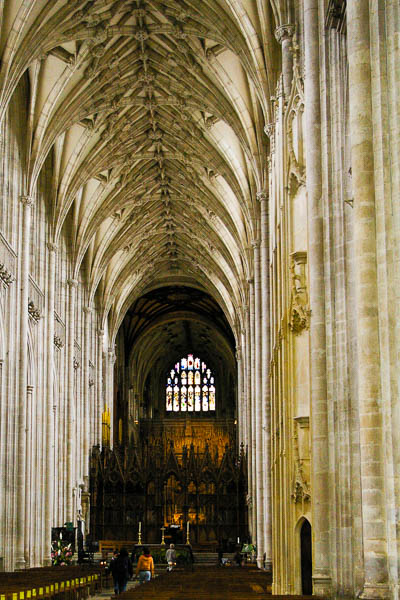 Today's structure was virtually complete by the 16th century. The nave is the longest in England.
There was a very stirring moment in our visit there. The cathedral contains a "book of remembrance," with the name of soldiers who died in WWI. Every month there is a solemn ceremony of the turning of a page in the book. While we were in the crypt the notes of a single bugle echoed through this vast nave. We scrambled out just in time to see the formal procession and ceremony.
---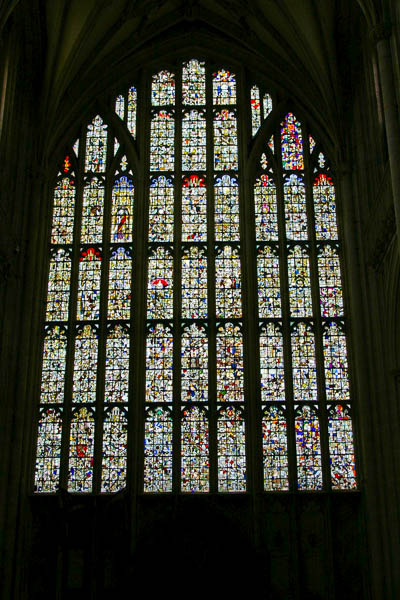 There could be no discussion of World Religions without a discussion of conflict. The great West Window at Winchester is a testament to conflict. In the 17th century Cromwell's troops deliberately destroyed the medieval stained glass of this window as well as other contents of the cathedral that were deemed too much akin to "popery."
After the restoration of the monarchy in 1660, the window was reconstructed using the original glass, but no attempt was made to reassemble the images as they had been.
The theme of conflict was pervasive during our time in England. Catholic against Protestant. Puritan against Established Church. We tend to think of religious conflict as between different faiths, but the most bitter conflicts often occur between different interpretations of the same faith.
---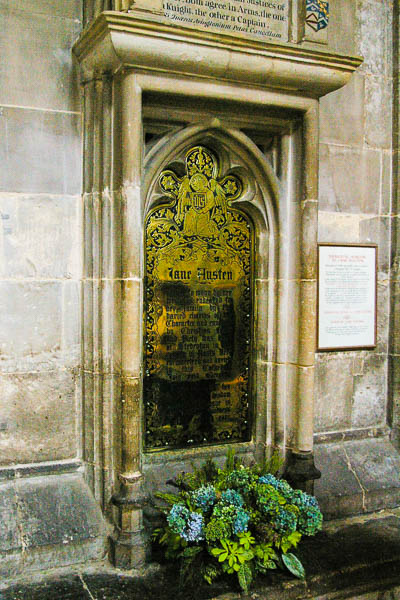 On a more civilized note, Jane Austen is buried at Winchester Cathedral. At the time of her death, she was held most dear as a loved aunt and sister rather than the famous novelist that we know today. Her original memorial stone, set in the floor of the church, doesn't even mention her books, some of which were published posthumously. This brass plaque was placed later.
Much of her life was spent in the neighborhood and Jane Austen died in Winchester in 1817.
---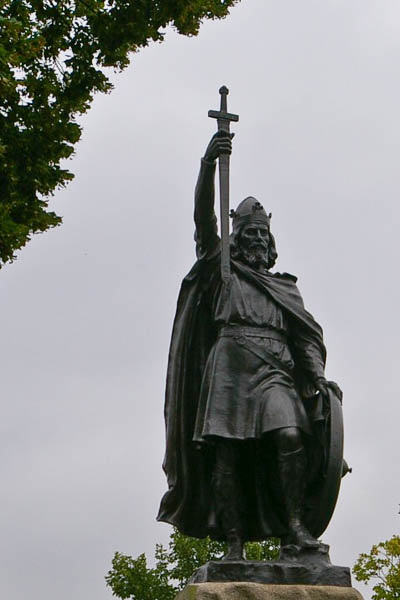 Winchester was the capital of the 9th century Anglo-Saxon kingdom of Alfred the Great. His statue is the symbol of the city. He was buried in the original Saxon cathedral. His remains were later removed to
Hyde Abbey
, but the location of the grave has been lost.
Alfred is the only English ruler to have earned the sobriquet "the Great."
From Winchester we traveled to Oxford where we would spend the remainder of our program.
---
Click your "back" button to continue with us.