After our visit to the synagogue, we were on our own for lunch. Jim and I grabbed some carry-out at a nearby deli and had an urban picnic on someone's stoop while watching the crowds go by. After lunch we gathered again for the bus to our dock in the Brooklyn Naval Yard. The large cruise liners no longer depart from the west side docks.
---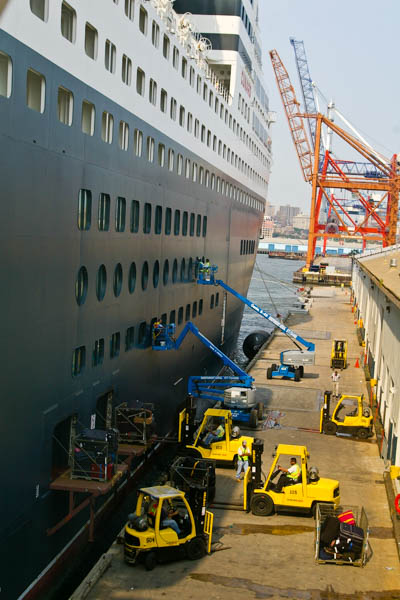 While we were loading the ship we got to see the shore workers busily loading luggage (yellow fork lifts) and washing windows (blue snorkels). The ship is "turned around" in one day – arriving in the morning and leaving in the afternoon.
At the time it was launched in 2004, the QM2 was the largest ship on the seas. She was the first ship purpose built as a trans-Atlantic liner since the Queen Elizabeth 2 in 1969 and was designed to carry over 2500 passengers. Although the record for speed in an Atlantic crossing is held by the SS United States, now retired, the QM2 is the fastest liner at present.
The crossing takes six days. Every day we set our clocks ahead by one hour. We felt this eliminated jet lag, but some of our fellow travelers thought it prolonged it. Different strokes, I guess.
---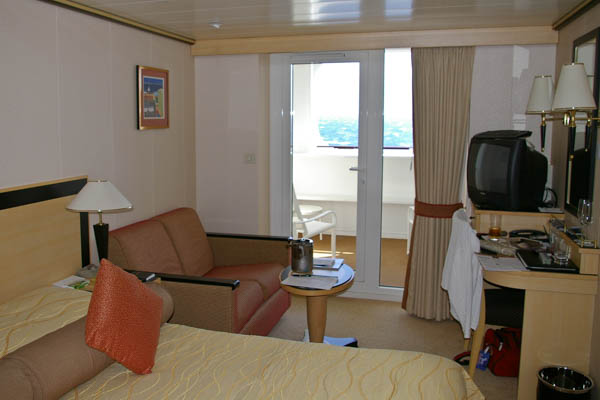 When my parents sailed to Europe on the
SS France
(now scrapped) we visited their stateroom. I was dismayed at how small it was. We did not have that problem on the QM2 with its separate sitting area and a private balcony! Imagine what the 1st class cabins are like!
---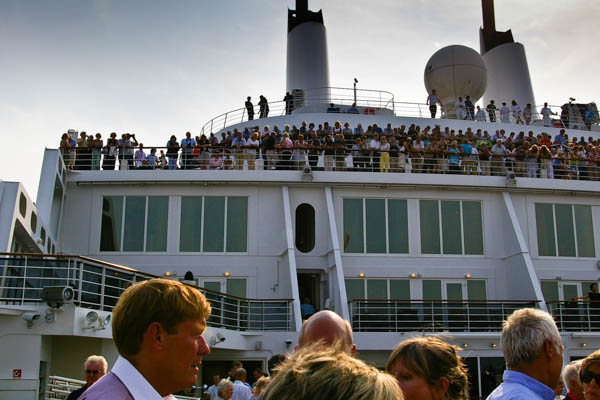 It seemed that just about everyone on board came out for the departure. The largest nationality group on board was German since the ship was continuing on to Hamburg after calling at Southampton. We were sitting next to a German family who had just made a two week tour of New England. They were astonished to meet an American who could speak (haltingly) some German. They spoke excellent English, of course.
---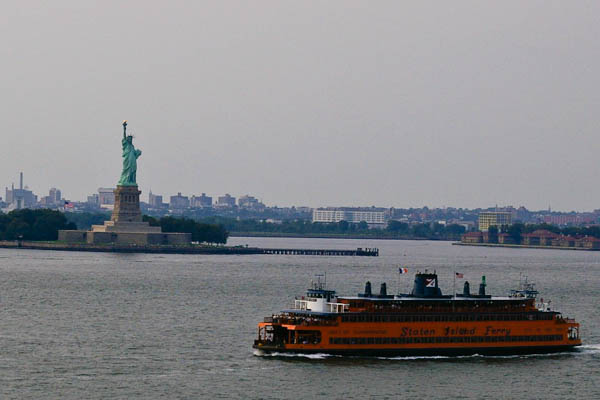 As we cruised out of New York Harbor, we saw this iconic sight: the Statue of Liberty and the Staten Island Ferry. We would soon be out of sight of land for the next many days.
---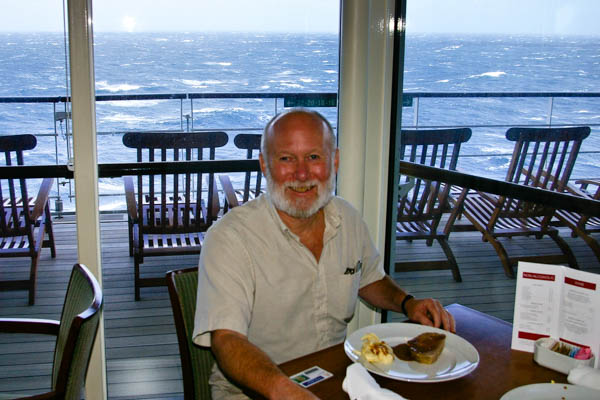 A typical day started with breakfast at the Kings Court buffet. Although we had a choice of four restaurants, this one suited us well. After breakfast, we might walk around the Promenade Deck: three laps were a little over a mile, but you had to dodge all the runners. We found that walking counter-clockwise, unlike most others, gave us the opportunity to get out of the way without being trampled.
---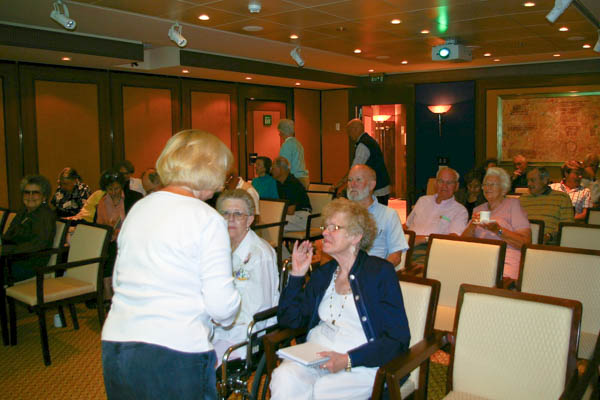 Our Elderhostel group had its own lecture space for Christopher's daily presentations. Our tour leader, Ronni Hall, shown here with her back to the camera, always had some housekeeping items to present and then she was charged with keeping party-crashers out. It seems that word had gotten around about our little group and others wanted to participate.
---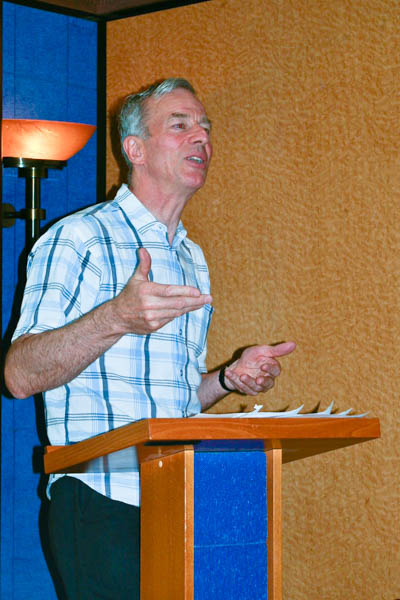 Christopher was the "brain" behind this program. He developed it and got Elderhostel to sponsor it. We were the first group to be privileged to participate, but the program ran for three or four years. We seriously considered signing up a second time.
It is impossible to summarize the specifics of Christopher's lectures. He started with a definition of religion: how faith gives value and meaning. He made the point that our experience tempers our perception of the transcendent by using the poem Heaven by Rupert Brooke, which is heaven as it might be seen by ... fish.
This point was essential to our understanding of the religions that we undertook to understand: Christianity, Judaism, Islam, Buddhism, Hinduism.
---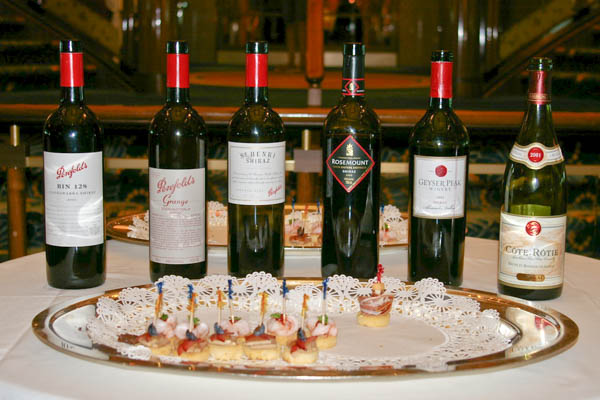 Our afternoons were free and there were many amusements to be found aboard a ship that had a movie theatre, lectures, a planetarium, casino gambling, pubs, stage shows, dancing, card parties, Canyon Ranch Spa, etc., etc.
Jim and I signed up for a wine tasting that featured plenty of canapes and these wines. As is often the case in such endeavors, the most expensive wine (at $300/bottle) was by no means the favorite.
I've always been happy to lack a superbly discriminating palate! Life is less expensive that way.
---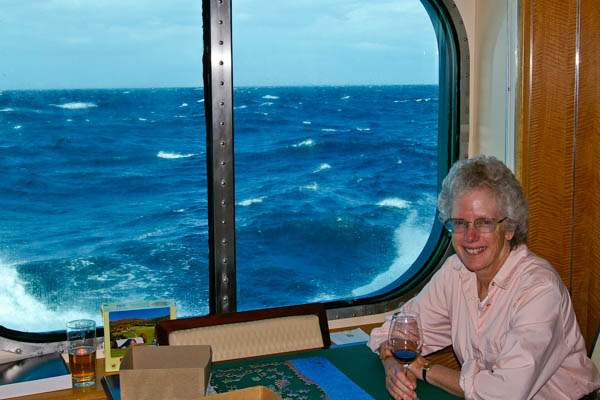 For quiet times there were always board games and jigsaw puzzles set up. I am a sucker for puzzles so most afternoons would find me here at least part of the time. Jim enjoyed the extensive library.
As can be seen in this picture, we encountered some pretty significant seas (at least for this land-lubber) and gale force winds. The QM2 never quivered. Since this time we've taken a number of voyages on smaller ships. The larger ones, when well-designed, have a definite advantage in this regard. There was no bucky-boat here!
---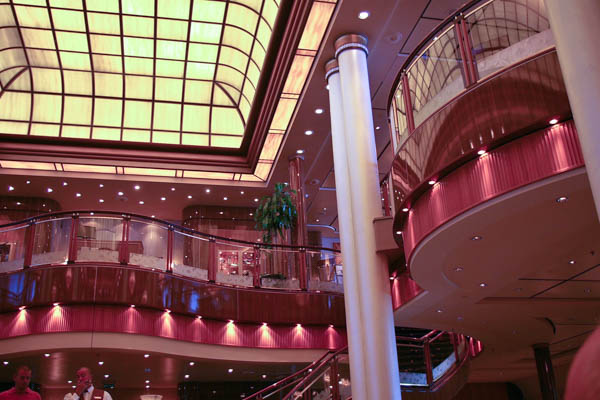 Dinner was served in the Britannia Restaurant. There were numerous restaurants on board, but this was the primary one for our group. We had a set of assigned tables, but weren't required to sit at the same table each night. That enabled us to move around and get to know more of our fellow Elderhostlers.
On the QM2 most nights are formal and passengers are expected to dress for dinner in the major restaurants. Jim brought his tux and I brought an assortment of fancy duds.
Many evenings had special events as well, such as the meet-the-captain night and our own special Elderhostel cocktail party.
All things come to an end, however, and we arrived at Southampton. Our trip had come to a new phase.
---
Click your "back" button to continue.