Jim and I have had Big Sky on our bucket list for many years. Our first attempt to get there was a trip arranged by the Shillelaghs sometime in the early 1980s. A friend of ours, Billie Manring, who had been instrumental in getting us associated with the Potomac Valley Skiers, was a member and she invited us to join her. Unfortunately the trip didn't fill. The club canceled it and gave us an alternative of going to Acapulco. Um, no thanks.
We didn't get another chance until the BRSC/PVS trip in 2007.
---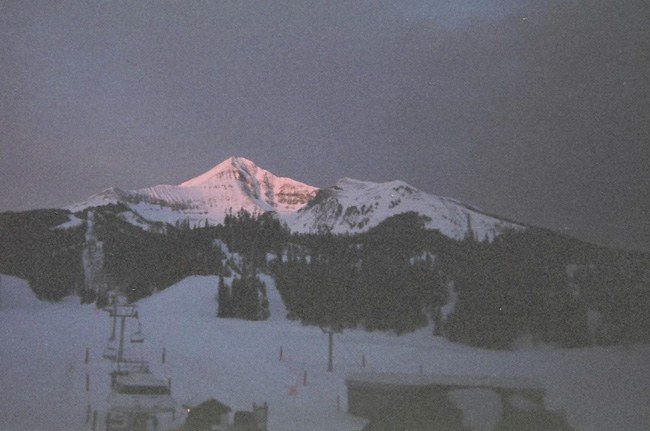 The view from our hotel room. We stayed at The Summit, which was right at slopeside. The morning sun shows how it got its name.
Coming from the East Coast to the mountains is enough of a time change that you get to see a lot of early morning light.
---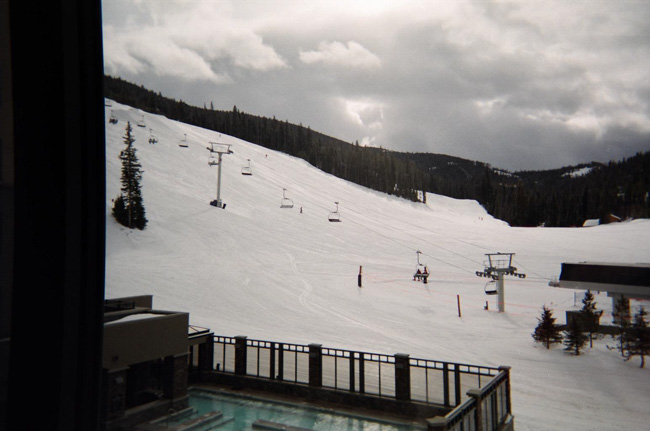 A daytime view of the nearby lift.
Unfortunately the snow cover was sparse and the weather uncooperative so I was unable to get any pictures of the slopes. The day I had set aside to take my camera, it rained!
The swimming pool, however, was very nice.
---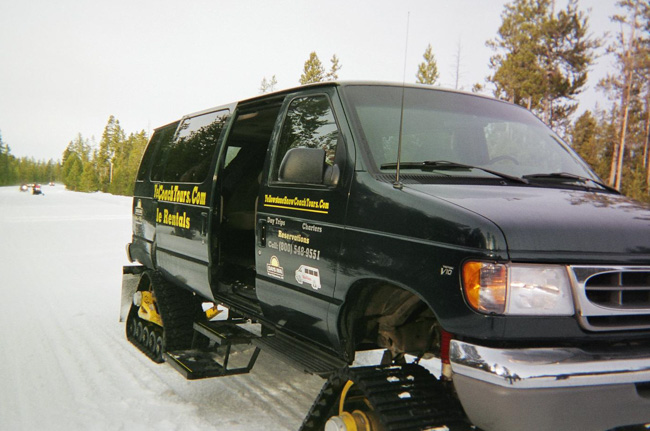 Since Jim no longer skis, we always take advantage of extra options. On this trip it was an excursion to Yellowstone. This particular vendor no longer appears to have an authorized concession (I'm getting these pictures online in 2018), but there are a number of others that do. It is well worth the trip!
---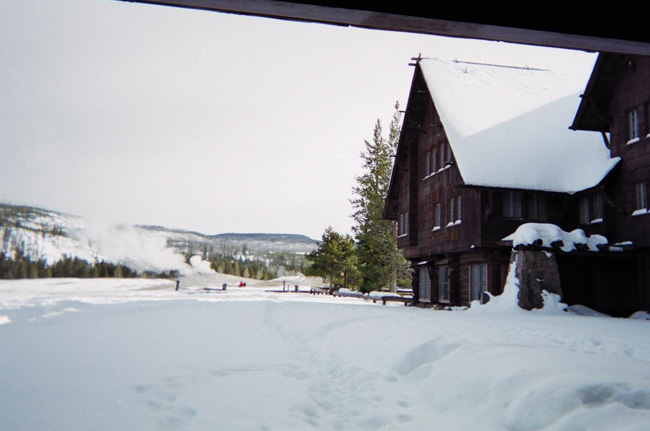 For the first part of the tour out guide was really focused on getting us to the Old Faithful Lodge for lunch. He told us that he would not stop for the first buffalo; he would not stop for the second buffalo; by the time the day was done we would have seen more buffalo that we ever hoped for.
He kept his word and made a beeline for the lodge, buzzing by other coaches and packs of snowmobiles, stopping only for a brief bio-break. As a result, we didn't have to wait in line for lunch and had plenty of time to spend exploring the park on the way back.
---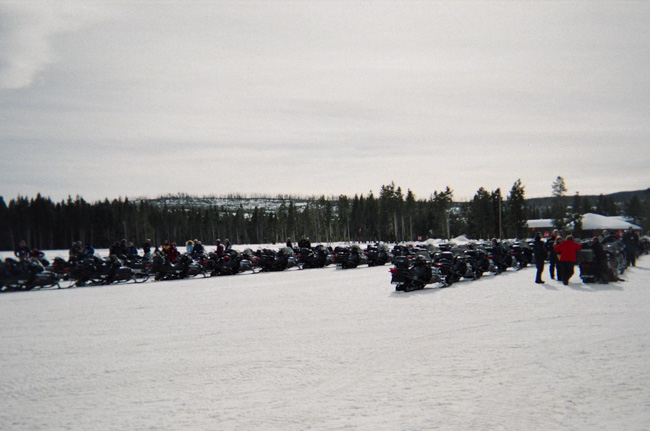 We appreciated our guide's focus when we saw the numerous snowmobile tours arrive as well as the other snow coaches! We got to see the scenery and wildlife without disturbance by rackety snowmobiles!
---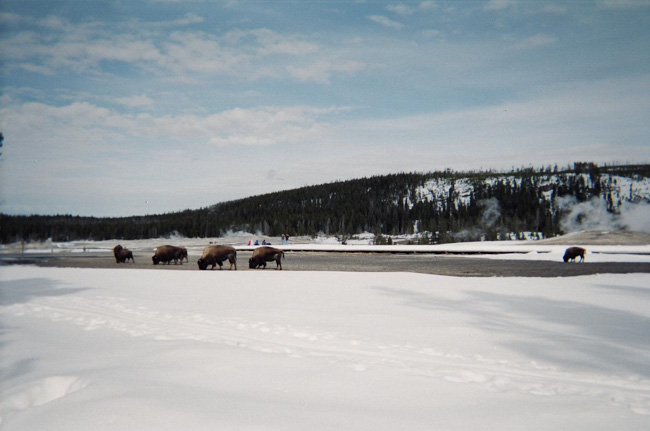 As promised there were plenty of bison hanging around the lodge posing for tourist pictures.
---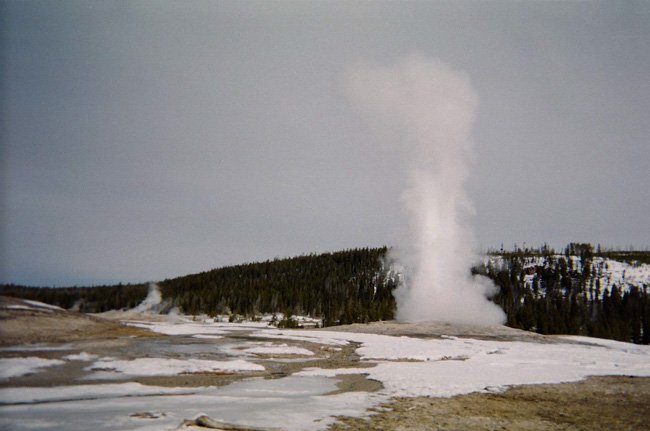 Of course we had to wait to catch an eruption of Old Faithful!
Someday I may get to take a picture of a geyser against a brilliant blue sky, but it hasn't happened yet.
---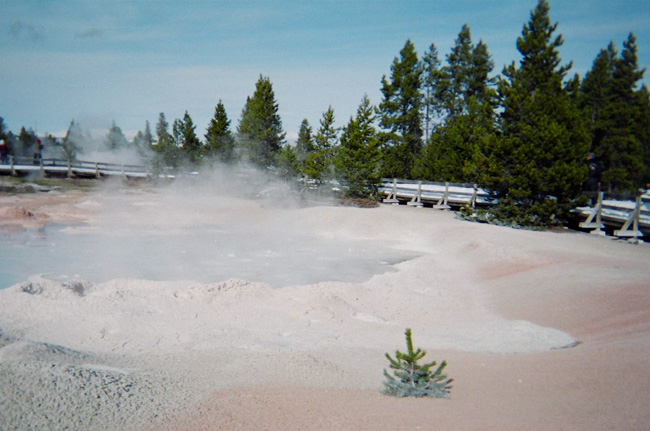 As we slowly made our way back to the park entrance, we had plenty of time to explore hot springs and check out wildlife.
It appears that I only took my film camera on this trip, so I didn't have the more-or-less unlimited photo capability of my digital camera. Therefore I didn't take pictures of the signs describing the various sights and can't tell which particular location this is.
---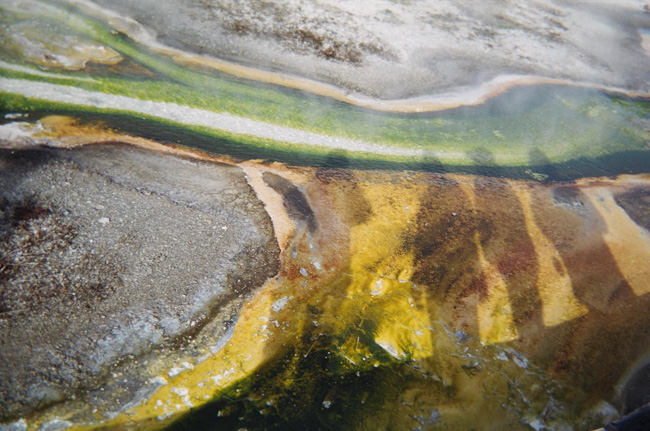 This hot spring gets its colors from various microorganisms.
Although some of the springs are open to bathers, most are too hot and environmentally fragile. People have been killed by falling into the springs.
The various geothermal features are fueled by the Yellowstone hotspot. Yellowstone is essentially a giant volcano, but it hasn't erupted in over 600,000 years.
---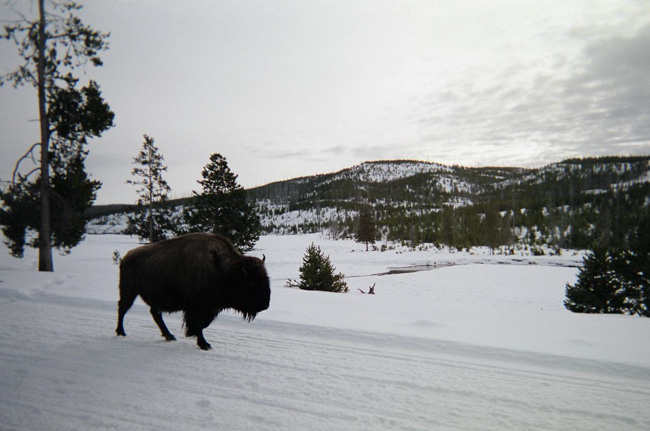 Yes we saw plenty of bison -- some were even more up close & personal than this one.
---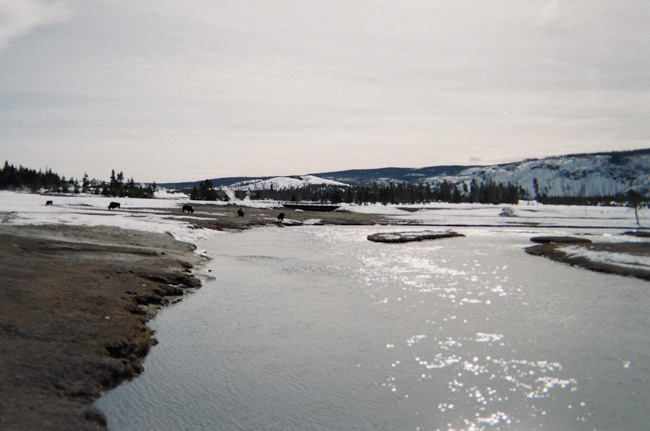 We followed the river for quite a ways. The most interesting sight of the entire trip was along this river. A golden eagle had caught and killed a rabbit. Rather than being able to dine in peace, however, it was beset by a pair of ravens who were tag-teaming the eagle. One would creep up behind it and peck its tail. When the eagle turned to meet the tormentor, the other raven would snatch a bite of bunny. This went on for quite a while until we had to move on. As the driver said, those ravens would probably get more of the rabbit than the eagle.
I don't know why I didn't take a picture. They were on the other side of the river and maybe they were too far away.
---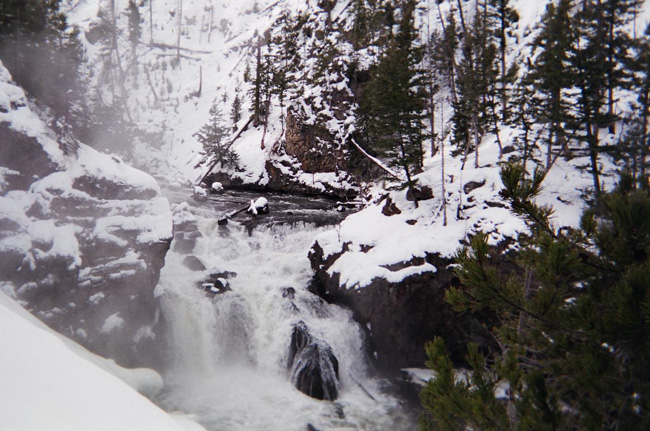 I was sorry that we didn't have the option to visit the Grand Canyon of the Yellowstone. This was as close as we got to a waterfall. Steam can be seen rising from the hot water.
---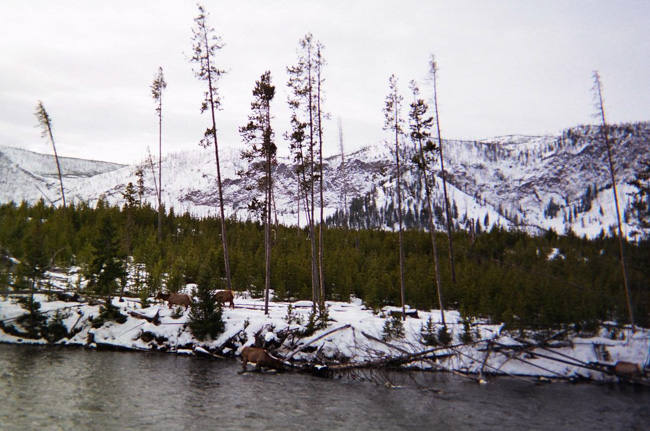 Another wildlife sightings included these elk. Massive fires in 1988 destroyed much of the forest, which is now starting to regenerate. I remember visiting Yellowstone with my family in 1962. At that time the trees were so enormous that it was almost impossible to see anything BUT trees. Fire is necessary to the western ecosystem, but it was good to see the trees coming back.
We also saw coyote and at least one bald eagle, but I don't recall any other notable sightings. I was hoping for a wolf pack, but they are far too shy to approach the roads.
---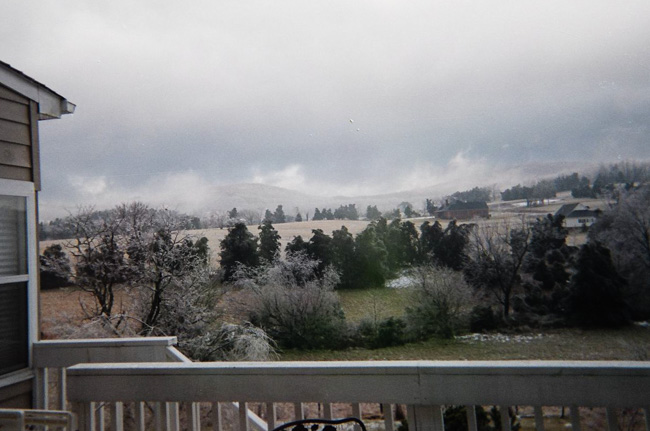 I don't recall whether this ice storm happened just before we left for our trip or shortly after we returned.
It's strange to see a picture taken before we replaced the sunroom (on the left) and the deck. The area on the ridge behind the house is a lot more built up now too.
---
Click your "back" button to return to the previous page or click for our picture album.