Other than the two who worked at God's Katrina Kitchen, the rest of our team spent the week working on the house belonging to a retired nurse. Her house is located well back from the beach, but after the storm there were no houses left between her house and the ocean almost two blocks away.
---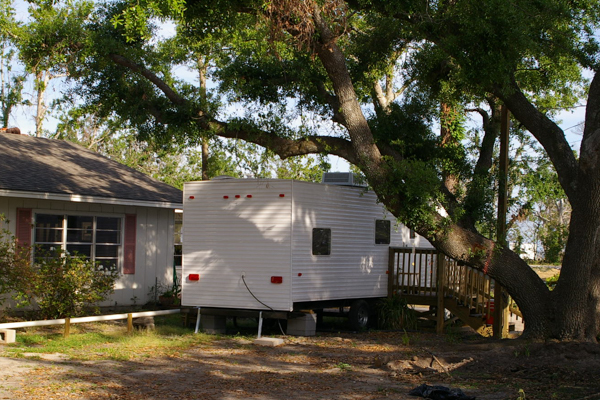 Darlene, her two disabled adult children, and their two dogs were all living in this small FEMA trailer.
We did a variety of work to make a more comfortable situation for them in the short term as well as to progress toward a long-term resolution.
As is always the case in major disasters, the insurance companies do their best to deny claims. A large part of the damage at Darlene's was caused by a tree falling on the house. The insurance claimed the tree was brought down by the storm surge, which would have required flood insurance, rather than wind, which was covered by her policy.
I don't know the eventual outcome of the dispute.
---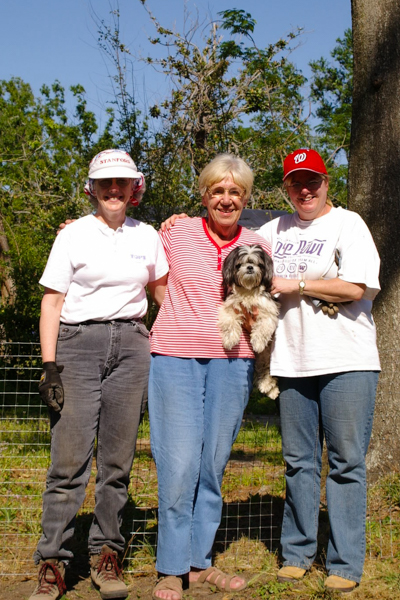 Darlene had a little Shih Tzu named Deedle. Ever since the storm he had no place that he could run free and enjoy a (protected) doggie life. It was a small thing, but Laura Handy-Oldham and I fenced in a portion of the back yard for Deedle.
Little Deedle captured all our hearts while we were there – as did Darlene.
---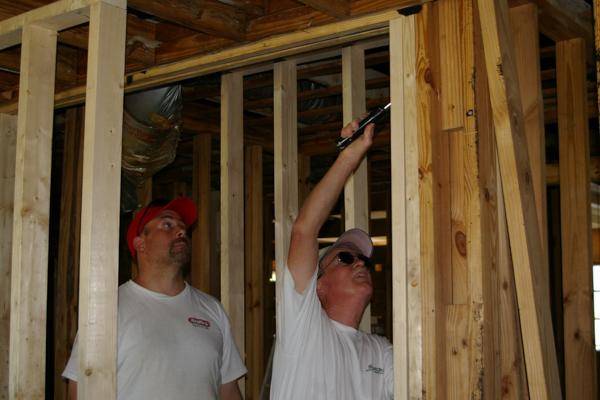 Don Dumas and Brian Swanson working on some new framing.
In addition to the physical damage to the roof and framing done by the falling tree, a lot of rot was uncovered in the house's framing once the drywall was removed.
Plus Darlene had decided to take the opportunity to do some reconfiguration within the house to make it more accessible and convenient.
---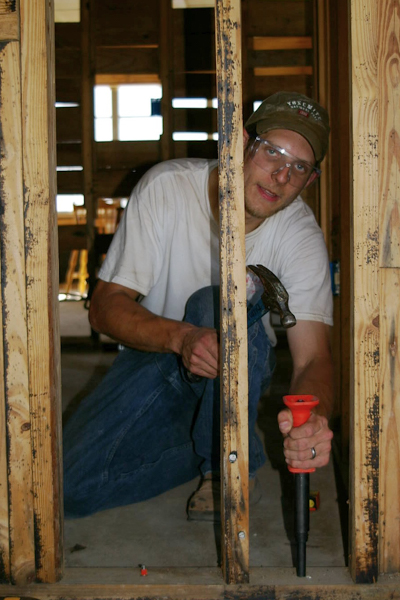 Aaron Gordon was our leader and advisor for the construction. His knowledge and leadership made our time there much more productive.
Because of this trip and a later one to Mississippi, Aaron and his wife Jenny followed a call to full-time missionary rebuilding work in New Orleans. After the completion of that work, he enrolled in seminary to study for the ministry.
God can bring good out of any kind of evil.
That innocuous-looking device that Aaron is holding is essentially a 22-caliber rifle that "shoots" nails to secure sill plates into a concrete slab!
---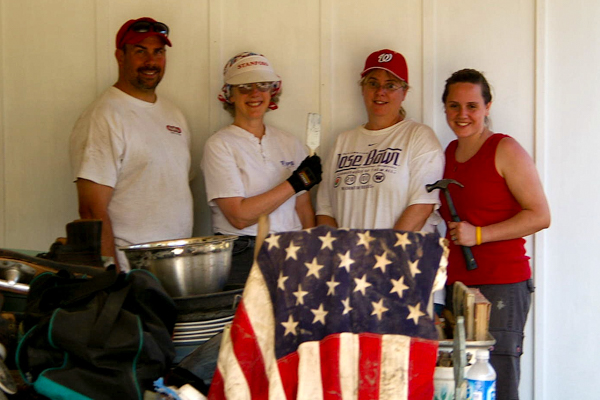 Another service we provided at Darlene's was exterior painting. Before we cleaned and painted this wall, it had a very sobering "high-water" mark that indicated the level of the storm surge in this area.
L-R, Don Dumas, myself, Laura Handy-Oldham, Jenny Gordon.
---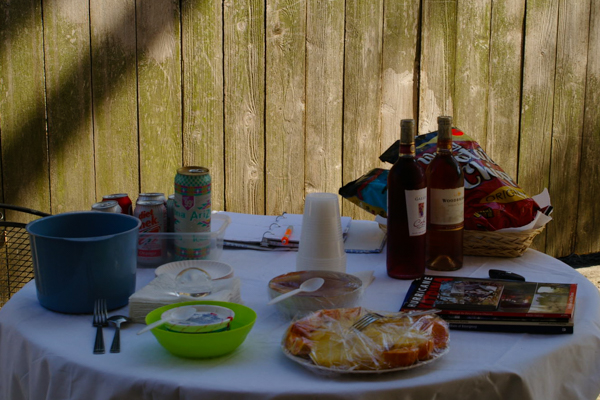 At the end of our week's work, Darlene pulled together a celebration party including wine.
Visible at the back of the table is a book she maintained for volunteers to sign.
We were sorry that we couldn't complete any more than we did, but that is a frustration that comes with such trips. Every team builds on the work of a previous team and relies on following teams to pick up the work.
Some months later Jenny visited Darlene and saw even more progress!
---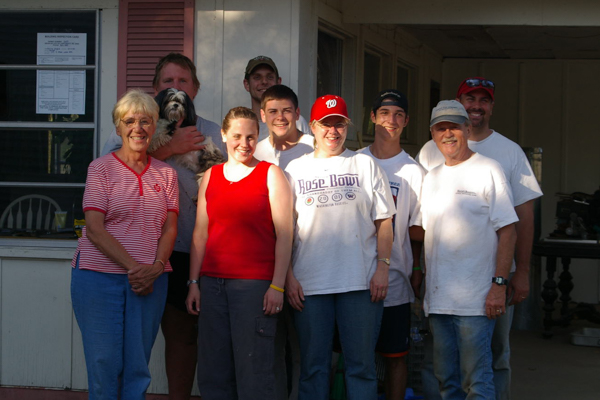 Our group of happy warriors. L-R, Darlene, Darlene's son Kyle (holding Deedle), Jenny Gordon, Aaron Gordon (in back), DJ Dumas, Laura Handy-Oldham, Ryan Cheney, Brian Swanson & Don Dumas.
Not shown are our God's Katrina Kitchen workers: Diane and Danielle Dumas. Also our support team of Marcie Swanson and Myrna Ives.
Click your "back" button to return to the previous page or click for our picture album.
---