Our April, 2006, mission trip took us to Long Beach, MS, which is almost at the opposite end of the Mississippi Gulf Coast from Gautier (pronounced go-SHAY) where we traveled in July. For this trip there were two groups from CPC: adults and youth. Although we lodged and worked separately, we did visit the youth project site in Pascagoula.
Instead of meeting the van and driving down with folks, I flew into Mobile, AL. I was hoping to catch a bus to Pascagoula, but it turns out that the extensive intercity bus services that I remember from my youth no longer serve the Gulf Coast. Brian Swanson was kind enough to take a half-day from his rehabilitation work to come meet me. After the week working in Gautier, I spent a long weekend in Mobile doing some genealogical research. My mystery great-grandmother was believed to have been born in Mobile in the early 19th century. If so, I didn't find any trace of it. Oh well, I tried.
---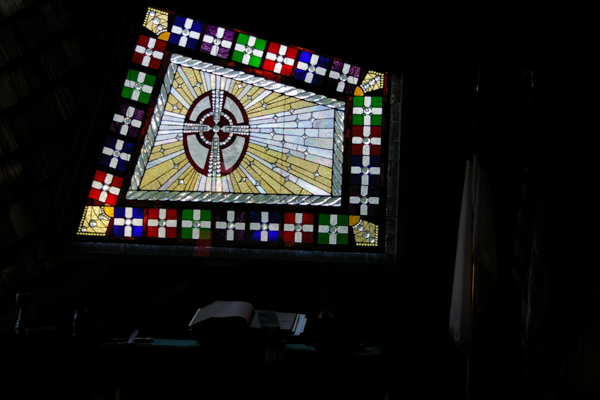 Gautier Presbyterian, where we stayed, was a small congregation. They had an interesting sanctuary, which was irregular quadrilateral like the window behind the pulpit.
We attended one evening service with the local congregation.
---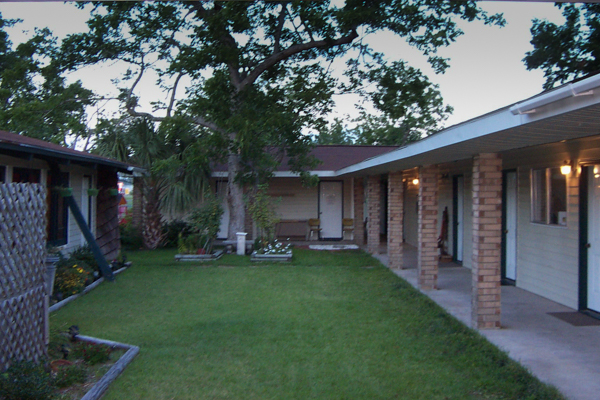 We bunked in the classroom space built around this lovely courtyard.
The church itself and almost all of its members sustained damage from Katrina. They made the commitment, however, to host rebuilding teams for their community.
---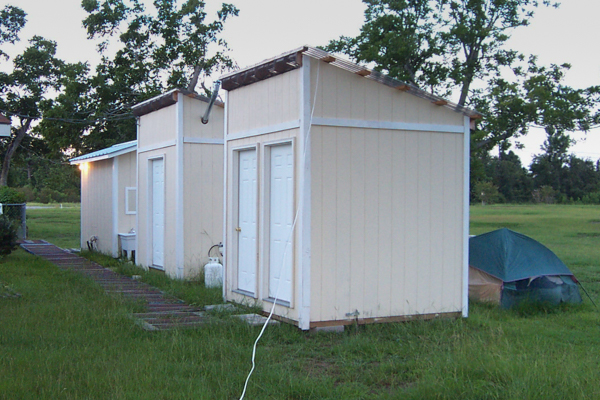 The showers were a great improvement over those in Long Beach!
---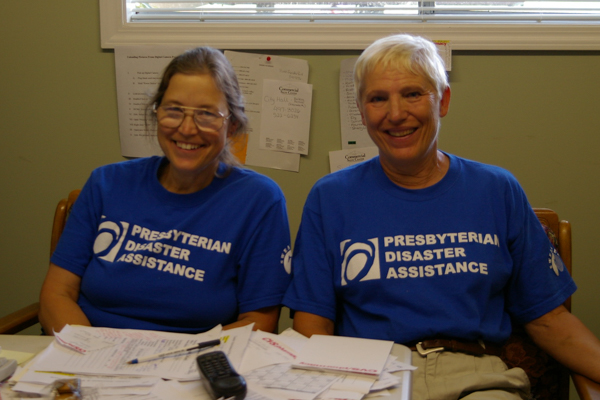 Our local contact people were Gwyn Ewing (on left) and Sharon (don't have her last name). They helped us with logistics and were always ready to respond to questions.
---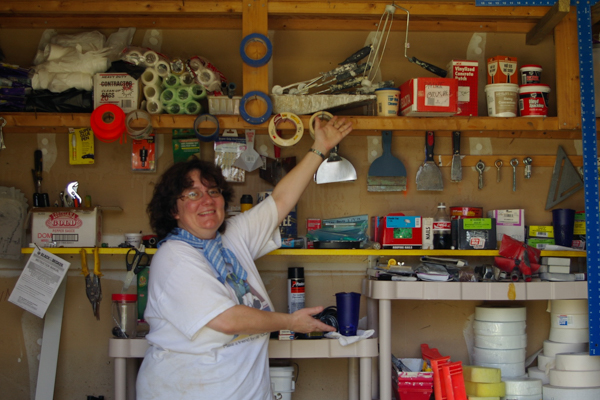 After several days working on houses, Mary and I were seconded back to Gautier Presbyterian to organize the storage shed. It had become so cluttered by various teams dumping left-over materials willy-nilly, that new teams were buying supplies that already existed in abundance.
By the time we finished you could actually see what was there, and more importantly, get to it. (I'm sorry I don't have a "before" shot. It was a wreck.)
We also disassembled bunks in one classroom, so the church could hold VBS the following week, and cleaned and organized the shed holding the landscaping equipment.
---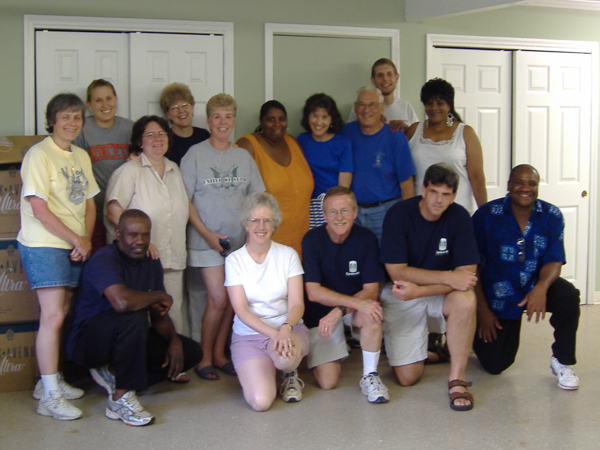 On Thursday night we invited the homeowners to supper at the church. Miss Ivy and her husband were able to attend. Also the owner of "Rocky Raccoon's" house, on the right in the white dress. Unfortunately I didn't write her name down at the time and now (7 years later!) that I'm getting these pictures online I can't remember it.
She was a nurse and on duty at the time of the storm. She rode out Katrina at the hospital and was only able to get back to her house several days later to find that her little dog had managed to survive by somehow climbing into the attic! He was the only thing that she salvaged from the wreckage, but she felt he was the most important thing.
She had many stories of the storm and its aftermath.
---
Click your "back" button to return to the previous page or click for our picture album.