We spent two days in Fes (or Fez). While there we toured the ancient medina and also had the "opportunity" to shop and spend money – lots of money – on various local wares. Not being big shoppers, Jim & I escaped with only a couple of djellabas, which we have actually enjoyed wearing from time to time over the years since. Were I to do it over again, I'd like to have gotten a tagine, although how I could have gotten it home is a question.
One notable and unexpected happening during our stay in Fes was a earthquake. Having lived in California for a time we were awaken by the tremblor, looked at each other, briefly speculated at the magnitude, and went back to sleep. Many of our group flew into the hotel corridors and stayed awake the rest of the night. Unfortunately the quake killed numerous people and devastated villages in the mountains of northern Morocco.
---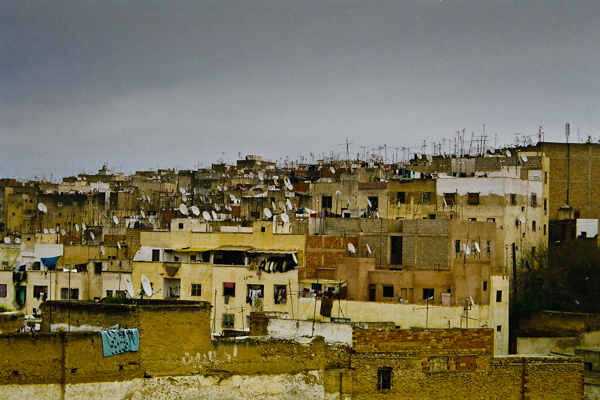 This is an overview of the ancient medina or old quarter of Fes, which is also on the World Heritage List. Some of these buildings date back hundreds of years, but as you can see they are festooned with satellite dishes and television antennae.
We visited a couple of these "town houses." Plain, shabby exteriors conceal fabulous gardens and structures with elaborate architectural detail. Unfortunately the Alhambra had overwhelmed me with fabulous gardens and elaborate detail.
---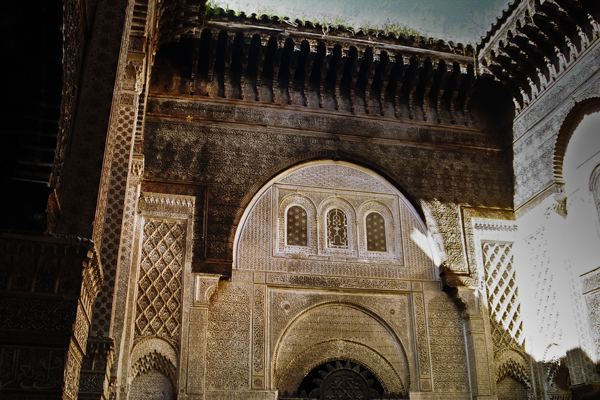 The only picture I took that begins to capture the detail is of the interior courtyard of the Madrasa (or Medersa)
Bou Inania
.
---
The narrow streets of the medina are ill suited to cars or trucks. Deliveries are done via what Ismail called "medina taxis" or mules. When we saw one of these coming, we had to make way.
---
Did I mention shopping opportunities? Ismail is trying to convince Ray that he should buy a traditionally blue djellaba and turban associated with the
Tuareg
people. He didn't.
I had hoped to find some North African tack for my Arabian horse, but I was unsuccessful. I had taken pictures of what I wanted, but was told that it was a Tunisian style. The Moroccan styles that I found did not suit me, so I came home empty-handed.
---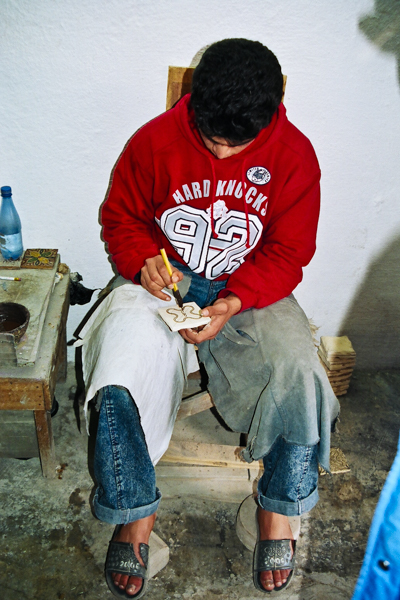 Another craft shop that we visited sold everything you can imagine made of tile. It wasn't easy to transport, so I don't think anyone fell prey to these offerings. It was fascinating to watch the workers.
This youngster is painting, freehand, intricate designs on a single tile – he is just beginning the tile he is holding.
---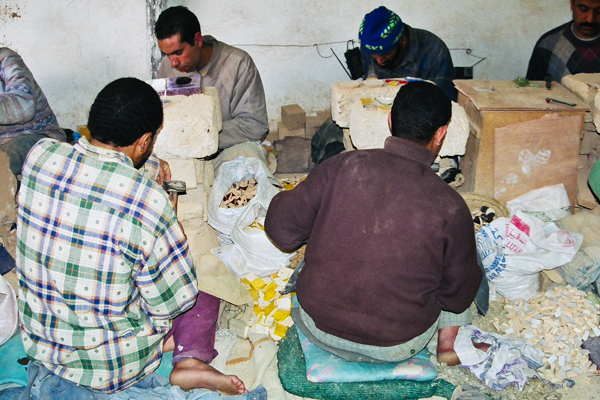 Men putting in the mosaic patterns
---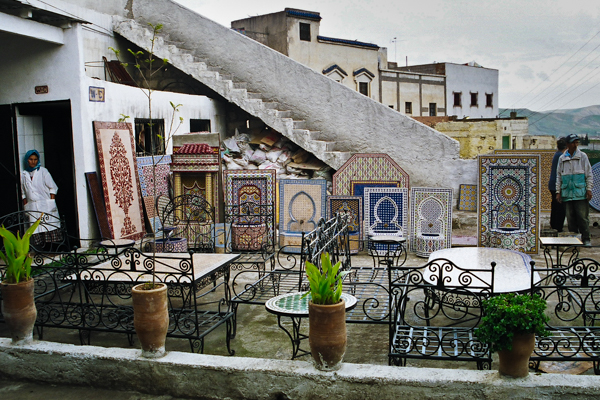 Some finished products.
---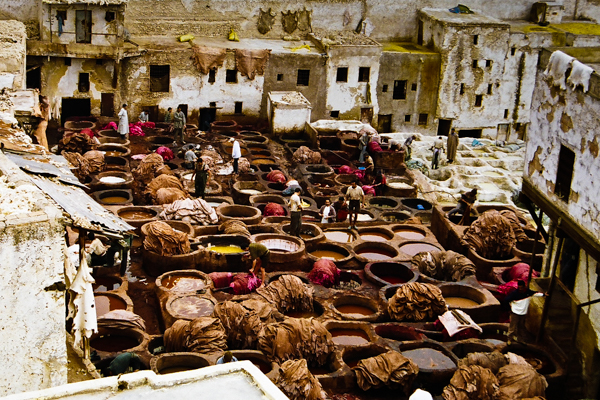 Another place we visited sold leather, but the interesting part was the manufactory out back where the leather was dyed. It's hard to see in this picture, but the vats are full of every color in the rainbow. Gordon, one of our fellow travelers, was an accomplished photographer and showed me the difference a polarized filter made in showing the colors. Since then I've purchased such a filter, but have never had the opportunity to use it (except when I didn't have it handy)!
---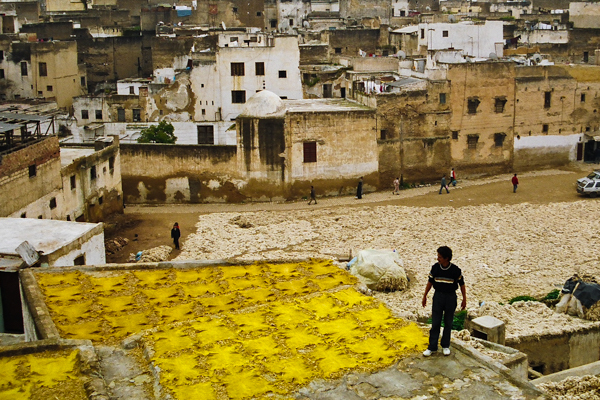 The dyed skins dry on the rooftops. The white substance all around is wool removed from the goat or sheep skins used in dying. It is used primarily for stuffing.
---
To continue our tour with us, click your browser's "back" button and select Marrakech.