A skiing friend of mine who spent many years in Arizona said that Crested Butte was her favorite Colorado area and she used to ski there every year. When PVS offered an outing to that resort, we had to go check it out. After all these years I had forgotten a number of details about this trip and had to research it in our ski club newsletter. I had not remembered any of the disastrous details cited in the trip report -- such as airport closures due to heavy snows or the refusal of the resort to refund any money for nights we missed because we couldn't get there.
What we did remember was the powder snow and a hard-to-reach area of the mountain that we seemed to have all to ourselves.
When I sorted through my pictures for scanning, I couldn't find any that were obviously from this trip. (Remember when photo shops used to at least print the date on the back of prints? Not back in 2003!) Some of the following pictures can be definitively dated to Crested Butte, but others are guesses.
---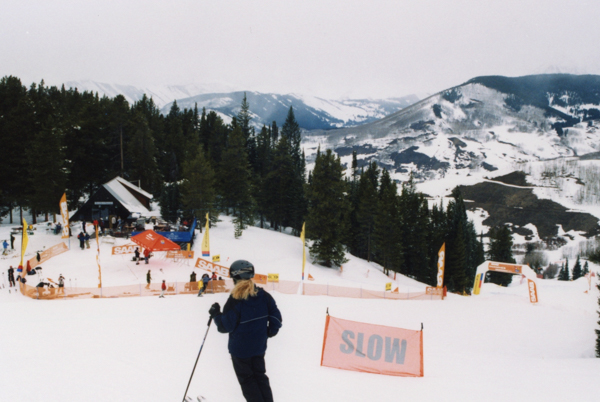 This is the photo that is definitely at Crested Butte. I could use a magnifying glass to read the sign on the building.
---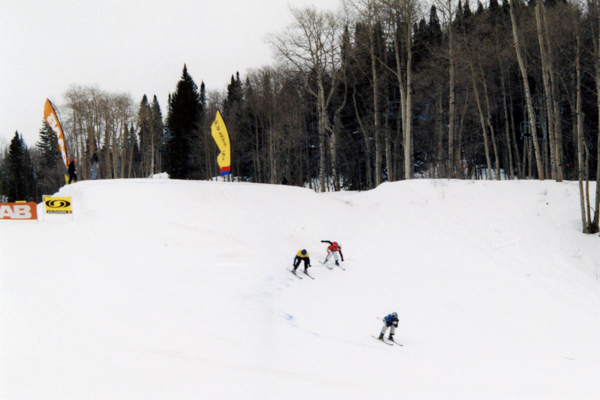 Salomon and Saab sponsored a Crossmax series back in the early 2000s. The races at Crested Butte were during our trip and we had gone up on the mountain to watch. I couldn't find any references to their sponsorship past about 2007 and the Saab-Salomon partnership was terminated in 2009.
Ski cross was added to the Winter Olympics in 2010.
---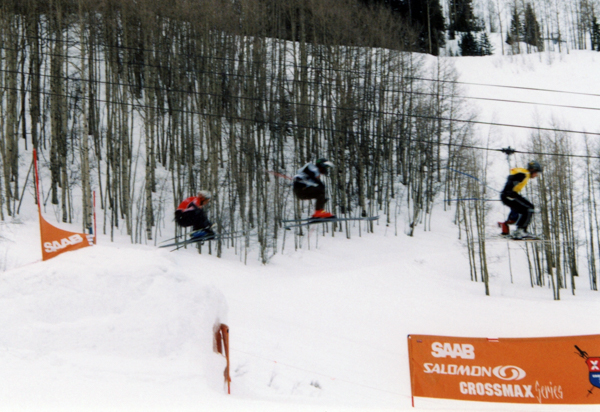 It's easy to see why this is considered an extreme event. These guys have caught some serious air.
---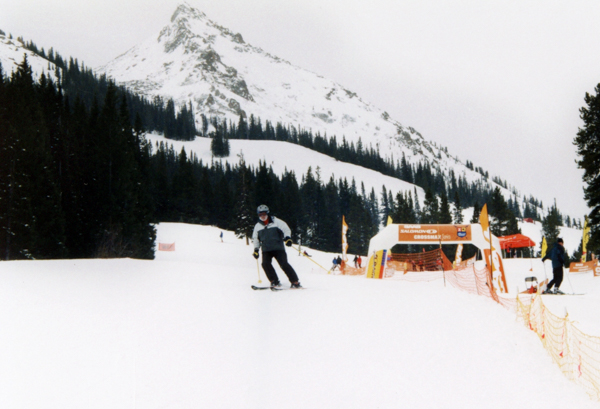 No, Jim is not taking up ski cross. We're just skiing next to the course.
---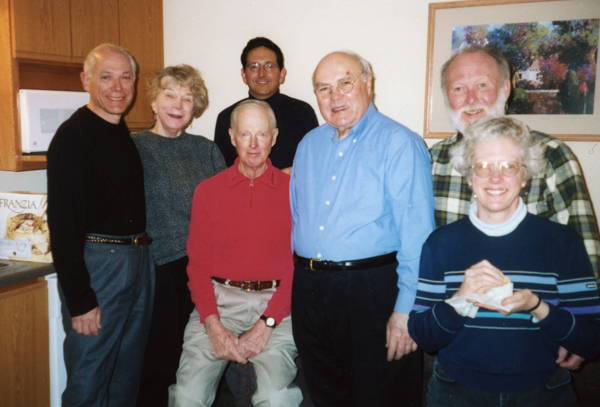 Here's where the picture placement gets murky. When you ski with the same club over many years sometimes it's hard to remember any particular location. Nevertheless I'm betting this picture was taken at Crested Butte. If not, at some other snowy place!
L-R: John Brunelli, Sally Finan, George Welti, ??? in the back, Sheldon Drews, Jim & me. I remember the young man in the back, but I cannot remember his name. He was a member of the club for only a couple of years.
The picture, wherever it is, was probably given me by Bob Marx.
---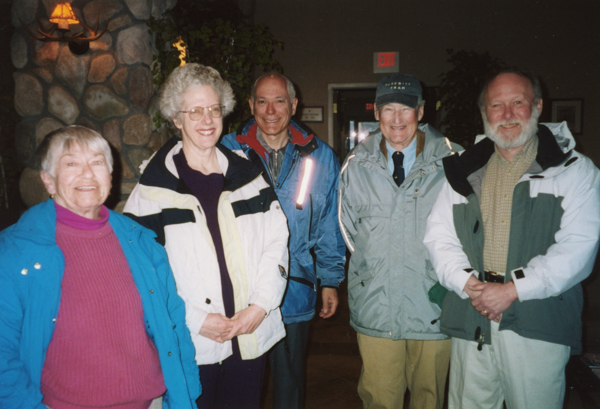 This picture has an even fuzzier attribution. Since it is printed on the same paper as the above image I'm keeping them together.
L-R: Shirley Rettig, me, John, Wally Lukens & Jim.
---
Click your "back" button to return to the previous page or click for our picture album.