First we had to get there. The airline BRSC booked for our PVS contingent, Sabena, declared bankruptcy after the 9/11 disruptions. Our second airline, Swissair, likewise ran into trouble and ceased operations in March, 2002. Our final itinerary was on Swiss, the successor airline to Swissair.
It got worse. Once we had agreed to lead the BRSC contingent, other PVS trip leaders decided to piggyback extensions. I will name no names but one leader offered a week in Morzine before joining the main group in Chamonix. Another leader offered a post-trip option of a week in Courchevel and a Greek Island cruise. Several of our travellers took advantage of one or the other of these trips. I can't remember if anyone traveled on all three. Coordinating the various schedules was a major headache.
As if all this weren't enough, one of our original travelers broke an arm and cancelled. This meant that her roommate now faced a single supplement room charge. We had included trip insurance in the price of the trip, but the insurance company also declared bankruptcy in the wake of 9/11. We ended up eating that expense because she was unwilling to bunk with a stranger from other club. Another of our travelers received a cancer diagnosis and cancelled. After successful treatment, she signed up again over the objections of her daughters, who commenced to call us and complain!
The week prior to leaving, the Morzine contingent, who had made their own airline arrangements, called to say they were stranded at the airport with cancelled flights. We wished them luck, but couldn't do anything but reconfirm our own arrangements. Again.
And then, the day of our departure, we were in the process of heaving a sigh of relief, when another of our travelers called to say he had also had a last-minute cancer diagnosis. We provided him with the insurance information. He was able to pursue his claim successfully.
Oy!
---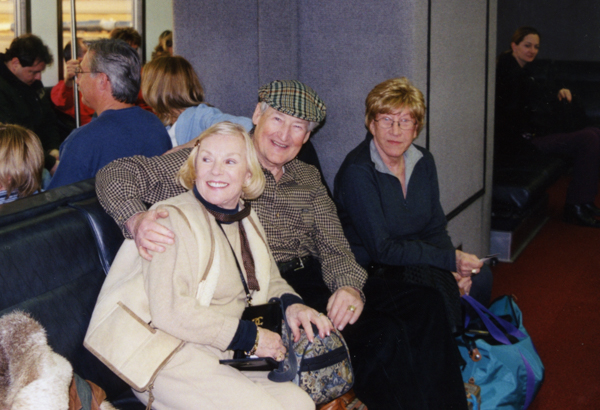 In spite of all the challenges, we did catch our plane at Dulles. Sylvia, Wally and Emmi are looking forward to an adventure.
The overall BRSC trip leader unexpectedly granted Jim and me a business class upgrade. That was the only "perk" we got out of this experience!
---
BRSC placed contingents in various hotels around town. We stayed in the centrally located Alpina Hotel.
---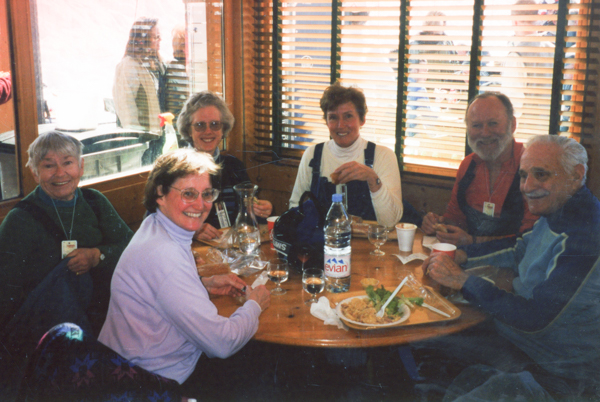 As the Potomac Valley Skiers, we have a commitment to skiing, so the first order of business was to head for the slopes. The club subtitle "and Eaters," meant that food also played a major role.
L-R: Shirley, Jan, myself, Dottie, Jim and Nat. Picture courtesy of Bob.
This was our introduction to tartiflette, the traditional, artery-clogging, oh-so-good staple of the region. The necessary cheese, reblochon, is not available in the US so this is a dish that has to be enjoyed in its homeland.
That's probably a good thing for our continued heart-health!
---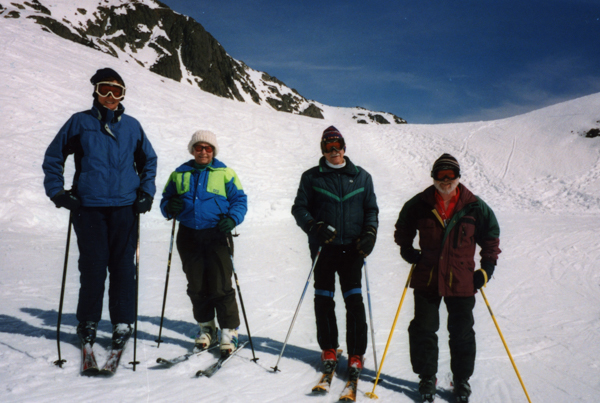 Dottie, Shirley, Nat and Jim ready to work off all that yumminess.
The day was not without incident. The snow cover was not all it could be. Shirley fell on the hard-pack and was headed at high-speed for a cliff when a collision stopped her, but resulted in a black eye.
I was riding up a poma lift when an inattentive skier stopped right in the track. In spite of my screaming "WATCH OUT" in every language I could summon, she waited until the inevitable collision and then skied right into me! That was the first twinge of my knee that bedeviled me for the rest of the trip.
---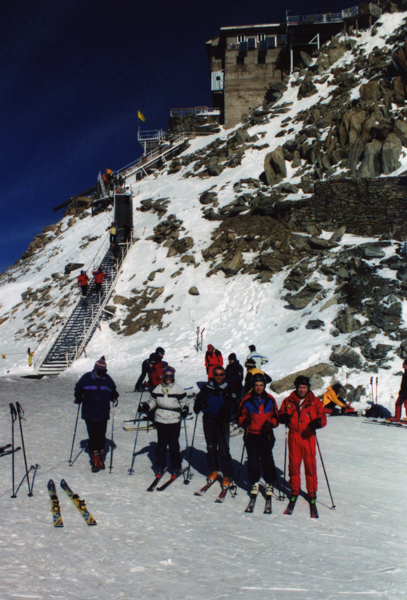 One day early in the trip a group of five including (L-R) Jim Stahler, myself, local guide, Philippe Henry, David Lerner, Reg Heitchue and Bob Marx (taking the picture) banded together to challenge Le Grand Montet and glacier skiing. The plan was to get the group in shape for an attack on the Vallee Blanche later in the week.
It was a great day, but my knee forced me to cut it short. One personal benefit was that the guide insisted on my renting a new, shorter pair of skis. I fell in love with them and purchased a pair after returning from the trip.
---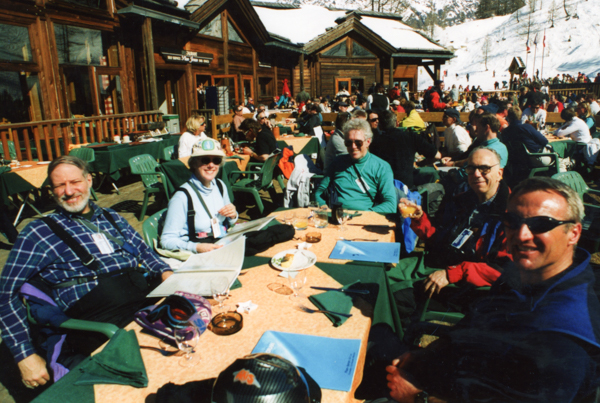 Of course, lunch was a required part of the program. L-R: Jim, me, Bob, Dave & Philippe.
I bailed after lunch and the macho types ramped up the action. As macho types will, they got a little too aggressive. Reg took a nasty fall and dislocated his shoulder!
Philippe and the others stayed with him until he was evacuated to the clinic. The others then came back to the hotel with the sad news. We were all worried at their late return and were glad to hear that the injury was no worse than it turned out to be. Cell phones do have some merit as they would have saved some anxiety.
---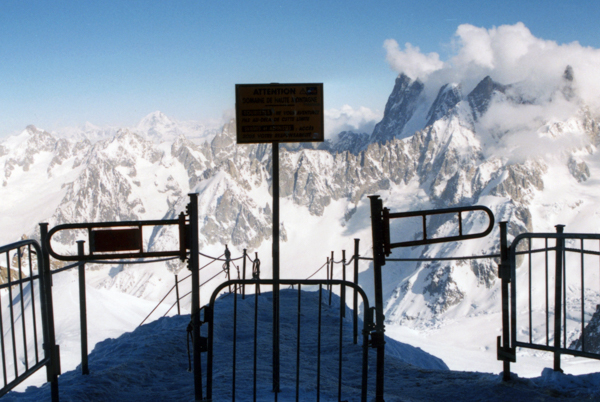 The remaining three did achieve their goal of skiing the famed glacier. I went up to see them off, but didn't trust my knee enough to attempt it. (I expect Philippe was relieved!)
The sign at the entrance says, in French, of course: "Entering high mountain region - Tourists do not venture past this limit - Skiers access at your own risk."
---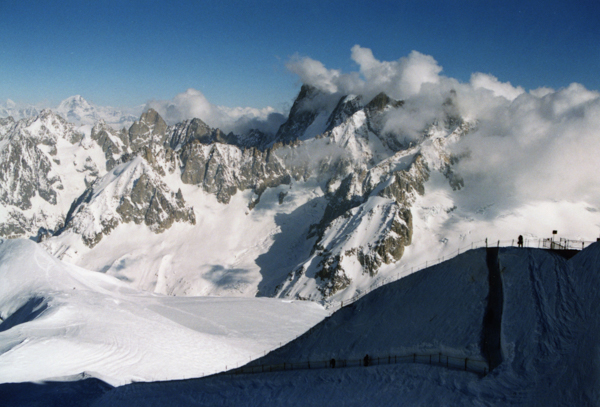 Skiers had to wear crampons on their boots to hike down to the "skiable" terrain.
---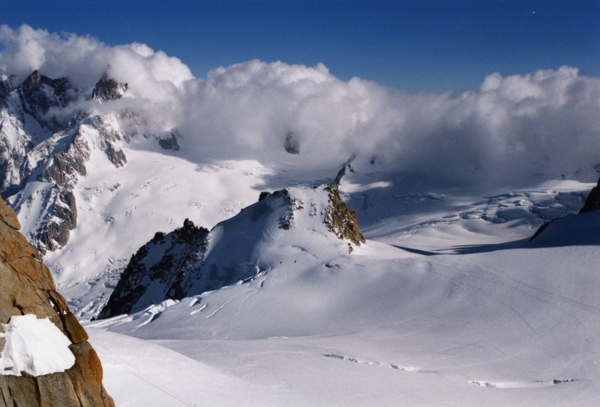 Then they had to traverse a huge snowfield to reach the glacier.
I was disappointed to miss the adventure. By the time we returned to Chamonix over ten years later, I no longer had the desire to attempt it.
There were no mishaps on this day, and the intrepid band enjoyed their expedition.
There were many other skiing adventures, but I did not take along a camera. In those days, no one carried cameras in their back pockets masquerading as telephones.
---
Click your "back" button to return to the previous page or click for our picture album.