After our adventures in Bariloche we flew back to Buenos Aires, this time landing at the downtown airport used for internal flights. Our intrepid guide Maria Irma met us there. She was as memorable as anything we saw during our stay in the area. As an example of her commitment to service, I had a notion of buying some gaucho tack during our stay. She unsuccessfully called numerous tack shops in Buenos Aires in an attempt to find traditional equipment. The only place it could be had was out in the ranching areas. City folks gravitated to traditional English style.
---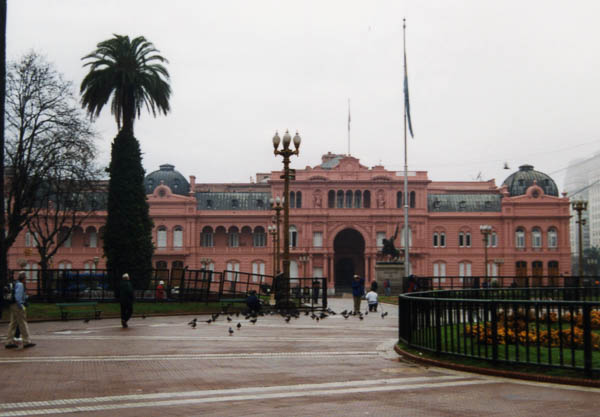 One of the iconic sights in Buenos Aires is the Pink House or Casa Rosada. It is not the equivalent of our White House because it is not the president's residence. It is dedicated to government offices. The balcony to the left of the building is where Evita Peron and others made their rallying speeches with the Plaza de Mayo filled with supporters.
The movie Evita was filmed on location here, not without some controversy.
---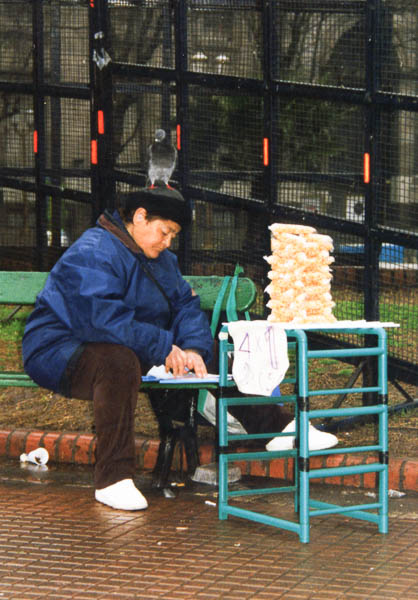 This enterprising lady had a small business on the plaza selling bags of corn that could be used to feed the many pigeons. One of her clients is in residence hoping for spills.
We have since been back to Buenos Aires, but this extensive plaza is no longer open to the public. At last visit in 2010 it was sealed behind chain-link fencing and used only on special occasions with major security. A great pity.
---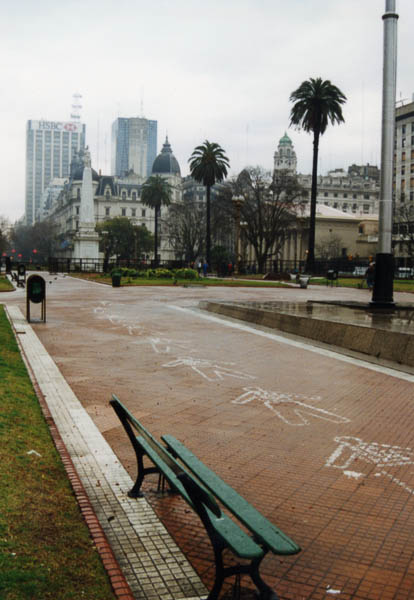 Looking in the opposite direction from the Pink House, the painted memorials commemorate the disappeared -- victims of Argentina's military junta.
Beginning in 1977 two organizations arose. One was the Madres de Plaza de Mayo, mothers who protested the arrest and subsequent disappearance of their dissident children.
---
The other was the Abuelas de Plaza de Mayo, grandmothers who sought to locate the children of the disappeared, who had also vanished into adoptive homes.
Although some of the military leaders were later convicted, most were not and the cover-up was covered up. I wonder if the limitation of access to the plaza is part of an ongoing process.
Recently one of the former dictators admitted that the disappearances happened, but minimized the numbers and stated that they were legitimate acts of war.
The white headscarf is the insignia of the mothers.
---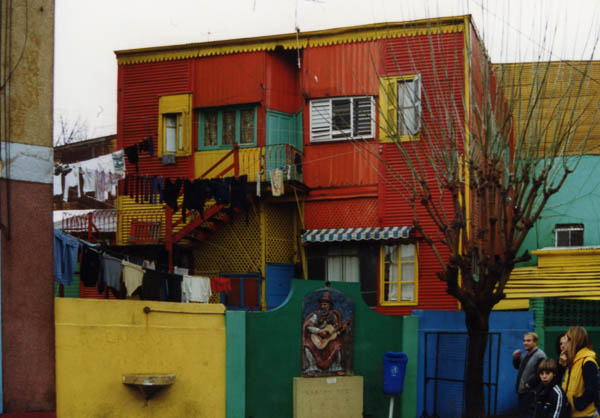 The La Boca neighborhood near the old port was once the home of workers who maintained the ships. They used leftover steel panels to build the houses and leftover paint to decorate them. Nowadays the area is an artists' colony (and tourist trap).
When we visited Buenos Aires in the summer some years later, the area was crowded with tourists, buskers and sidewalk vendors.
---
Click your "back" button to return to the previous page or click for our picture album.