Another day we made an excursion to the Estancia Santa Susana, a working ranch with a thriving tourist sideline.
---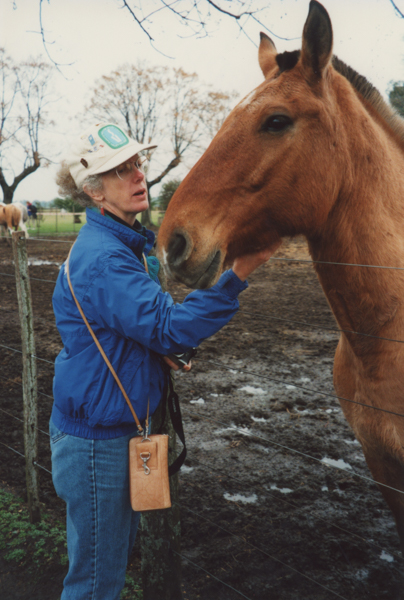 Penny and I gravitated to the horses. This handsome fellow is a Criollo, the native Argentine horse. The horses we rode outside Bariloche were also Criollos.
---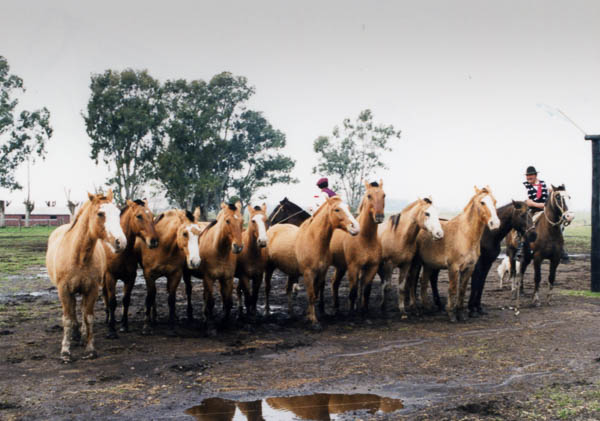 At the ranch the horses are organized in color groupings: dun, bay, roan, etc. and led by a mare wearing a bell. Gaucho wranglers work each troop from horseback. Fascinating.
Argentine Thoroughbreds are highly sought after in this country for polo mounts. As are the Argentine riders!
---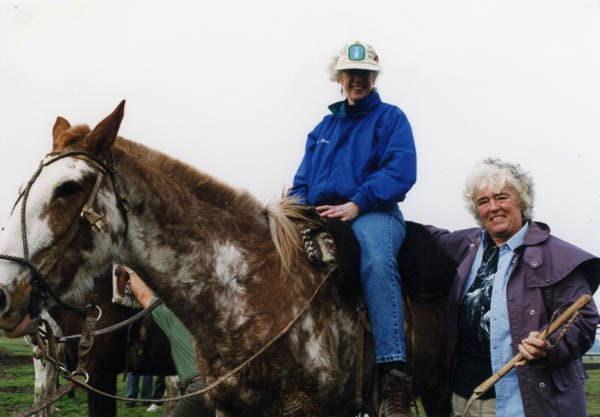 The ranch had several saddled horses for us tourists to sit on. The "saddles" are quite interesting and unlike anything else I've seen. They comprise several layers of blankets and rigid materials, what we would call a "tree" covered with a sheepskin and all strapped down. It was quite comfortable for the rider; I don't know about the horse.
The bridles and reins are handmade from horse skin leather. I was unable to find any for sale.
---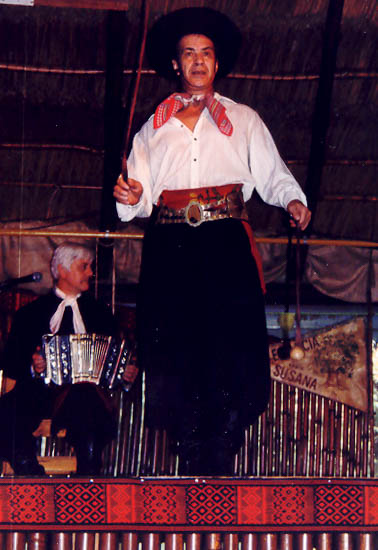 Later that afternoon we had a barbecue dinner and a show featuring gaucho and other folkloric dancing as well as the tango.
The presentation included a detailed description of all the elements of the traditional dress and weapons. The loose trousers were common, although a later introduction, as was the white shirt & scarf. The hat varies from the wide-brimmed hat pictured to a beret or Basque-style hat. The wide belt is covered with coins. The belt was the gaucho's his bank account.
Note the two bolas – one in each hand. These had an active part in the dance. It was hard to see how he didn't brain himself with them. You can see the look of intense concentration. The link above contains videos that demonstrate this dance.
When we visited Argentina again eight years later, the trip included another visit to Santa Susana where we found this same dancer still performing!
---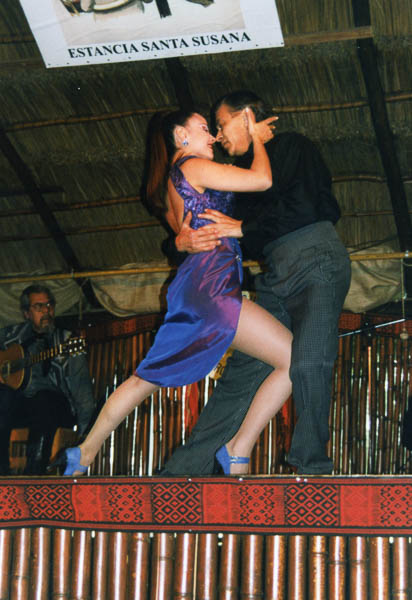 Of course no demonstration would be complete if it omitted the
tango
, which has been placed on the UNESCO Intangible Heritage List. We also visited a tango demonstration in Buenos Aires one night. It illustrated many different styles and included a presentation on the
history of the dance
. The information on the history web site is well aligned with what we were told.
---
Click your "back" button to return to the previous page or click for our picture album.