The city of San Carlos de Bariloche was first developed by the Swiss and it continues to have an Alpine flavor. Additionally one of the major industries is chocolate!
---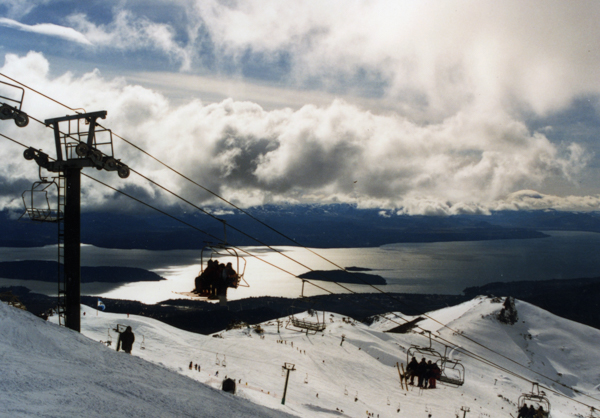 The ski area, Cerro Catedral, overlooks lake Nahuel Huapi, which gives its name to the surrounding national park. We were told that the name meant "Tiger Island" in reference to the ferocity of the former inhabitants of the large island seen to the left of the picture.
The hill on the right of the photo was a place to see Andean condors riding the thermals. We did see them one day – very high up.
---
Penny Hanshaw and Jan & Bob Marx with Condor Peak in the background.
Jan and Bob were early adopters of ski helmets. Now everyone with enough brains to protect wears one.
At the time we were there, there were two adjacent ski areas, but no joint ticket. A few of our group skied the other area and pronounced it "not interesting" so I never tried it. The areas have since merged.
---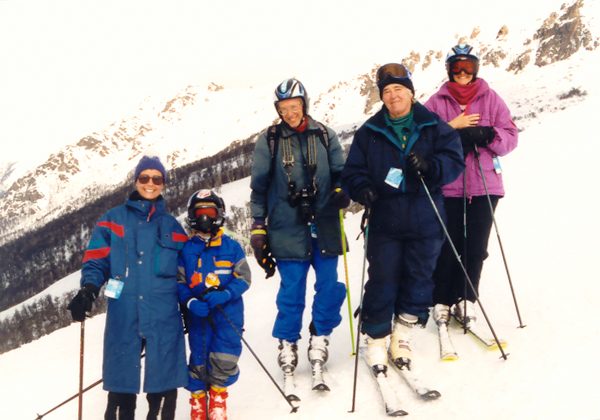 On this day we were joined by Barbara Wilson, on the left, and her young son Jonathan.
The week we were there it seemed like every high school student in Argentina was visiting for a ski vacation. At one lift the six of us were caught up in a rambunctious lift line and Jonathan got separated from his mom who was whisked away on the chair without him. He was pretty upset, but I scooped him up and we had a good ride after all. He stuck close to her after that!
The rental shops not only rented skis, boots and poles, but also suits. The students were easy to locate on the slopes because they were dressed the same in rental outfits.
---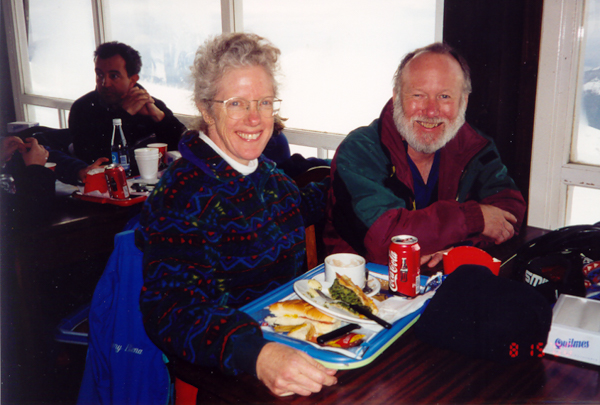 The on-the-slope restaurants were not limited to chili and burgers. The food was quite good.
---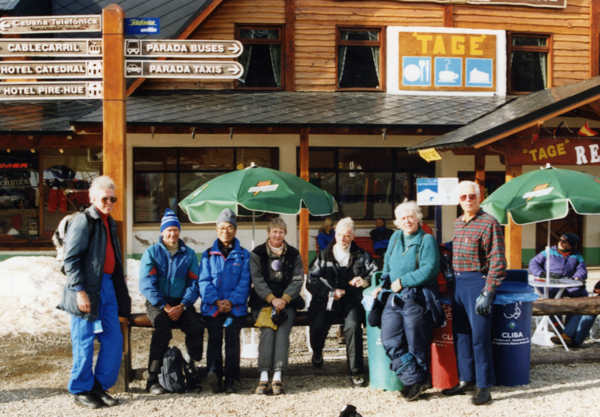 The only fly in the ointment was the distance between Bariloche and the ski area. Every day we had a choice of standard buses or our special hotel bus. We found that the hotel bus was more reliable, but it left too late for the die-hard skiers. It worked fine for those of us who were on vacation.
Left to right are Bob Marx, Bob Knopes, Mike Hatanaka, a couple whose names I don't recall, Penny Hanshaw and Nestor Delavaux awaiting the afternoon bus back to town.
The standard PVS group was augmented by an extended family from New England who heard about the trip from a friend. The unnamed couple was of that family. They were pleasant folks.
---
Click your "back" button to return to the previous page or click for our picture album.