The city of San Carlos de Bariloche was first developed by the Swiss and it continues to have an Alpine flavor. Additionally one of the major industries is chocolate!
I didn't get any pictures of the town, unfortunately. One of the disadvantages of film photography, as opposed to digital, is that I tended to be stingy with pictures on account of the cost and bulk of film. Those were not "the good old days," although I didn't know it at the time.
---
The ski area, Cerro Catedral, overlooks the beautiful lake Nahuel Huapi, which gives its name to the surrounding national park. We were told that the name meant "Tiger Island" in reference to the ferocity of the inhabitants of the large island seen to the left of the picture.
The hill on the right of the photo was a place to see Andean condors riding the thermals. We did see them one day – very high up.
---
Penny Hanshaw and Jan & Bob Marx down closer to Condor Peak shown above.
Jan and Bob were early adopters of ski helmets. Now practically everyone wears one – if they're smart.
At the time we were there (I'm putting this online in 2012), there were two adjacent ski areas, but no joint ticket. I remember that a few of our group skied the other area and pronounced it "not interesting" so I never tried it. I believe the areas have since merged.
---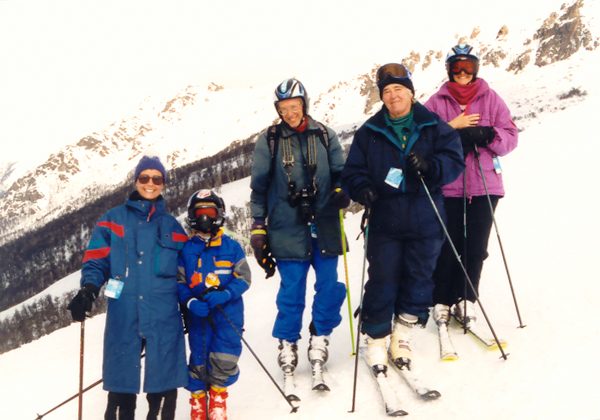 On this day we were joined by Barbara Wilson, on the left, and her young son Jonathan.
The week we were there it seems like all of the high school students throughout Argentina were visiting for a ski vacation. At one lift the six of us were in a rather rambunctious lift line and the little one got separated from his mom who was whisked away on the chair without him. He was pretty upset, but ended up riding up with me and we had a good time after all. Nevertheless he stuck pretty close to her after that!
The rental shops not only rented skis, boots and poles, but also suits. The students were easy to locate on the slopes because they were all dressed the same in rental outfits.
---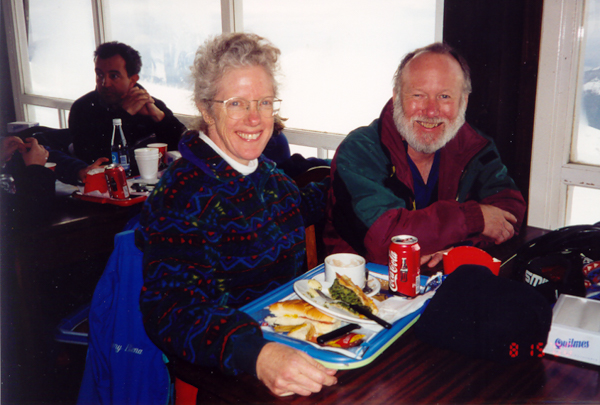 The on-the-slope restaurants were not limited to chili and burgers. As I recall the food was quite good.
---
The only fly in the ointment was the distance between Bariloche and the ski area. Every day we had a choice of standard buses or our special hotel bus. We found that the hotel bus was more reliable, but it left too late for the real die-hard skiers. It worked fine for those of us who were on vacation!
Here we are awaiting the afternoon bus back to town. Left to right are Bob Marx, Bob Knopes, Mike Hatanaka, a couple whose names I don't recall, Penny Hanshaw and Nestor Delavaux.
The standard PVS group was augmented by an extended family from New England who heard about the trip from a friend. The unnamed couple was of that family. They were pleasant folks.
---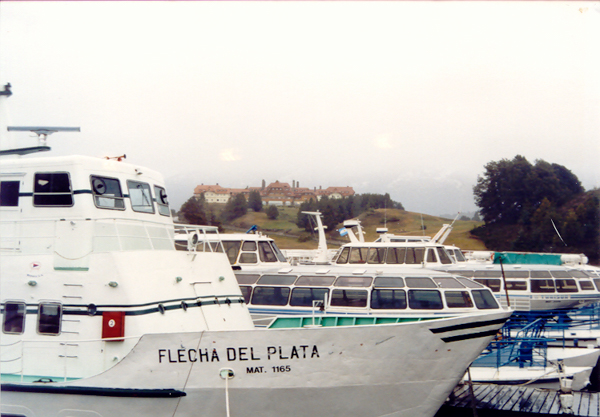 One day there was an excursion on Lago Nahuel Huapi that connected with two other lakes before reaching the Chilean border. We caught the excursion at Puerto Pañuelo in front of the luxury Hotel Llao Llao, which is one of the top resorts in all of South America. Some of our number made a private excursion to this hotel for tea, which I understand was quite lovely.
The Argentine pronunciation of "ll" is not the Y sound we Norte Americanos expect. It is more of a Zh sound.
Llao llao is an edible fungus indigenous to South America.
---
Today, however, we were embarking on the Modesta Victoria for our first leg across Nahuel Huapi. This grand boat was built in Amsterdam and brought to Bariloche by ship, train, and we were told, ox cart. There was once some more information online in English, but now I can only find Spanish references.
It was beautiful.
---
From left to right: Mike Hatanaka, Annemarie Brenner, Dina Taylor, Jim and myself.
---
Jan Marx and stepmom Ardis
---
Annemarie, Dina and Rachel Abraham
---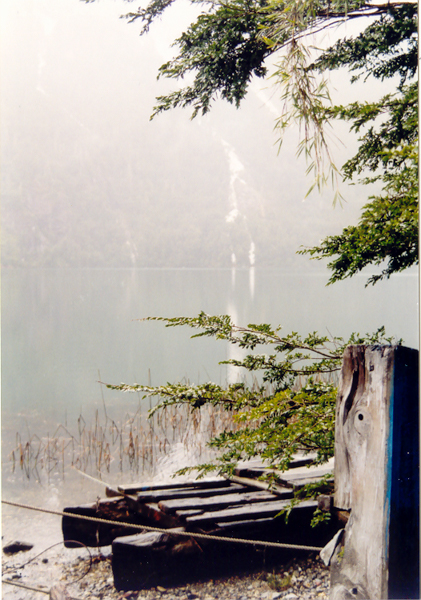 As we travelled along Nahuel Huapi, we were tracing the Argentinian portion of the
Cruce Andino
or Cruce de Lagos. We cruised on the Modesto Victoria to Puerto Blest where we took a bus for a short ride to Puerto Alegre, which is where I took this picture. As you can see, it is quite foggy. The weather continued to deteriorate and we were unable to see the beautiful mountains surrounding the lake. The picture also doesn't show the lovely green color of the water. There must be a lot of copper in the soil around here to give it that vivid green.
---
While we wait for our next boat, we are all looking pretty cold and wet. Laughing is the best way to keep warm!
From the L: Jim, fearless leader Nancy McKinley, Dina Taylor, Annemarie Brenner, Sue Walsh & myself.
This picture was supplied by someone else, but I can no longer tell you who.
---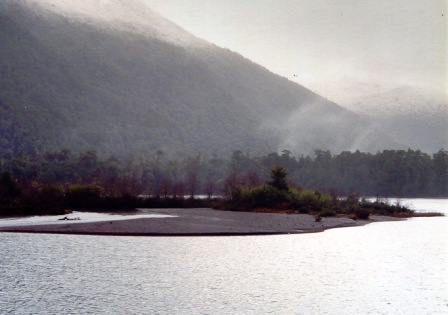 Lago Frias was not nearly as large as Nahuel Huapi. Although it was pretty socked in at this point, you can see the snow line not far above the lake. As we shivered we hoped it was snowing heavily up at the ski area!
---
At the end of the lake we disembarked for a while to warm up (look at the smoke from that roaring fire!) and visit the Chilean customs outpost. Bariloche is much closer to Chile than it is to most Argentine population centers.
After our break we loaded back on the boat for the return trip. Some of our boat's passengers continued on to Chile and we picked up a number of travelers who were continuing their crossing to Argentina.
On the way back, we stopped at the hotel at Puerto Blest for a delicious lunch followed by a hike up & down the Los Cantaros cascade. I ran out of film so no pictures. After the hike Jim could have told you the exact number of steps (a lot), but he no longer remembers.
---
We are celebrating our return to Nahuel Huapi. I don't recall if Ardis smuggled the wine onboard or if she bought it on the boat, but it really helped us thaw out. Look at hot-blooded Jim with his shirt unzipped and coat open!
Penny, who at this point was huddled inside, said that she didn't thaw until soaking about two hours in her hotel room tub!
This excursion so impressed us that we returned many years later to complete the crossing – in the summer!
---
One other excursion was with a smaller group of folks. Three of us ladies: myself, Penny and a woman whose name I can no longer recall, signed up for a horseback riding excursion at a local estancia. It was a great outing followed by an informal gathering with other estancia guests around mate (ma-tay), the Argentine national beverage. It's an acquired taste in my book.
This sheep ranch was, like many others, originally founded and developed by English immigrants. During the Peron years many British-descended landowners were forced out, but as I recall this particular ranch remained in the hands of the founding family.
---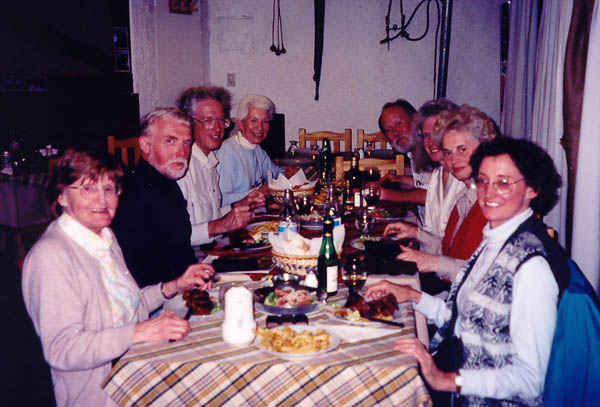 As befits the Potomac Valley Skiers (and Eaters) we had many good meals together while at Bariloche. I don't remember the name of this parrilla, but it was good. There was also a killer fondue place that we visited twice.
But all good things come to an end and we were eager to continue our journey to Buenos Aires.
---
Click your "back" button to return to the previous page or click for our picture album.