Although neither of us ever had a great desire to visit Venice, we decided to spend a couple of nights there shaking off jet lag. We were surprised how much we enjoyed our stay. Our hotel was on a side "street" very near the train station. It was comfortable and the people were very gracious. Our fears of crowds and fetid canals turned out to be unfounded. These both may have something to do with visiting in the wintertime.
I remember having more pictures of Venice, but I haven't located them. I've sent off all of the slides that I can find to be digitally scanned. (I don't remember the last time I dug out the slide projector and screen.) It has been fun to bring these pictures back to life.
---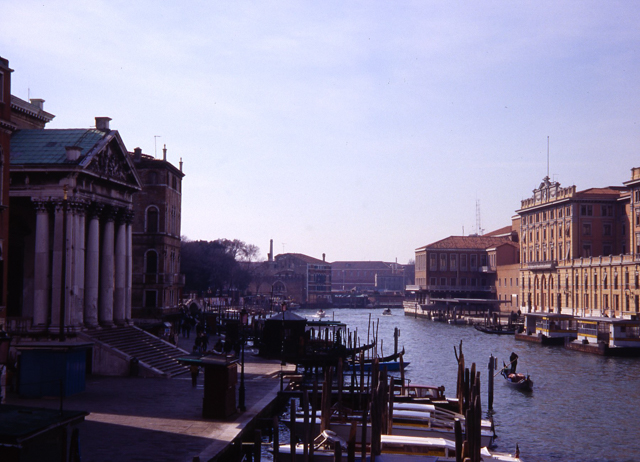 Since we would be leaving by train, we arranged for a hotel near the station, which is the opposite end of the Canal Grande from St. Mark's Square. Nevertheless it was a pleasant walk into the city with all of its attractions.
When we arrived at the airport, we elected to take a local bus rather than the vaporetto. Big mistake! The bus dropped us off on the mainland and it was a hike to the hotel. Had we taken to the water, we would have been taken directly to the train station.
---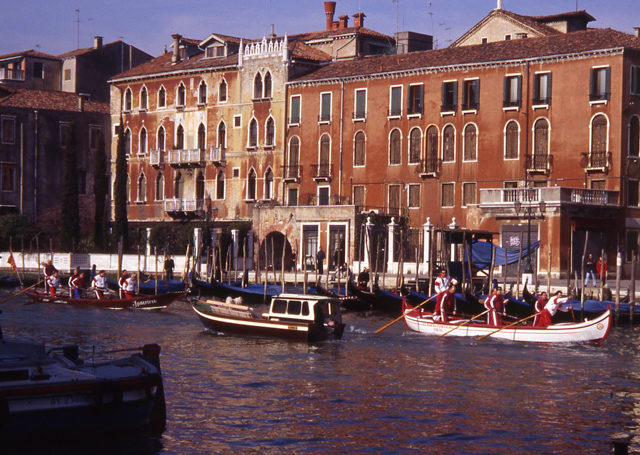 The comment on my slide was "boat race." There are annual races in Venice, but I don't find that any of them are in February or March. The Vogalonga is in May. The Regatta of the Ancient Maritime Republics rotates between the four ancient cities: Amalfi, Genoa, Pisa and Venice. It is in the summer. I suspect these two flyers were simply practicing.
Everything in Venice proper is done by boat or handcart. In addition to the omnipresent vaporetti, water taxis and tourist gondolas, we saw delivery "vans," individual pleasure craft, and trash "trucks."
---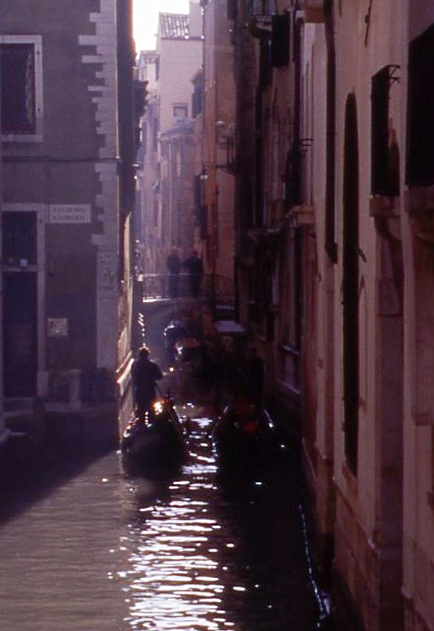 Waterways ranged in size from the Grand Canal, to moderately sized by-ways to tiny alleys like this one where there was just room for two gondolas to pass.
We did not set foot in a boat of any kind while we were in Venice. It may have been that we were afraid to sit down lest we go to sleep. We enjoyed walking around town crossing and re-crossing the canals and exploring tiny tucked-away squares.
We also didn't do much shopping. I did get a colorful papier-mâché Carnival mask that we nicknamed Carlos. Its long hooked nose survived the trip home, but I'm still waiting for an invite to a masked ball! I also bought earrings and a matching bracelet made of silver and glass beads. Many years ago we decided to buy only souvenirs that reflected the local handicrafts.
---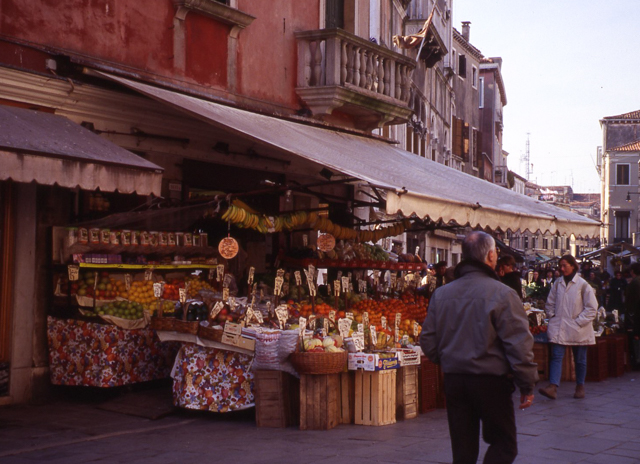 Even though it was winter, there were numerous street markets with delicious-looking produce. Sometime after our visit I read an article in the Washington Post by a woman who had spent two months in Venice specifically to cook. I could relate.
---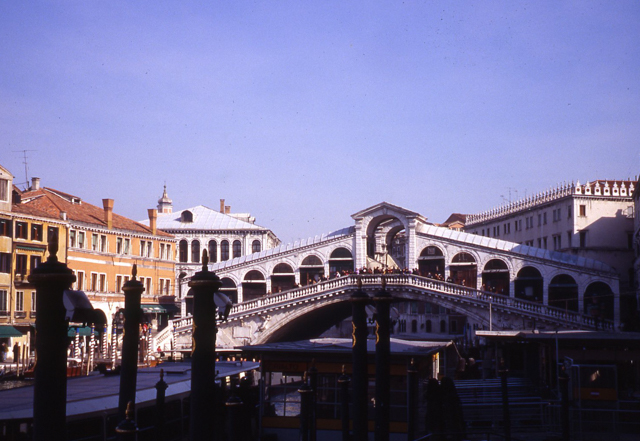 The
Rialto Bridge
is an iconic sight.
---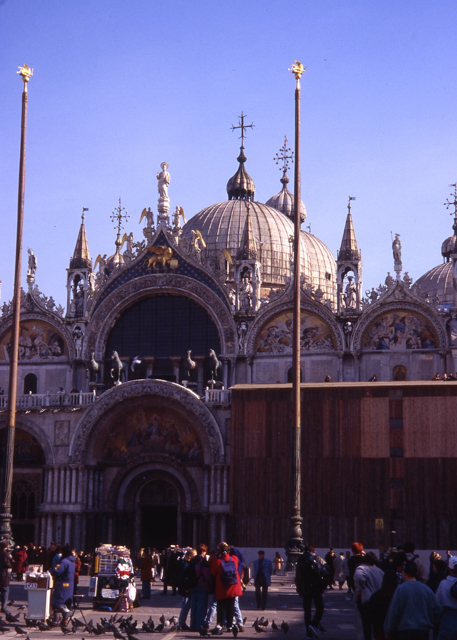 St. Mark's Basilica fronts St. Mark's square. This is the only place we ran into crowds during our stay in Venice. I think it is MUCH more crowded during other seasons.
There was restoration in progress during our visit. The Campanile was closed and completely shrouded in scaffolding.
I don't remember why we didn't go into the church, but we didn't. It may have been closed for restoration or services or perhaps it was just too crowded to get in.
The only things I remember about the square itself are high-end shops and pigeons. Lots of pigeons!
---
The afternoon before our departure we bought tickets at the Santa Lucia train station. We don't know why but an old man, who appeared to be a street person, took a violent dislike to Jim and followed us around shouting in Italian. To our immense gratitude, several of the locals banded together to help us escape him. We were concerned that he would be there the next day, but he wasn't.
Our challenge getting to the station the next morning was hauling our extensive luggage (two pairs of skis, boots, and bags containing ski clothes and regular clothes for two weeks) across the canal to the station. The Ponte degli Scalzi bridge had many steep steps up then down. It was the most grueling effort of the entire trip!
---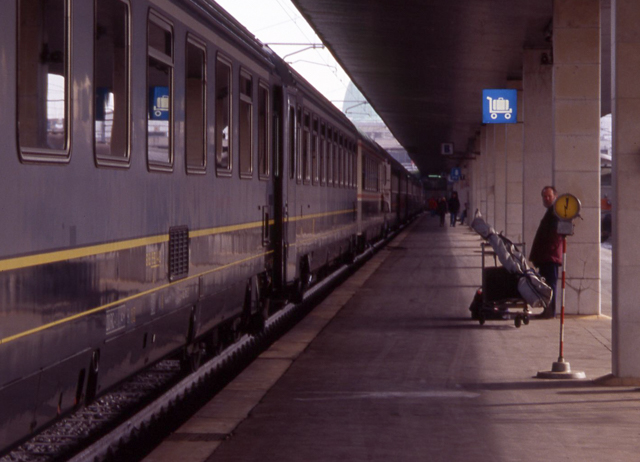 We snapped up a luggage cart at our first opportunity!
The Italian train system is notorious for erratic service, but this portion of our train travels was trouble-free. I still remember the meal I had on that train: a Caprese salad with the freshest possible ingredients. Where they found the tomato at that time of year I don't know.
A smooth ride through the Alto Adige wine country brought us to Bolzano. The bus terminal was just a short walk from the train station.
---
Click your "back" button to return to the previous page or click for our picture album.