The Bolzano bus dropped us off at the bottom of town. We needed to climb up-up-up, with our luggage, to the hotel. We had been dreading this climb. On our honeymoon days it had been a struggle just carrying skis. Imagine our surprise when we found that it was not at all difficult. Even though we were twenty years older, several years of living on a farm had made us much more fit than we had been as full-time desk jockeys.
---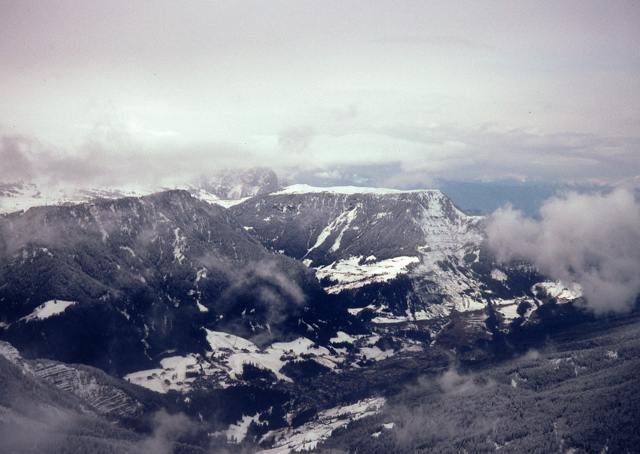 Val Gardena (or Grödental) is in an area called the Süd Tirol (by Austrians) or Alto Adige (by Italians). After WWI it was transferred to Italy. The Austrians have not forgotten!
The valley was isolated until modern times. Even when we first visited in 1977 it was difficult to reach. Since then a new road has been built and the drive is not so harrowing.
This isolation has preserved a unique culture and language, Ladin, dating back to the Roman conquest. Italian and German are also universally spoken. English not so much.
---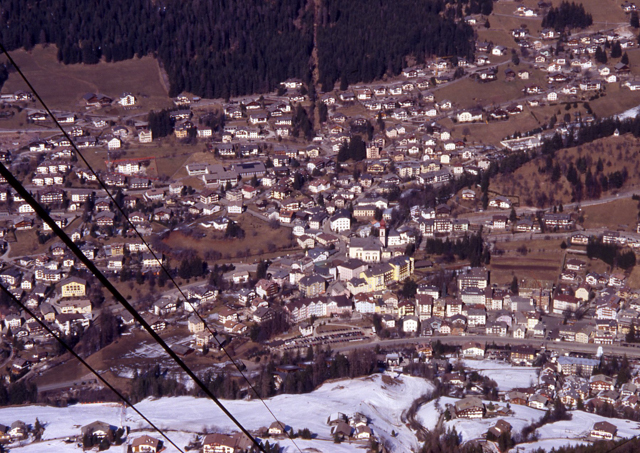 As is often the case in the European valleys, the towns are below the snow line and it's necessary to take lifts to get to the skiing. Getting up directly from Ortesei is a particularly precipitous ascent on a tram.
There are two leaving directly from town. This one goes to the Seiser Alm, which is primarily configured for cross-country skiing although there are some downhill runs.
---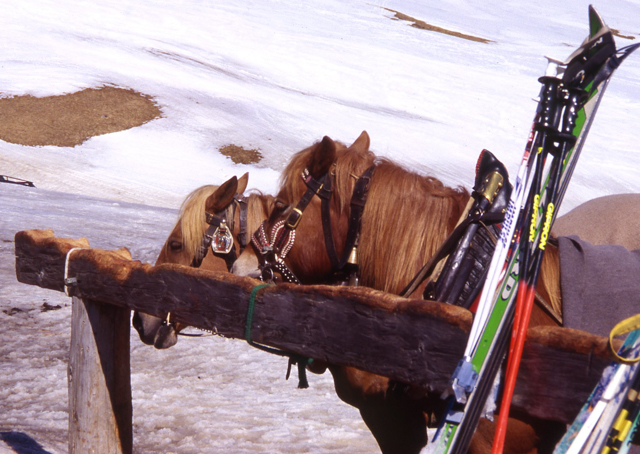 No, these are not "detachable quadrupeds." A popular activity on the Seiser Alm (Alpe di Siusi) was sleigh rides. In fact we saw a party of horseback riders on the day we skied there (one of which was riding a very lovely Arabian).
---
This is the Sella Massif as viewed from the Seiser Alm. The Dolomites are very beautiful!
I need to say a few words about our hotel. We found it just as delightful as on our previous stay even though we didn't get a room with a balcony and view.
There was one funny-sad incident. Our assigned dinner table was next to a young Italian couple. Over the week their relationship deteriorated. First they quarreled over plans for the day. Then conversation flagged. The woman began to flirt with Jim and tried to play footsie. Before the week was out she disappeared. We don't know if she went back home or found someone more accepting of her advances!
---
This picture is from the upper segment of the tram leading to the
Seceda
area on the opposite side of the valley. The station where you switch from this segment to the lower one can barely be seen in the upper left of the picture.
A tram similar to this one was destroyed by a US Marine jet the year following our visit to Ortisei. That incident, which was at a different resort about an hour away, killed twenty people. I think they should have jailed the pilot & navigator and thrown the key away rather than acquitted them.
These old images were taken at high altitude with Ektachrome, which tended to cool shades. That's why there is so much blue in the pictures in spite of my attempts to warm them up.
---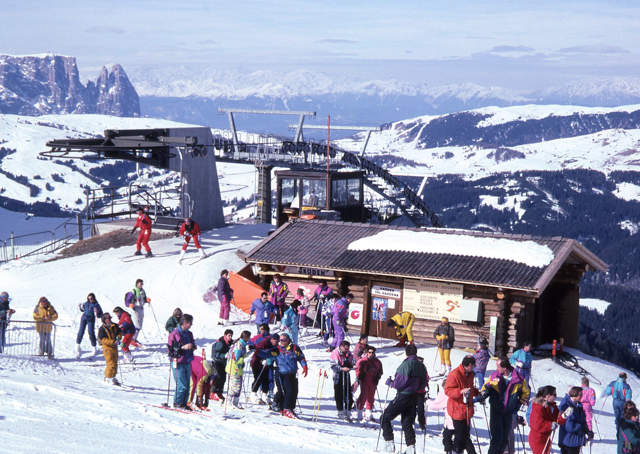 The Ciampinoi area is reached from Selva (Wolkenstein), a ski bus ride up the valley from Ortisei. Seceda can be seen in the background to the right.
---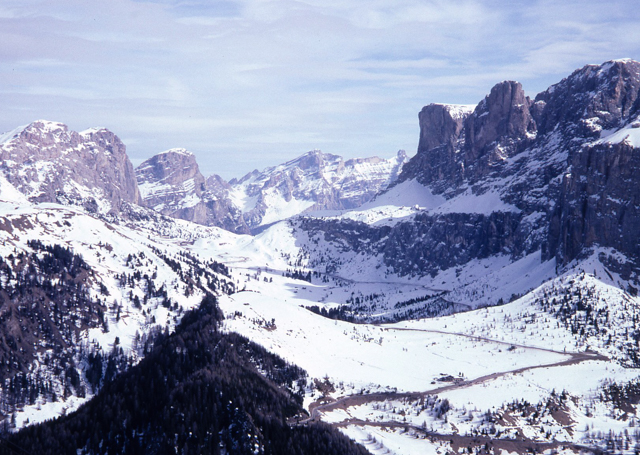 The Grödner Joch or Passo Gardena leads from Selva into the Badia valley. The rock formations are very typical of the Dolomites. It reminds me of Yosemite.
Not too far from here, about 1 1/2 hour by road, German hikers discovered Ötzi, the Ice Man, in 1991. I don't know if the exhibit in Bolzano was open at the time of our visit, but if we ever get back it will be on the itinerary!
---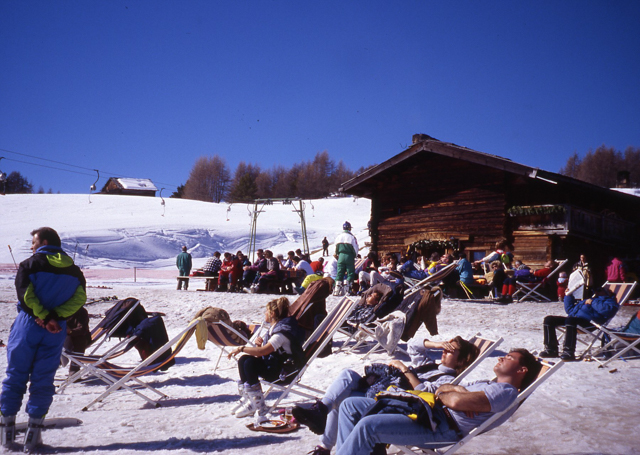 Italians put the "holiday" into a ski vacation. All of the areas are dotted with little "refugios" where you can buy tasty food, decent wine and some time in a chair for sunbathing.
What you might miss in snow conditions you gain in mild weather and sunshine.
---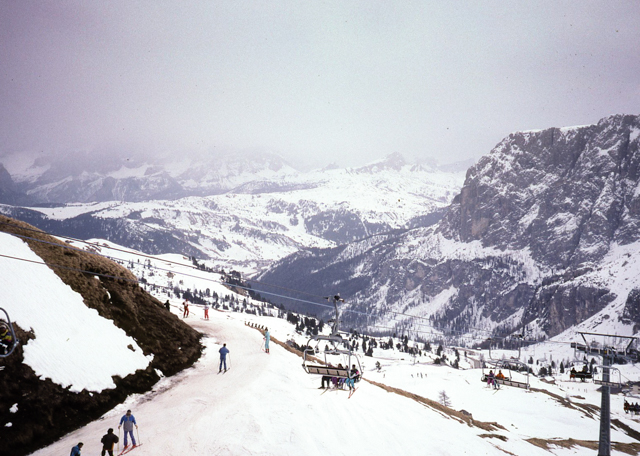 I'm not a fan of the "bucket list" concept, but if I had such a thing, completing the Sella Ronda would be on it.
---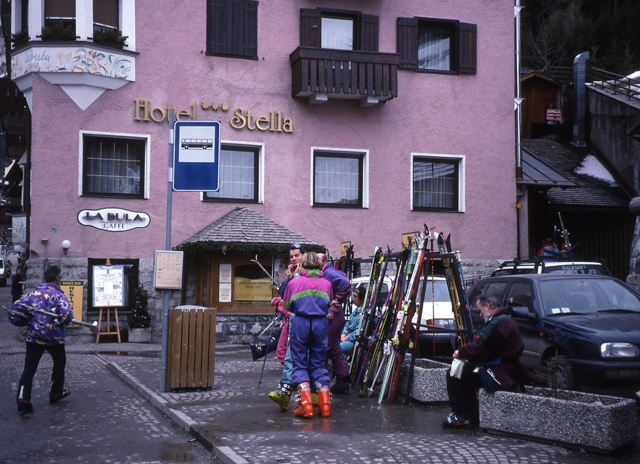 At one point in the tour, skiers come down into Selva/Wolkenstein to cross the main highway. The route takes you across the parking lot, into a garage, up some stairs and across someone's back yard to catch a lift.
As we waited for the bus back to Ortisei we got lots of chuckles at the confused skiers. We reassured many of them that this was in fact the correct route.
---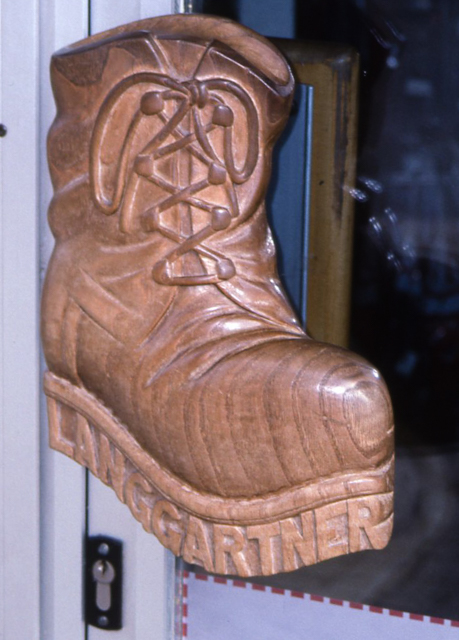 Ortisei is a wood-carving center and it was evident in the various "door knobs." Years ago many European towns in the Alpine regions had very clever doors, but recently I've not seen this as much.
On a previous trip to Austria I had purchased a hand-carved crèche that had come from this general area of Italy. I was determined to purchase some kind of wood carving on this trip. I had hoped to get a camel or two for the crèche, but they were too expensive. I ended up getting a tiny hen sitting on a nest of eggs.
On our skiing day off, we went shopping for a different kind of wood carving. There was a display in one of the streets featuring the work of local artists. Willy Messner's work attracted us.
---
We wrote down Mr. Messner's address. Armed with a map of the town and some general instructions from the hotel, we sallied forth to find him.
Ortisei has many classic alpine neighborhoods and our search took us through several. The way was steep.
---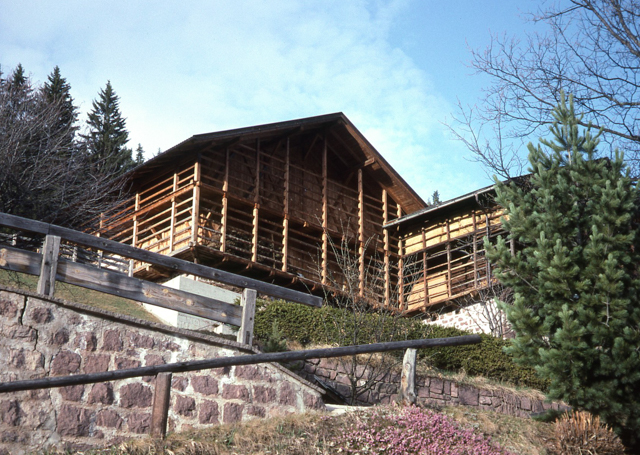 On the way, we passed a "hand carved figurine" factory. The large structures in this picture hold the wood while it cures.
The figurines are mass produced with a machine driven by an artisan who traces an existing figure. The machine then "hand carves" two or more replicas. Depending on the desired end product, they may then be hand-colored or otherwise finished. Doesn't quite seem to justify the high price to me!
We wondered what we would find at Mr. Messner's.
---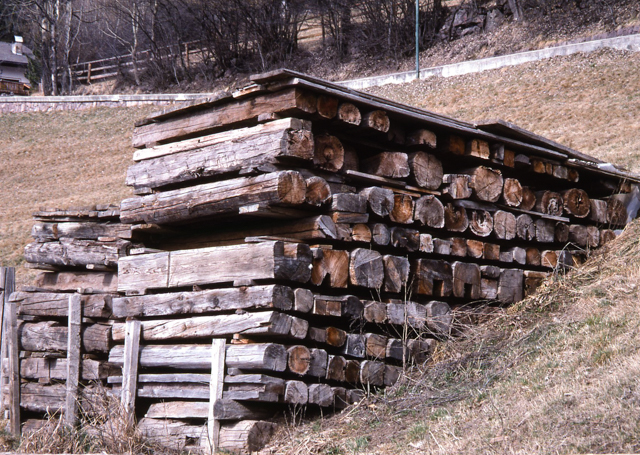 We found a much smaller cache of wood curing there. I'm sorry I didn't get a picture of Willy and his wife, who were delightful folks. I'm glad I can make do in German because neither of them spoke English.
---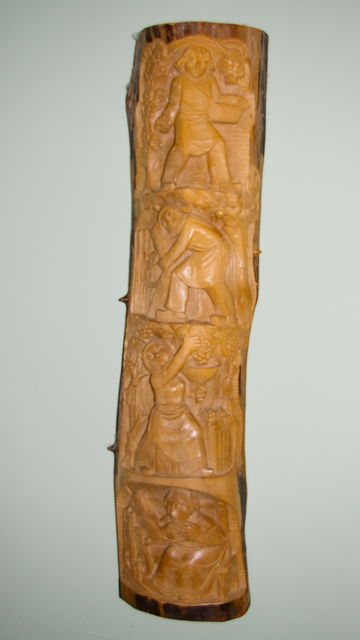 They offered us wine while we looked at samples of his work and the types of designs he could produce for us. We chose a "four seasons" concept and negotiated a price. They didn't take credit cards, so we ended up getting cash from an ATM in the village and paying in advance. We wondered how dumb we were, but our trust was well placed. The carving arrived safely some months later and we have enjoyed it for many years.
---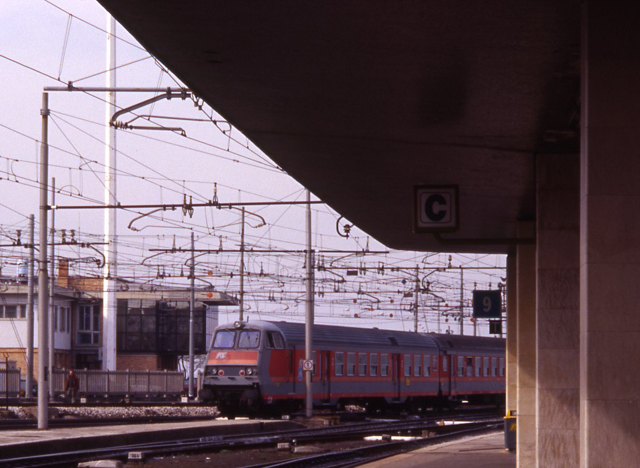 Finally our time in Val Gardena was up and we had to leave. We decided to revisit the scary mountain roads that we had experienced on our first trip to Val Gardena so we booked the return bus journey via Kastelruth (Castelrotto). Yep, those roads are just as narrow and twisty as we remembered. Without guardrails.
The train trip to Lyon was not as painless as the trip from Venice. We were held up for several hours in Milan due to a late train. We were confused by our seat assignments and got into the wrong car by mistake. That got worked out. Then we discovered that our US travel agent, unaware that European cities typically have more than one train station (Lyon has THREE), routed us into one train station and booked a hotel adjacent to another. Between the late train and the station mistake it made for a very long day, but we snared a taxi and arrived at our hotel in the wee hours. The bar was closed, but Jim wheedled a beer from a sympathetic desk clerk. We got at least a little shut-eye.
The next morning we caught a city bus to the airport where we met our friends for the ride to Val d'Isere.
---
Click your "back" button to return to the previous page or click for our picture album.