Val d'Isere ranks as one of our all-time favorite ski resorts. We had traveled there before with PVS leaders Bob & Margaret Wyckoff and were looking forward to returning. We have since traveled there again with PVS, but found it much changed in the intervening 22 years.
---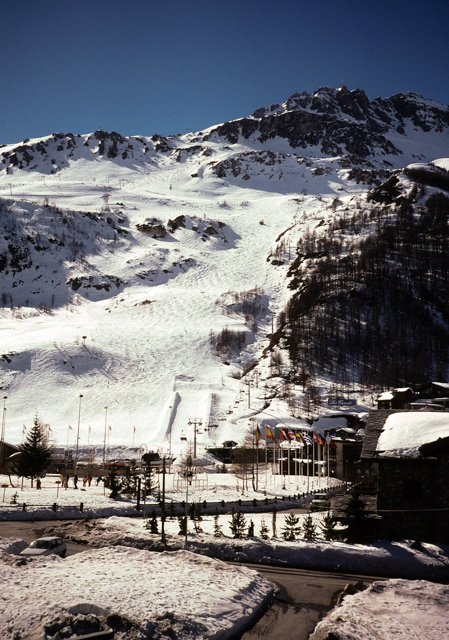 We don't always get a view and we don't always get a balcony, but on this trip we got both. Our room was also quite spacious (but don't tell anyone).
European hotels in general don't have standardized rooms like most US hotels and motels. There are always some folks who get better rooms than others. This was our turn to luck out. Some in our group were very unhappy about their accommodations so we kept quiet about ours.
None of us were particularly happy with the hotel because of conflicts over meal service. They thought we were noisy. We thought they were rude. Eventually they stuck us into a private room away from the main dining room and did their best to ignore us. Rude! On our most recent visit to Val d'Isere, Jim and I were amused to see that the hotel no longer exists under the same management. Maybe we weren't the only ones they offended!
Val d'Isere is one of the handful of European resorts that offers any approximation to ski-in-ski-out accommodations. Although we had to walk a bit to the base of the trams, which are not shown in this picture, or to the chair, which is, we didn't have to take a bus at any time during our visit!
---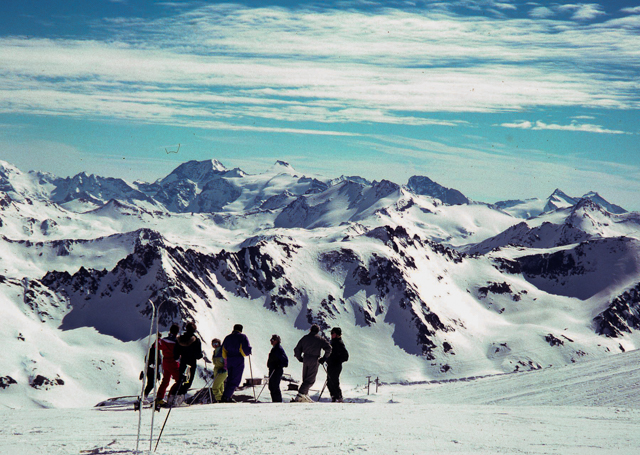 You feel like you're on top of the world. The Dolomites are more picturesque, but these mountains have their own majesty.
---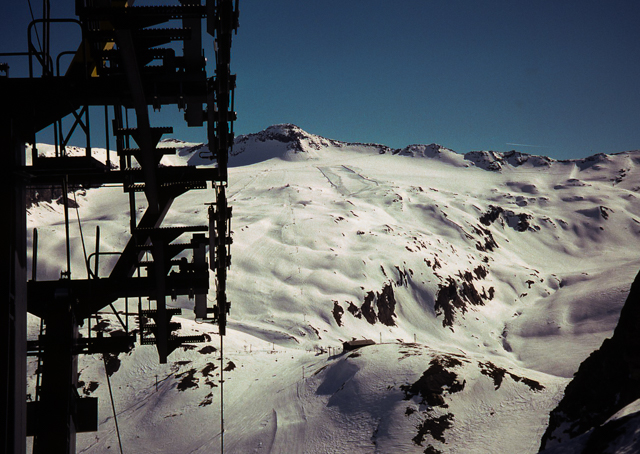 One day we joined some of our friends on an expedition to a neighboring village called Le Fornet. This is one of the things we really enjoy about European skiing – it's not a question of which on-mountain restaurant you will visit – it's a question of which village. Where, of course, there is always a choice of restaurants.
It takes several lifts and runs to get to Le Fornet including this unusual lift that takes you up and over a ridge then down the other side. How often do you ride DOWN a chair lift?
Typically European skiing is above the tree line and that is certainly true of Val d'Isere.
---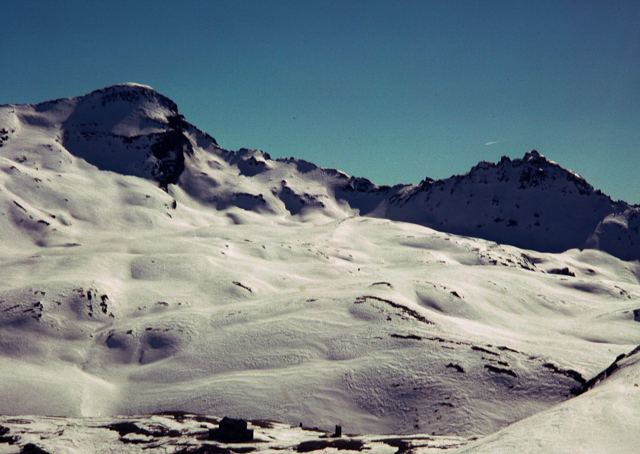 On the way we passed a monument to Hannibal, shown in the lower part of the picture. This is believed by some to be part of the route he used when crossing the Alps with his elephants to attack Rome in the 3rd century BC. The exact route is controversial, however, and most historians favor a more southern crossing. Of the passes referenced in the link, this route wo
---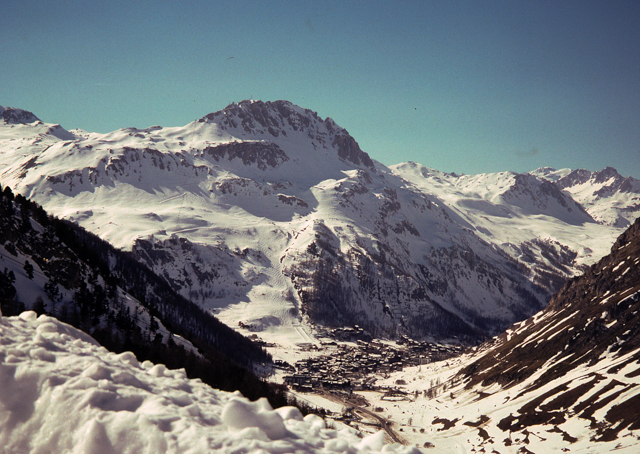 Le Fornet is in sight. In spite of the bare-looking slope on the right, there was plenty of good skiing on the way.
---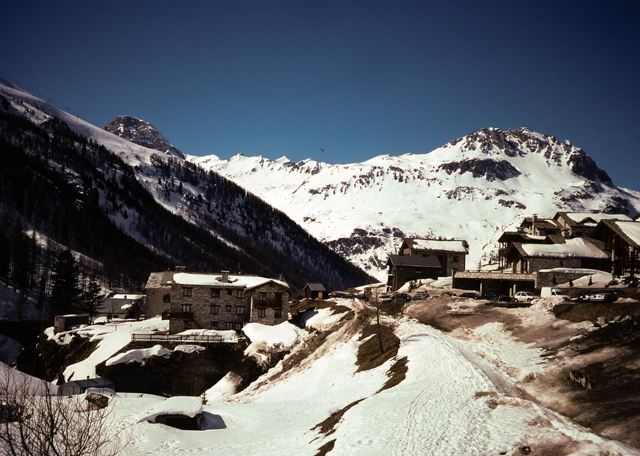 As we neared the village the snow cover got thin. 1997 was not a terrific snow year for the Alps. Even so there was significant avalanche danger from the softening snow. The week we were there an avalanche in a different location killed some skiers and their guide. They were skiing off-piste, but we could see the search party from one of the chair lifts. Sobering.
There have been occasions when avalanches have come all the way down into this village. Google "Le Fornet avalanche" to see a selection of videos.
---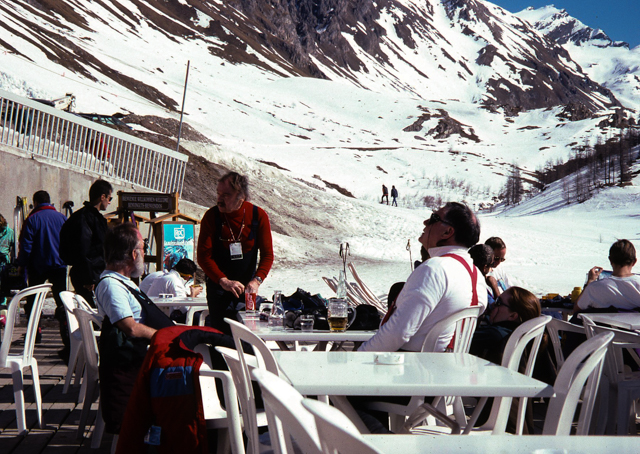 Lunchtime! Reg Heitchue isn't in the picture, but from L-R are Jim, David Abraham, Dick Comerford and Christy Comerford (reclining to get more sun).
After lunch we skied back into Val d'Isere on a very long road rather than zigzag up and down the slopes.
There were good eats in Val d'Isere too, of course. One favorite was a little stand that sold Grand Marnier crêpes! You don't tuck into one of those babies until you are done skiing for the day. Yum!
---
On days when the thermals were right, the paragliders came out. One afternoon Christy Comerford took a tandem ride. (We think her mom was the one who really wanted to take the flight, but she had injured her knee and couldn't.)
---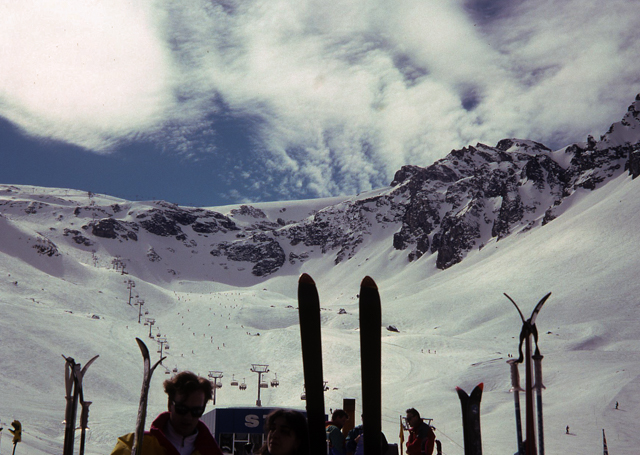 Another popular lunch "destination" is Tignes, which is in an adjoining valley. It qualifies as a ski area in its own right. It is full of modern hotels and condos – no quaint chalets here.
---
Click to see a panorama cobbled from a sequence of pictures that I took from the top of one of the runs out of Tignes.
Someday I may learn Photoshop so that I can combine the images into a true panorama.
---
Click your "back" button to return to the previous page or click for our picture album.