The year after we returned to the DC area from our exile in California, we signed up for a PVS excursion to Stowe, VT. It was a great group of people and, even better, used the Amtrak Montrealer for the travel portion.
Well, better in theory. Our first idea was to upgrade our train tickets to include a bedroom. There was one available for the trip back, but not the trip up. No problem, we could sit with our friends on the way up. Problem! Our group got on the wrong side of the conductor on duty. He decided to take revenge by turning off our car's heat when he rotated off in NYC. It was a bitterly cold night and the car got colder and colder. Eventually the water supplying the bathroom froze. We were all unhappy campers when we disembarked at our station in Waterbury.
The trip back was also a challenge. We arrived at the station on time and waited. And waited. And waited. Eventually the train arrived, but there were problems with the car where PVS had booked seats (another cranky conductor?). It was unusable so Amtrak arranged for a bus to take our group home to DC. Jim and I and at least one other couple, however, had reserved bedrooms so we were good to go on the train. It was a nice train ride -- and it was also our anniversary! We had brought along some champagne for the occasion.
The bus with the rest of the PVS participants arrived in DC before the train did!
Jim & I had ridden the Montrealer in the past without memorable incidents: once all the way to Montreal and at least twice for ski trips to Vermont. Amtrak discontinued the route in 1995. If this service had become typical, that's understandable.
But enough whining. The skiing in Stowe was wonderful and we had a great time.
There are a couple of ways to follow us on our trip. I've tried to make the narrative a complete summary, but I've used many links to other web sites to provide additional details and sometimes pictures. You can either stick with the basic narrative or explore the various links. At the time this album was created the links were all valid, but the WWW is in constant flux and that can change. If you encounter broken links, please send us some email.
---
We stayed at the Stoweflake Inn. It has since gone MUCH more upscale, but it was still quite comfortable for the time.
There were convenient shuttles to the ski area and the village. There was even a walking trail to the village center.
Breakfasts were included and this was the first time I ever heard of steel-cut oatmeal. We had breakfast one day with our friend Jenny Larson and she asked our waiter if the oatmeal was from steel-cut oats. He was clueless. She ordered the oatmeal anyway and was disappointed. Now that I have made the acquaintance of steel-cut oats, I can assert that they are different. Better in some ways, not in others.
RIP, Jenny.
---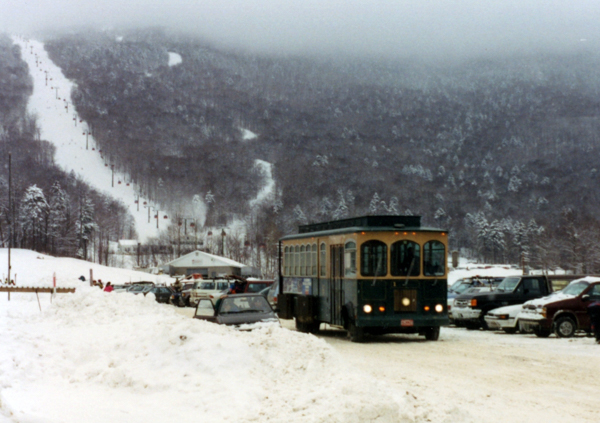 The shuttles ran regularly plus our trip leader, Jack Peoples, had rented a group van for those who wanted more personal service. We never used the van ourselves.
Heavy snow and bitter cold may have kept us off the slope one or two days. There is a reason that the club seldom sponsors trips east of the Continental Divide anymore.
---
The snow made for some beautiful sights.
---
I don't think you could call it "champagne powder," but there was a lot of it. It was one of the first times that I actually enjoyed skiing in deep snow, so I don't think it was too heavy.
---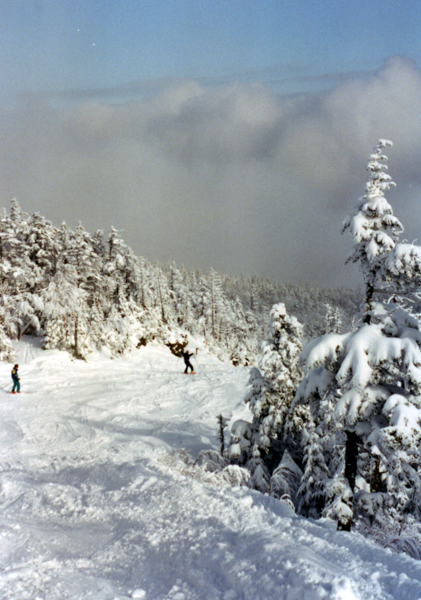 There was certainly no cause to complain about crowds.
Jim and I had a memorable last-minute ski trip to Sugarbush one year. A big storm came through in March, we took an unplanned few days off, and hopped a train north. It was like skiing on whipped cream on our own private slopes for a couple of days. It warmed up and turned to mush just in time for the NYC crowds.
We relaxed in the bar and chuckled over people grousing about bogus snow reports. The day before it really had been heaven!
---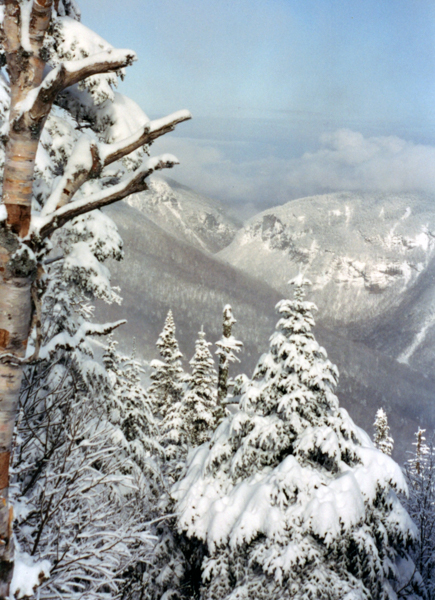 Speaking of heaven....
---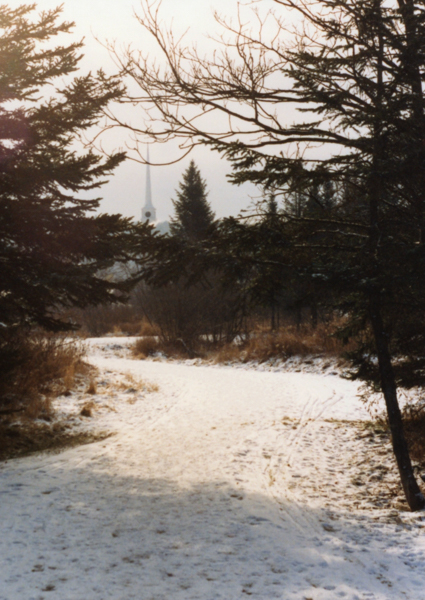 On our customary day off we hiked into Stowe village for lunch and a bit of exploration. There was a pathway between the Inn and the village center.
---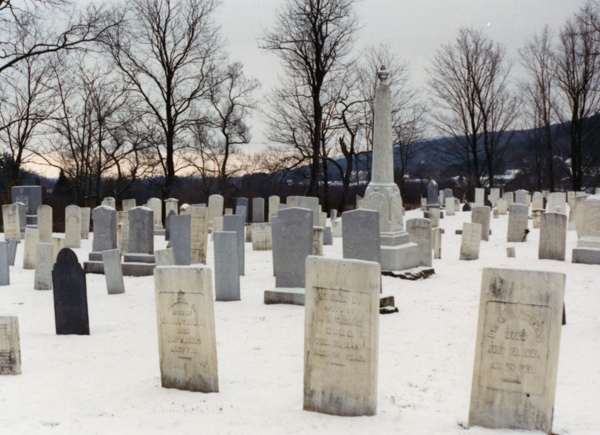 I'm a sucker for cemeteries. This one was SO New England!
I don't know why I didn't take more pictures since I clearly had a camera, but this is the only one. It is a charming village.
---
Two of our much-loved and missed PVS friends: Nat Seeman and Mary Jane McCarthy.
Nat and another club member were at the time vying for Mary Jane's affections. We were rooting for Nat and were glad he got the prize. Mary Jane had excellent taste!
It was a wonderful trip with unexpected challenges and unexpected joys.
---
Click your "back" button to return to the previous page or click for our picture album.