While we were living in California (1986-1992), Jim was intrigued by an investment strategy of investing in companies you do business with and like. We made some good stock choices based on that strategy including buying shares in Alpine Meadows Ski Resort. We had been skiing at Alpine Meadows for years and discovered that we not only liked the area, but the company was exceptionally well run.
Alpine Meadows Corp. also owned Park City, Utah. That one is still on our list even though we no longer own stock in the company -- they did a reverse stock split to get rid of the small investors just before the location of the 2002 Olympics was announced. Park City was to be one of the venues. Not that we're bitter or anything. Even so we more than doubled our investment.
The company has since been restructured and gone through a number of ownership changes. We've lost track.
One of the benefits of being a stockholder was attending the annual stockholders' BBQ at Alpine Meadows on Labor Day weekend. I don't know why we only took advantage of this once.
---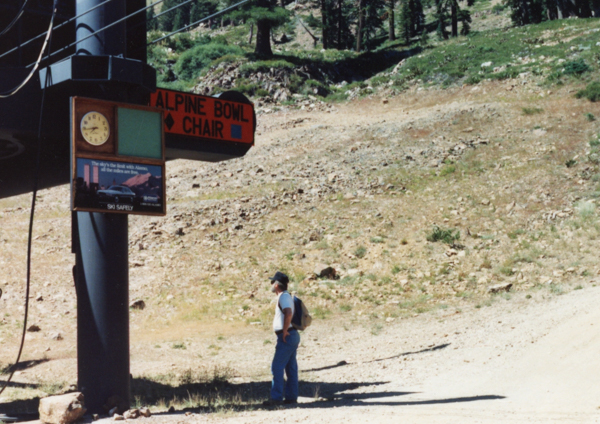 When we weren't meeting or eating BBQ we hiked around the ski area.
Jim is pondering the Alpine Bowl chair.
One of the smart things that the company had done was use profits to buy water rights and snowmaking equipment rather than spiffy new high-speed chairs. When the drought of 86-92 settled in, Alpine Meadows may have had slow chair lifts, but they had snow. They turned a profit every year of the drought.
Many resorts that were not as far-thinking went under and Alpine picked up hardly-used high-speed quads at fire sale prices.
---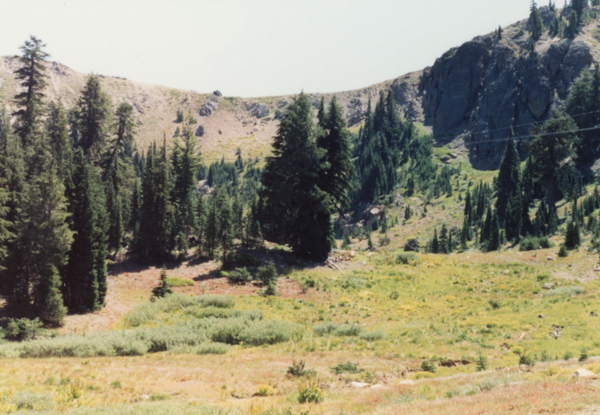 This is what Alpine Bowl looks like with no snow.
We didn't hike all the way up! It's plenty steep coming down.
---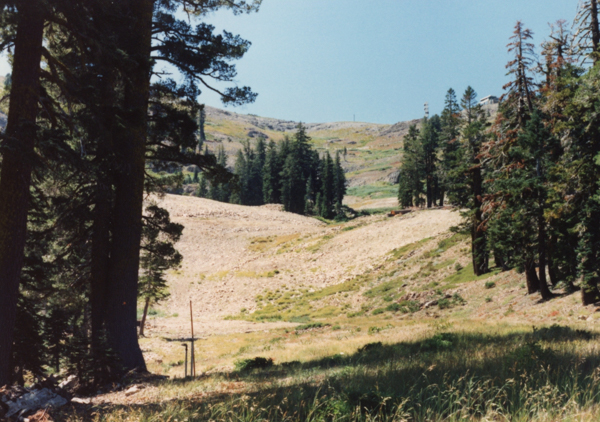 This run is aptly named "Rock Garden."
It would have been easy to sprain an ankle in that scree.
There was all kinds of detritus lying around that people had dropped over the years. I found a beat up Blue Ridge Ski Council badge that may have been left over from some Western Carnival.
---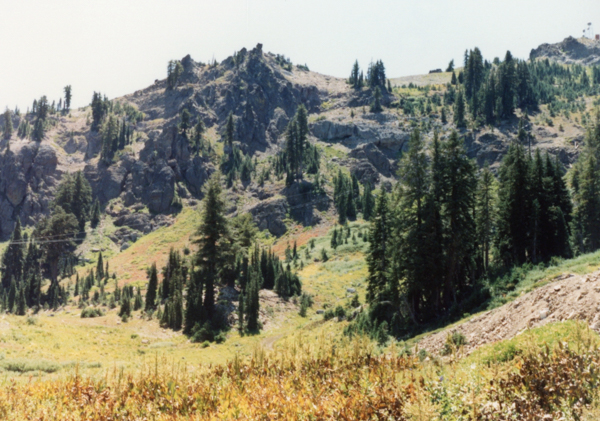 One of our favorite areas, Sherwood Forest, was on the other side of this ridge. The runs on the Sherwood side were mostly blue. The ones on this side of the ridge were double-black. One was named "Our Father." I skied it once and definitely said a prayer for protection before staring down.
---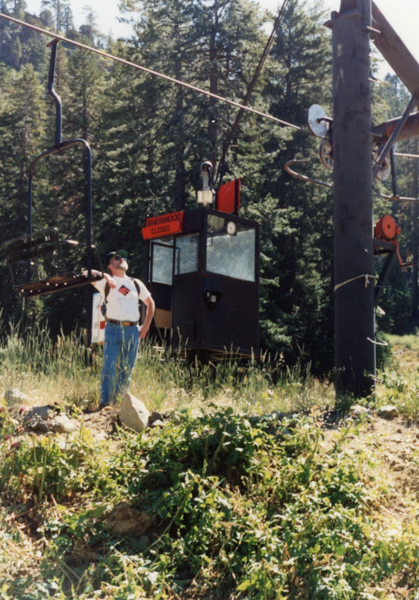 This two-person chair, I forget what it was called, was the way to get to Sherwood Forest. There was also a mid-point for beginners. The sign on the lift operator's cabin here at the mid-point advises us that Sherwood is closed. No kidding!
It has long since been replaced by one of those second-hand high-speed lifts.
---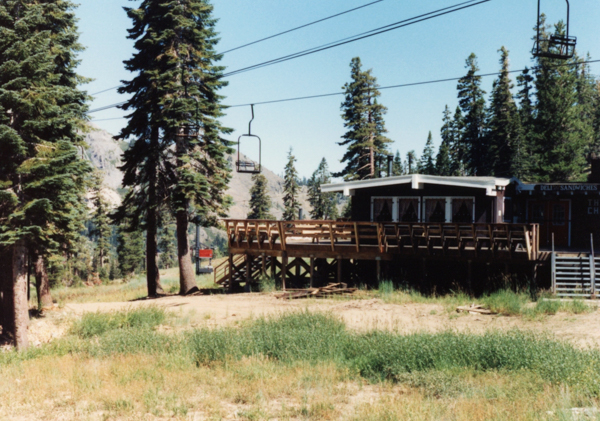 The Chalet was the only mid-mountain eatery and it was jammed on the weekends. No problem finding a table right now but getting service would be a tad problematic.
---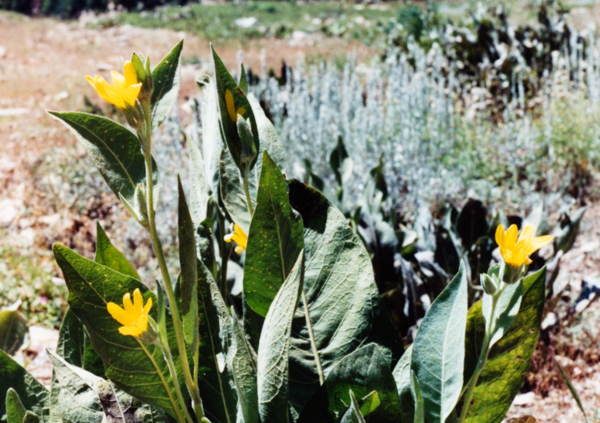 There aren't many summer-fall flowers in California because of the summer dry season -- even in a normal non-drought year. This is one of the few showy natives we saw on our hike. It's aptly called "mule ears."
Tahoe skiing, especially at Alpine Meadows, was one of the reasons that we had agreed to relocate to California. The drought made it easy to come home.
---
Click your "back" button to return to the previous page or click for our picture album.