We lived in California from 1986 to 1992. This was probably the only visit we made to the DC area during that time and I don't recall why. In any event we took the opportunity to visit two Smithsonian galleries that had opened while we were away: The National Museum of African Art and the Sackler Gallery.
---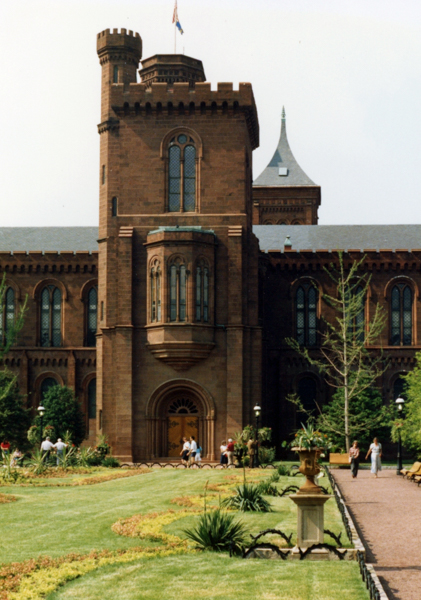 The iconic Smithsonian Castle is not the home of many exhibitions, but we have been to several programs hosted in the old library.
---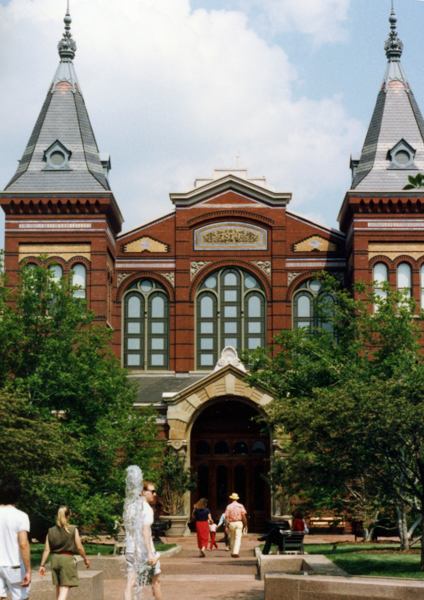 The Arts & Industries Building has always been one of our favorites.
This wonderful building was closed for twelve years awaiting renovation, but I'm happy to see that it has been stabilized and partially reopened in 2016. The Wikipedia article has some detail on the restoration.
One of the Smithsonian programs we attended before moving to Lexington included a tour of this building during the time it was closed. It was heart-breaking to see the deterioration at that time.
---
Although the Museum of African Art had been part of the Smithsonian for some time, the new gallery on the Mall was only opened in the 1980s. Most of the structure is underground.
---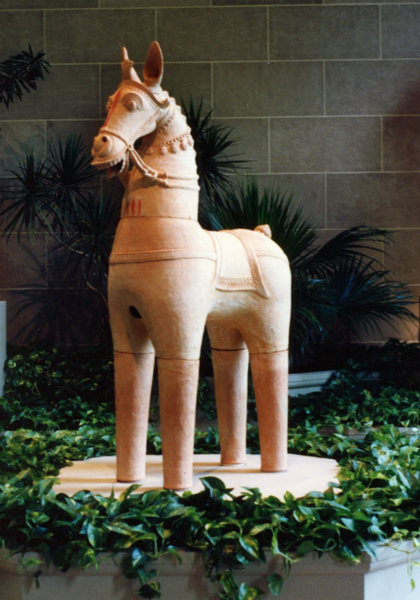 This terra-cotta horse from India was on display in the Sackler Gallery. The description states: "The horse is the most common form of terracotta presented to the gods. Since the time of the earliest conquerors who rode horses into India more than three thousand years ago, these animals have been associated with power and prestige. Though relatively rare in India today, horses remain symbols of kingship and military might."
The Sackler Gallery was controversial at the time it was built and remains so today. Charles Lang Freer, who donated his collection and money to build the Freer Gallery, stipulated that the collection remain intact and that no other items be exhibited there. After his death, additional items were added, but there was still spirited discussion when the Freer was connected to the Sackler. This is one reason that the connection is underground, so the Freer building still seems to stand alone.
The most recent controversy is about to what extent Mr. Sackler should personally be associated with the opioid epidemic.
---
Click your "back" button to return to the previous page or click for our picture album.