In 1986 we relocated to California and new jobs. Although it was a difficult decision to leave Virginia, one of the things that appealed to us was the potential for regular skiing at Tahoe. How could we know that 1986 was the start of an extensive six-year drought that would dramatically limit our skiing?
Nevertheless in 1987 we joined with a group of fellow skiers from Tandem Computers to rent a ski cabin in Truckee, CA. It was not a typical A-frame or pseudo-Swiss-chalet. It was a geodesic dome! It wasn't particularly suitable for its purpose, but the price was right and we rented it for a couple of years.
---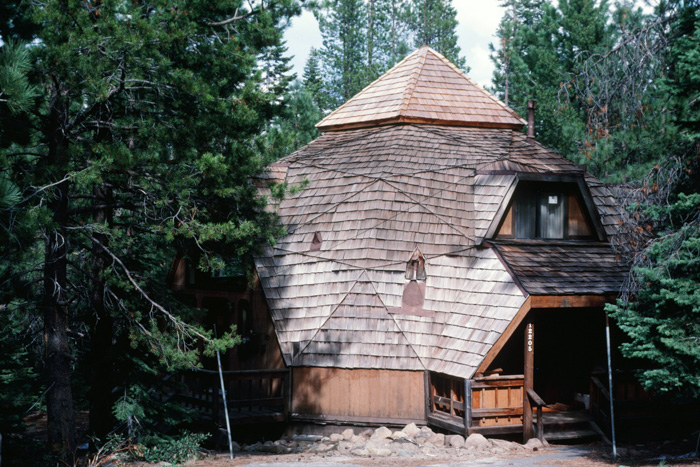 Our home away from home. We skied several weekends each season, but these are my only pictures.
These pictures were taken in the spring when what little snow we had received had melted.
The procedure for the cabin was first-come-first-served, so whoever came up first got their choice of bedrooms. There were two downstairs and three upstairs in addition to the loft space. The downstairs bedrooms were everyone's first choice because it was possible to stand up while getting dressed. The shape of the dome meant that the upstairs bedrooms had sloping ceilings that limited head-space.
The loft was the last choice because of the lack of privacy.
I think the "cap" was a fairly new addition made necessary by a roof that was prone to leaks.
Heating the space was also a challenge. To keep it warm downstairs, the folks upstairs were broiling.
---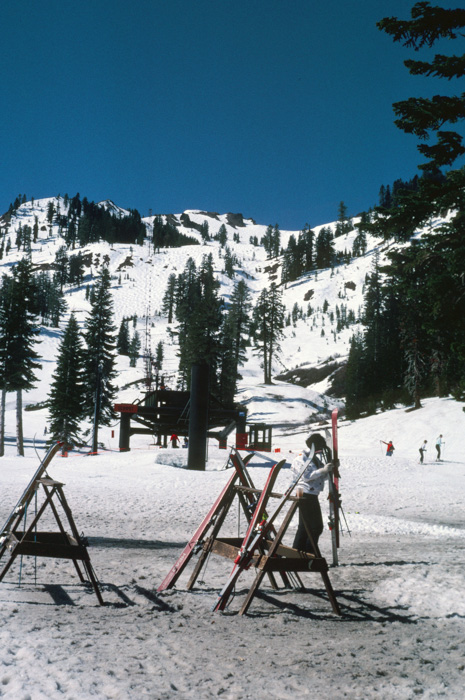 The sad state of the snow is evident here. We've seen better conditions at Alpine in June during decent snow years.
This is Yellow Chair, which runs from the Chalet restaurant to the base of Alpine Bowl.
In the years leading up to the drought, Alpine Meadows invested in snowmaking equipment and water rights while other local resorts were buying high-speed detachable chair lifts. This meant that at least Alpine HAD snow, however limited. As a result, they made money during the drought years and were able to buy used high-speed lifts from bankrupt ski areas at cheap prices. Smart management.
---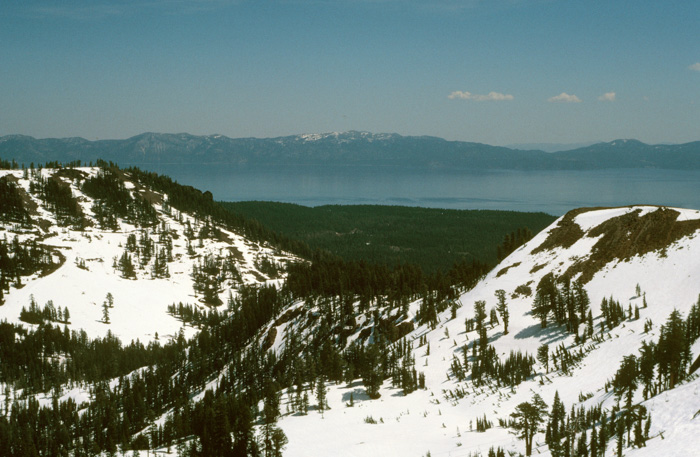 Lake Tahoe seen from the top of Alpine Bowl.
Not much snow cover on either Scott Peak or Alpine Bowl.
---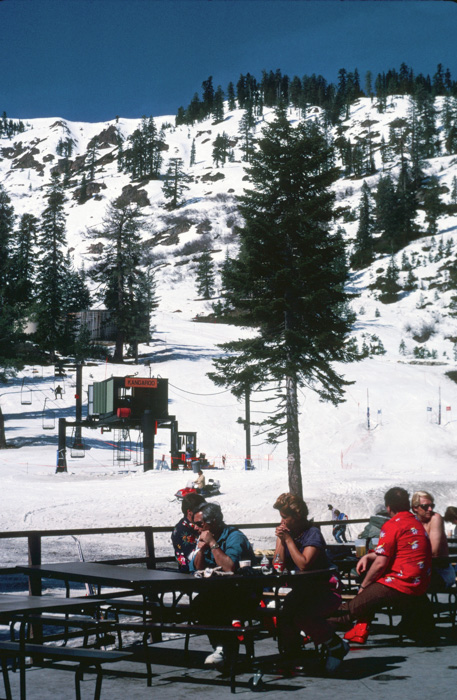 Spring skiers hanging out at the Chalet. Don't have to fight the crowds!
---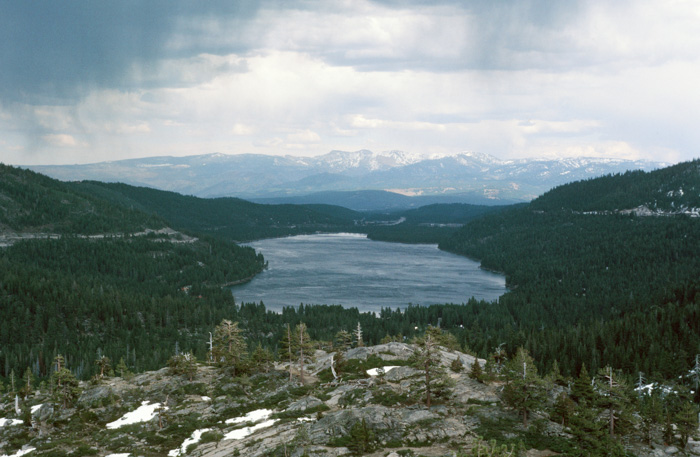 After one weekend of skiing, we drove home on old Highway 40, Donner Pass Road, rather than taking I-80. It is a lovely drive. This overlook gave a great view of Donner Lake.
On one other trip we stopped and spent time at the Donner Memorial State Park. I have pictures of it somewhere and they may someday get online.
---
Click your "back" button to return to the previous page or click for our picture album.