Jim & I met my parents, Emmett & Ellena Ward, in Vancouver where we had arranged to spend a couple of days at Expo '86. It wasn't until I was putting these pictures online (in 2014) that I realized that this was the last World's Fair held in North America. After the time at the Expo, we were to board our ship for a cruise to Alaska through the Inside Passage.
---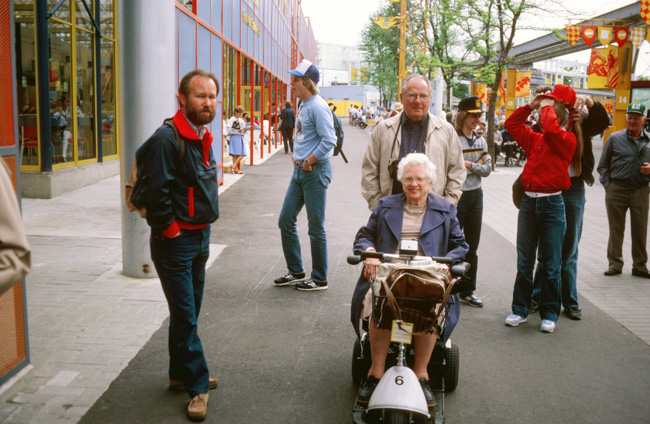 The fairgrounds were spread along the waterfront and covered a lot of territory. My mother wasn't as mobile as she would have liked, but the first day she was able to score this nice scooter.
We enjoyed it too, because it gave us all entry into the most popular attractions via the "handicapped" entrance. Her pride bristled at this designation, but we talked her into playing along.
---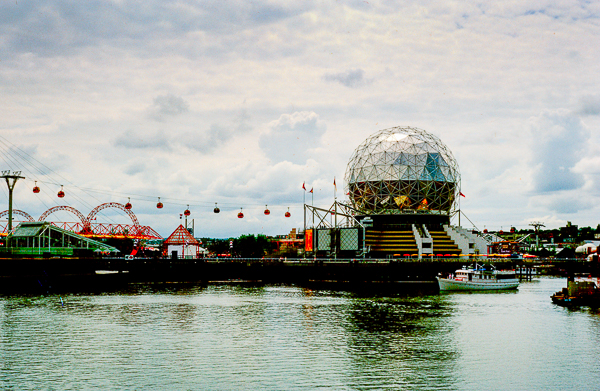 The "Expo Centre" was marked by this globe. It more-or-less anchored one end of the exhibit area.
One of the themes of the Expo was transportation and the gondolas shown here were one way to transit the large exhibition.
Recycling might have been a theme as well. Many of the installations and buildings have taken on new life in other locations.
---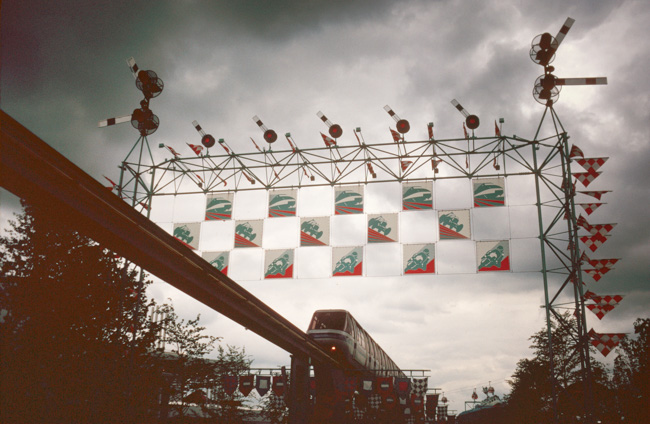 There was also a monorail to whisk people from one place to another. I don't remember ever riding the gondola (it wasn't a type of transport that would appeal to my mother), but we did ride the monorail at least once.
There was another, more unusual, type of transport that we'll see later.
After the expo was over the monorail was dismantled and taken to an amusement park in England where it is apparently still in use.
---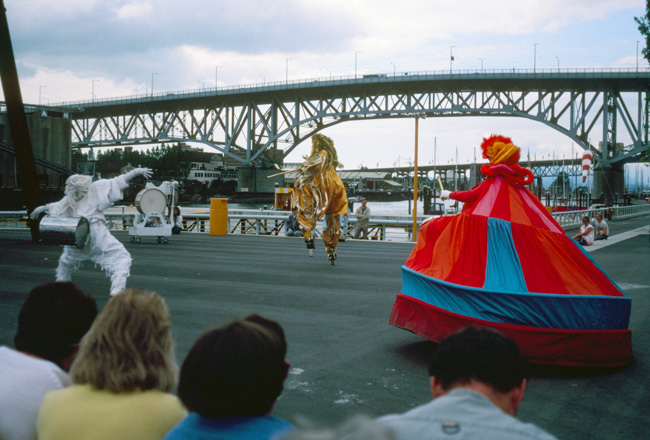 This was my favorite performance at the Expo. These dancers on stilts created their own music with drums. You can't see it in this picture, but the big red dress has two drums built into it.
These were the days before camcorders set aside video-taking cell phones.
Doing some research now as I'm putting these pictures online I find that this group of performers was the nucleus of Cirque du Soleil!
---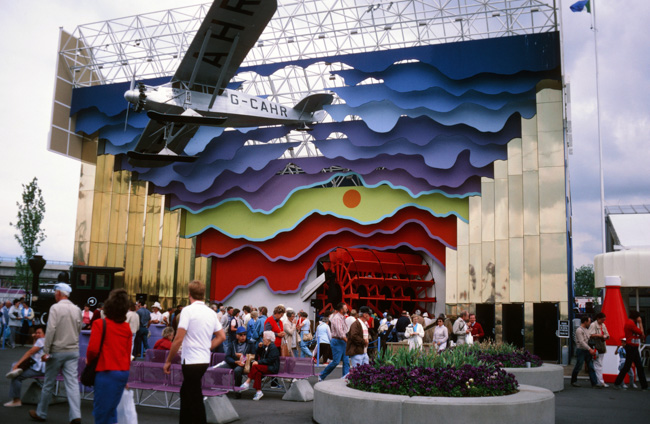 The Yukon pavilion was a foretaste of where we were headed. We saw planes, a paddle-wheeler and especially trains in our Alaskan travels. Unfortunately 24-hour daylight is incompatible with seeing the Northern Lights. It would be another 25 years before we would see them!
---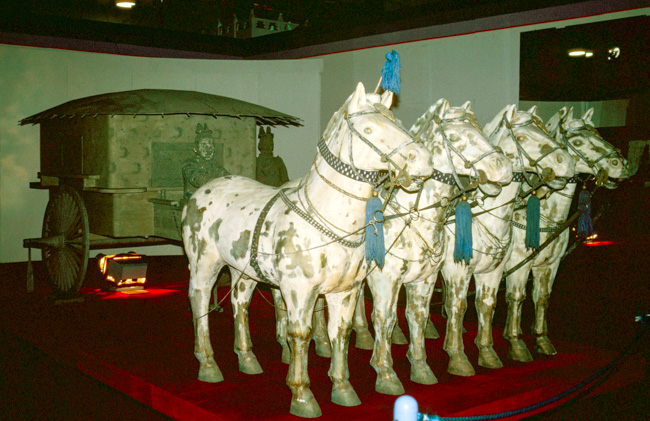 This reproduction of a (at that time) recently-discovered terracotta chariot was in the Chinese pavilion. Apparently this was the first time that China, the Soviet Union and the US had participated in a world's fair together.
Many years later we got to see the original terra-cotta warriors on a trip to China.
---
The "Dream Ship" was located at the Marine Plaza. It was a good place to rest.
---
Jim and my mother are making good use of its resting potential!
---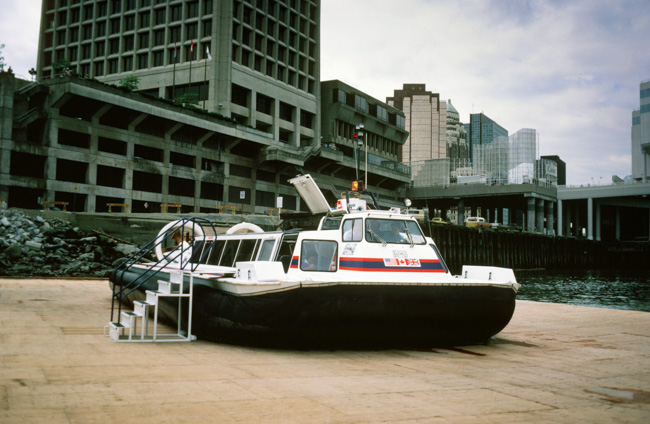 I don't remember exactly how everything fit together, but we transferred from the Expo to Canada Place, where we would meet our ship, using this hovercraft. It was really fun to see it gliding seamlessly up onto the dock where it gently settled down. Once we were aboard, it lifted up and slid gracefully back into the water.
Our luggage must have been taken directly to the ship from the hotel. I certainly don't recall lugging suitcases through the Expo.
---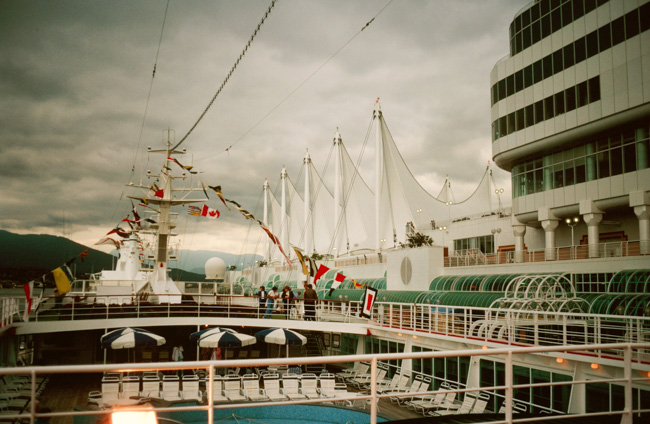 Canada Place, which was built for Expo '86, still serves as the cruise ship terminal for Vancouver.
Our ship was the Cunard Princess. She is still in service today, after many ownership changes, as the MS Golden Iris. She was a nice ship.
---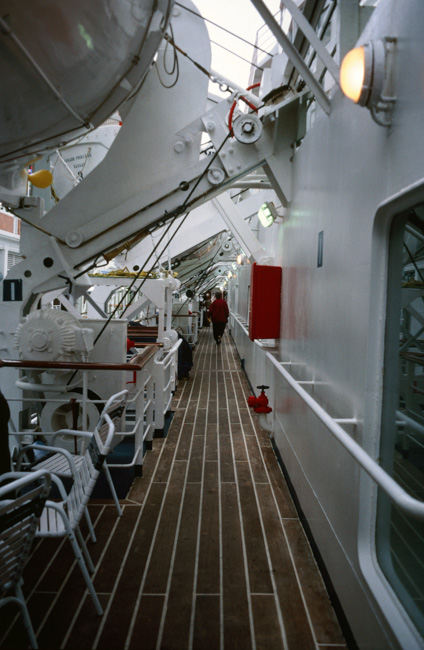 For economy's sake Jim and I had decided to get an inside cabin. We won't do that again! It was claustrophobic.
As a result, we spent a lot of time on this deck looking out onto the marvelous scenery. Since we had the early seating at dinner, one of our favorite things was to order up cheese for dessert and retire with our wine and cheese plates to watch the world go by.
My parents were early-to-bed types, so they didn't join us in this pastime. They had an outside stateroom right across the hall from our indoor cabin. We would join them in the morning for a cup of coffee so that we could see the world outside.
---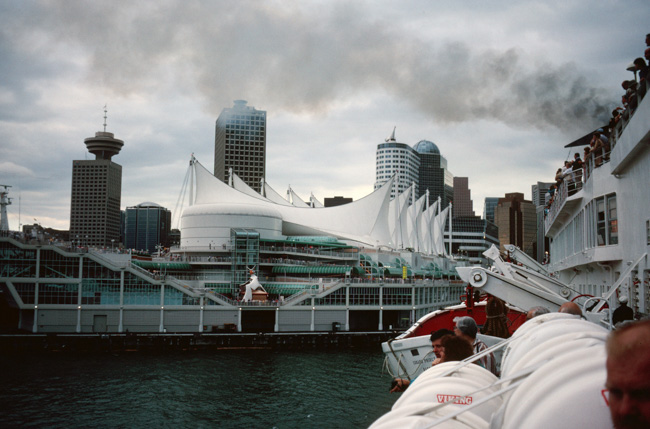 Our ship left the berth right on time. We had to hang out for a while in the harbor, however, because there were some passengers who had been delayed coming into Vancouver. We waited until a tender delivered them to the ship.
The tender did not, however, deliver their luggage. The poor people were without their belongings for however many days it took to sail to Ketchikan!
My parents' luggage was delayed getting to Vancouver and they were grateful to have been without their bags for only one night. Ever since this trip I've always made sure to take a change of clothes in my carry-on.
---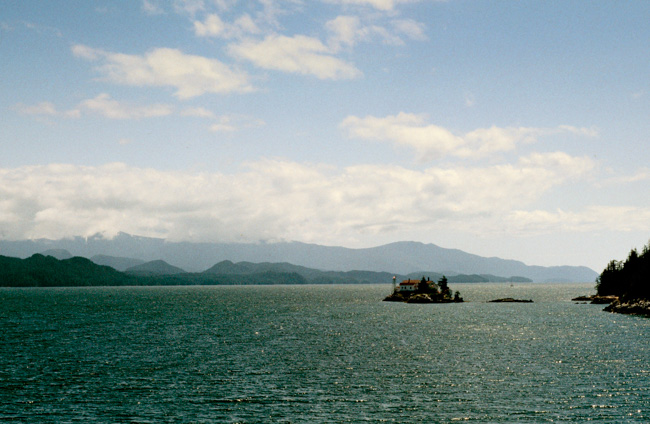 I had never been on the "high seas" before and I discovered that I'm subject to sea-sickness. Luckily ships cruising the Inside Passage don't spend much time in unsheltered waters. By the next morning we were protected from the swells.
The little island in front of us holds the Addenbroke Lighthouse.
We are off to Ketchikan, our first port of call.
---
Click the "back" button to return to the index page.