Calling Skagway the ultimate tourist trap may seem like an insult, but it's merely descriptive. It was founded as the place where gold-seekers provisioned for their excursion into the Klondike gold fields. Most of the people who got rich on Alaskan gold were the ones who preyed on, er, served the would-be miners.
---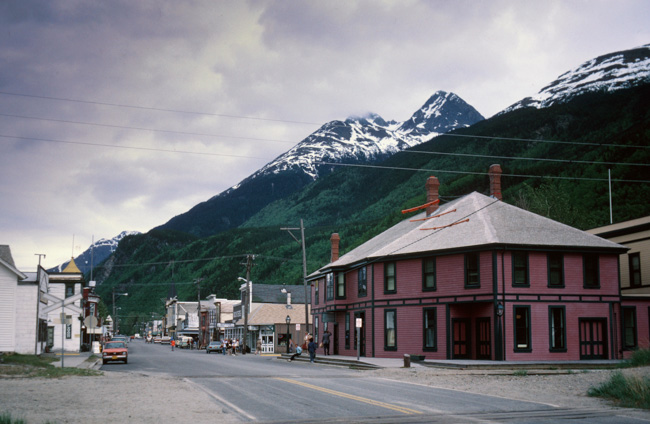 Instead of being a way-station for miners headed to the gold fields, Skagway is now a stop-over for cruise ships headed to and from the glaciers. Even now there are plenty of bars and shops to take your money.
---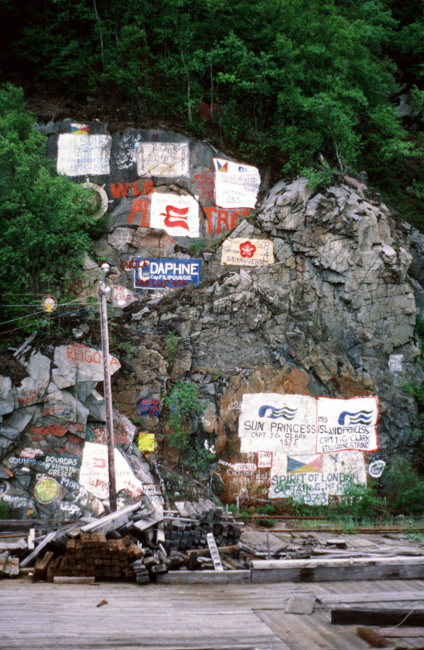 Various cruise ships made their presence known by "inscriptions" on the rock face adjoining the harbor.
The Princess lines inscriptions on the lower right were ten years apart. Different ships; same captain.
The Cunard line was too dignified to participate – at least by the time we visited.
---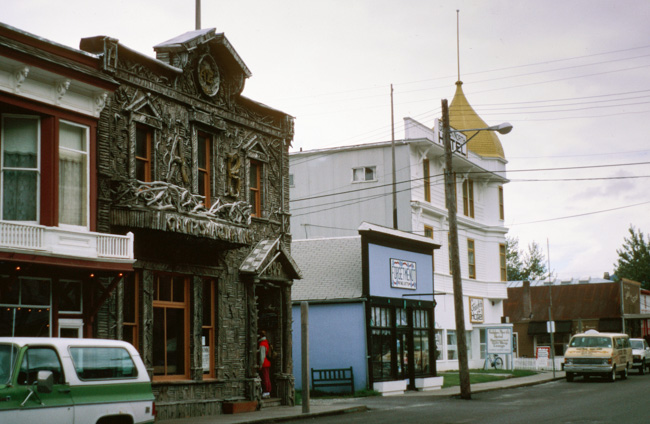 The HQ for the Arctic Brotherhood has the nickname of "the most photographed building in Alaska." It was constructed in 1899. The driftwood facade was added later.
This geo-cache site has a good description.
The Golden North Hotel with the golden dome was visible throughout Skagway. It is said to be the oldest operating hotel in Alaska, built in 1898 and moved to its current location in 1908. It's said to be haunted. You can see more at the link.
At the time of our visit the hotel was still in operation, but it closed in around 2002.
---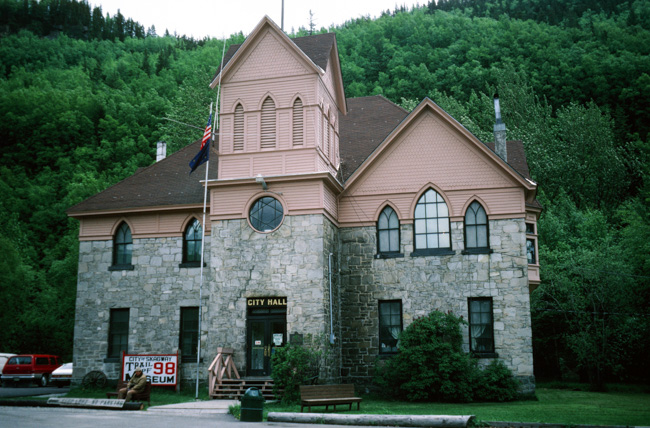 Jim & I quickly escaped the shops and headed out of town in the direction of a reported waterfall. There was supposed to be a map, but it was "at the printers." Our hike was therefore a voyage of discovery.
On the way we passed this building, originally built as McCabe College. It was later used for various purposes and is now the city hall and museum.
McCabe College is said to have been the first college in Alaska, but it closed after only three terms.
---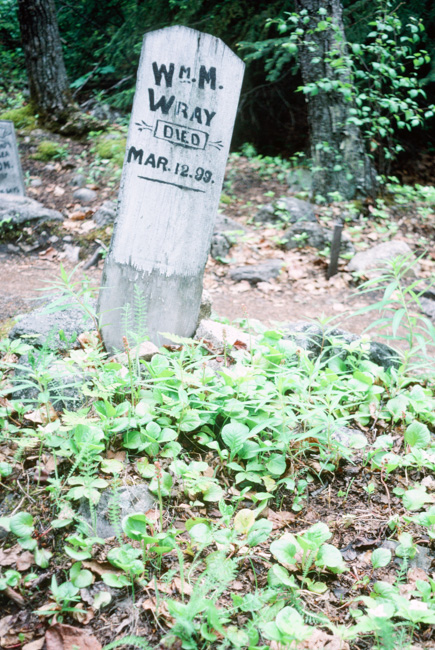 We also spent some time exploring the Skagway cemetery. This grave struck me for some reason. While putting up these pictures, just for grins I searched for William M. Wray on the WWW and found some information on him.
According to local burial records he was the victim of a murder-suicide. The "intimate friend" who killed him is also buried in the same cemetery. Not knowing this lurid history, I didn't search out the friend's grave. I wonder if it is next to this one? Or if it is even marked?
Jack London didn't need to make up his stories of gold rush brutality and betrayal!
The wooden "stone" was pretty well preserved for almost 100 years. A later picture I found online shows that it has since cracked longitudinally.
---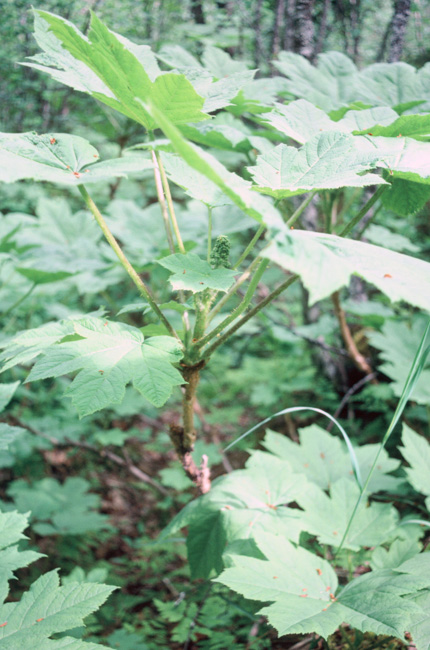 Can't pass up a wildflower.
This plant is Devil's Club. It's an important medicinal plant in the native culture where it has been used against diabetes and tuberculosis.
It's unripe fruit can just be seen atop the main stem.
---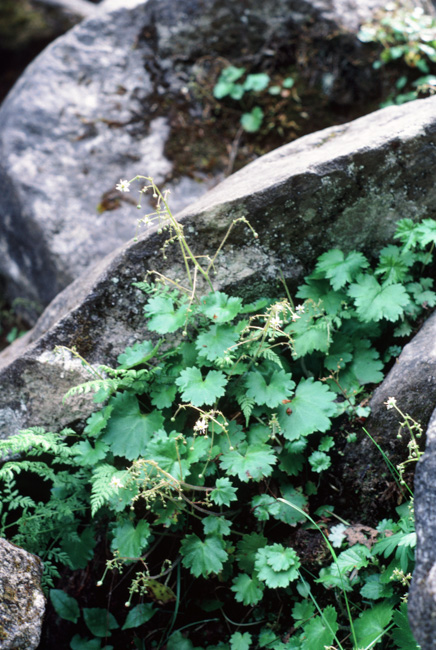 Alpine Heuchera
.
---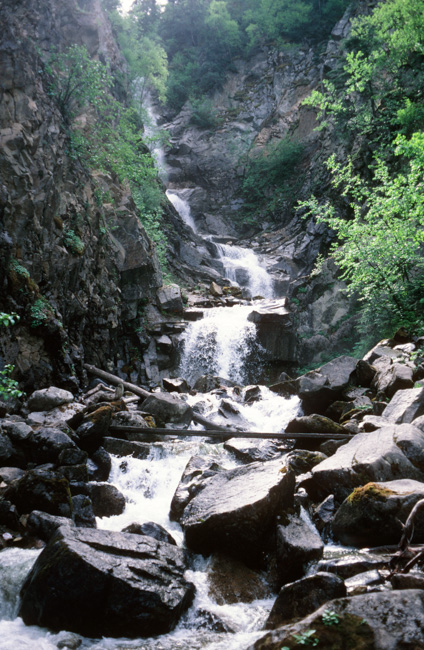 We eventually found the waterfall, which is known as "Lower Reids Falls"!
---
There is a small cave that you can see behind Jim.
We had the place to ourselves, but as we left a bus-load of tourists showed up. Soon the place was crawling with people. Good timing!
---
But then we discovered the real treasure of Skagway. The White Pass & Yukon Route has since returned to excursion service, but at the time of our visit the rolling stock was simply abandoned.
This engine had been damaged in a 1969 roundhouse fire. It has not yet been restored.
---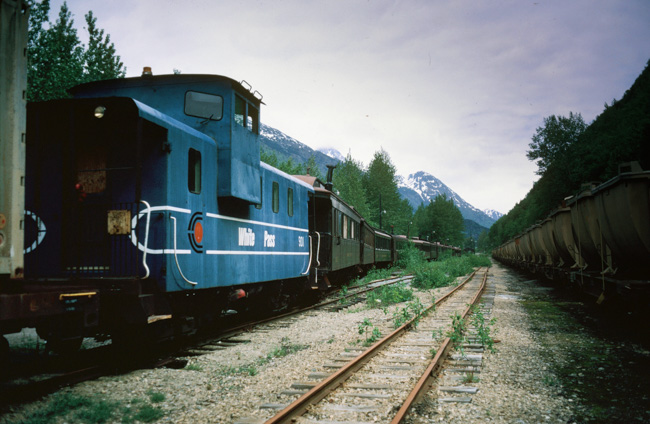 There was every kind of train car left on the tracks. It looked as if workers had simply walked away when service was suspended in 1982.
There was no security and nothing was locked and we had great fun clambering into and around the cars and engines.
Caboose #901 (the 3rd of that designation) has been restored and returned to service.
---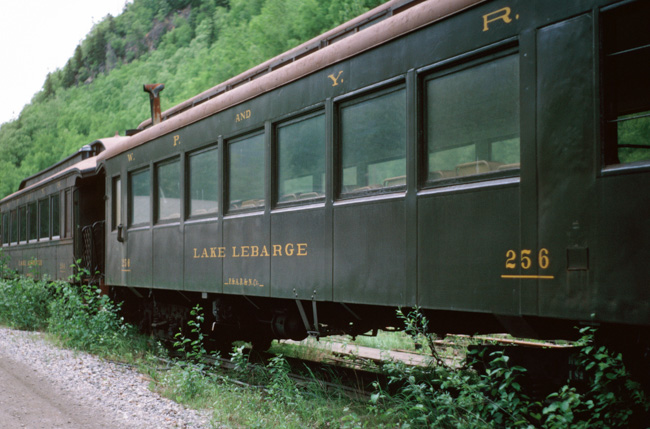 Who doesn't recognize "Lake Lebarge" from the poem The Cremation of Sam McGee? The lake is really named "Laberge," but he folks who painted this car knew which one would be recognized.
"WP and YR" stands for White Pass & Yukon Route, but back when it was still in service most folks called it "Wait Patiently and You'll Ride." Or so we were told.
---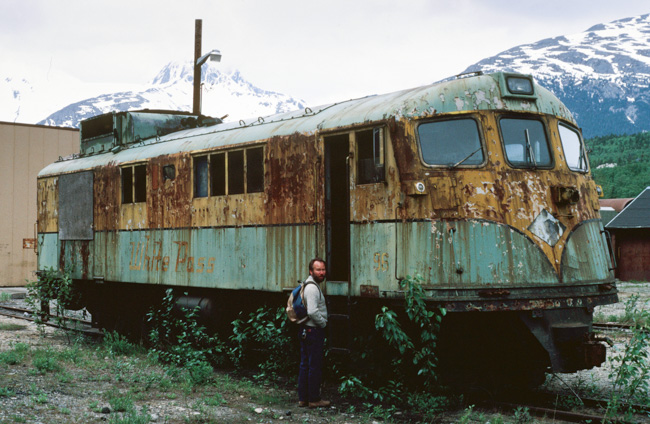 It was great fun crawling around this old engine. The restored engines shown at the WP&YR web site above look the same. #96 is on the historical list of WP&YR rolling stock. According to the WPYR web site, it was returned to service in 2004 after three decades of being cannibalized for parts!
---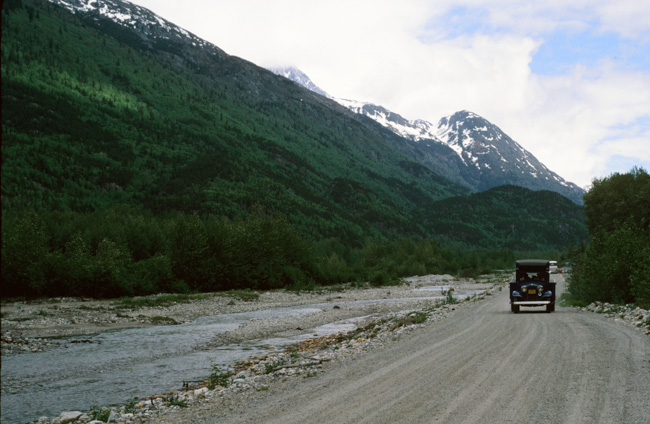 As we walked back to town this flivver passed by. According to the note on my slide it was an antique taxi! Can't find any indication on the WWW that it still exists.
---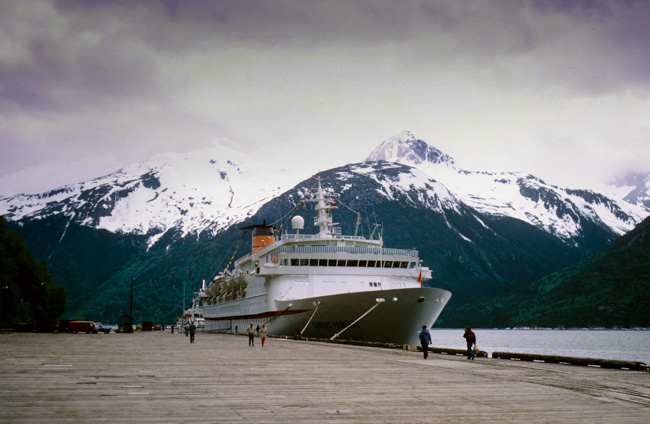 After a delightful day in Skagway, we boarded our ship for our last sea-going segment.
---
Click the "back" button to return to the index page.