I don't recall if it was one day or two to our first port of call: Ketchikan, Alaska.
---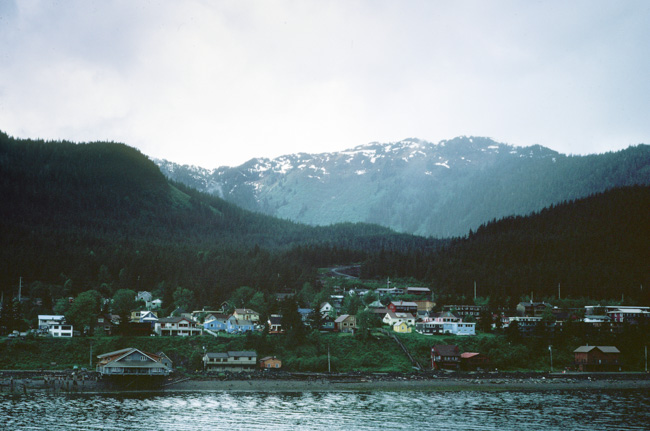 The passage through the islands was very beautiful. They are sparsely inhabited, but occasionally we would pass a fishing village such as this one.
For several years one of my cousins, a surgeon, spent a month each year in such villages to provide medical services. They are isolated with access only by boat or seaplane.
---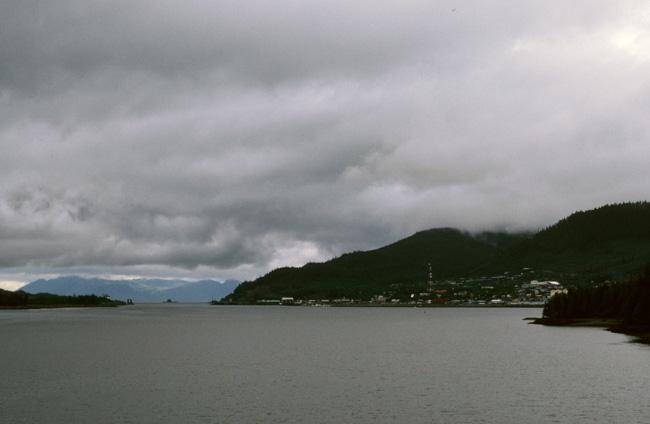 The approach to Ketchikan.
---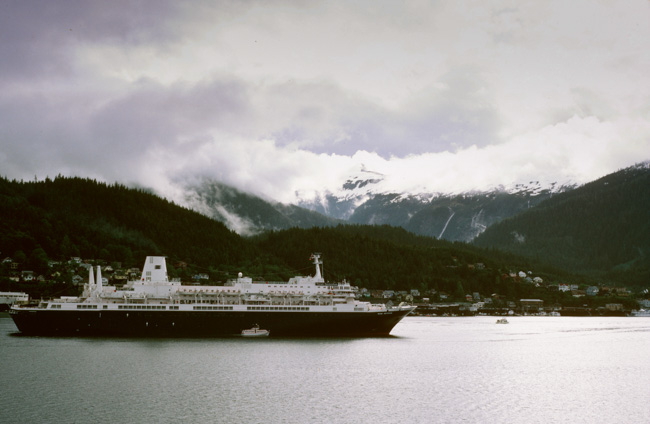 One of the nice things about the Cunard Princess is that she was small enough that she could dock at the towns we visited. Throughout our cruise we were accompanied by the Holland America Line's Nieuw Amsterdam (one of several ships with that name). It was half again as large and had to dock in the harbor with tenders to unload passengers. It was much more convenient to disembark directly onto the pier.
---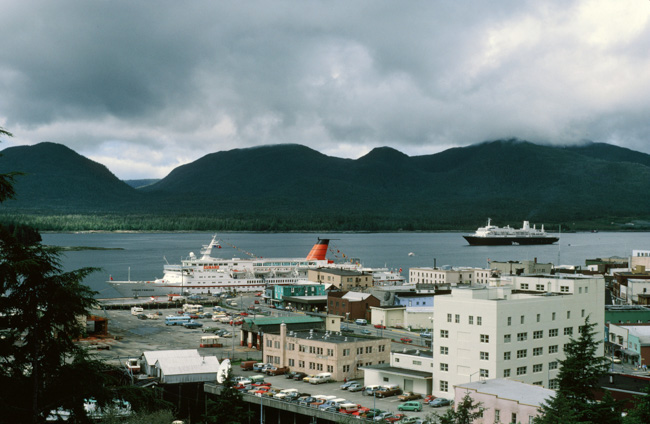 I don't remember if my parents signed up for a land tour in Ketchikan, but Jim and I did a walking tour on our own. Ketchikan is not large, but quite steep. It was good to stretch our legs.
I do remember that we scouted out a Laundromat since it was time to wash some clothes.
---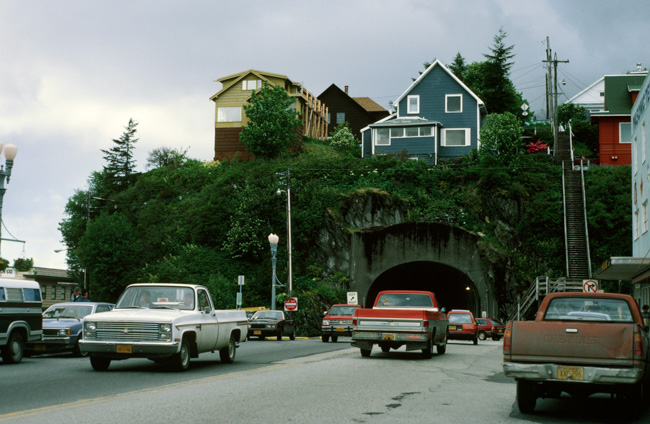 In spite of the fact that there was no highway access to Ketchikan from anywhere else (still isn't), it seemed like everyone had a car or truck and the traffic was frightful.
In more recent years Ketchikan was the center of the bridge to nowhere controversy that gained national attention when former Alaska governor Sarah Palin received the Vice-Presidential nomination.
---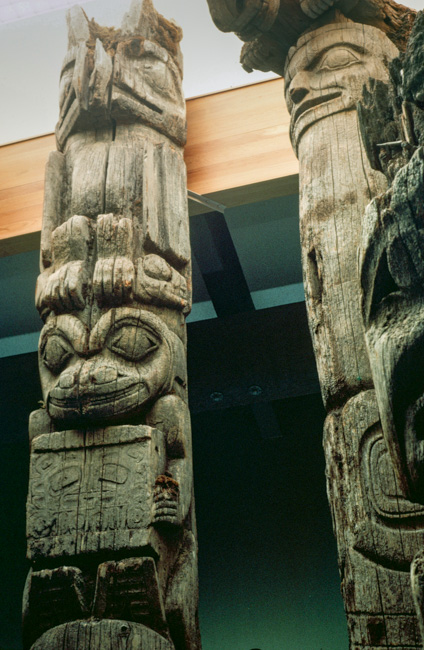 One of the places we visited was the Totem Heritage Center. These marvelous sculptures and cultural objects had been assembled from nearby villages. Here they are protected from the weather.
---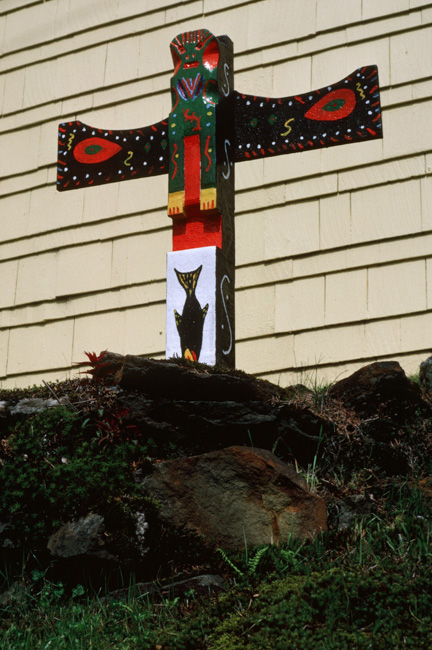 We saw numerous modern totem poles throughout our Alaska panhandle travels.
---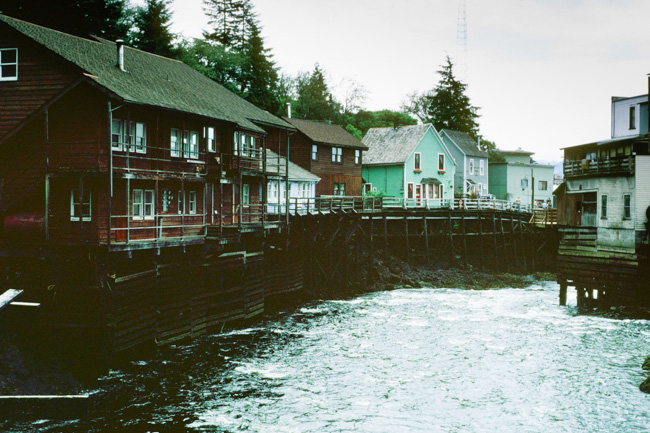 Creek Street is the former red-light district.
One of the houses (the green one in the center) has been turned into a museum, Dolly's House, named after its long-time occupant, Dolly Arthur. She was a "sporting woman" who also bred Pekinese dogs. According to a notice in the museum she exhibited her dogs at the Westminster Dog Show.
---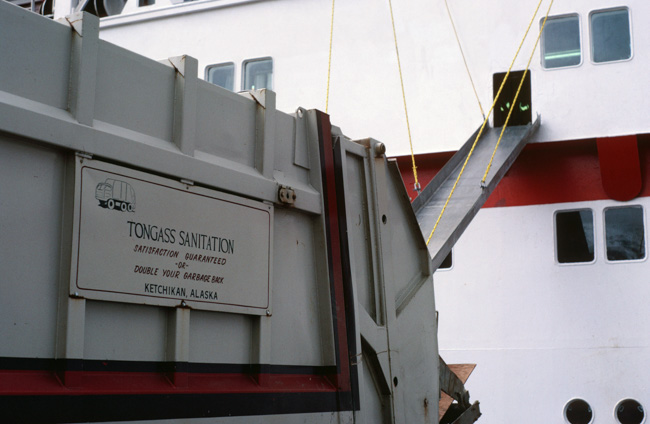 As we returned to the ship we saw this dump truck taking on refuse. It had our most favorite ever slogan: "Satisfaction guaranteed or double your garbage back."
---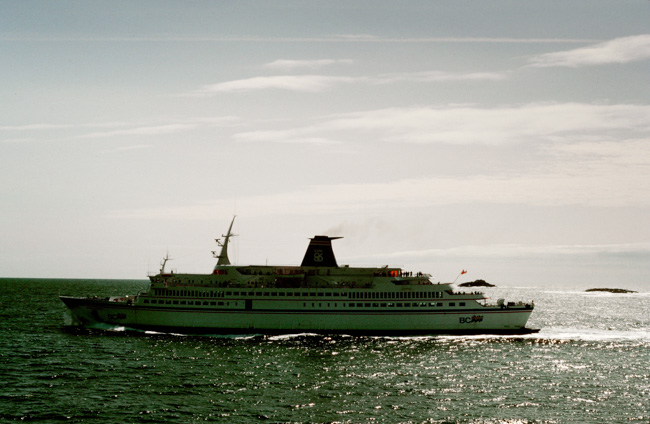 As we left Ketchikan we passed a ferry boat. That is another way to travel the Inside Passage for people who don't want to pay for the extra luxury of a cruise ship. I would have been interested, but it was out of the question for my parents.
---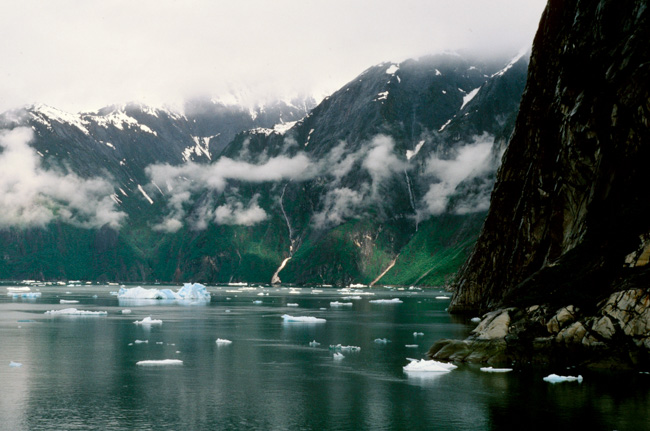 The next morning we awoke in Tracy Arm. This is another excursion that would be off-limits to larger ships.
It was very beautiful and our first experience with glacial ice.
---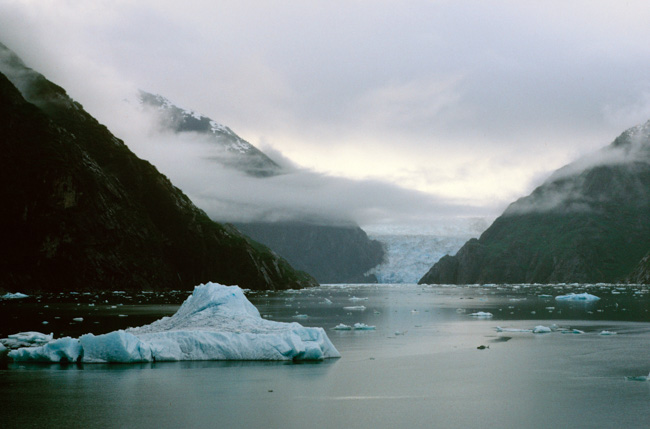 Sawyer glacier is located at the end of the Arm.
---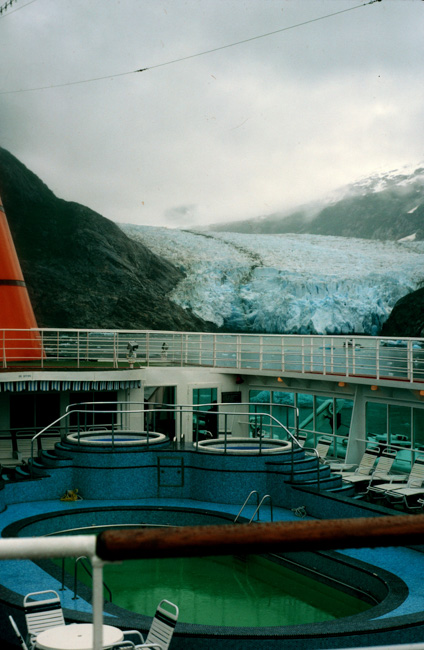 The glacier overlooking the ship's pool. Can't imagine why there aren't more people enjoying the scenery!
---
Click the "back" button to return to the index page.