After our tour of Tracy Arm we proceeded to Alaska's capital city, Juneau. There were several shore excursions here that we enjoyed with my folks.
---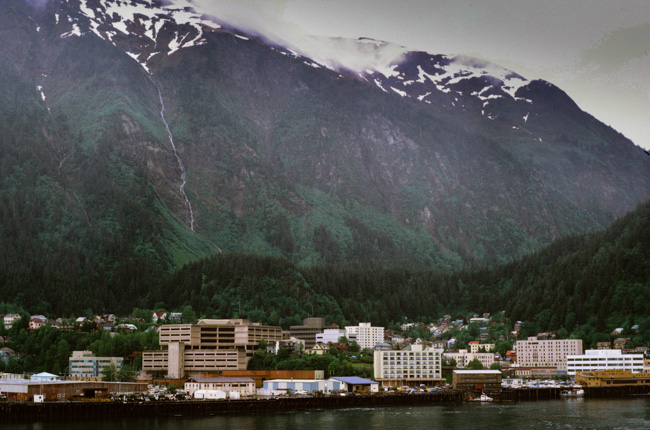 Juneau is tucked into the narrow margin between the sea and the mountains. The setting is magnificent!
---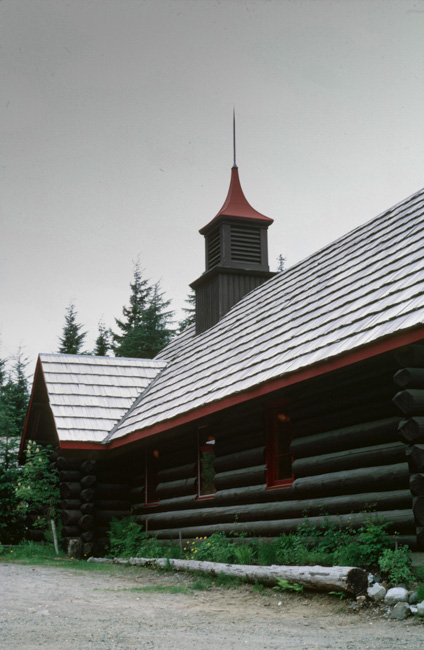 One of the excursions in Juneau was to see the Mendenhall Glacier. On the way we stopped at this Presbyterian Chapel by the Lake.
---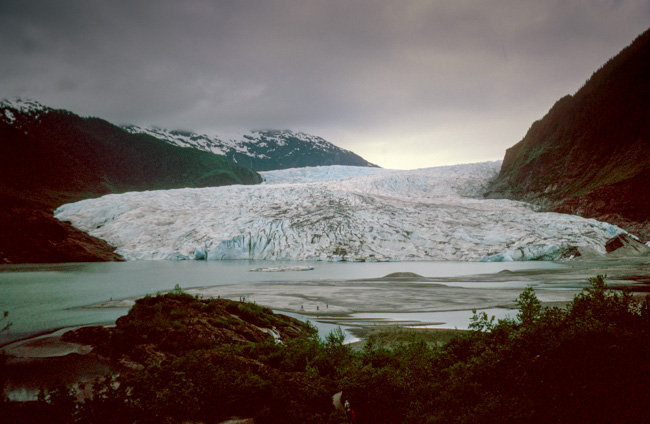 The Mendenhall Glacier, located outside Juneau, is one of the most accessible glaciers in the world. The little "dots" on the sandbar are people walking and riding bicycles.
The glacier is receding, as are most glaciers worldwide, and has been for many years.
---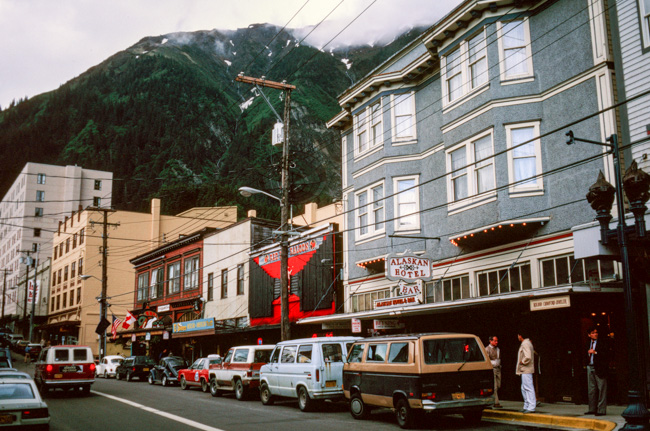 Juneau's main street.
As in Ketchikan, there is nowhere to go in a car, but everyone seems to have one.
---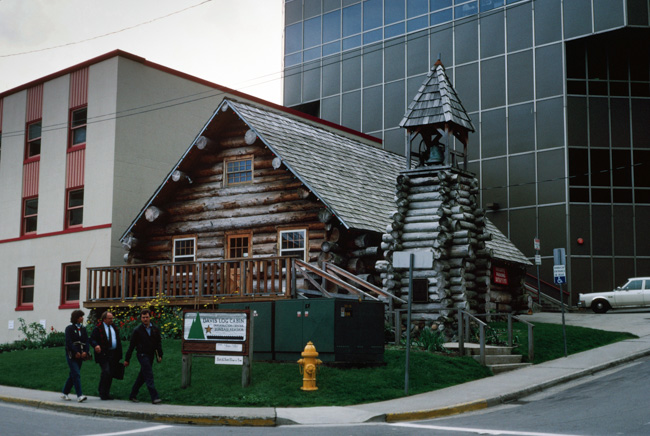 It was on this Alaskan trip that we picked up one of those family sayings that stay with you much to the puzzlement of others. It seemed that every time we went to an information center the exact brochure that we were looking for was "at the printers."
Nowadays, years later, you might hear Jim or me comment that "it's at the printers" with a sigh of resignation.
The visitors' center has since been moved and this building, which was a replica built in 1981, has been demolished due to severe deterioration.
---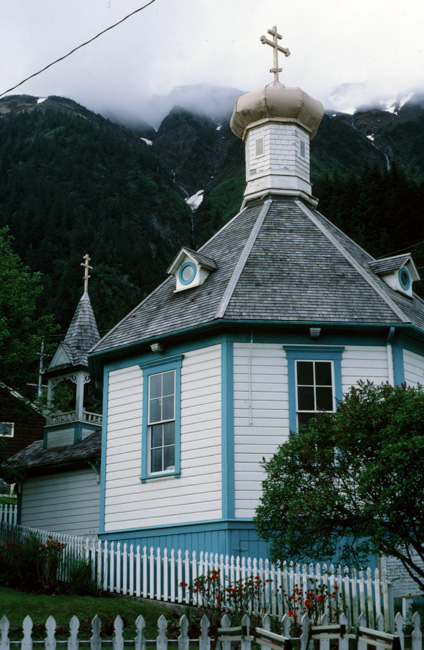 St. Nicholas Russian Orthodox church was not established to serve Russians but the native Tlingit people who had converted to Orthodoxy during the time of Russian control (1741-1867). The native people were attracted to the Orthodox faith because services were offered in native languages. In contrast other faiths tried to force the use of English and discouraged the native cultures.
The structure dates from 1893.
---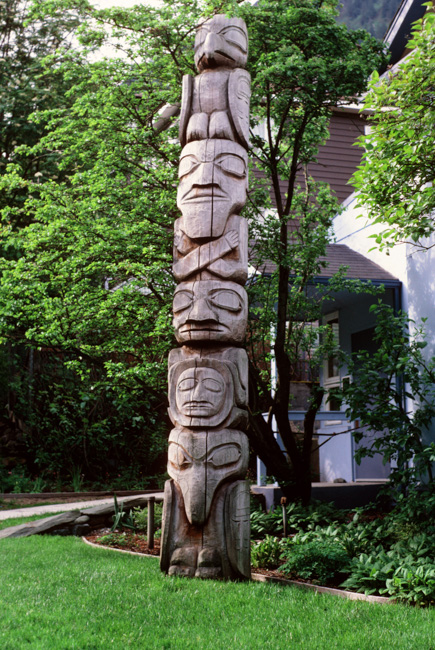 As in other Alaskan cities, we saw totem poles new and old throughout town.
---
The Alaskan Governor's mansion was built in 1912.
It gained some notoriety during Sarah Palin's Vice-Presidential race, especially when the news broke that she had installed a private tanning bed in the mansion.
---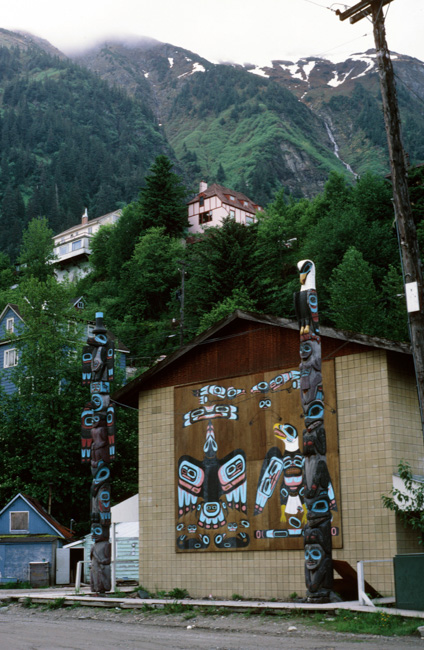 The Tlingit-Haida Community Center in Juneau shows traditional decorations.
---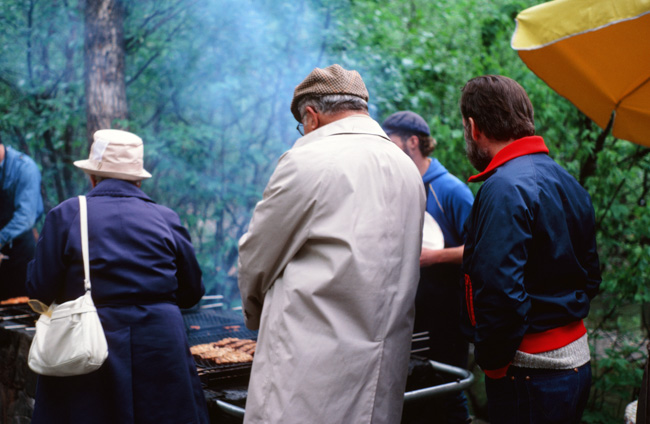 Another enjoyable excursion was to a salmon bake. I don't specially recall the baked/grilled salmon, but I vividly remember how delicious the "salmon jerky" was. They were the crusty snivvies that were pulled off the grills.
The guy who drove the bus was also very entertaining.
---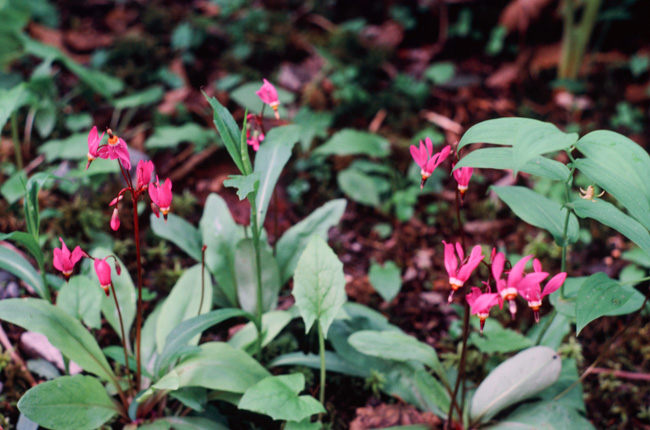 These native wildflowers are called Shooting Star.
---
Click the "back" button to return to the index page.